Reachable Only By Boat! 5 Reasons To Stay At Hoshinoya Kyoto
Have you heard of Hoshinoya Kyoto, the unique retreat in the heart of Arashiyama? Its beautiful architecture and refined hospitality are what make it a popular choice among Kyoto visitors. Here's why everyone chooses to stay at Hoshinoya Kyoto.
Kyoto is a city visited by tourists from all over the world, who hope to experience Japanese culture there. The scenery changes every season, and "wabi sabi," a type of sensitivity towards elegance which is nurtured over time, has been refined in Kyoto.
Hoshinoya Kyoto, located in the heart of the Arashiyama area, is a lodging facility that exemplifies the modern version of the traditional Japanese aesthetics. MATCHA made a visit to this facility, to actually feel its atmosphere.
During our stay, we noticed five reasons why anyone visiting Kyoto should stay at Hoshinoya Kyoto. They can be summarized as follows:
Reason No. 1: The Reception
The stay at Hoshinoya Kyoto starts at the pier located near Togetsukyo Bridge, a popular sightseeing spot in western Kyoto, always bustling with visitors.
After checking in at the pier, the guests are transported to the hotel by boat, a 15-minute upriver ride along the Ooi River.
Hoshinoya Kyoto opened in 2009, by renovating a villa built in the Meiji Period (1868 - 1912). It is a luxury ryokan (Japanese style inn), where guests can experience the nature and the "wabi sabi" culture of Kyoto.
As soon as you board the boat, you will feel swept away from everyday life. The staff will be waiting to welcome the arriving guests.
After a walk on the moss-covered path, illuminated by the sunlight filtering through the tree branches, the guests arrive at the lobby.
The lobby has a cozy, Japanese atmosphere worthy of Kyoto, decorated with handcrafted furniture, lanterns and other lighting made with Japanese paper.
This space is also used for a yukata dressing workshop, and as a tea room as well.
From the Floating Tearoom outside the lobby, Ogurayama (Mt. Ogura) can be viewed across the Ooi River. You can enjoy tea or drinks and snacks in this space - a special treat unique to Hoshinoya Kyoto.
While we were taking a break, the hotel staff told us about Ogurayama, described in "Hyakunin Isshu" ("A Hundred Poems by One Hundred Poets"), an old poetry collection that is very dear to the Japanese, and also about this area, which used to be a retreat for the Imperial courtiers and nobility in the past.
At Hoshinoya Kyoto, the guests realize that they are viewing the same scenery as the Japanese nobles of one thousand years ago.
The Ooi riverside is adorned with cherry blossoms in spring, lush foliage in summer and red maple leaves in the fall, presenting a different view every season.
Our visit was in the summer, so the hotel was decorated with furin (wind-bells). This kind of decoration is a special feature of the Japanese summer, as the sound evokes a coolness.
There was also a live performance of unique instruments with beautiful sounds such as hamon, kinsu and orin. At this hotel, the guests will be greeted with a different type of ceremony, in accordance with the season.
Picture courtesy of Hoshinoya Kyoto
At night, the garden is illuminated with small lights, and the guests feel as if they have wandered into ancient Japan. The Japanese summer is hot and humid, but the nighttime wind was very pleasant.
At Hoshinoya Kyoto, guests may find the profound appeal of Japan for the first time.
Reason No.2: Rooms with a Fantastic View
There are 25 rooms at Hoshinoya Kyoto. All the rooms include both tatami rooms and bedrooms, so even those who are not familiar with Japanese-style rooms need not to worry.
Also, Ooi River can be viewed from every room. It is a true luxury to enjoy the spectacular scenery presented by Mother Nature throughout the year. The view should heal any weariness of your travels.
For information about the rooms and amenities available at Hoshinoya Kyoto, please refer to their official site.
Reason No.3: The Superb Cuisine
The meals served at Hoshinoya Kyoto are created by head chef Kubota Ichiro, whose dishes have been highly apprecited in Japan and Europe. He blends both Japanese- and Western-style cooking, to create a modern version of kaiseki ryori (*1) which appeals to all the five senses.
It is said that each menu is created in connection to specific places in the hotel. The story behind the dishes, told by the serving staff, is another appeal of the dining at this hotel.
*1 Kaiseki ryori: A Japanese-style course meal, served on individual trays.
Picture courtesy of Hoshinoya Kyoto
The head chef pays close attention to every detail, including the combination of the tableware and foodstuff.
Although dinner and lunch are served at the restaurant of the inn, breakfast is served in the guestrooms.
The Japanese breakfast features the Kyoto Nabe (hot pot), a dish made with fresh vegetables, praised for its gentle taste. For cooking this Japanese-style dish, the guests can choose the ingredients according to their tastes.
To learn more about the cuisine served at Hoshinoya Kyoto, please refer to their official site.
Reason No.4: Unique Culture Activities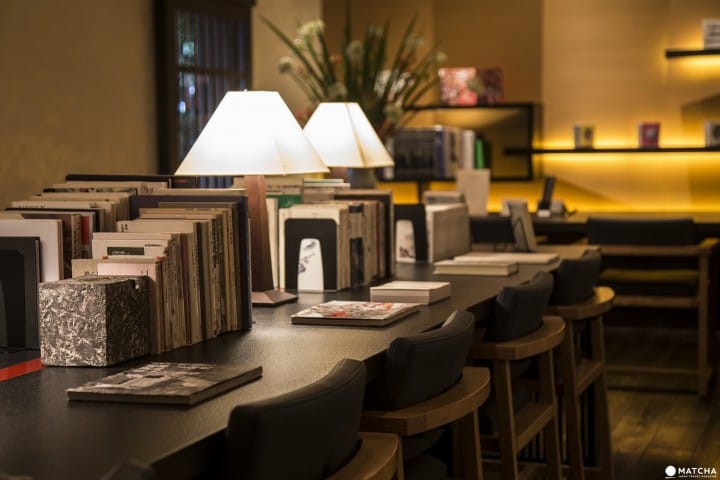 Hoshinoya Kyoto offers its guests to experience various types of Japanese culture after breakfast.
Fresh coffee is served at the Salon & Bar Kura. Spending some time surrounded by good books, beautiful flowers and elegant lighting should set the right tone for the start of a new day.
Guests can also join in a traditional Japanese game of monko (appreciating incense). This is an elegant amusement, in which the participants try to find the difference between the various types of incense.
For information on the various unique activities at Hoshinoya Kyoto, please take a look at their official site.
Reason No.5: A Memorable Experience
Those who are interested in Japanese history and culture, or who look forward to enjoying a special experience in Kyoto, should consider staying at Hoshinoya Kyoto.
This hotel offers a wonderful experience every season, an ideal lodging for the Kyoto sightseeing tour.
You can make your room reservation at Hoshinoya Kyoto on this site. The rooms tend to be fully booked during the seasons of the autumn leaves and cherry blossoms, so make sure to check in advance.
View Information
Hoshinoya Kyoto
| | | |
| --- | --- | --- |
| | Address | Kyoto, Nishikyo-ku, Arashiyama Genrokuzan-cho 11-2 |
| | Business Time | Open 24/7 |
| | Fixed holidays | There are no closed days. |
| | WiFi | Available |
| | Accepted Credit Cards | VISA,MASTER,JCB,American Express,Diners Club,銀聯Card,Other |
| | Languages | Japanese, English and Chinese. |
| | Menu/Pamphlets in Other Languages | Japanese and English. |
| | Nearest station | Arashiyama Station (JR and Hankyu) |
| | Price | From 81000 yen (per room/per night) and up. ( Tax and 10% service included. Meals are not included.) |
| | Telephone number | +81-50-3786-1144 |
| | Website | Hoshinoya Kyoto |
Hoshinoya Kyoto Official Site: Hoshinoya Kyoto
Photos by Chiaki Ono
Sponsored by Hoshino Resorts
Hoshino Resorts operates hotels and ryokan (Japanese inns) in 35 locations all around Japan. Their facilities are ideal for travelers who wish to fully enjoy the charms of Japan.
Each facility has English speaking staff who make sure that visitors from all around the world experience the full breadth of Japanese hospitality without inconveniences.
The Hoshino Resorts brands include HOSHINOYA, KAI, RISONARE, and OMO.
The information presented in this article is based on the time it was written. Note that there may be changes in the merchandise, services, and prices that have occurred after this article was published. Please contact the facility or facilities in this article directly before visiting.