Cherry Blossom Heaven! 5 Hoshino Resorts Lodgings To Visit In Spring
The accommodation facilities operated by Hoshino Resorts welcome guests in spring with cherry blossom-themed events and programs. We introduce five lodgings where guests can enjoy the cherry blossom season through all five senses during an unforgettable stay.
Welcome Spring at Hoshino Resorts
Cherry blossoms, or sakura, are beautiful flowers that symbolize spring in Japan. They go in bloom annually around the end of March. Many visitors to Japan plan their travels, taking into account the cherry blossom forecast to enjoy cherry blossom viewing at their chosen destination.
This season, Hoshino Resorts will be holding special events for their guests to enjoy the cherry blossoms to the fullest! We introduce five Hoshino Resorts accommodations with wonderful sakura-related events and activities that are well-worth checking this spring.
Hoshino Resorts Special Feature
1. HOSHINOYA Kyoto: Admire the Blossoms from a Private Terrace
HOSHINOYA Kyoto is a hot spring ryokan located in Arashiyama, Kyoto. Guests arrive at the lodging by taking a small boat from Togetsukyo Bridge. The boat takes them upstream the Oi River. The lodging is located away from the city in quiet surroundings, allowing guests to relax amid lush nature while enjoying Kyoto's rich culture.
Arashiyama is renowned as a cherry blossom viewing site. It is actually one of Japan's Top 100 Cherry Blossom Spots. When spring arrives, the 1,500 cherry trees that grow on these mountains go in bloom, coloring Arashiyama in pale pink. HOSHINOYA guests get to enjoy this scenic view from the boat as they head to the inn.
All the rooms at HOSHINOYA Kyoto have a river view so that guests enjoy the blossoms from the comfort of their rooms.
Framed by large windows, the cherry blossoms look just like a painting. Staying in a tranquil Japanese-style room surrounded by a sea of cherry blossoms is an extraordinary experience.
The inn will be hosting an event called Cherry Blossom Viewing Stay from March 25 to April 10, 2020. This is an all-day program for enjoying the cherry blossoms on a private terrace. The shidare-zakura, or weeping cherry trees, can be seen in full bloom from the terrace.
Enjoy a meal and beverages as you admire the cherry blossoms at leisure. You can also have an afternoon nap! The program is limited to one group per day, so make your reservations early if you're interested.
During the Cherry Blossom Viewing Stay, guests can take part in a traditional open-air tea ceremony. You'll be able to fully enjoy your time unwinding under the breathtakingly beautiful blossoms.
HOSHINOYA Kyoto official website
2. Hoshino Resorts OMO5 Tokyo Otsuka: Celebrating Somei Yoshino Cherry Trees
Hoshino Resorts OMO5 Tokyo Otsuka is an urban hotel located in Tokyo's Toshima ward. It's a new type of hotel where guests can experience the local charms of the area during their stay.
Toshima, where OMO5 Tokyo Otsuka is located, is known as the place where Somei Yoshino cherry trees—the most notable variety in Japan—were first developed.
The hotel will be hosting the OMO Everything Sakura Festival from March 1 to April 19, 2020. During the event, decorations inspired by Somei Yoshino blossoms will adorn the lobby.
OMO5 Tokyo Otsuka is well-known for its energetic guides—aptly nicknamed OMO Rangers. Immediately popular among hotel guests, these tour guides take guests to fascinating spots in Otsuka.
The SAKURA Tour, the hotel's spring expedition, will take you around famous cherry blossom spots in the area.
The OMO Cafe, located within the hotel, will offer a special menu item called Hanami Sweets Set. This set features an assortment of cherry blossom-inspired treats made in collaboration with local confectioneries and wagashi (traditional Japanese sweets) shops. These adorable sweets allow you enjoy cherry blossom season with both your eyes and taste buds!
Hoshino Resorts OMO5 Tokyo Otsuka official website
3. Aomoriya: Delight in Aomori's Famed Sake and Blossoms
Hoshino Resorts Aomoriya is a hot spring ryokan in Aomori. Guests can experience here the culture and local cuisine of northern Japan through seasonal events.
The facility will host a program titled Cherry Blossom Viewing & Sake Party from April 1 to May 31, 2020. Guests will participate in cherry blossom viewing events and taste local sake during the program. The entire inn will bask in the lively atmosphere of spring.
Aomori boasts the largest apple production in Japan. That's why both apple and cherry blossoms herald the coming of spring in Aomori. During the spring event, the inn will be lit up by paper lanterns decorated with cherry and apple blossoms.
Many well-known brands of Japanese sake are made in Aomori. The cool climate of the region is perfect for sake brewing. Giant sake barrels and masu cups (square wooden box) will be places inside the inn for guests to sit in. Tasting delicious sake while viewing the seasonal blooms is a fun experience in itself.
How about taking part in an all-you-can-drink sake tasting of Aomori's finest sake (3,500 yen before tax per person)? The sake is served with an assortment of local delicacies, dried foods, pickled vegetables, and other snacks.
The event also introduces the Apple and Cherry Blossom Corridor, a very photogenic spot in the inn decorated with apple and cherry blossom motifs. Walking down this corridor will feel as if you were on a boulevard lined with trees in full bloom.
Aomoriya offers a cherry blossom viewing program featuring a kotatsu. A kotatsu is a small, heated table used as protection against the cold. Guests can have an invaluable experience admiring the blooms while warming up in an outdoor kotatsu.
Hoshino Resorts Aomoriya official website
4. HOSHINOYA Tokyo: Enjoy Edo Cherry Blossoms at Night
HOSHINOYA Tokyo is a luxury ryokan located in the heart of Tokyo. Guests staying at this lodging from March 25 to April 10, 2020, will be able to fully enjoy historical cherry blossom spots of Edo (present-day Tokyo).
One of the spring programs will be the Tokyo Night Cherry Blossom River Cruise. The activity includes traveling by rickshaw to a private boat that will take guests to view famous cherry blossom spots along Sumida River.
Participants will ride a rickshaw to Nihonbashi Pier where they'll board the boat that takes them down Sumida River. The water of the river reflect the city nightscape and the cherry blossoms, creating a breathtaking view that can only be enjoy during the river cruise. The beauty of the illuminated cherry blossoms is stunning once the sun sets!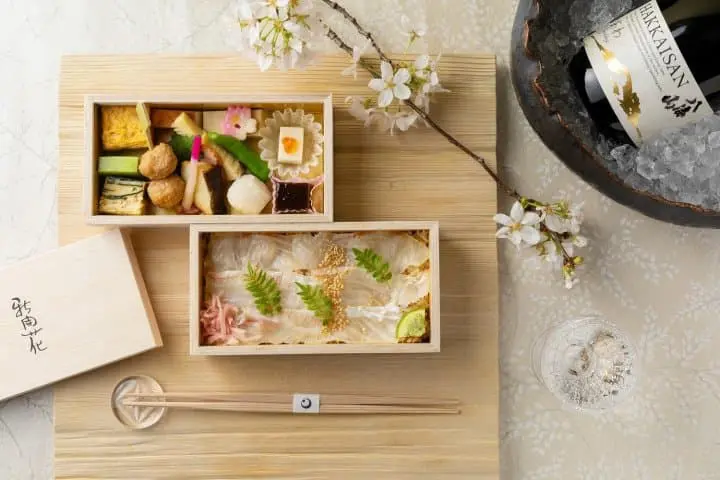 Guests can enjoy a hanami bento (boxed meal) with cherry blossom motifs during the boat ride. Sparkling sake will be served to pair with the scrumptious meal. Enjoy the subtle, light-tasting sake alongside Tokyo's night scenery of cherry blossoms.
The boat will head back to the pier after sunset. On the way back, participants will be able to admire some of Tokyo's best nightscapes such as the TOKYO SKYTREE and Eitai Bridge.
HOSHINOYA Tokyo official website
5. Hoshino Resorts KAI Nagato: Cherry Blossoms and Samurai Culture
A new facility will join the KAI group of luxury hot spring ryokans operated by Hoshino Resorts in March 2020. Hoshino Resorts KAI Nagato is scheduled to open in Nagato Yumoto Onsen, a hot spring resort in Yamaguchi.
Nagato Yumoto Onsen boats notable cherry blossoms spots such as Onshinkawa Kasen Park and Taineiji Temple. Once spring arrives, the area bustles with visitors enjoying hot-spring-hopping and hanami (cherry blossom viewing).
Yamaguchi is known for its remaining samurai residences that were once inhabited by members of Japan's warrior class. The rooms at KAI Nagato reflect the dignified samurai culture.
Some of the rooms are inspired by the residences where local feudal lords used to stay. Tokuji Washi paper, a regional handicraft, is used for decorating the headboard of the beds. It adds a contemporary touch while retaining the traditional essence of the interior.
The AKEBONO Cafe operating withing the ryokan will offer a special menu of dorayaki, traditional Japanese red bean pancakes. In addition to the classic sweet red bean paste filling, the cafe will offer a new, refreshing citrus jam filling. Guests can enjoy the cherry blossoms while strolling around the neighborhood with a dorayaki in hand.
The highligt of any traditional ryokan is the kaiseki cuisine—a luxurious Japanese multi-course meal. Dinner at KAI Nagato consists of several dishes prepared with seasonal ingredients. Above all, the sweet, thick slices of cuttlefish sashimi are superb! You'll have an extravagant time enjoying the amazing food, hot springs, and cherry blossoms simply by staying here.
Hoshino Resorts KAI Nagato official website
Experience Spring with All Five Senses at Hoshino Resorts
Hoshino Resorts is filled to the brim with spring events and programs for guests. Enjoy the season with all five senses admiring the splendid cherry blossoms, experiencing local culture, and tasting regional cuisine. A stay at one of these exceptional facilities during cherry blossom season will most surely become a treasured memory.

Written by Kazuma Takahashi
Sponsored by Hoshino Resorts
All pictures courtesy of Hoshino Resorts

The information presented in this article is based on the time it was written. Note that there may be changes in the merchandise, services, and prices that have occurred after this article was published. Please contact the facility or facilities in this article directly before visiting.