Hoshino Resorts KAI Ito - A Modern Ryokan In A Sea And Flower Paradise
Lodge at Hoshino Resorts KAI Ito, a Japanese inn on the Izu Peninsula, located two hours from Tokyo. In Ito, guests can enjoy historic hot springs, camellia flowers, cherry blossoms, and seaside nature for an ideal balance of relaxation and excitement.
Hoshino Resorts KAI Ito - Enjoy Hot Springs, Flowers, and the Ocean
Located on the Izu Peninsula in Shizuoka Prefecture, Hoshino Resorts KAI Ito is where you can experience a traditional yet contemporary Japanese ryokan. Guests here can immerse themselves in Japanese onsen (hot spring) culture while taking in the sea-meets-mountain nature and camellia flowers.
This lodging is ideal for taking a break from the bustle of the city, as it is directly accessible from Tokyo in just over two hours, and many exciting outdoor destinations are nearby.
Encounter Ito's Hot Spring Culture In Every Corner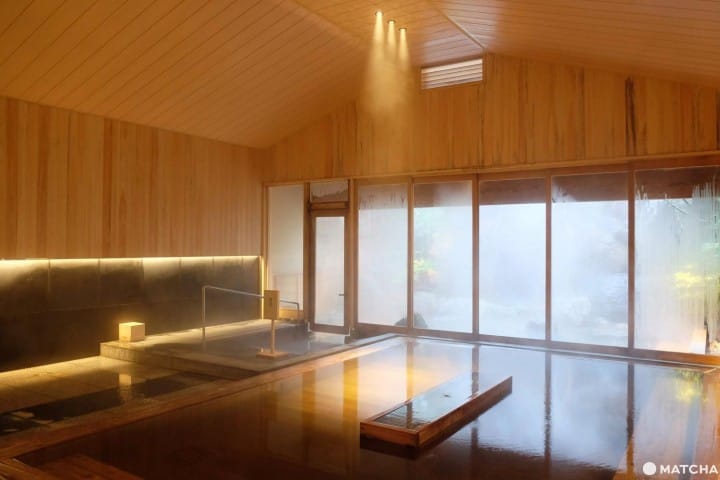 The city of Ito is a renowned hot spring town in Japan, with a history dating back centuries to the Heian period. The hot springs here are plentiful, with around 34,000 liters flowing in each day.
KAI Ito has three large hot springs guests can enjoy, including an indoor bath (pictured above), outdoor bath, and an ashiyu (foot bath). The water is a comfortable temperature, ideal even if you are new to onsen. The outdoor bath is very stunning, surrounded by stones and faces a waterfall flowing with hot springs. There is also a heated pool sourced from hot spring water in the courtyard you can enter at any time of the year
You can also enjoy the hot springs in your own room. KAI Ito is unique in that all bathing water is sourced from the hot springs, so every time you wash your hands or take a private bath, you are using the mineral-rich water that comes from nearby. This is very rare to find, even at a high-end ryokan.
There are a variety of health and beauty treatments in the changing room, like camellia oil, known for its high moisturizing ability and gentleness on the skin. Feel free to apply the all-natural mist and oil to your hair, face, nails, and all over for a healthy glow. Camellias are native to the Izu Peninsula and the oil is produced nearby.
After getting out of the onsen, visitors can go to the Yuagari Lounge (pictured above) for further relaxation. There are also refreshing, hydrating drinks offered here. On a sunny day or warm evening, you can go to the courtyard to soak your legs in the foot bath, located right outside this room.
Also, before or after entering the hot springs, stop by the stretching room and learn how to warm up your muscles properly. A friendly staff member will teach you some simple but effective ways to further enjoy the onsen, as well as how to improve your breathing and circulation. A booklet with English explanations and English support is available.
Relax with Flowers: A Floral Lobby, Rooms, and Camellia Oil-Making
As Ito is known for the Japanese camellia, all the rooms and the inn facilities contain elements inspired by these camellias and the other local flowers.
The hanging decorations ("tsurushi kazari" in Japanese) in the lobby featuring camellias, cherry blossoms, and peach blossoms will catch your eye. Seen often during Girls' Day in early March, tsurushi kazari are traditionally are hung by parents wishing for the healthy development and happiness of their children.
There is also a library area where you can sit down with a book and spend a peaceful, leisurely afternoon overlooking the courtyard. Many of the books are in Japanese, but some are in English, too. Pictured above is a translation of "Izu Dancer," a famous short story about a young traveler on the Izu Peninsula.
Don't forget to browse the gift shop, too. The shop carries many flower-inspired items, including small tsurushi kazari-like objects, and flower-adorned stationery.
Every spacious room at KAI Ito is designed so that guests can appreciate the local nature in all four seasons, no matter when they visit. There are cheerful floral touches throughout the room along with a traditional-meets-modern interior will make you feel right at home. The inside of the room we stayed in had a traditional alcove, or tokonoma, decorated with motifs from each season. Traditionally, tokonoma usually changes year-round to reflect the current season only.
All KAI resorts offer in-room massage services to guests. Before your massage, you will be handed a form you can fill out with any body aches or concerns you have. There is also a form available in English.
To learn more about the rooms available at KAI Ito, please refer to this page.
Make Your Own Moisturizing Camellia Oil
One thing you can try at KAI Ito is camellia oil making. The oil from camellia flower seeds is rich in vitamin E and is noted particularly for its rejuvenating skin and hair benefits. There are dozens of varieties of camellias, but the Japanese Yabu Tsubaki type native to this region is used for this renowned oil.
During the workshop, you will first remove the outer shell so that the oil can be expelled from the seed. After the shell has come off, you will apply pressure to the seeds to expel the oil, via a hand-operated machine. After you have expelled the oil, you will receive a cute vial for you to take home and use after bathtime.
If you are interested in learning more about the activities offered at KAI Ito, please refer to this page.
Fine Dining that Lets You Taste the Sea
KAI Ito offers a kaiseki experience, a type of Japanese course meal. You can try many local specialties, like Alfonsino, or red bream, and other seafood.* There is also a drink menu with regional sake, Japanese craft beer, and other beverages to sip on.
Pictured above is one course from the kaiseki meal, featuring beautifully-prepared sashimi and other local dishes.
The meal will also come with dessert, which consisted of a creamy cheese with azalea-infused jelly. The adorable welcome chocolate piece further reveals KAI Ito's warm hopsitality.
Breakfast is at restaurant overlooking the courtyard. With a salad, vegetables, and other seafood-based dishes, the meal is very nutritious and satisfying. It will prepare you for a full day of sightseeing.
For more information regarding dining options at KAI Ito, please see this page.
*With advanced notice, the kitchens here will accommodate and arrange beautiful meals for guests with allergies or restrictions, like vegetarianism and veganism.
Explore Izu Peninsula: Flower Viewing and Coastal Hiking
KAI Ito is bordered by the mountains and the ocean on the Izu Peninsula. A number of travels destinations, including early-blooming Kawazu cherry blossoms, Jogasaki Coast, and stunning flower fields are within convenient access of the inn. Below are four ideas to consider for your trip to Ito depending on the season.
February - March: See Sakura Early at Kawazu Cherry Blossom Festival
Picture from Kawazu Sakura Festival - View The Cherry Blossoms Early!
At the Kawazu Cherry Blossom Festival located in Kawazu, visitors have a great chance to view Japan's famous cherry blossoms early. Several thousand bright-pink cherry blossoms bloom along the Kawazu River between mid-February and mid-March. There are also food and drink vendors at the festival, selling seasonal treats. This is a must-see celebration to welcome spring.
To get to Kawazu, take the Odoriko train from Ito Station bound for Shimoda. After around one hour, get off at Kawazu Station and you will be greeted immediately with vibrant sakura.
April - May: Take in Flowers and Mt. Fuji at Komuroyama Park
Picture courtesy of Hoshino Resorts
Close to Mt. Fuji, Shizuoka has one of the most breathtaking views of this iconic mountain. The picture above shows Komuroyama Park, painted vibrant fuschia during its famous azalea season, which is typically from late April to mid-May. You can enjoy the flower fields here even after the cherry blossom season ends. The park has a chairlift to an observatory that offers views of the islets off the coast, Ito City, and Mt. Fuji.
From Ito Station, take the bus bound for the Komuroyama Lift for half an hour. For more access information, please view this link (Japanese).
July - August: Relax at the Sandy Beach and Go for a Swim
Picture courtesy of Hoshino Resorts
Summer is an ideal time to enjoy swimming and the stunning coast. Ito Orange Beach is just a fifteen-minute walk away from KAI Ito where you can lay down a towel in the sand and soak up the sunshine. The waters are transparent and are ideal for cooling off during hot weather. There are also firework festivals to welcome the summer.
Year-round: Hike Along Jogasaki Coast
Picture from Jogasaki Coast In Izu - Amazing Views Along The Pacific Coast
If you want to immerse yourself in the outdoors, look no further than the trails of the Jogasaki Coast located around ten kilometers from Ito. This is a popular hiking area with stunning views of the ocean and a trail that goes past a suspension bridge and lighthouse. You also can't miss the unique rock formations, created from volcanic activity thousands of years ago. The endpoint for hikes is at Shikinohana Park, where you will find a cafe selling Shizuoka-grown green tea and soba, and a charming garden.
Getting to Jogasaki Coast from Ito requires taking the train from Ito Station south to Izu-Kogen Station. From there, you can take a bus for 10 minutes.
Surround Yourself with the Sea and Nature at KAI Ito
KAI Ito is a luxurious Japanese inn where guests can explore the local culture of the Izu Peninsula, with its long hot spring history, bright camellia flowers, and flavorful kaiseki cuisine. Directly accessible from Tokyo via express train, this is a convenient destination for relaxing and exploring Japan's nature. Come for a weekend or longer stay for an unforgettable trip.
Hoshino Resorts KAI Ito Official Website: https://kai-ryokan.jp/en/ito/
Check room availability on this page
Jasmine Ortlieb
Sponsored by Hoshino Resorts
Written by
Hoshino Resorts operates hotels and ryokan (Japanese inns) in more than 40 locations. Their facilities are ideal for travelers who wish to fully enjoy the charms of Japan.
Each facility has English speaking staff who make sure that visitors from all around the world experience the full breadth of Japanese hospitality without inconveniences.
The Hoshino Resorts brands include HOSHINOYA, KAI, RISONARE, OMO, and BEB.
The information presented in this article is based on the time it was written. Note that there may be changes in the merchandise, services, and prices that have occurred after this article was published. Please contact the facility or facilities in this article directly before visiting.