Hoshino Resorts KAI Kinugawa - Relaxing Hot Springs And Luxurious Craftsmanship
Hoshino Resorts KAI Kinugawa is a hot spring ryokan in Kinugawa Onsen, Tochigi, just two hours north of Tokyo. Guests can enjoy a relaxing stay surrounded by the beauty of nature and the artistry of local crafts such as Mashiko ceramics and Kurobane indigo.
Hoshino Resorts KAI Kinugawa - An Unforgettable Stay in Kinugawa Onsen
Picture courtesy of Hoshino Resorts
Misty, forested mountains rise like the spines of sleeping dragons on either side of the Kinugawa, the rushing river that gives its name to this exclusive hot spring resort two hours north of Tokyo.
In addition to a luxurious, secluded getaway in a restful natural setting, Hoshino Resorts KAI Kinugawa offers guests an unparalleled opportunity to experience and enjoy the traditional arts of Tochigi Prefecture.
Hoshino Resorts KAI Kinugawa Official Website
Experience the Beauty and Refinement of Traditional Japanese Art
KAI Kinugawa's attention to craftsmanship and fine details was apparent the moment our taxi arrived at the entrance. Locally quarried Oya stone and patterned textiles dyed with Tochigi Prefecture's famous Kurobane indigo echoed the colors and textures of the Kinugawa River.
A private, glass-walled slope car carried us up the forested mountainside to the lobby, where we enjoyed a refreshing cup of welcome tea in front of floor-to-ceiling windows with views of the forest. Gentle lighting illuminated displays of Mashiko-yaki, Tochigi's traditional ceramics, known both for their beauty and for their versatility of function and design.
In KAI Kinugawa's Travel Library, rows of welcoming couches offer a place to sit and read, enjoy a complimentary drink, or simply enjoy the relaxing, panoramic view of the inner garden. This ever-changing living mural is filled with lovely shades of green in spring and summer, red and golden foliage in autumn, and, in winter, pristine snow.
Perfectly Crafted, Luxurious Rooms
The rooms at KAI Kinugawa continue the emphasis on local artistry, with terraces constructed from local Oya stone where guests can relax while listening to the gentle sound of the Kinugawa River.
Inside, each room's design blends modern luxury with traditional Japanese aesthetics; every bed is equipped with luxurious mattresses designed exclusively to provide the guests with perfect nights of restful sleep.
Picture courtesy of Hoshino Resorts
While every room at KAI Kinugawa incorporates unique examples of local artistry, the resort's Signature Rooms are specially designed to feature displays of Mashiko ceramics and Kurobane indigo-dyed textiles. Some of the rooms are equipped with a private outdoor hot spring bath where guests can relax in exquisite calm.
Read more about the guest rooms on the official website of KAI Kinugawa.
Immerse Yourself in Hands-On Cultural Experiences
After checking in, KAI Kinugawa's guests can choose from a selection of entertaining seasonal activities inspired by Tochigi's crafts and Japanese traditions.
First, we enjoyed refreshing bowls of blueberry kakigori, a traditional Japanese summer treat consisting of feather-light shaved ice topped with fresh berries and blueberry syrup whose indigo hue echoed the famous color of local Kurobane textiles.
Across the garden in the Sakura Room, we chose our favorite patterns from a wide selection of authentic Kurobane textiles, which we used to make traditional Japanese fans—a unique souvenir of our summer visit to KAI Kinugawa.
When darkness fell, we ventured into the garden, where traditional textile lanterns lit the wide stone paths, and enjoyed another beloved Japanese summer activity: lighting hanabi (fireworks). The handheld sparklers gave off tiny showers of dancing sparks that looked like fiery snowflakes in the night.
Visit the KAI Kinugawa website to learn more about these and other special, seasonal experiences crafted around the traditional arts of Tochigi Prefecture.
Savor Spectacular Cuisine Served in Local Mashiko Ceramic Ware
Dinner at KAI Kinugawa is served in a multi-course style called kaiseki-ryori. This traditional Japanese haute cuisine showcases the freshest local ingredients and uses a different style of cooking in every course, from savory roast beef appetizers to a soup of delicate sea bream simmered with eggplant and green onions.
The tray of "combination delicacies" featured nine different one-bite specialties, including steamed pumpkin with red miso, taro in tangy white sesame vinegar, and delicate fried shrimp.
Halfway through the meal, the server placed a Mashiko ceramic dome atop a burner at the far end of our table. Soon, the fragrance of gently steaming beef and vegetables filled the air. A few minutes later the server returned and removed the dome, revealing paper-thin slices of sirloin beef wrapped around seasonal vegetables, all steamed to delicious perfection.
Our meal came to a triumphant close with a choice of desserts: jelly bursting with fresh fruit or traditional Japanese "anmitsu" sweets with adzuki beans and chewy konjac. Each dessert came crowned with a chocolate plaque that welcomed us yet again to KAI Kinugawa.
Dinner course during the fall months. Picture courtesy of Hoshino Resorts
Because kaiseki features only the freshest seasonal ingredients, the menu at KAI Kinugawa is set in advance and changes regularly. However, the resort is happy to accommodate allergies and food intolerances; simply contact KAI Kinugawa in advance and let them know your needs.
The following morning, we enjoyed a traditional Japanese breakfast, served with a view of the peaceful garden. As with dinner, the morning meal featured a variety of local specialties, including yuba (paper-thin tofu sheets, made by boiling tofu milk), natto (fermented soybeans), and velvety soft-boiled eggs. Our beautiful wooden breakfast trays were adorned with orchids and accompanied by a refreshing glass of citrus-apple juice.
Learn more about the dining options at KAI Kinugawa by visiting their official website.
Dessert and Music Featuring Mashiko Ceramic Ware
Picture courtesy of Hoshino Resorts
The unique activities at KAI Kinugawa continued after dinner, with a special evening presentation celebrating Mashiko ceramic ware.
We selected three dishes from among the dozens of beautifully colored, shaped, and patterned pieces on display, and used them to enjoy a selection of Japanese sweets while listening to a brief, and highly interesting, explanation about the history and unique characteristics of Mashiko pottery.
The presentation ended with a performance of traditional Japanese music played on a ceramic flute and drums made from Mashiko ware. Afterward, we even had the chance to play the drums ourselves!
Relax in the Soothing Waters of a Famous Onsen Bath
Picture courtesy of Hoshino Resorts
Kinugawa Onsen has been a famous hot spring resort since the Edo Period (1603-1868), and no visit to KAI Kinugawa would be complete without a relaxing soak in a hot spring bath. The baths are separated by gender, and each bathing area includes both an indoor bath and an open-air rotenburo where guests can soak in geothermically-heated water while enjoying a peaceful garden view.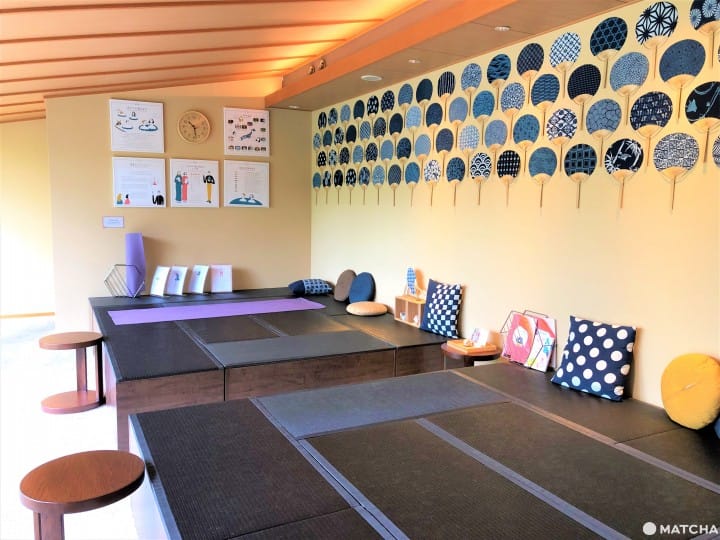 Afterward, we relaxed on the raised tatami platforms of the Yuagari Lounge and savored complimentary cups of tea. The restful lounge overlooks a bamboo garden, and also features displays of rare Oya stone and Kurobane textiles.
Traditional Craftsmanship in a Relaxing, Luxurious Atmosphere
Picture courtesy of Hoshino Resorts
After breakfast and one last dip in the hot spring bath, it was time to check out and ride the slope car back down the mountainside, relaxed and rested after a day and night surrounded by the beauty and artistry of KAI Kinugawa.
From delicious food and relaxing rooms to engaging activities and artisanal details, KAI Kinugawa strikes the perfect balance between modern luxury and traditional Japanese craftsmanship: a spectacular place to experience the best of Tochigi at any time of year.
Hoshino Resorts KAI Kinugawa official website: https://kai-ryokan.jp/en/kinugawa/
Check room availability on the Hoshino Resorts Booking Page
Main image courtesy of Hoshino Resorts
Written by Susan Spann
Sponsored by Hoshino Resorts
Hoshino Resorts operates hotels and ryokan (Japanese inns) in more than 40 locations. Their facilities are ideal for travelers who wish to fully enjoy the charms of Japan.
Each facility has English speaking staff who make sure that visitors from all around the world experience the full breadth of Japanese hospitality without inconveniences.
The Hoshino Resorts brands include HOSHINOYA, KAI, RISONARE, OMO, and BEB.
The information presented in this article is based on the time it was written. Note that there may be changes in the merchandise, services, and prices that have occurred after this article was published. Please contact the facility or facilities in this article directly before visiting.