Hoshino Resorts KAI Nikko - A Relaxing, Luxurious Nikko Trip
Hoshino Resorts KAI Nikko is located at the foot of Mt. Nantai, the sacred mountain of Nikko, and offers a great view of Lake Chuzenji. A stay at this facility allows you to experience the rich culture of Nikko, defined by its ancient temples and shrines, refined artisanal crafts, and local cuisine.
An Unforgettable Stay in Nikko, A Famous Pilgrimage Site
Nikko is located in Tochigi, three hours north of Tokyo. For centuries, people have traveled to mountainous Nikko for its sacred temples, healing hot spring baths, and spectacular waterfalls. Home to several temples and shrines that have been designated UNESCO World Heritage Sites, Nikko is a popular travel destination all throughout the year.
Hoshino Resorts KAI Nikko sits on the shore of tranquil Lake Chuzenji. This accommodation facility is the perfect choice for a modern "pilgrim" seeking to experience the very best that Nikko has to offer.
Picture courtesy of Hoshino Resorts
From JR Nikko Station or Tobu Nikko Station in lower Nikko, board a local bus headed to Chuzenji Onsen Terminal. You'll enjoy a scenic ride through forested mountains to Lake Chuzenji. From there, a complimentary shuttle will pick you up for the five-minute ride to KAI Nikko, which sits beside the lake in the shadow of sacred Mt. Nantai, one of Japan's most famous mountain peaks.
Hoshino Resorts KAI Nikko Official Website
Experience a Traditional Japanese Welcome
Hoshino Resorts KAI Nikko features traditional architecture accented with local artisanal craftsmanship, including the centuries-old woodcarving technique called Nikko-bori and kanuma-kumiko wooden latticework, both of which originated in Tochigi Prefecture.
We admired these details while sipping cups of amazake, a traditional Japanese beverage made from fermented rice that innkeepers in Nikko have used to welcome travelers for centuries.
After checking in, we relaxed in the lobby lounge with refreshing bowls of kakigori, feather-light Japanese shaved ice (*this dessert is offered only in the summer). At KAI Nikko, this traditional treat is topped with real Tochigi strawberries and matcha (Japanese green tea), and served at tables with a view of the sparkling lake.
Engaging Activities Inspired by Nikko's Pilgrimage Culture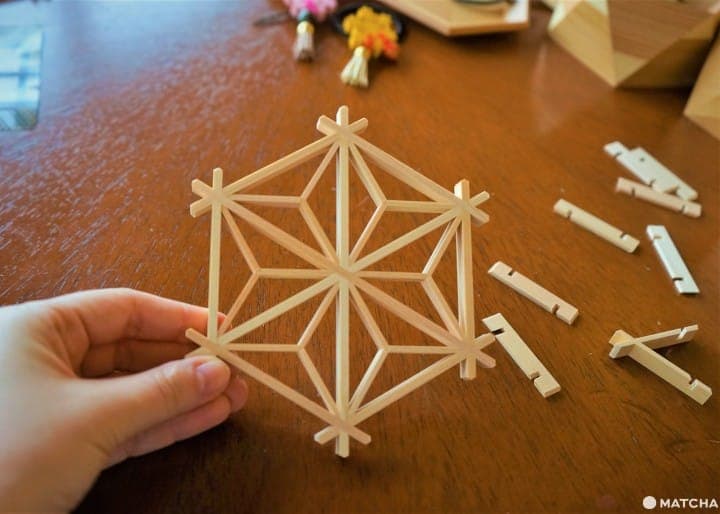 KAI Nikko offers a wide variety of entertaining, seasonal activities inspired by the history and nature of Nikko National Park. Visitors who wish to experience the artisanal side of Nikko can make souvenir wooden coasters of kanuma-kumiko latticework and traditional Japanese hair ornaments in a variety of colors.
We also combined our favorite dried fruits with fresh Japanese teas to make a flavorful custom drink to refresh us on our tour of the UNESCO World Heritage shrines and temples of the Nikko area.
KAI Nikko has activities for more active pilgrims, too, like speedboat rides on Lake Chuzenji and bicycle rides—alone or with a local guide—on the scenic touring roads around the lake.
Picture courtesy of Hoshino Resorts
In the autumn, KAI Nikko also offers a "fondue picnic" cruise, where visitors can savor local delicacies while viewing colorful autumn foliage. The fondue menu uses traditional yokan jelly instead of chocolate - a truly unique flavor experience.
Visit the KAI Nikko website to learn more about these and other special experiences crafted around this unique, historic setting.
Wear Traditional Nikko Geta
Picture courtesy of Hoshino Resorts
When darkness fell, we made another short pilgrimage—this time, to dinner—with a stop for yet another unique activity along the way.
During the 17th century, pilgrims walked to Nikko wearing hand-made sandals known as Nikko geta, a combination of sacred sandals made from woven straw and traditional Japanese wood-soled clogs.
Today, KAI Nikko is the only place where guests can wear these unique sandals while learning about their history and watching an exciting dance performance featuring these special, ancient shoes. The performance is called Nikko Geta Dangi and is held on the Noh stage of KAI Nikko.
Savor Spectacular Seasonal Cuisine
Picture courtesy of Hoshino Resorts
Dinner at KAI Nikko is served in semi-private dining rooms, in a multi-course style called kaiseki-ryori. This traditional Japanese haute cuisine showcases the freshest seasonal ingredients, and a different style of cooking is highlighted in every course.
Each meal also features Nikko's famous yuba (a delicious tofu "skin" skimmed from the top of boiling soy milk), which the local shrines and temples have made and served to hungry travelers for centuries.
A tray of assorted delicacies offered bite-sized portions of yet more local specialties. These were beautifully arranged on a plate decorated with motifs inspired by Nikko Toshogu Shrine.
We savored green beans topped with miso, boiled peanuts in a mustard sauce, and fresh sashimi made with tender fish. The meal continued with crispy tempura-fried vegetables and delicate steamed dumplings topped with chrysanthemum sauce.
Picture courtesy of Hoshino Resorts
The main course featured savory Japanese beef and tender rice served in an artisanal bowl of locally-quarried Oya stone.
The meal came to a satisfying close with soft vanilla-milk mousse topped with Tochigi strawberry coulis.
Because kaiseki features only the freshest seasonal ingredients, the menu at KAI Nikko is set in advance and changes seasonally. However, the resort will happily accommodate food intolerances and allergies; simply contact KAI Nikko in advance and let them know your needs.
For more information on the cuisine offered at KAI Nikko, please visit the official website.
Relax in Luxurious, Perfectly Crafted Rooms
The rooms at Hoshino Resorts KAI Nikko offer the perfect place to relax and recharge. Many offer views of Lake Chuzenji, and every room blends modern luxury with traditional Japanese details.
Every bed is equipped with a luxurious mattress designed exclusively to provide the guests of Hoshino Resorts with a perfect night of restful sleep.
For guests in search of even more unique accommodations, KAI Nikko's Signature Rooms feature displays of kanuma-kumiko latticework, marble or cedar baths, and expansive, restful views of Lake Chuzenji and Mt. Nantai.
Learn more about the guest rooms by visiting the KAI Nikko website.
Refresh Yourself in the Soothing Waters of an Onsen Bath
In addition to its shrines and temples, Nikko is famous for its onsen (hot spring baths), where pilgrims would refresh themselves after an arduous journey through the mountains. KAI Nikko has both indoor and outdoor hot spring baths, separated by gender, where guests can soak in geothermically-heated water while enjoying peaceful views and a tranquil atmosphere.
After the bath, we relaxed with complimentary tea and fruit-flavored ice pops on the raised tatami-covered dais in the nearby Yuagari Lounge. Massages are also available, and same-day reservations can be made at the front desk of KAI Nikko.
For details on the hot springs available at KAI Nikko, please refer to the official website.
The Best of Nikko in a Relaxing Atmosphere
Hoshino Resorts KAI Nikko, located on the shore of Lake Chuzenji, is a place where you can spend delightful moments enjoying the beautiful nature and rich culture of Nikko.
From delicious food inspired by Nikko's pilgrimage culture to engaging activities and traditional details, KAI Nikko is the ideal destination for anyone who wants to experience the best that Nikko has to offer.
Hoshino Resorts KAI Nikko official website: https://kai-ryokan.jp/en/nikko/
Check room availability on the Hoshino Resorts Booking Page
Main image courtesy of Hoshino Resorts
Written by Susan Spann
Sponsored by Hoshino Resorts
Hoshino Resorts operates hotels and ryokan (Japanese inns) in more than 40 locations. Their facilities are ideal for travelers who wish to fully enjoy the charms of Japan.
Each facility has English speaking staff who make sure that visitors from all around the world experience the full breadth of Japanese hospitality without inconveniences.
The Hoshino Resorts brands include HOSHINOYA, KAI, RISONARE, OMO, and BEB.
The information presented in this article is based on the time it was written. Note that there may be changes in the merchandise, services, and prices that have occurred after this article was published. Please contact the facility or facilities in this article directly before visiting.