Nikko Guide – Travel Attractions, Food, And Discount Transport Info
Two hours from Tokyo, Nikko in Tochigi Prefecture is a destination famous for its World Heritage sites and beautiful nature. From the historic Toshogu Shrine to Lake Chuzenji and hot springs, there is much to see and do here. Here's a complete guide on where to go, food, and discount transportation....
About Nikko - A Destination of Historic and Natural Wonders
Nikko in Tochigi Prefecture is one of Japan's most fun travel destinations, accessible in just two hours from Tokyo. Witness the beauty of the seasons through the multicolored fall foliage here in October and November. During the winter, you'll find the World Heritage sites of Nikko covered in glistening white snow.
The Nikko area has a long history, flourishing as a sacred land for Shinto mountain worship since the Kamakura Period (1185 – 1333). Nikko Toshogu Shrine was constructed during the Edo Period to enshrine the souls of Tokugawa Ieyasu and Tokugawa Iemitsu, both shogun (generals) from that period. It soon became a bustling town with many shrine visitors and officials.
The city is also home to numerous historical structures, like Toshogu Shrine and Futarasan Shrine, some of which are registered as UNESCO World Cultural Heritages. Additionally, the area is famous for its rich nature that includes Kegon Falls—a waterfall with a drop of 97-meters—and Lake Chuzenji's tranquil shores.
There are also hot springs here, so you can take your time relaxing while soaking in the therapeutic springs after visiting historical sites or enjoying activities in nature. In this article, we introduce sightseeing spots, must-eat food, recommended cafes, and ways to travel economically in Nikko.
Table of Contents
How to Get to and Around Nikko
Nikko's location in Tochigi Prefecture, around 2 hours north of Tokyo, makes it easy to get to from the city via public transportation. Once in Nikko, utilize buses to navigate around effectively.
Tokyo to Nikko – Travel from Asakusa Station
We recommend taking the limited express train from Asakusa to Nikko. Available options include the Tobu Nikko Line Limited Express Kegon, which travels from Asakusa Station to Tobu-Nikko Station for a direct ride, or the Tobu Nikko Line Limited Express Kinu (transfer once at Shimo-Imaichi Station). Travel time is about an hour and 50 minutes for both trains. Travel fare is 2,440 yen.
If you don't take the limited express train, travel time on a normal train line from Asakusa to Nikko will take about two hours and ten minutes. It will cost 1,390 yen.
We recommend getting the Nikko Pass for traveling between Asakusa and Nikko, and navigating around Nikko. The pass is valid for two-four days and comes in two varieties: All areas (Nikko, Oku-Nikko, Kinugawa Onsen), and World Heritage sites (World Heritage sites and Kinugawa Onsen). Round-trip fare between Asakusa and Nikko, transportation within and around Nikko, and discounts at several shops and hotels are included.
We suggest purchasing the passes online via Klook. Please see the link below for details and to reserve either pass:
Nikko Pass Details and Reservations
Getting Around Nikko
Transportation in Nikko is most convenient by bus. The city has a well-developed public transportation system, so be sure to take the bus when traveling around sightseeing spots. We suggest using the Nikko Pass mentioned above for unlimited transportation around Nikko.
Top 15 Tourist Spots
1. Nikko Toshogu Shrine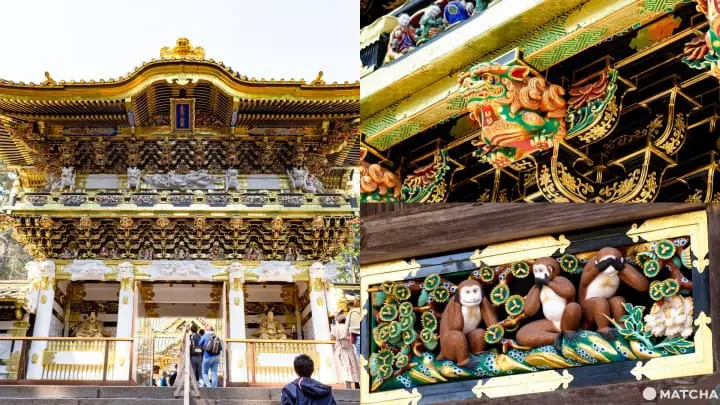 Nikko Toshogu Shrine is one of the most famous spots in Nikko, visited by people from all over the world. The shrine is dedicated to Tokugawa Ieyasu—the first shogun of the Edo Period—and is registered as both a UNESCO World Cultural Heritage and National Treasure.
The shrine has 55 separate buildings. These include the Yomeimon Gate—engraved with over 500 wood carvings—eight National Treasures exuding artistic beauty, and 34 Important Cultural Properties.
Aside from the buildings itself, visitors shouldn't overlook the intricate artworks found here. The "Sleeping Cat" and "Three Wise Monkeys" (an embodiment of the proverb "See no evil, speak no evil, and hear no evil") carvings are particularly popular. You'll also find an ink painting titled the "Roaring Dragon" by artist Kano Eishin Yasunobu.
2. Nikko Futarasan Shrine and Shinkyo Bridge
Nikko Futarasan Shrine is a famous sacred site known for enshrining the god of matchmaking. The shrine grounds cover a vast area, split into three separate visiting and worshipping spots.
Photo by Pixta
The famous Shinkyo Bridge near Nikko Futarasan Shrine is one of the shrine's structures. This vermillion-lacquered bridge arches over the Daiya River, marking the beginning of where Nikko's World Heritage Sites are.
The bridge is nicknamed Yamasuge-no-Jabashi (Bridge of Snakes with Wild Sedge). Legends say that when Shodo Shonin (*1) came across a muddy stream, two snakes appeared before him and transformed into a bridge. It is considered one of Japan's top three unique bridges.
Initially built in 1636, the bridge was later reconstructed to what it is today. At the time, only special envoys were permitted to cross over for Shinto rituals or visits from generals. Nowadays, the sacred bridge is open to anyone and everyone. The combination of the autumn leaves with the vermillion bridge is exceptionally magical.
Those interested in an in-depth experience can join a tour with half a day at World Heritage Sites with an English-speaking guide. Follow this link for details and to reserve: Nikko Day Tour offered by Klook
*1 Shodo Shonin: a priest who is considered to have founded the sacred spots in Nikko.

3. Rinnoji Temple
Rinnoji Temple is also a designated National Historic Site. Together with Nikko Toshogu Shrine and Futarasan Shrine, these structures are registered with UNESCO as The Shrines and Temples of Nikko.
A highlight of the temple is the Iemitsu Mausoleum Taiyuin, the gravesite of Tokugawa Iemitsu. He was the third generation shogun during the Edo Period. The temple also has the Heavenly Corridor, a viewing passage, and Sanbutsudo (Main Hall). Sanbutsudo is also classified as an Important Cultural Property.
In front of Sanbutsudo is the Kongozakura tree, a natural monument is estimated to be around 500 years old. The cherry tree reaches its full bloom between late April to early May.
4. Kegon Falls
Picture courtesy of Nikko City Tourism Association
Kegon Falls is a waterfall with a 97-meter drop located in Nikko National Park. It is ranked as one of Japan's Three Great Waterfalls. The sight of the falls flowing an average of three tons into the waters of Lake Chuzenji is incredible.
There are two waterfall viewing platforms in Kegon Falls. The viewing platform right by the parking lot is built to protrude out from the cliff so that visitors are able to look down onto Kegon Falls.
The second viewing platform is near the waterfall basin. This view makes it possible to look up to view Kegon Falls. The wall to the right of the waterfalls is an impressive columnar structure.
5. Ryuokyo Gorge
Photo by Pixta
Ryuokyo Gorge was created 22 million years ago from volcanic activity. The name of the gorge comes from its dragon-like shape ("ryu" means dragon in Japanese). Different parts of the canyon also have separate names: Shiryu Gorge (purple), Seiryu Gorge (blue), and Hakuryu Gorge (white), based on the color and types of rocks. There are several things to see here!
Ryuokyo Gorge expands roughly three kilometers between Kinugawa Onsen and Kawaji Onsen. Hiking tours are also available.
6. Senjogahara Marshland
Photo by Pixta
Legends state that the name Senjogahara came from being the battlefield where the deities of Mt. Nantai and Mt. Akagi fought for ownership of Lake Chuzenji. The marsh is around 1,390 – 1,400 meters above sea level and is registered with the Ramsar Convention for its significant environmental value.
The wetland's two-hour hiking route receives many hikers throughout the year that come to enjoy the seasonal nature. This area is also famous for the 350 plant species and countless wild bird species that inhabit it.
7. Lake Chuzenji
Photo by Pixta
Lake Chuzenji formed 20,000 years ago by a lava flow from Mt. Nantai that was blocked by the ravine. It was once famous as the training place for Shinto and Buddhist worshippers.
Between the Meiji period and early Showa period, the area prospered as a summer retreat for international visitors thanks to its mild climate.
The lake was selected as one of the 100 Landscapes of Japan for its seasonal landscapes. Be sure to enjoy the view from the water on a sightseeing cruise. We recommend visiting in the early summer to see azaleas or in the autumn for the foliage.
8. Chuzenji Temple
Chuzenji Temple is part of the grounds of Rinnoji Temple, located on an elevated spot that overlooks Lake Chuzenji. The temple was built in 784.
Within the temple grounds is a bell tower called the Wish Granting Bell. As its name implies, it is thought to make hopes come true. Its effectiveness depends on how many times you ring the bell. Ring it once for all memorial services, twice for longevity in happiness, and three times or more for each wish you make.
Before you leave, take notice of the tree with a huge knot. This tree is called the Scapegoat Knot, and is said to take on pain or ailments from your body.
9. Mt. Nantai
The 2,486-meter (8,156 feet) Mt. Nantai is an iconic mountain in the Nikko area and an object of spiritual importance. An event called Tohaisai (Climbing Festival) is held every July 31. People begin their climb towards the summit for this event starting at midnight on August 1.
The path to the summit is six kilometers long and can be hiked in about three to four hours. Mt. Nantai was also chosen as one of the Top 100 Mountains in Japan. If you're lucky, you might even be able to see a sea of clouds from the summit.
10. Nikko Yumoto Onsen
Photo by Pixta
Nikko Yumoto Onsen is a famous hot spring with opaque sulfur springs. There are different types of water and baths to enjoy, like sodium sulfate, bicarbonate, chloride springs (neutral hypotonic springs), and sulfur springs. The waters are said to be great for relieving nerve pain and rheumatism.
The historical hot spring district is said to have been established when it was first discovered in 788. You will notice the sulfurous odor drifting to the town from the hot spring. Anyo-no-Yu, the footbath at the center of the town, can also be used for free.
Onsenji Temple, a branch of Nikkozan Rinnoji Temple, is located next to the water source of Nikko Yumoto Onsen. The hot spring is a gender-separated, communal bath.
11. EDO WONDERLAND Nikko Edomura
Picture courtesy of Nikko City Tourism Association
EDO WONDERLAND Nikko Edomura is a theme park that makes it possible to have a realistic experience of the Edo period. It'll feel as if you've traveled back in time as employees dressed as samurai walk around the park. Parkgoers can also dress up in clothes once worn by the people during the Edo period.
Authentic Edo period experience programs like the Ninja or Samurai Swordsmen Experiences are also available. Visitors can also enjoy year-round events, like ninja attractions, traditional performing arts, and performances of original plays.
Those interested in an in-depth experience can join a tour that includes half a day at Edomura. Follow this link for details and to reserve: Nikko Day Tour offered by Klook
12. Nikko Kanaya Hotel
Nikko Kanaya Hotel is a lodging that has been around since 1873. It is a prestigious hotel, too, as it was visited by Albert Einstein in 1922 and Helen Keller in 1937. Nikko Kanaya Hotel is Japan's oldest existing classic resort hotel.
The lodging exterior appears very Western in style, but the interior adopts Japanese-style furnishings and architectural styles. Its construction is very impressive. Your stay can include food with traditional flavors that have been passed down for over 100 years, as well as natural hot springs with water from Yumoto Onsen.
13. Nikko Tamozawa Imperial Villa Memorial Park
Nikko Tamozawa Imperial Villa Memorial Park was constructed as a summer retreat for Emperor Taisho when he was the crown prince. The buildings itself are designated as Important Cultural Properties of Japan, and the historical wooden buildings and setting has given its designation as one of the 100 Best Historical Parks in Japan.
The seasonally-changing garden is also beautiful. It can be enjoyed alongside the elegance of the 100-year-old Nikko Tamozawa Imperial Villa.
14. Mt. Nikko-Shirane
Photo by Pixta
Mt. Nikko-Shirane is the highest peak of the Nikko mountain range. It is located on the boundary of Nikko, Tochigi Prefecture and Katashina in Tone, Gunma Prefecture.
There are three popular hiking courses on Mt. Nikko-Shirane: Mt. Shirane Summit (about 5 hours round-trip), Mt. Shirane – Zazenyama Route (about 5.5 hours), and the Mt. Shirane-Goshikinuma-Midagaike Pond Route (about 6.5 hours). You can also enjoy this famous 2,578 meter (8,458 feet)-high mountain using the ropeway.
15. Ryuzu Falls
Picture courtesy of Nikko City Tourism Association
Ryuzu Falls runs down 210 meters (688 feet) of rocky surfaces created by lava from Mt. Nantai in a volcanic eruption. It is considered one of Nikko's Three Great Waterfalls.
The waterfall is located at an elevation of 1,350 meters and is 210 meters in height. We recommend admiring the waterfall from the viewing platform at the end of the falls.
Ryuzu Falls are especially beautiful during early summer when the azaleas bloom and during the colorful foliage in fall. The waterfalls are crowded with tourists during these times. The surrounding area of Ryuzu Falls is considered to be where autumn leaves arrive the fastest in the Oku-Nikko area.
Eat Yuba Dishes in Nikko
Yuba, or tofu skin, is healthy, high in nutritional value, and a local Nikko specialty. It is a processed soybean product made of the thin film that forms on the surface when soy milk is heated. This dish can be eaten and prepared in various ways. Yuba can be eaten as-is, with just soy sauce, or prepared by boiling or frying the skins.
If you want to try yuba dishes, try the NIKKO Don at Kamaya Café du Revaberu. The homemade roast beef is made from seared Nikko wagyu beef, finished off in a thermal cooker at a low temperature. The yuba is simmered in soy sauce and fried into plump rolls. The combination is excellent.
Uoyou uses the yuba from Fujiya (Japanese), a long-established producer in Nikko, to make their famous Yuba Soba, containing handmade buckwheat noodles topped with three types of seasoned yuba.
Sakaeya's (Japanese) Fried Yuba Bun has a shell made with Tochigi Prefecture soy milk and yuba. It is wrapped around a smooth red bean paste made from select azuki beans. There is a line out the front of the store with people that visit for their Fried Yuba Buns. Its delicious flavor is worth lining up for!
Take a Break at Local Cafes
Nikko Coffee Imperial Villa Street
Picture courtesy of Nikko Coffee Imperial Villa Street
Nikko Coffee Imperial Villa Street (Japanese) is an old Japanese café that sits on the street in front of the gates to Tamozawa Imperial Villa. They are highly rated for their aromatic self-roasted coffee and homemade sweets. The café is located in a quiet place separate from the hustle and bustle of Nikko tourists.
Picture courtesy of Nikko Coffee Imperial Villa Street
The shop, remodeled from an old merchant home from the Taisho period, is enveloped in the aroma of coffee. How about spending some time relaxing here?
Meguri
Picture courtesy of Meguri
Picture courtesy of Meguri
Meguri uses vegetables from organic farms and home gardens to serve healthy vegetarian and vegan cuisine. The shop, a former antique shop, has a modern and calming ambience.
Their dishes and sweets are made without the use of animal products, such as eggs or milk. They are 100% plant-based, something that will delight vegetarians and vegans visiting Nikko. Their coffee and black tea are organic.
If you're tired from the crowds of people, spend mealtime at this serene, welcoming cafe.
Recommended Seasons and Itinerary
Nikko sightseeing can be enjoyed regardless of the seasons, but the most recommended season is during the autumn foliage when the mountains are colored in shades of red and yellow. You'll be amazed at the vibrant and burning colors of the leaves. However, please visit with adequate amounts of spare time as many other people will be visiting at this time.
A day trip from Tokyo to Nikko is also possible. However, we also recommend staying a night and fully experiencing the hot springs since you've traveled such a distance.
Kinugawa Onsen is a leading hot spring district in Japan located in the Nikko area. It is located upstream Kinugawa River, so you can enjoy both the flow of the river and gaze at the valley. The hot spring-type at Kinugawa Onsen is a simple spring with weak alkaline. The waters are colorless, transparent, and mild to the skin. There are several open-air baths and footbaths around the district, so please try walking around.
Visit Nikko
Nikko is a location blessed with rich nature, historical structures, and prominent sightseeing destinations. It's possible to enjoy activities or the hot springs in the area while also being rich in yuba, trendy cafés, and gourmet foods. You can even take a day trip to Nikko from Tokyo in about two hours, so how about going on a casual trip to Nikko?

Original Author: Tomomi Sawada
*This article is a rewritten version of an article originally published on November 2, 2016.


Download the MATCHA app for Japan travel: Apple Store | Google Play Store

The information presented in this article is based on the time it was written. Note that there may be changes in the merchandise, services, and prices that have occurred after this article was published. Please contact the facility or facilities in this article directly before visiting.