Nikko Guide - 28 Must-Visit Spots, Access, Dining, Souvenirs, And More
Nikko, located in Tochigi, less than two hours away from Tokyo by train, is a popular travel destination and home to several World Heritage sites. We introduce the best places to visit in Nikko, along with access information, souvenirs, and dining.
Nikko - World Heritage Sites and Scenic Nature near Tokyo
Nikko, located in Tochigi Prefecture, is one of Japan's foremost travel destinations. This fascinating city is a mere 2 hours away from Tokyo, making it a place that anyone can visit with ease.
Since the Edo era Nikko has prospered as a city thanks to the many worshipers and others that have come to see Nikko Toshogu Shrine, which is now a World Heritage site. Numerous other history-rich and natural locations like Kegon Falls and Lake Chuzenji, both of which are located in Nikko National Park, have become known as must-see areas too.
In this article we introduce 28 of the most beautiful places in Nikko, along with an area guuide and access information, souvenirs, dining and other useful tips.
Contents
1. Nikko Area Guide
2. 28 Beautiful Places to Visit in Nikko
3. Events in Nikko
4. Souvenirs from Nikko
5. Cuisine in Nikko
6. Nikko's Climate
7. Traveling to Nikko
8. Transportation in Nikko
9. Nikko Travel Tips
Nikko Area Guide
Kinugawa and Kawaji Area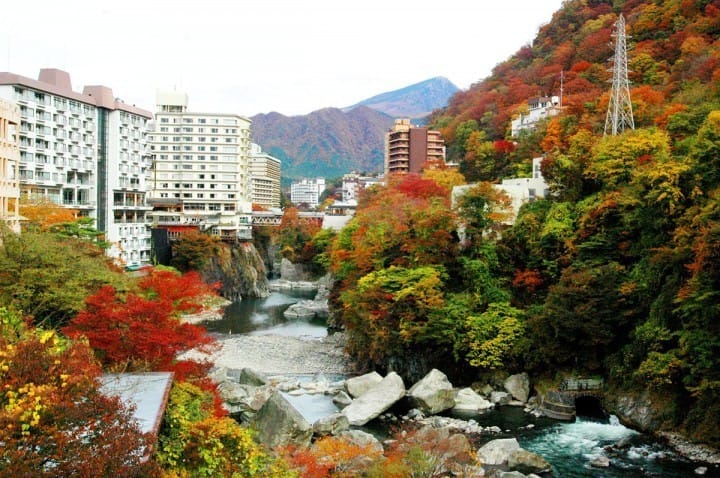 Kinugawa Onsen and the Kawaji Onsen are two hot sprin towns located along the Kinugawa River. Being so close to Tokyo, it goes without saying that these two hot springs are incredibly popular day trip locations, not only with visitors to Japan but with residents of the Kanto area as well. Around both there are not only hot springs but a theme park to enjoy too, making them great places for families to spend time together.
Yunishigawa, Kawamata, Okukinu Area
The Yunishigawa, Kawamata, and Okukinu areas in northern Nikko have been blessed with abundant natural beauty and are where you will find mountains that change with the four seasons, clear streams flowing through stunning valleys, and many incredible hot springs. If you travel to this area, you should definitely try the locally-made soba, their most famous product.
Nikko City Area
Nikko city is found in the northeast side of Tochigi prefecture. This is a nature-rich sightseeing city where you will find Kegon Falls, Lake Chuzenji and other beautiful spots, as well as World Heritage site Toshogu Shrine, many other temples and shrines, and hot springs too. If you are interested in natural landscapes, then it is best to visit Nikko in the fall during the autumn leaves season.
Imaichi Area
Imaichi, found in the eastern side of Nikko, is where you will see 13,000 Japanese cedar trees at Nikko Suginami, Roppouzawabashi, a 320 meter long bridge spanning a gorgeous valley, and many other natural and historical wonders that delight the senses. This area is also famous for its cuisine: the fresh milk from Osasabokujo and yuba from the Nikko Yuba Production Company Nikko Plant are just two examples.
Ashio Area
Ashio, in the south of Nikko, is best known for the Mount Ashio Copper Mine and the Matsugi Valley. With a 400 year long history, Ashio formerly prospered as the foremost copper mine in all of Japan. The Ashio Copper Mine mine tour and tourist facilities are perhaps Ashio's best known sightseeing spot. In spring,if you take the Watarase Keikoku train through this area you can enjoy a relaxing view of the many sakura trees that bloom in this region.
28 Great Sightseeing Spots in Nikko
1. Nikko Toshogu Shrine, a World Heritage Site
Nikko Toshogu Shrine is one of the representative World Heritage Sites in Japan. This is where you will find the famous Three Wise Monkeys (see no evil, speak no evil, hear no evil), along with the Sleeping Cat and Imagined Elephant carvings. The gorgeous Yomeimon Gate, the Karamon Gate and many other Japanese National Treasures can also be seen here.
Nikko Toshogu Shrine enshrines and is dedicated to Tokugawa Ieyasu (1543-1616), the founder of the Tokugawa shogunate (1603-1868) that brought an end to centuries of internal conflicts. The country prospered under the rule of the Tokugawas, that is why even today the Japanese people revere Ieyasu.
To learn more about Nikko Toshogu Shrine, please refer to the article below.
Address: Tochigi, Nikko, Sannai 2310
Website: Nikko Toshogu Shrine (Japanese)
2. Nikko Futarasan Shrine (World Heritage Site)
Nikko Futarasan Shrine is where you will find Okuninushi, the god of good fortune and matchmaking, enshrined. The vermilion painted wooden bridge, Shinkyo (Bridge of the Gods), found at the entrance to Mount Nikko is also a part of Futarasan Shrine. This is also said to be the entrance way to the Shrines and Temples of Nikko World Heritage site area as well.
Address: Tochigi, Nikko, Sannai 2307
Website: Nikko Futarasan Shrine
3. Rinnoji Temple Complex (World Heritage Site)
Rinnoji Temple consists of temple buildings, pagodas, and sub-temples that have been recognized as part of the Shrines and Temples of Nikko. There are many fascinating structures to see here: the Hondo (main hall), which is a National Treasure, as well as Nitenmon Gate, Komon Gate and more. Here you can see the beautifully ornamented gates and amazing architecture which make it such a popular sightseeing spot.
Address: Tochigi, Nikko, Sannai 2300
Website: Mount Nikko Rinno-ji Temple
4. Chuzenji Temple (Tachikikannon)
Chuzenji Temple is a branch temple of Rinnoji Temple mentioned above, and where you will find the Eleven-Faced Thousand-Armed Boddhisattva Kannon statue, an Important Cultural Property of Japan, whose calm countenance peacefully greets all that visit here.
Address: Tochigi, Nikko, Chugushi 2578
Website: Chuzenji Temple
5. Nikko Futarasan Shrine Chugushi and Futarasan Shrine Okumiya
On the scenic north shore of Lake Chuzenji near the base of Mt. Nantai is where you will find the Chugushi, a shrine belonging to Nikko Futarasan Shrine. With Futarasan Shrine Okumiya on the summit of Mt. Nantai and Futarasan Shrine Honsha located in Nikko city, this shrine has come to be called Chugushi, or the mid-point shrine.
Address: Tochigi, Nikko, Chugushi 2484
Website: Futarasan Shrine Chugushi and Futarasan Shrine Okumiya
6. Nikko Yumoto Onsen - National Health Preservation Hot Springs
Nikko Yumoto Onsen is found deep within Nikko. Surrounded by beautiful green landscapes, this hot spring area is a very quiet and peaceful place.There is also a lake and hiking courses here, making it a great place for outdoor fans to visit as well. And as these are sulphur springs, they are said to make your skin look more beautiful as well, which only adds to their popularity.
Address: Tochigi, Nikko, Yumoto
Website: Nikko Yumoto Onsen
7. Yunishigawa Onsen
Yunishigawa Onsen is a hot spring located within Nikko National Park. Here you can see straw-thatched roof houses alongside a mountain stream, a very unique and elegant sight. Also, you can enjoy delicious char, river fish and wild birds, deer, beer and other locally caught ingredients carefully cooked over an irori (traditional Japanese hearth) in what is known as Ochiudo cuisine.
8. Heike no Sato
Heike no Sato is the most famous place and historic landmark in Yunishigawa Onsen. There are a great number of beautiful natural sights, plenty of delicious regional cuisine and gensen kakenagashi onsen (a free-flowing hot spring source), and many charming ryokan inns where you will be greeted warmly in this throwback to the good old days of Japan.
Address: Tochigi, Nikko, Yunishigawa 1042
9. Meotobuchi Onsen
The final stop of the bus that travels to Okukinu Onsen Town stops at Meotobuchi Onsen. The one lodging here was built on the Kinugawa river valley, and appears almost to be clinging to it, which is part of its appeal. Every minute 1200 liters of water coming gushing forth from this spring. Along the mountain stream valley there are rotemburo (open-air baths)and women-only baths of various sizes to choose from, which makes this an excellent place for female travelers to safely spend time.
Address: Tochigi, Nikko, Kawamata, Araita
10. Okukinu Onsen Town
Kawamata, Nikko, Tochigi is the hot spring town where you will find the famous Okukinu, which is said to be the 'last little-known hot spring in Kanto' by hot spring enthusiasts. With waters said to beautify the skin and a 100% free-flowing source, in winter the flood plain of this hot spring is decorated with about 1200 snow huts that are illuminated by candles, creating a wonderfully romantic landscape.
Address: Tochigi, Nikko, Kawamata
11. Kawamata Onsen
Kawamata Onsen, is a valley hot spring that is surrounded by the magnificent natural wonders and beauty of the Nikko National Park. Here you will find a very popular tourist attraction: a natural geyser that has steam and pillars of hot water gushing up from it every few minutes.
Address: Tochigi, Nikko, Kawamata 646-1
Website: Kawamata Onsen
12. EDO WONDERLAND Nikko Edomura
If you would like to see ninja and samurai in present day Japan, then a trip to EDO WONDERLAND Nikko Edomura is perfect for you. This amusement facility will have you feeling like you have fallen 400 years back in time as you walk through the townscape of old Japan. And as there are samurai coming and going in the village, you are certain to feel like you have gotten yourself lost in the atmosphere of the Edo era for sure.
Address: Tochigi, Nikko, Kashikura 470-2
Website: Edo Wonderland
13. Tobu World Square
Tobu World Square is a theme park wherein famous structures and World Heritage sites from all around the world have been reconstructed in 1:25 scale. There's a miniature Tokyo SkyTree, Sagrada Familia, the Sphinx and more on display - you can see all of the famous places from around the world all at once here.
Address: Tochigi, Nikko, Kinugawa Onsen Ohara 209-1
Website: Tobu World Square
14. Kotoku Bokujo
Kotoku Bokujo is Nikko's popular sightseeing farm. The lush greenery of this farm and the sight of the cows as they mill about in the fields makes this an ideal place to stroll about and relax - it's very soothing. Here you can also enjoy their famous rich ice cream as well.
Address: Tochigi, Nikko, Chugushi 2452
Website: Kotoku Bokujo
15. Lake Yuno
Lake Yuno is a lake located in the western side of Nikko. This lake was formed by the eruption of its northern neighbor, Mount Mitake. Best known for its unbelievable fall colors, as soon as the leaves start to change this area becomes crowded with tourists. Doesn't taking a row boat out onto the lake to view the leaves sound wonderful?
Address: Tochigi, Nikko, Yumoto
Website: Lake Yuno
16. Lake Chuzenji
Lake Chuzenji is a lake found within Nikko National Park. Spreading out over twenty-five kilometers and reaching 163 meters at its deepest, this lake was formed by the eruption of nearby Mount Nantai about 20,000 years ago, when the flow of lava was blocked off by the valley, creating this unique form.
Address: Tochigi, Nikko, Chugushi
Website: Lake Chuzenji
17. Yudaki Falls
Yudaki is a waterfall stemming from Lake Yuno in the deepest part of Nikko. Standing fifty meters high and twenty-five meters wide, the sheer size of this waterfall ranks it third alongside Kegon Falls and Ryuzu Falls as the most famous falls in Nikko.
Address: Tochigi, Nikko, Yumoto
Website: Yudaki
18. Urami Falls
Urami Falls is a waterfall where you can view the falls from the back by heading along the waterfall lake behind the water as its flows downward. Said to be full of negative ions, you are sure to feel like you have entered into a mystical area as you look out at this scenery.
Address: Tochigi, Nikko
Website: Urami Falls
19. Ryuo Gorge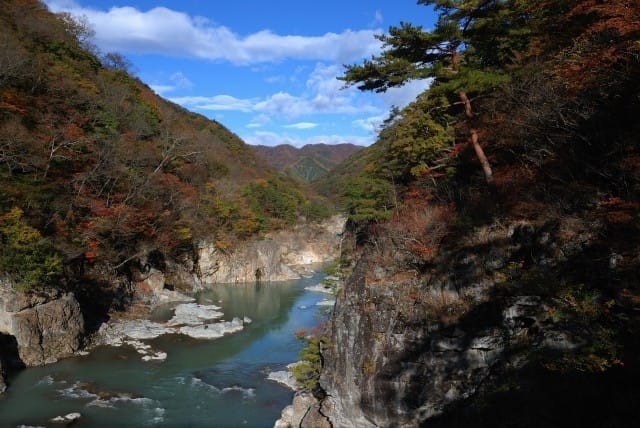 Ryuo Gorge is a beautiful park located between Kawaji Onsen and Kinugawa Onsen where you can stroll through the charming Kinugawa valley area. The whole area is full of Kanto's most prominent hot spring resorts, which makes it quite popular, but during the fall, this area becomes quite crowded with people out viewing the leaves.
Address: Tochigi, Nikko, Fujihara 1357
Website: Ryuo Gorge
20. Jakko Falls
Jakko Falls was named after the Jakko Temple that was once located in this area. You can walk almost right up to this waterfall, and, as not that many people come here, this is the perfect area for those who want to take their time and appreciate the natural landscape to visit.
Address: Tochigi, Nikko, Nikko
Website: Jakko Falls
21. Tamozawa Imperial Villa Memorial Park
Nikko Tamozawa Imperial Villa Memorial Park is a Tochigi prefectural public park. Here you can see historical wooden buildings and look out at the park from within these structures, both incredibly beautiful sights to see. If you would like to get away from the crowds at other sightseeing areas, then this is the best spot for you.
Address: Tochigi, Nikko, Honcho 8-27
Website: Tamozawa Imperial Villa Memorial Park
22. Kanman Abyss with the Bake Jizo
Kanmangafuchi is an unusual abyss-like area created by the volcanic eruption and lava from Mount Nantai. The path along the Daiya River is lined with statues of Jizo Boddhisatva, the protector of children and travelers. They are called Bake Jizo (Strange Jizo) because it is said that their number differs each time one counts them.
Address: Tochigi, Nikko, Takumicho 8-28
Website: Kanman Abyss (Bake Jizo)
23. Mount Nantai
Mount Nantai is Nikko's popular 2,486 meter tall volcano, which has been included in Japan's ranking of the top 100 mountains in the country. If you are lucky, you will find yourself standing on the summit surrounded by a sea of clouds spreading out as far as the eye can see when you visit this area.
Address: Tochigi, Nikko
Website: Mount Nantai
24. Kegon Falls - One of Japan's Top 100 Waterfalls
There are 48 waterfalls found throughout the Nikko area, but the most famous is Kegon Falls. Found near the massive Lake Chuzenji, the waters from this lake continuously flow down this 97 meter tall stonewall-backed waterfall. The grandeur of this naturally formed waterfall changes from season to season, making it a sight that can be enjoyed all year long.
Address: Tochigi, Nikko, Chugushi
Website: Kegon Falls
25. Senjogahara Marsh
Senjogahara is a high moor found within Nikko National Park. This area boasts an incredibly rich natural environment, with many rare species of plants, insects, and birds, many of which are protected species.
The views in Senjogahara are majestic, with Mt. Nantai and the other mountains surrounding Nikko visible in the horizon. With a wooden pathway continually maintained by staff, this is a hiking area that is ideal for both beginner and experienced hikers.
Address: Tochigi, Nikko, Chugushi
Website: Senjogahara Marsh
26. Ryuzu Falls
Ryzu Falls was also formed by the eruption of Mount Nantai. The lava here spread upwards, creating this 210 meter tall waterflow that has a continual water flow.
Rather than being a sheer cliff-face, this waterfall is composed of gently-sloping rock. With a great quantity of water and wide expanse, one of the first things you will notice upon visiting this waterfall is the sound of the rushing water.
Address: Tochigi, Nikko, Chugushi
Website: Ryuzu Falls
27. Odashirogahara
Odashirogahara is a natural wetland also found within the Nikko National Park. Rather than going from the green of spring and summer to the colors of autumn, the severe winter in this area also is a wondrous sight to see, not to mention the impressive views of the faraway mountains in the distance.
Address: Tochigi, Nikko, Chugushi
Website: Odashirogahara
28. Mount Nikko-Shirane
Mount Nikko-Shirane is the 2,578 meter tall mountain that stands as the border between Nikko in Tochigi prefecture and Katashinamura, Tone district, in Gunma prefecture. It is the tallest mountain found in the northern Kanto region. By all means please use the ropeway here to climb up to the 2000 meter point and take in the stunning view!
Address: Tochigi, Nikko
Website: Mount Nikko-Shirane
Events in Nikko
January: Yunishigawa Onsen Kamakura Festival
This is an authorized event run by the Night View Inheritance Of Japan, wherein at night the flood plain is decorated with small snow huts illuminated by candles; it is a fantastical scene to behold as the lights spread out before you.
May: Nikko Toshogu Annual Spring Festival
This is one of the grandest annual festivals held at Toshogu Shrine. With yabusame displays (traditional Japanese archery contests held on horseback) and the 'Hyakumono Zoroi Sennin Mushagyoretsu' (a procession leading from Suruga, where the divine spirit of Tokugawa Ieyasu is enshrined, to Nikko) are two of the must-see activities during this event.
July: Nikko Summer's New Soba Festival
The Nikko Summer's New Soba Festival is a popular event where a limited quantity of summer soba is prepared. This is the earliest chance anyone can have to enjoy buckwheat noodles prepared from freshly ground flour anywhere in Japan.
August: Nikko Wagaku Odori
The Nikko Wagaku Odori is a traditional song and dance event that invokes images of summertime and boasts a 100-year history. While it started out as a way to say thank you to workers, in recent years citizens from all walks of life take part in the dancing, making for a very lively spectacle.
October: Nikko Toshogu Annual Autumn Festival
This is Nikko Toshogu Shrine's annual fall festival - an event not to be missed!
November: Nikko Soba Festival
The Nikko Soba Festival is an annual event where soba shops from all across Japan gather to show off their best dishes. Not only that but within the festival grounds there are also shops selling soba-making tools and other popular Nikko specialties, making this a festival for everyone to enjoy.
November to December: Fall Colors
As going to view the falls colors is almost as popular as seeing the cherry blossoms in spring, people in Kanto almost immediately think of Nikko when these autumn leaves are mentioned. The mountains here turn from lush green to vibrant shades of red and gold reminiscent of an ukiyo-e, so seeing the fall colors in person is a sight not to be missed.
Souvenirs from Nikko
Fried Yuba Sweet Buns - Sakaeyano
Fried yuba manju are consistently ranked as being the number one edible souvenir from Nikko - they are a must if you are buying souvenirs. These fried tofu skin dumplings filled with red bean paste are best enjoyed with a light sprinkling of coarse salt over them. The sweet-salty taste of the red bean paste and the crispiness of the coating is just incredible.
Senbei Rice Crackers - Nikko Jingoro Senbei Main Store
As there are many delicious foods that come to mind when thinking of Nikko, an easy and compact way to enjoy the flavors of this area is through Nikko Jingoro senbei (crispy rice crackers).
The saltiness of the senbei also has the umami of its rice origin and the gentle flavor of butter to it, giving it a taste that really spreads nicely in the mouth. Because of this light flavor, you might find yourself unable to stop eating these rice crackers.
Castella with Gold Leaf - Nikko Castella Main Shop
Nikko castella is a popular souvenir that has the refreshing aroma of honey. It has been made using the same recipe for generations, which gives it a simple sweetness and mellow taste that many find addictive.
Yokan Jelly - Mitsuyama Yokan Main Shop
Having a characteristic deep purple color to them, this delicious mizuyokan (soft sweet bean jelly) has an elegant sweetness to it, that few get tired of eating. The fresh moist texture of the yokan, along with the texture and flavor of the adzuki beans are very well suited to one another.
Delicious Nikko Cuisine
Dishes Made with Yuba (Tofu Skin)
Healthy and high in nutritional content, yuba or tofu skin, is one of the most famous foods in Nikko. Although many might first think of Kyoto when they hear the word yuba, the yuba from Nikko is absolutely superb.
From the Nikko Yuba Production Company Nikko Plant, where you can take part in a yuba-making lesson, to the many yuba and tofu product offering shops and restaurants around Tobu Nikko Station, there are many different ways in which to enjoy this dish while in Nikko.
Soba Noodles
If you go to Nikko, you have to try the soba! Made from the finest grade buckwheat flour and water collected from clear springs at the foot of Mount Nikko, these delicious soba noodles are only available in this area. There are many different shops to choose from that boast their own specialty handmade soba throughout Nikko.
Tamari Soy Sauce Soft Serve
During your trip make sure to keep an eye out for the Nikko Robatatsuke Moritomo shop where you can find the very unusual 'Tamari soy sauce soft serve', a soft serve ice cream made with Tamari soy sauce. The taste of the soy sauce isn't overpowering and has an overall rather reserved and refined taste to it.
For more detailed information on great souvenirs from Nikko, please refer to our article: From Japanese Sweets To Sake! 10 Souvenirs To Buy From Nikko, Tochigi
Weather in Nikko and What to Wear
Nikko is colloquially called 'Kanto's refrigerator' as it always has lower temperatures than Tokyo. The winters are relatively harsh here, but on the other hand, the summers are quite cool and fairly free from humidity, making it a very agreeable place to visit in summer. If you are visiting in the clothes that you prepared for a trip to Tokyo, you may find yourself feeling a bit chilly, so bringing a jacket or sweater along with you is our recommendation.
During the fall colors in autumn, the temperature may change quite dramatically here: in October it will fall to about 13 degrees Celsius, while in November it will likely be around 8 degrees or lower. Of the clothing that you may have packed for Tokyo, you will probably want to also bring a parka or coat, shawl or scarf, hat, gloves or mittens etc in order to best adapt to this temperature difference.
Traveling to Nikko
Traveling from Haneda Airport to Nikko
Limousine bus to Haneda Airport and then to JR Utsunomiya Station.
This route will take about two and a half hours and cost 3600 yen. To travel from Utsunomiya Station to Nikko, please follow the directions provided in the following first entry. This route is the best for those that want to visit Nikko once they have landed in Japan. Tickets may be purchased from the information desks or automatic ticket machines in the arrival lobby.
Traveling from Tokyo Station to Nikko
1. JR Tokyo Station (Tohoku Shinkansen) to Utsunomiya Station (Nikko line) to Nikko Station, then walk for 3 minutes to Tobu Nikko Station.
This route takes about two hours and ten minutes, and costs 5780 yen.


2. JR Tokyo Station (Utsunomiya Line) to Utsunomiya Station (Nikko Line) to Nikko Station, then walk for 3 minutes to Tobu Nikko Station.
This route takes two and a half hours and will cost about 2700 yen, half the cost of the shinkansen route. This is a pattern wherein rather than using the bullet train like in route 1, you can take all conventional train lines instead.
Although the Utsunomiya Line is a conventional train line, it also has reserved seating Green Cars, which makes this an ideal route to take for those who would like to have a comfortable seat as they travel. The fares for these Green Cars vary whether they are purchased in advance or while in the train, and whether it is a weekday or a national holiday, but the most you can expect to pay for these seats is 1300 yen. There are also many departures every day on the JR lines, making this ideal as well for when you suddenly decide you'd like to head out on a day trip.
For more information, please do look over our Bus Or Train? How To Travel From Tokyo To Nikko.
Traveling from Asakusa Station to Nikko
It is very convenient to travel from Asakusa Station to Tobu Nikko Station.
1. Asakusa (Tobu Nikko Line Kegon Express) to Tobu Nikko Station.
2. Asakusa (Tobu Nikko Line Kinu Express) to Shimomachi Station (transfer to the connecting train) to Tobu Nikko Station).
Both of these routes will take you about an hour and fifty minutes and both will cost 2700 yen. It's very convenient to know that you can also travel directly to Nikko.
3. Asakusa (Tobu Nikko Line) to Tobu Nikko Station.
This route will take two hours and ten minutes, and as it is not an express or otherwise special train line, it will only cost 1360 yen. However, this is a regular train route, not an express, so please keep this in mind.
For a more in-depth guide, including pictures and ticket information, please see How To Travel From Asakusa To Nikko
Traveling from Shinjuku Station to Nikko
Shinjuku Station (JR Nikko Express) to Tobu Nikko Station.
The transfer-free route from Shinjuku Station to Nikko is very convenient; this route takes two hours and costs 2060 yen for the express service, plus 1940 for the passenger fare.
There are other routes, as well as special free passes to consider beyond the ones listed above, so please take the time to research the best route for you and your needs before traveling.
Transportation in Nikko
Starting from the Utsunomiya and Nikko lines, there are also the buses, Watarase Keikoku line, and Akechidaira Ropeway included in the many forms of public transportation in Nikko. Many of the sightseeing spots can easily be accessed by train or bus. Or, depending on the destination and situation, a taxi or rental car might also be a good option for your trip.
Trains (JR Utsunomiya Line, Nikko Line)
In Nikko the main train lines are the JR Utsunomiya Line and the Nikko Line. Stopping at many popular tourist destinations and having great facilities in and around the stations, traveling by train is perhaps the most convenient option to take when sightseeing.
Tobu Bus Nikko
In Nikko, the World Heritage Loop Bus travels mainly to all of the sightseeing areas, and the Tobu Bus Nikko to the rest of the area.
If you use the "World Heritage Tour Ticket" (Sekai-isan Meguri Tegata), you will be able to enjoy a more economical bus trip. On the World Heritage Tour Ticket (500 yen, you can travel from JR Nikko Station to Tobu Nikko Station, plus the Nishisando and Rengeishi areas all you like as it is a one-day free pass.
The free passes may be purchased from the Tobu Nikko Tourist Center or the Midori-no-madoguchi (Green service window) of JR Nikko Station.
Watarase Keikoku Line
The Watarase Keikoku Line travels from Omama Station to Ashio Station, and is a sightseeing train route. Not only can you enjoy your fill of Keikoku's natural landscape from this line, but you can also appreciate the illuminations in the train car as you travel through the Kusaki tunnel; this is a fun element especially added to this route.
Akechidaira Ropeway
The Akechidaira Ropeway is located 35 minutes by bus away from Tobu Nikko Station. The ropeway is known to be the best viewing site in all of Nikko; in 3 minutes you will arrive at the Akechidaira Viewing Platform. From here you can see Lake Chuzenji, Kegon Falls, Mount Nantai, and other natural wonders on a grand scale.
Ticket Prices:
Adults - 400 yen one-way, 730 yen round-trip
Children - 200 yen one-way, 370 yen round-trip
Taxi
When taking a taxi the first portion of the ride will cost 730 yen and up (the first trip up to two kilometers). It is also possible to use a special sightseeing taxi while in the Nikko and Kinugawa areas. Of these sightseeing taxis there are also ones that can carry a larger number of people as well. Although it depends on the course and taxi company, a two-hour tour in these taxis costs about 10,000 yen give or take.
Nikko Travel Tips
The most convenient way to travel to Nikko from Tokyo is using the Nikko Pass.

The Nikko All Area Pass (4,520 yen) is a 4-day ticket that includes a round trip from Tokyo's Asakusa Station to Nikko and unlimited train and bus rides in the Nikko-Yumoto Onsen-Chuzenji Onsen-Kinugawa Onsen area.

The Nikko World Heritage Area Pass (2,000 yen) is a 2-day ticket that includes a round trip from Tokyo's Asakusa Station to Nikko and unlimited bus rides in the Nikko World Heritage area and the area around Nikko Station.

For more details on these very convenient discount passes, please refer to the articles below:

Although a day trip destination from Tokyo, Nikko has abundant natural beauty and historical temples and shrines, making it a perfect and unique place to visit. If you are planning to visit Japan or the Tokyo area specifically, then taking a day trip to Nikko is something you simply must do.

The information presented in this article is based on the time it was written. Note that there may be changes in the merchandise, services, and prices that have occurred after this article was published. Please contact the facility or facilities in this article directly before visiting.