Tochigi Travel Guide - 10 Things To Do In Nikko, Utsunomiya, And Nasu
Tochigi, home to the deeply historical Nikko, nature-abundant Nasu, and food capital Utsunomiya, is the perfect destination for a day trip from Tokyo. This article introduces sightseeing spots in each area, including activities to enjoy and access information.
Tochigi - Rich History and Abundant Nature

Tochigi Prefecture is located to the north of Tokyo. Accessible via a one-to-two-hour train ride from Tokyo, it is ideal for a day trip. Tochigi has plenty to offer ranging from its rich history of Nikko to the abundant nature of Kinugawa and Nasu.
This article introduces both places and activities in Tochigi, as well as how to access them.
10 Fun Things to Do in Tochigi
This article covers four areas in Tochigi and offers recommendations for places and activities in each of them.
Nikko-Kinugawa Area
Photo by Pixta
Nikko and Kinugawa are in northwest Tochigi. The city's mixture of history and nature—notably Nikko Toshogu Shrine and Kinugawa Onsen—make it highly recommended place to visit.
The area also has theme parks. EDO WONDERLAND, a reenactment of Edo-Priod Japan, and Tobu World Square, which reproduces famous sites around the world on a 1:25 scale, are fun for kids and adults alike.
1. Visit the World Heritage Site, Nikko Toshogu Shrine
Photo by Pixta
If there is one place a visitor to Nikko should definitely go, that is the Nikko Toshogu Shrine. This landmark is among the shrines and temples of Nikko that were collectively designated a World Heritage Site in 1999.
Ieyasu Tokugawa, the founder of the Edo Shogunate, is enshrined in the main shrine.
Photo by Pixta
The elaborate shrine is embellished with colorful carvings. Among them, the Nemuri-neko (Sleeping Cat) is a national treasure representing the desire for peace. The Sanzaru (Three Wise Monkeys) is an Important Cultural Property depicting monkeys that see no evil, hear no evil, and speak no evil.
Nearby are Futarasan Shrine and Rinnoji Temple, which are both part of the World Heritage Site. We recommend visiting these two sacred sites as they are accessible by walking from Nikko Toshogu Shrine.
Nikko Toshogu Shrine
Address: Tochigi, Nikko, Sannai 2301 Google Map
Website: http://www.toshogu.jp/ (Japanese)
2. Experience Edo Life at EDO WONDERLAND
From "Encounter Samurai And Ninjas At Nikko's EDO WONDERLAND!"
EDO WONDERLAND is a historical theme park reenacting life in Edo Japan. For an extra fee, you can cosplay as a ninja, samurai, townsfolk, or princess. Immerse yourself in history as you walk through the streets of Edo Japan!
You can watch a play at the theater, train as a ninja, and experience jobs specific to this time period. Most popular is the samurai training experience where participants learn about the spirit of the samurai, as well as the use and maintenance of a Japanese sword.
EDO WONDERLAND Nikko Edomura
Address: Tochigi, Nikko, Karakura 470-2 Google Map
Website: http://edowonderland.net/en/
Costume rental prices start from 2,800 yen (with tax) for children and from 2,900 yen (with tax) for adults. When you visit, reserve your spot for the samurai training at the samurai training building. The experience is free and is offered to anyone above the age of 13.
3. Soak in the Hot Springs at Kinugawa Onsen
Photo by Pixta
You can find the popular hot spring resort Kinugawa Onsen just upstream the Kinu River in Nikko. During the Edo Period, this hot spring area was only allowed to be visited by daimyos and Buddhist priests. However, it was opened to the public during the Meiji Period, and today it boasts two million visitors annually.
The hot springs available are simple springs and alkaline simple springs. Both are said to help the body recover from fatigue and are effective in maintaining one's health.
It takes roughly an hour by train from Kinugawa Onsen to Nikko Toshogu Shrine. From theme parks such as EDO WONDERLAND and Tobu World Square to Kegon Falls, the area has a variety of places to check out. If you decide to stay for more than a day, Kinugawa Onsen is a great place to spend the night.
Kinugawa Onsen
Address: Nikko, Tochigi Google Maps
Website: http://www.kinugawa-onsen.com/lg_en/
4. Marvel at the Sight of Ryuokyo Canyon
Photo by Pixta
Located upstream the Kinu River, Ryuokyo Canyon is part of Nikko National Park.
The canyon was named after its rugged appearance that resembles a giant dragon passing through (Ryuokyo literally means "Dragon King Valley"). The canyon was formed as the Kinu River eroded volcanic rock that spouted over 22 million years ago.
Three names are given to the different parts of the canyon. Upstream, the white bare rock face is called Hakuryukyo (white dragon canyon). Move down to see vegetation growing. This area is called Seiryukyo (blue dragon canyon). Lastly, the rock facing downstream is named Shiryukyo (purple dragon canyon) for its darker color. A hiking trail of two kilometers passes through all three areas.
Ryuokyo Canyon
Address: Tochigi, Nikko, Fujihara, 1357 Google Map
Website: http://www.ryuokyo.org/ (Japanese)
Access from Tokyo to Nikko (Tobu Railway)
Photo by Pixta
The easiest way to get to Nikko from Tokyo is using the Limited Express SPACIA (Tobu Railway) from Asakusa. You can either take the SPACIA's Kinu line, headed for Kinugawa Onsen, or Kegon line, headed for Tobu Nikko Station.
International visitors should consider using the convenient 4-day Nikko Pass all area (4,520 yen), which allows unlimited bus rides within the Nikko area and includes a roundtrip to Nikko from Asakusa Station.
1. Using the Limited Express Kinu from Asakusa Station
Transfer at Shimo-Imaichi Station.
Asakusa (Tobu Nikko Line, Limited Express Kinu)→Shimo-Imaichi Station (transfer to connecting line)→Tobu Nikko Station
Fare: 2,700 yen (one way)
Duration: Two hours
2. Using the Limited Express Kegon from Asakusa
No transfers required.
Asakusa (Tobu Nikko Line, Limited Express Kegon)→Tobu Nikko Station
Fare: 2,700 yen (one way)
Duration: One hour and 50 minutes
Access from Utsunomiya to Nikko (Japan Railways)
Take the JR Nikko Line (for Nikko) from JR Utsunomiya Station→Nikko Station
Fare: 760 yen (one way)
Duration: 50 minutes
Utsunomiya Area
photo by Pixta
Utsunomiya is located in the heart of Tochigi. The city is famous for its gyoza* and is a recommended destination for any foodie.
*Gyoza: Pot stickers
5. Visit Utsunomiya Castle
Photo by Pixta
Utsunomiya Castle was originally constructed in the 11th century, but it was destroyed during a revolt in the 19th century. The current structure was built in 2007. The honmaru (main castle building) features an in-house museum called the Utsunomiya Castle Monoshiri-kan, which displays a model of the original castle and castle town.
Cherry blossom trees grow on the castle grounds and are a popular sight during the spring.
Utsunomiya Castle
Address: Tochigi, Utsunomiya, Honmaru 2-24 Google Map
Website: https://www.city.utsunomiya.tochigi.jp/citypromotion/kanko/meisho/jyiousi/1007275.html (Japanese)
6. Try Ustunomiya Gyoza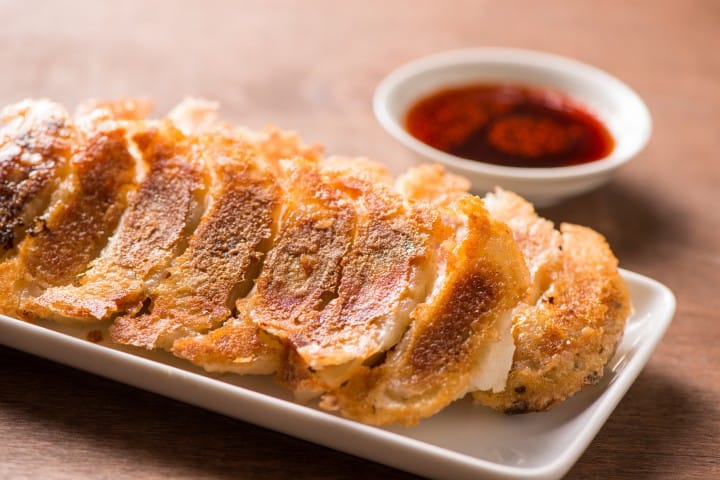 Photo by Pixta
Utsunomiya boasts the title of the largest consumer of gyoza in Japan. The city has over two hundred gyoza restaurants, with some eateries serving only panfried dumplings on its menu.
Utsunomiya's gyoza is known for having less meat and more vegetables. Of course, different restaurants have different styles, so we recommend trying several places to find your favorite.
At Kirasse, a store run by the city's gyoza association, you can sample a different gyoza each day from five permanent potsticker restaurants and 30 affiliated eateries.
Utsunomiya Gyoza
Address: Utsunomiya, Tochigi Google Maps
Website: http://www.gyozakai.com/ (Japanese)
Access from Tokyo to Utsunomiya (Shinkansen)
The Shinkansen from Tokyo to Utsonomiya requires no transfers.
Tokyo Station→Utsunomiya Station
Fare: 4,410 yen (one way, unreserved seating)
Duration: One hour
Ashikaga - Sano Area
photo by Pixta
In southwest Tochigi lies the nature-abundant Ashikaga and Sano area. Ashikaga Flower Park and the Sano Premium Outlets make this region a great place for sightseeing and shopping.
7. Appreciate Blooms at Ashikaga Flower Park
Huge wisteria bush ("Ofuji"). Photo by Pixta
Ashikaga Flower Park is a flower theme park in the city of Ashikaga. The highlight is the 150-year-old Fujidana (*1). Made up of four ofuji and shirafuji wisteria trees, this 1,000-square-meter flower tunnel is one of Tochigi's natural monuments.
The best season to visit is between mid-April and mid-May. The only location in Japan to be featured in CNN's "Dream Destinations for 2014," Ashikaga Flower Park has also been recognized internationally.
Photo by Pixta
If you visit during the winter, you can witness the beautiful illuminations held annually. The park is definitely a sublime destination any time of the year.
*1 Fujidana: Wisteria vines entwined together to form a canopy.
Ashikaga Flower Park
Address: Tochigi, Ashikaga, Hasama 607 Google Map
Website: https://www.ashikaga.co.jp/english/index.html
8. Go Shopping at the Sano Premium Outlets
Photo by Pixta
The Sano Premium Outlets is an outlet mall in the city of Sano. Designed to resemble America's east coast, the outlet features many luxurious brands.
In addition to shopping, the retail complex has plenty of food to enjoy. Sales and events are held frequently, so there is always an incentive to go shopping.
Sano Premium Outlets
Address: Tochigi, Sano, Koena 2058 Google Maps
Website: https://www.premiumoutlets.co.jp/en/sano/
Access from Utsunomiya to Sano (Japan Railways)
Take the JR Utsunomiya Line (Ueno Tokyo Line) from Utsunomiya Station→Transfer to the JR Ryomo Line at Oyama Station→Sano Station
Fare: 970 yen (one way)
Duration: One hour and 20 minutes
Nasu Area
photo by Pixta
Nasu is situated in northern Tochigi. Among the mountains of Nasu stands the highest peak of Chausudake. Blessed with nature, it is a popular destination for summer retreats.
9. Encounter Nature's Beauty at Numappara
Photo by Pixta
Numappara is a marshland on the west end of the Nasu mountain range. A trail is available for those wanting to take a stroll through the natural landscape.
Photo by Pixta
The prime time to visit is between May and August when a wide array of flowers bloom. Since the roads are closed off from December through April, we recommend making travel plans for the summer.
For your safety, we advise you to prepare a radio or a bell in case you come across an Asian black bear or snow monkey.
Numappara Marshland
Address: Tochigi, Nasushiobara, Itamuro Google Maps
Website: http://www.city.nasushiobara.lg.jp/22/002575.html (Japanese)
10. Look for Gifts at the Nasu Garden Outlet
Photo by Pixta
The Nasu Garden Outlet has over 160 stores. Not strictly limited to apparel stores, the outlet mall has plenty of local foods and souvenirs for purchase as well.
Nasu Garden Outlet
Address: Tochigi, Nasushiobara, Shionosaki 184-7 Google Maps
Website: https://www.nasu-gardenoutlet.com/ (Japanese*)
*English shopping guide available.
Access from Utsunomiya to Nasushiobara (Japan Railways)
No transfers are required from Utsunomiya Station to Nasushiobara Station.
JR Utsunomiya Line from Utsunomiya Station→Nasushiobara Station
Fare: 840 yen (one way)
Duration: 50 minutes
Tochigi - A Land of Rich History, Nature, and Food
Nikko, Utsunomiya, and Sano are popular day trip destinations from Tokyo. If you are ever visiting Tokyo—or currently reside in this bustling metropolis—we highly recommend exploring all that Tochigi has to offer.

The information presented in this article is based on the time it was written. Note that there may be changes in the merchandise, services, and prices that have occurred after this article was published. Please contact the facility or facilities in this article directly before visiting.