How to Travel to Nikko from Asakusa! Travel Routes and Major Attractions
This article features how to get to Nikko from Asakusa on the Limited Express SPACIA. There are two train services between Nikko and Tokyo, one departing from Asakusa and another from Shinjuku. In addition to purchasing tickets, we will explain the difference between the Kinu and Kegon trains.
Nikko in Tochigi Prefecture is famous for Nikko Toshogu Shrine, Kegon Falls, and Lake Chuzenji. You can reach Nikko in about an hour and 50 minutes by taking the fastest train from Tokyo. This is why it is a popular one-day trip among locals and overseas travelers.
This article will explain how to travel from Tobu Asakusa Station to Nikko. We will also introduce must-see attractions in the area.
Tobu Asakusa Station
When heading to Nikko from the Asakusa area, you need to take a train from Tobu Asakusa Station.
There are four train lines operating out of Asakusa Station: Tokyo Metro Ginza Line, Toei Asakusa Line, Tsukuba Express, and Tobu Railways. Please keep track of which line you've boarded from Asakusa Station to reach your destination.
Fast and Convenient: The Limited Express SPACIA
Photo by Pixta
The most convenient way to go from Asakusa to Nikko is taking the Limited Express SPACIA.
The Limited Express SPACIA, operated by Tobu Railways, runs from Tokyo to Nikko and Kinugawa. Moreover, the Limited Express SPACIA has two lines: Kegon and Kinu. The Kego Line runs between Tobu Asakusa Station and Tobu Nikko Station. Alternatively, the Kinu Line runs between Tobu Asakusa Station and Kinugawa-Onsen Station. Both train lines will take you to Nikko. But if you board the Kinu Line, you must change the train at Shimo-Imaichi Station.
Where to Buy Tickets?
There are four ways to buy tickets.
① Become a member of the Tobu Mobile Membership Service
If you sign up for the Tobu Mobile Membership Service, you can use a ticket-less service. This allows you to book and buy your ticket online. You can also skip the line to redeem tickets at a station.
② Make your reservation online and pick up your tickets at the station
If you are not a Tobu Mobile Membership Service member, you can make a reservation online. However, you need to go to a Tobu Railway station or a Tobu travel agency to purchase and pick up the tickets.
③ Buy tickets at a station ticket counter
Tobu Asakusa Station has a ticket counter where you can buy your tickets. Please keep in mind that it may be crowded with other passengers.
④ Buy tickets from a vending machine at a station
Each station has ticket vending machines. You can easily purchase your tickets there.
For additional details on purchasing tickets, please read the official website.
What Does the Limited Express Spacia Look Like?
The Limited Express SPACIA is easily recognizable by the Tokyo Skytree design on the vehicle.
You can also turn the seats to face each other if you are traveling in a group of three or four people.
Additionally, there is a car selling drinks and food. You won't have to worry about growing hungry during your trip. Souvenirs of the Limited Express SPACIA are also available onboard.
Details About Tobu Nikko Station
Once onboard the train, you will quickly arrive at Tobu Nikko Station and enjoy your ride. There are two stations in Nikko: Tobu Nikko Station and JR Nikko Station.
There is a bus stop in front of the station, so it will be easy to head to your destination.
Major Tourist Attractions in Nikko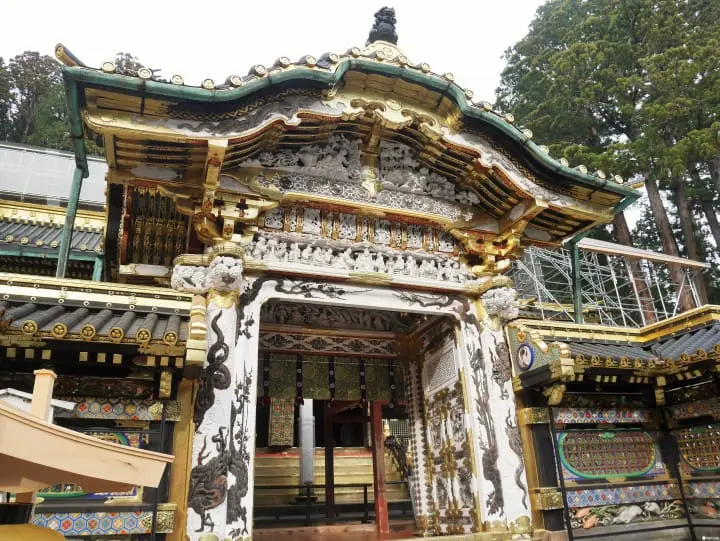 The most famous sightseeing spot is Nikko Toshogu Shrine. It is a 20-minute walk to reach the historic landmark from Tobu Nikko Station.
If you want to see the spellbinding Kegon Falls, take a bus that goes up Irohazaka Winding Road, which connects the lower elevations around central Nikko to the higher elevations of the mountainous Oku-Nikko region.
In Conclusion
What do you think of planning a trip here? Regarding train routes, it is also possible to depart from Shinjuku to reach Nikko. When traveling from Asakusa, however, please use the information we've introduced in this article.

The information presented in this article is based on the time it was written. Note that there may be changes in the merchandise, services, and prices that have occurred after this article was published. Please contact the facility or facilities in this article directly before visiting.