Using The Greater Tokyo Pass To Visit Tokyo, Nikko And Kawagoe
The Greater Tokyo Pass allows international visitors to Japan unlimited rides for three consecutive days on the private railways in eastern Japan. You can travel from Tokyo to Nikko, Kawagoe and Hakone for just 7,200 yen!
Tokyo is for many visitors to Japan the most popular travel destination. However, its neighbors also offer great sightseeing spots often featured in guidebooks and on SNS.
The old town of Kawagoe, the magnificent Nikko Toshogu Shrine, and Ashikaga Flower Park, famous for its wisteria flowers, are all located near Tokyo. If you are travelling to Japan, you should definitely take a look at these spots as well.
The pictures taken at these spots are truly impressive and will most surely become precious records of your trip.
There's no need to worry about the cost of transportation or about the hassle of getting tickets. By using the Greater Tokyo Pass, you will be able to travel conveniently using several railways in eastern Japan.
This article will introduce the features of the Greater Tokyo Pass, which allows the user to ride private railways (*1) in the Kanto Region, along with a model itinerary using the pass. If you plan to tour sightseeing spots near Tokyo and hope to keep the transportation costs low, read on!
*1 "Private railways" is a term referring to the independent companies that operate their own railway networks. JR (Japan Railways) is not included in this category, because it was formerly owned by the Japanese government.
Greater Tokyo Pass - An Incredibly Convenient 3-Day Pass
The Greater Tokyo Pass allows the user to ride 12 different Kanto-based private railways, along with local buses operated by these companies in the Tokyo, Kanagawa, Chiba and Saitama areas, for three consecutive days. With this ticket, visitors will be able to tour the whole region without buying tickets each time they change trains.
The price of the Greater Tokyo Pass is 7,200 yen for adults and 3,600 yen for children. Both prices include tax. For information on how to purchase the tickets, take a look at the following article: Greater Tokyo Pass - Travel By Train All You Want For 3 Days!
Our recommended model itinerary will start from Narita Airport, the gateway to Japan.
Model Itinerary - First Day: TOKYO SKYTREE®︎ and Kawagoe
The Greater Tokyo Pass can be purchased at Narita and Haneda airports. Therefore, visitors from abroad can get the ticket right after arriving in Japan, and board the bus to the sightseeing spots.
The first stop is TOKYO SKYTREE®︎, a new point of interest in Tokyo.
From Narita Airport, board a train on the Keisei Line and head for Oshiage Station. TOKYO SKYTREE®︎ looms just outside the station.
TOKYO SKYTREE Tembo Galleria inside TOKYO SKYTREE®︎ is the highest viewing spot in Japan, and also a perfect place to take great photos.
The vast Tokyo cityscape can be seen from the Galleria. When the weather is good, you can even see Mt. Fuji at the horizon, so try and take a panoramic picture of it. A photograph of you with Tokyo in the background will most surely make a nice memory of your visit.
Picture courtesy of Ameshin, located inside TOKYO Solamachi
Picture courtesy of nanaco plus+, located inside TOKYO Solamachi
After the Galleria, be sure to stop by TOKYO Solamachi, the shopping mall connected to the tower. There are 321 shops inside, including variety shops handling cute items and drugstores, so visitors can enjoy souvenir shopping.
From TOKYO Solamachi, board the Tokyo Metro bound for the Ikebukuro Station, transfer to the Tobu Line, and head to Kawagoe Station.
In Kawagoe (Saitama Prefecture), located to the northwest of Tokyo, visitors can visit the Kawagoe Hikawa Shrine, famous as a power spot where you can improve your luck in love and relationships. This city is also known for its "little Edo" area, where the original townscape from the Edo Period is preserved.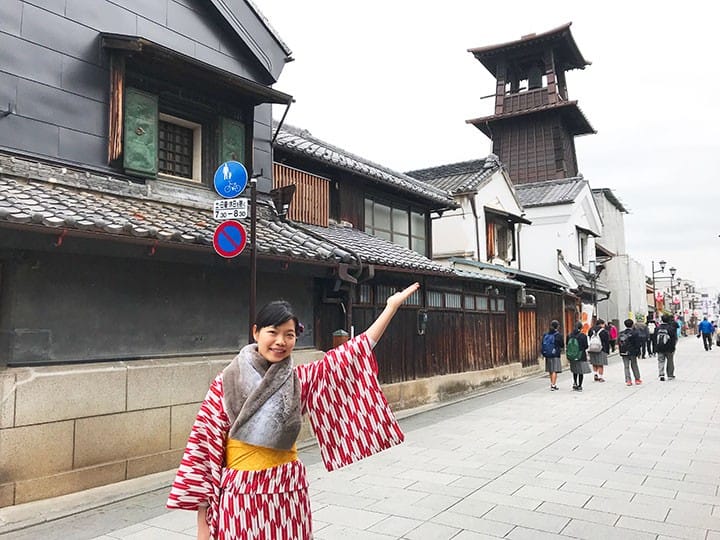 There are rental kimono stores in Kawagoe, so it might be fun to walk around in a kimono. A photo of yourself wearing a kimono, with the picturesque traditional townscape in the background, will make a great memory of the trip. It will also look great on your SNS!
For further information on the wonderful sightseeing spots in Kawagoe, please refer to the following article: Only 30 Minutes From Tokyo! Find Luck In Love At Kawagoe Hikawa Shrine.
Model Itinerary - Second Day: Nikko's World Heritage Sites and Beautiful Wisteria Flowers
On the second day, how about visiting Nikko in Tochigi Prefecture? The train ride from Tokyo's Asakusa Station on the Tobu Skytree Line and Tobu Nikko Line will take about two-and-a-half hours. (*2)
The shrines and temples of Nikko, including Nikko Toshogu and the vermilion-lacquered Shinkyo (wooden bridge), are registered as a World Heritage Sites. Visitors will be awed by their majestic beauty, and pictures of these sites will look especially wonderful on the SNS.
*2 Nikko Station can be reached directly by using the Tobu Limited Express Spacia (Kegon) from Asakusa Station. The ride will take about two hours, and an additional limited express fare of 1030 yen will be charged.
Please note that the Greater Tokyo Pass cannot be used on the Tobu Bus from Tobu Nikko Station. For details about the World Heritage Tour Ticket, which is convenient for touring the shrines and temples, and other special tickets, please check the following site: Tobu Bus Official Site
The refined Kanaya Hotel, which was established 150 years ago, is located at an eight-minute walking distance from Nikko Toshogu. It is a very comfortable and hospitable hotel and its classical style entrance, along with the elegant bar, are worth a look.
To learn more about Nikko Toshogu and Kanaya Hotel, please read the following article: Nikko - Aizuwakamatsu: A 2-Day Samurai Course For The History Books.
After visiting historic spots, we recommend moving on to Ashikaga Flower Park, a garden famous for its impressive wisteria flowers. (*3)
The wisteria will be in bloom from mid-April to mid-May, and the sight of light-purple and pink flowers is simply breathtaking.
*3 To reach Ashikaga Flower Park, board the Tobu Line from Tobu Nikko Station to Tochigi Station, transfer to the JR line, and get off at Ashikaga Flower Park Station, which will open in April, 2018. An additional fare of 410 yen will be charged on the JR line. On Saturdays, Sundays and national holidays, a shuttle bus runs from Ashikagashi Station (Tobu Isesaki Line) to Ashikaga Flower Park.
There are many sightseeing spots in the Kinugawa Onsen area near Nikko Toshogu, such as the Nikko National Park, where visitors can enjoy the beautiful scenery, Nikko Edomura (Edo Wonderland), with a re-created Edo Period townscape, and Tobu World Square, which is famous for its miniature models of famous architecture around the world. If you have the time, visit these spots as well.
After the second day of sightseeing, head back to Asakusa Station using the Tobu Isesaki Line, and spend the night in Tokyo to prepare for the third day of your trip.
For further information about Ashikaga Flower Park, please refer to Visit Tochigi To Enjoy Delicious Strawberries And Gorgeous Flowers!.
Model Itinerary - Third Day: Hakone and Lake Ashi
Picture from Top 24 Best Views Of Mount Fuji - From Tokyo And Its Surroundings.
On the third day, how abot embarking on a tour of Hakone, a prominent touristic and hot springs area in eastern Japan. It takes about two hours from Shinjuku Station using the Odakyu Line, Hakone Tozan Railway (*4) and Hakone Tozan Bus (*5), to Ashinoko (Lake Ashi), a picturesque spot.
At Lake Ashi, you can take great pictures of Mt. Fuji, the pirate cruise ship and the lake. The amazing scenery will make a great memory of your trip.
*4 The Greater Tokyo Pass cannot be used on Hakone Tozan Railway. An additional fare of 310 yen is required.
*5 The Greater Tokyo Pass cannot be used on Hakone Tozan Bus. An additional fare of 960 yen will be charged from Hakone Yumoto Station to Motohakone-ko bus stop.
Use the Greater Tokyo Pass, and Save on Your Transportation Costs
The Greater Tokyo Pass allows you to visit a wide variety of sightseeing spots in easten Japan. There will be no hassle of buying tickets for each train, so just enjoy the ride!

Choose the sightseeing spots you wish to visit and adapt the model itineary introduced in this article according to your plan. The Greater Tokyo Pass is the most convenient and affordable way to visit so many spots in three days.

The features of the Greater Tokyo Pass, including information on how to buy the ticket, is introduced in our article: Greater Tokyo Pass - Travel By Train All You Want For 3 Days!

For details on various convenient tickets including the Greater Tokyo Pass, check the website of Tobu Japan Trip: http://www.tobujapantrip.com/en/ticket/

Greater Tokyo Pass Official Website: https://greater-tokyo-pass.jp/

Photos are courtesy of TOBU Railway Co., LTD.
Sponsored by TOBU Railway Co., LTD.

The information presented in this article is based on the time it was written. Note that there may be changes in the merchandise, services, and prices that have occurred after this article was published. Please contact the facility or facilities in this article directly before visiting.