7 Reasons For Tea Lovers To Stay At Hoshino Resorts KAI Enshu, Shizuoka
Shizuoka boasts the largest green tea production in Japan. At Hoshino Resorts KAI Enshu, guests get to learn more about tea culture, from how to brew delicious tea to enjoying the scent of tea and even bathing in tea!
Shizuoka - The Heart of Japan's Tea Production
About 40% of Japan's green tea is made in Shizuoka. The area is covered in green tea fields and during harvest season whole families help with the harvest. If you want to taste and purchase some high-quality, fresh Japanese green tea, how about visiting Shizuoka?
In this article, we introduce Hoshino Resorts KAI Enshu, the ideal lodging for those who love green tea. The facility faces the beautiful Lake Hamana in Shizuoka, offering stunning views of the surroundings.
Hoshino Resorts KAI Enshu - Dive into the World of Tea
Hoshino Resorts KAI Enshu is a Japanese ryokan where tea lovers can enjoy all the aspects of Japanese tea culture in Shizuoka, the prominent tea producing area in Japan.
This article introduces seven reasons why every tea lover who visits Japan should lodge at this ryokan from the perspective of a MATCHA editor who actually stayed at KAI Enshu and enjoyed their services.
1. Spend Time Surrounded by the Fragrance of Tea
As you step into Hoshino Resorts KAI Enshu, you are welcomed by a calming atmosphere and the fragrance of green tea. During the check-in procedures, guests are offered freshly prepared green tea and cookies. You will be able to dive into the world of tea as soon as you arrive.
Small tea burners are placed in every corner of the lodging. Tea leaves are placed on top of a dish and heated so that their relaxing smell fills the rooms and corridors.
Tea burners are usually lit with tealights, but for safety reasons, electric versions of candlelights are used at KAI Enshu. Tea burners and tea can be purchased as souvenirs from the hotel's gift shop.
You might be surprised to notice that even the uniforms of the staff have stylish tea-themed patterns.
2. Rooms Where Guests Can Fully Enjoy Tea
Every room at KAI Enshu is provided with a tea set so that guests can enjoy tea whenever they wish.
Picture courtesy of Hoshino Resorts
To those who wish to make the most out their visit to Shizuoka, the tea heaven, we recommend the special room called Enshu Tsumugi no Ma, a Japanese-style room that has a living with a tea corner. The room is provided with three types of tea made in Shizuka for each time of the day.
The Before Dinner Tea set comes with traditional Japanese sweets called "rakugan". These sweets consist of a mixture of rice flour, finely milled sugar and water shaped in a mold.
Our sweets were shaped as tea leaves. The green tea included in this set has uplifting benefits and contains a moderate amount of caffeine. It can be enjoyed at any time throughout the day, not only before dinner.
The After Dinner Tea has no caffeine content and is served with locally made pickles. Pickles are a very common snack accompanying tea in Japanese homes.
The Waking Up Tea set can be enjoyed before or after breakfast. The green tea has a strong taste and relatively high caffeine content. Enjoy it alongside a kintsuba (a type of Japanese cookie) filled with a sweet bean paste flavored with roasted green tea.
This special room has a complimentary postcard set with beautiful cards illustrated with Shizuoka tea farms. These cards contain a sample of local green tea inside.
These cards are ideal for sending home during your stay to share your impressions of Shizuoka with your loved ones. They are available for purchase at the gift shop so guests staying in other rooms can also acquire them.
Some of the rooms have a private open-air hot spring bath on the balcony. The bathtub, a traditional Japanese one, is made of wood, so that guests can enjoy the relaxing scent of wood while viewing the beautiful Lake Hamana from their bathtub.
Learn more about the various types of rooms at KAI Enshu by visiting their official page.
3. Tea and Hot Springs - The Perfect Combination
Hoshino Resorts KAI Enshu combines local tea and hot springs elevating their benefits to a new level of relaxation.
Green tea is said to have benefits for the skin such as anti-aging, calming inflammations, and fighting eczema. Besides the skin benefits, the scent of tea has a calming effect.
There are wooden baskets with tea leaves and skin beautifying bath salts floating in the water. These baths are the best way to enjoy the benefits of tea and hot springs.
Guests are offered three different green tea blends before, after and during the bath.
The Pre-Bath Tea is served warm at the entrance to the hot springs. It contains catechin, which has antioxidant effects. Apparently, if you drink it before taking a bath, your body absorbs up to seven times more catechin.
The Bath Tea, which can be enjoyed while taking the bath, is served cold, inside the bathing facility. This green tea blend is effective in rehydrating the body during the bath.
The Post-Bath Tea is served warm in a small tea room just outside the hot spring facility. It calms the body after the blood circulation was stimulated during the bath and prolongs the relaxing effects of the hot bath.
Guests can slowly enjoy the tea while gazing at the tea garden, where azaleas grow along rows of green tea plants. The area is surrounded by Japanese maple trees. Their leaves turn bright red in the fall, making for an especially beautiful sight.
For more details on the hot springs offered by KAI Enshu, please visit their official page.
4. Tea Time - Create Your Own Blend
In the Travel Library, guests can find twelve of Shizuoka's most popular types of green tea. You can enjoy them plain, blend them, or even combine them with other herbs and fruit such as lavender, chamomile, and dried strawberries.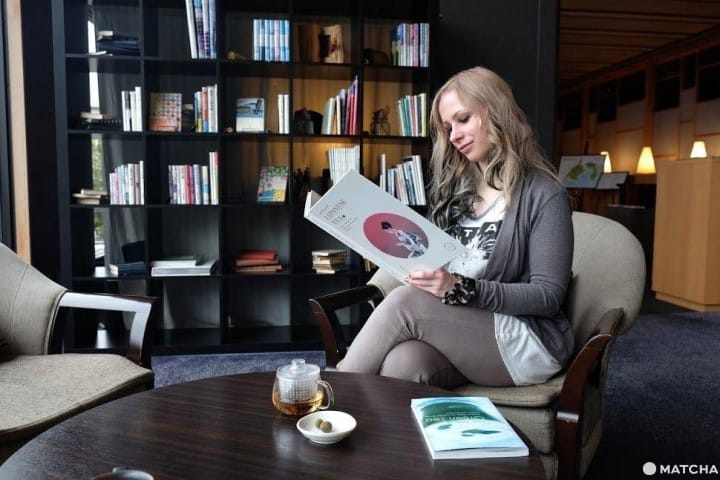 Guests can take the tea to their rooms or enjoy it in the Travel Library while browsing through the collection of tea-related books available in Japanese and English.
5. Tea Workshops - Learn How to Brew Delicious Tea
The flavors of tea and sake can be usually described using a five flavor system: karami (dryness), amami (sweetness), sanmi (acidity), nigami (bitterness) and shibumi (astringency or tartness).
Every single aspect of tea brewing, from the amount of tea leaves to brewing time, can influence the balance of flavors.
Even if you feel confident in your tea brewing skills, you might want to join the tea workshops at KAI Enshu. The staff explains step by step about the benefits of tea, its flavor, the right amount of tea leaves and the ideal brewing time for each type of tea.
Learn how to prepare cold brews for the hot season and pouring tea blends and second brews in this fun and interesting workshop.
6. Total Relaxation Amid Tea Fields
Stretching before and after a hot bath is just as important as stretching before and after a workout. Your limbs, muscles and joints need a warm up and cool down to avoid physical stress.
The morning stretch class at KAI Enshu is held with the green tea garden in the background. The fresh air and the beautiful view of the surrounding nature make for a perfect start of the day.
Guests can also get a massage in their rooms. The massage therapist brings a tea leaf burner for you to enjoy the scent of freshly roasted tea during the massage.
7. Tea Cocktails and Shizuoka's Delicious Local Cuisine
Guests can enjoy complimentary cocktails infused with tea in the Travel Library after dinner. When we visited in spring, and we were able to enjoy a seasonal cocktail made with cherry blossom syrup and gin infused with green tea.
A different cocktail infused with tea is offered every season. Guests can choose between alcoholic and non-alcoholic cocktails.
Another wonderful feature of KAI Enshu is the exquisite local cuisine of Shizuoka highlighted at dinner. The course features fresh eel, a local specialty, as well as fugu, or blowfish, a lesser-known delicacy.
Blowfish is safe to eat in Japan. However, you can ask the staff to exclude the fugu from the course if you don't feel comfortable eating it. Make sure to let them know in advance, when you order the dinner course, to give them time to prepare an alternative menu.
Breakfast is served in a wooden box with a design inspired by chabako, boxes used in the past to carry tea and basic tea ceremony utensils during long trips. Fresh ingredients are perfectly balanced in an original, healthy menu. The local miso soup is especially mild and creamy and worth trying even if you are not a fan of miso soup.
Learn more about the refined cuisine offered by KAI Enshu by visiting their official page.
Relish the Soothing Benefits of Tea at Hoshino Resorts KAI Enshu
Experience Shizuoka's famous green tea to the fullest by staying at Hoshino Resorts KAI Enshu. You'll be able to discover and fully enjoy the benefits of Japan's tea culture while being surrounded by the aroma, taste, and feel of tea. KAI Enshu is every tea lover's dream come true!
Hoshino Resorts KAI Enshu official website: https://kai-ryokan.jp/en/enshu/
To check room availability and book a room at KAI Enshu, please check their official booking website.
Written by Chiara Mischke
Sponsored by Hoshino Resorts
Hoshino Resorts operates hotels and ryokan (Japanese inns) in more than 40 locations. Their facilities are ideal for travelers who wish to fully enjoy the charms of Japan.
Each facility has English speaking staff who make sure that visitors from all around the world experience the full breadth of Japanese hospitality without inconveniences.
The Hoshino Resorts brands include HOSHINOYA, KAI, RISONARE, OMO, and BEB.
The information presented in this article is based on the time it was written. Note that there may be changes in the merchandise, services, and prices that have occurred after this article was published. Please contact the facility or facilities in this article directly before visiting.