Kanamara Matsuri - The Story Behind Kawasaki's Unique Spring Festival!
Held the first Sunday in April at Kawasaki's Kanayama Shrine, Kanamara Matsuri is a festival born out of the wish for a world without discrimination. We introduce the historical background and the highlights of this unique festival.
Kanamara Matsuri - A Unique Festival In Kawasaki
Kanamara Masuri, taking place every year in April in Kawasaki, is a Japanese spring festival held as a prayer for fertility, smooth marital relationships and business prosperity.
In recent years, it caused a sensation in Japan and abroad being introduced as a "penis festival" and has also gathered attention as a major event in the LGBT+ social calendar.
However, Kanamara Matsuri is first of all a sacred event born out of the sincere wish for a festival that anyone could enjoy without being discriminated. Let's learn more about the historical background of this event and its content.
A Festival Loved by Those Who Want to Be Blessed with Children
Picture courtesy of Kanayama Shrine
Kanamara Matsuri is held at Kanayama Shrine, which is located within the grounds of Wakamiya Hachimangu Shrine in Kawasaki.
Kanayama Shrine is dedicated to Kanayama Hiko no Kami and Kanayama Hime no Kami, a divine couple celebrated as the protectors of blacksmiths and of sexuality. That is why the main festival of this shrine is held as a prayer for the blessing of children and smooth marital relationships.
However, not only married couples praying for children are taking part in this festival. Every year, more than 30.000 people with various backgrounds, nationalities, and sexual identities take part in this event.
The reason why this festival reached this scale has to do with its historical background.
Kanamara Matsuri - Born out of the Wish for a World without Discrimination
The history of Kanayama Shrine can be traced in the Edo period (1603-1868).
In those days, Kawasaki used to be a lodging area along the Tokaido, the main road connecting the eastern capital of Edo to Kyoto. It is said that the women who worked at the inns as maids and prostitutes used to come to Kanayama Shrine to pray to be protected from diseases and misfortune.
Even in modern times, people suffering from sexually transmitted diseases kept coming during the night to the shrine to pray. This was what prompted the Kanayama Shrine parishioners to initiate a festival that anybody would be able to enjoy in daylight, without being discriminated.
This is why at the Kanamara Matsuri you'll be able to see various types of people enjoying the mikoshi (portable shrine) parade, including representatives of sexual minorities and foreign residents or visitors. In fact, from the more than 30.000 participants, about 60% come from abroad!
In Kawasaki, at the beginning of April there used to be a festival called "Jibeta Matsuri" (literally "Ground Festival"). It was a community event held around the time when the bamboo sprouts appear above the ground surface in spring. The participants would have a feast sitting on the ground in a bamboo grove, hoping to receive some of the life force of the bamboo shoots into their bodies.
The Jibeta Matsuri is thus considered one of the origins of Kanamara Matsuri.
Kanamara Matsuri - Highlights of the Parade
Picture courtesy of Kanayama Shrine
On the day of the festival, the participants can visit the shrine and the exhibition hall within the shrine grounds, or buy penis-shaped souvenirs and sweets from the numerous food stalls.
In the exhibition hall of Kanayama Shrine, visitors can see a collection of images, objects and books related to other traditions of sexuality. Here you can find out about other festivals in the world dedicated to guardian deities of sexuality besides Kanamara Matsuri.
The highlight of the festival is the parade that starts from 12 o'clock at noon. It features three portable shrines (mikoshi) that carry phallus-shaped sacred objects.
Picture courtesy of Kanayama Shrine
The one that opens the procession is the Kanamara Funamikoshi - a boat-shaped roofed portable shrine on which a large black iron phallus is carried.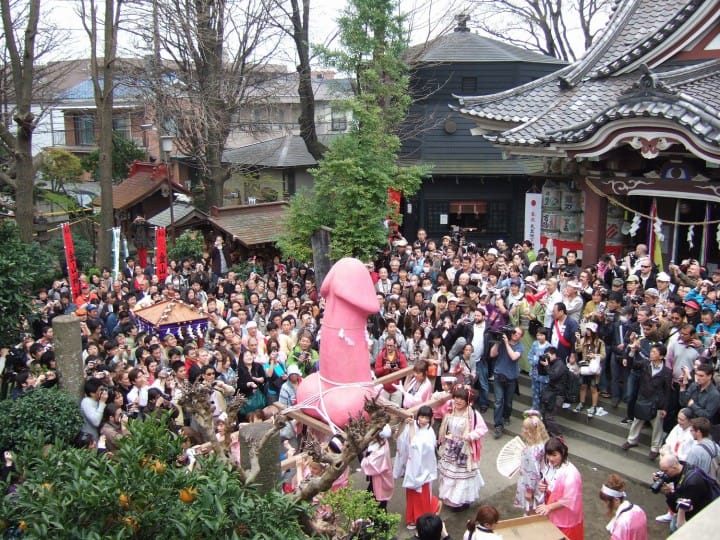 Picture courtesy of Kanayama Shrine
Next up in the procession is the Elizabeth Mikoshi carrying a large pink phallus on an open portable shrine. This mikoshi has been donated by Elizabeth Kaikan, a drag club in Tokyo, and in the beginning only club members used to carry it during the parade.
Nowadays, it is carried by the members of a local mikoshi association. However, there is the rule that men carriers should dress up like women and women carriers should dress up like men.
Kanamara Omikoshi, a large square roofed mikoshi housing a central wooden phallus, is the last portable shrine in the procession and also the oldest of the three mikoshi.
The parade is really exciting and because it is held in a residential area, the streets tend to become crowded. Please enjoy the event with consideration towards other participants.
While alcohol is available, participants should remember that this is a shrine festival that takes place in a residential neighborhood and common sense manners should be respected.
Getting to the Venue of Kanamara Matsuri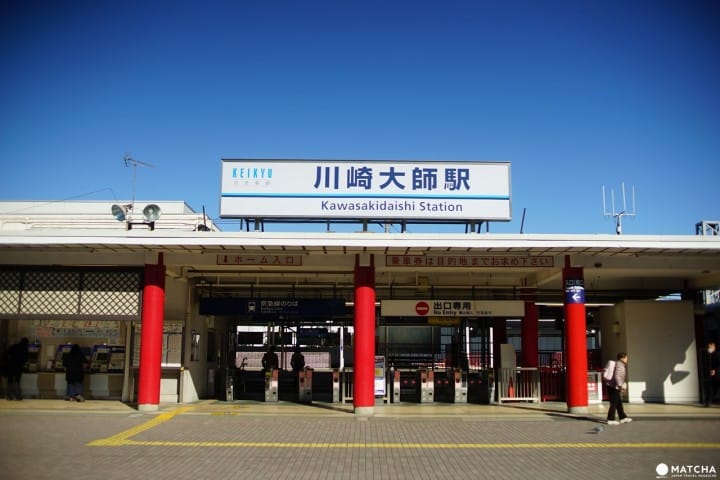 If you are traveling from the Tokyo or Yokohama area, you should head for Shinagawa Station first. From there, take the Keikyu Main Line to Keikyu Kawasaki Station, then switch to the Keikyu Daishi Line, until you arrive at Kawasaki Daishi Station.
From the station, it is only a one minute walk to Kanayama Shrine. During the festival, you will see crowds of people lining the streets, so it's very easy to make your way from the station to the event.
In 2018, Kanamara Matsuri will be held on April 1st (Sunday) from 11:00 to 16:45.
Although the parade of the portable shrines doesn't start until midday, because this shrine is located in a residential area, space is limited, so those wanting to participate should plan on arriving ideally before 12:00 to reserve their space.
A festival that anyone can enjoy - that is the spirit of Kanamara Matsuri. Please be considerate towards other participants and enjoy the parade together with everyone!
Those who wish to explore Kawasaki before and after the festival, please take a look at our following article which introduces the best places to visit in Kawasaki, along with an exciting event held on the day before the Kanamara Matsuri: Kawasaki - Places To Have Fun And Visit Before Kanamara Matsuri
View Information
Kanayama Shrine
| | | |
| --- | --- | --- |
| | Address | Kanagawa, Kawasaki, Kawasaki ward, Daishi Ekimae 2-13-16 |
| | WiFi | Not Available |
| | Accepted Credit Cards | Not Available |
| | Languages | Japanese, English |
| | Nearest station | Kawasaki Daishi Station (Keikyu-Daishi Line) |
| | Access | 1 minute walk from Kawasaki Daishi Station |
| | Religion | Shinto |
| | Telephone number | 044-222-3206 |
| | Website | https://twitter.com/kanayamajinjya (Japanese) |
Supported by Kawasaki City

The information presented in this article is based on the time it was written. Note that there may be changes in the merchandise, services, and prices that have occurred after this article was published. Please contact the facility or facilities in this article directly before visiting.