The Zao Mountains In Yamagata: Experience The Excellent Service Areas!
The Zao mountain range in Yamagata offers a picturesque scenery throughout the year. This article introduces the convenient access to Zao by highway bus, as well as the highlights of the excellent service and parking areas along the way.
Zao - A Picturesque Area in Northeastern Japan
The Zao Mountain Range (Zao) is located along the border of Miyagi and Yamagata prefectures in the Japan's Tohoku region. This is a major sightseeing area dotted with onsen (hot springs) and ski resorts. Visitors can enjoy the lush foliage in spring and summer, the autumn leaves in fall, and winter sports in the snow.
The juhyo are famously known as one of the winter highlights in Zao. These are trees covered with frosted mist, and Zao is one the few places in Japan where this phenomenon occurs.
Access to Zao
The highway bus is the recommended means of transportation to the Zao area. The fare is cheap, and passengers can also have fun along the way with this route.
Why the Highway Bus is Convenient
1. The Fare
Although the Zao area can be reached from both the Miyagi and Yamagata sides, the latter would be better if you want to see the juhyo trees. The fare for a highway bus is one third that of the shinkansen. It will take more time, but if you want to go the inexpensive route, use the highway bus.
The fare using the highway bus from Tokyo Station to the Zao Onsen Bus Terminal in Yamagata is 3800 yen and up. The fare for the same route, using the Shinkansen is 12,340 yen and up.
2. Enjoy Sightseeing at the Rest Stops
Along the Japanese highways, there are rest spots called service areas (SA) or parking areas (PA), and most highway buses stop at these spots. They have clean restrooms with washlets, food courts filled with local dishes and kiosks selling souvenirs and drinks.
A shinkansen will pass all these spots, but a highway bus will enable the passengers to experience more of the local culture, which makes the trip more enjoyable.
3. Time Management
Late-night highway buses will arrive at Yamagata in the morning. Passengers will be able to save on their lodging costs, and enjoy sightseeing from the early hours. There are some kiosks and food courts which are open around the clock at SAs and PAs, so if you are lucky, you might be able to experience the local atmosphere along the way, even on a late-night bus.
Recommended SAs and PAs Along the Way to Zao
1. Sano SA (Tokyo to Yamagata Route)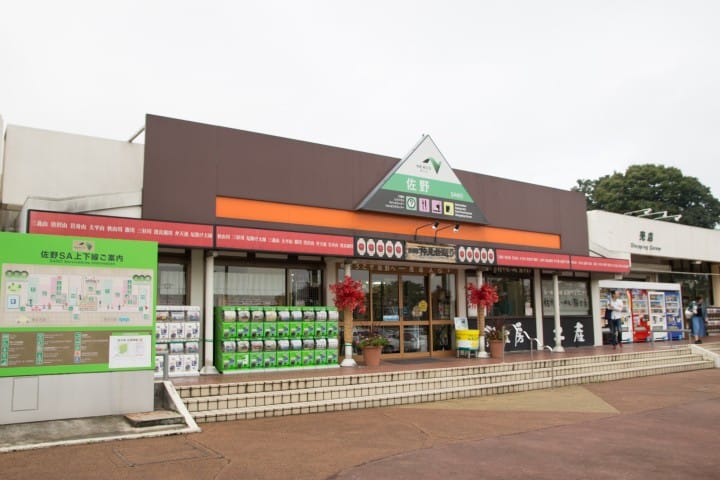 Sano SA is one of the larger rest stops along the Tohoku Expressway.
Photograph provided by Nex-area Company Limited
Sano SA is located in Sano, Tochigi prefecture, where ramen is the local specialty. At this SA, visitors can even watch how the noodles are made.
Popular Dishes at Sano SA No. 1: Ramen Cake
This ramen look-alike is popular due to its design. A local cake shop cooperated to make this confectionery and its quality is guaranteed, so visitors should give it a try. The price is just 390 yen, including tax.
Popular Dishes at Sano SA No. 2: Imo Fry
This is another local cuisine of Sano, a steamed imo (potato), covered in bread crumbs, fried and served with sauce. It is the most popular dish in this SA, and the price is 250 yen, including tax.
Popular Dishes at Sano SA No. 3: Otome-mix Soft
This is a soft serve vanilla ice cream, with a mix of sweet-and-sour tasting Tochi-otome, a type of strawberry cultivated in Tochigi prefecture. The price for one cone is 365 yen, including tax.
2. Adatara SA (Tokyo to Yamagata Route)
Another recommended spot on the same route is the Adatara SA. Mt. Adatara, one of the "Hundred Most Celebrated Mountains in Japan," can be viewed from an observatory in this SA.
© Tsuburaya Productions
A statue of Ultraman Tiga, three meters in height, stands among the vending machines covered with Ultraman illustrations. This is the perfect place to take a photograph.
Popular Dishes at Adatara SA No. 1: Momo Soft
Adatara SA is located in Fukushima prefecture, and this soft serve ice cream is blended with peach juice, which is a local product. The ice cream has just the right sweetness, so it is very popular with visitors of all ages. The price is 350 yen, including tax.
Popular Dishes at Adatara SA No.2: Datedori Shoyu-katsu Burger
The chicken burger uses datedori, a Fukushima produced poultry, is also popular. The chicken breast cutlet is served with a special shoyu (soy sauce), giving it a Japanese taste. The price is 390 yen, including tax.
Popular Dishes at Adatara SA No. 3: Adatara no Momo-oni chan Sponge Cake
This sponge cake is filled with jam made from Fukushima peaches, and comes with a cute brand on top. The price is 864 yen including tax, for an eight piece box.
3. Kunimi SA (Yamagata to Tokyo Route)
Kunimi SA is located near the border of Miyagi and Yamagata prefectures, and souvenirs of the southeast Tohoku region can be bought at this facility.
Popular Dishes at Kunimi SA No. 1: Gyutan Tsukune
This is a broiled tsukune (chicken meatball), mixed with gyutan (beef tongue) and seasoned with salt and pepper. Some customers eat it with soy sauce. The price of this voluminous dish is 350 yen, including tax.
Popular Dishes at Kunimi SA No. 2: Momo Jam Bun
The Momo jam bun is filled with jam made from the peaches grown in Fukushima. People with a sweet tooth should definitely try this bun. The price is 257 yen, including tax.
Popular Dishes at Kunimi SA No. 3: Oni-momo chan Cookies
These cookies come with Oni-momo chan, the mascot of the Kunimi SA printed on them. The box is made like a picture book, so it can be used as a decoration as well once the cookies are all gone. The price is 756 yen including tax, for a fourteen piece box.
4. Nasu Kogen SA (Yamagata to Tokyo Route)
Nasu Kogen SA is a popular facility located in Tochigi prefecture. The Nasu area is known as a summer resort, and the Goyotei, a retreat for the Imperial Family of Japan, is also located in the area.
The symbol of this facility is a former San Francisco trolley bus, which is now used as a kiosk.
Popular Dishes at Nasu Kogen SA No. 1: Shinrin no Bokujo Soft Cream
This soft serve ice cream is made with 100 percent Jersey cow milk, produced by the local dairy company "Shinrin no Bokujo." It has a deep flavor, and is a popular menu item. The price is 410 yen, including tax.
Popular Dishes at Nasu Kogen SA No. 2: Trolley Bus Waffle
This is a bus-shaped waffle, with a rich butter flavor. The price is 200 yen, including tax.
Popular Dishes at Nasu Kogen SA No. 3: Dashimaki Tamago Gushi
This is a skewered Japanese-style omelette with a rich, sweet taste, made from a brand of eggs called "Nasu no Goyo-ran". The price is 260 yen, including tax.
5. Hanyu PA (Yamagata to Tokyo Route)
Hanyu PA is famous for Onihei Edo-dokoro, a theme park based on "Onihei Hanka-cho", a Japanese historical novel.
The kiosks are designed in the Edo period style, so visitors can have fun by just by taking a walk though this parking area.
Popular Dishes at Hanyu PA No. 1: Okonomi Taiyaki
Taiyaki is originally a Japanese red bean or custard filled dessert, but okonomi taiyaki is filled with cabbage and bacon instead. The price is 220 yen, including tax.
Popular Dishes at Hanyu PA No. 2: Yakitori by Ryogoku Toriko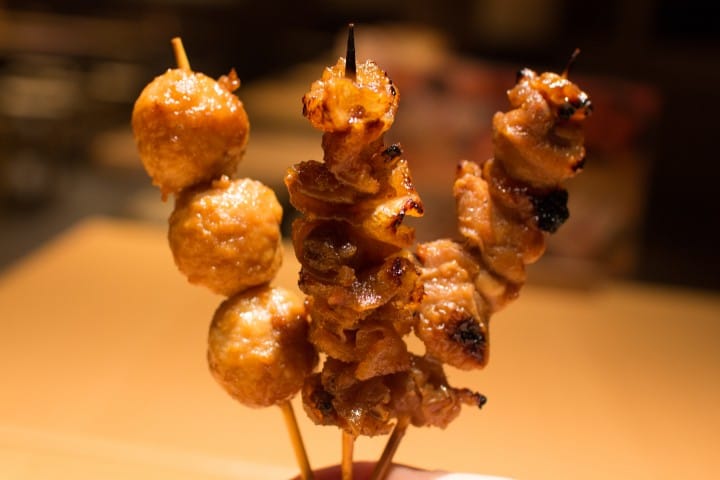 Three types of yakitori, momo (thigh), kawa (skin) and tsukune (chicken meatballs), made by the famous restaurant Ryogoku Toriko, are available at this PA. It might be fun to try them all, and compare their tastes. They are 170 yen a piece, including tax.
Popular Dishes at Hanyu PA No. 3: Nusutto Gomadare-mochi
The package is designed after an arabesque printed furoshiki (*2), which is said to have been favored by the nusutto (thieves) in the Edo period. This is a mochi (rice cake) filled with thick sesame sauce. The price is 560 yen including tax, for a twelve piece box.
*2 Furoshiki: a square wrapping cloth.
Enjoy Traveling by Highway Bus
The dishes mentioned above should be reason enough to get on the bus.
You have to actually visit the areas to taste these dishes. Traveling by a highway bus will take time, but unlike the shinkansen or an airplane, passengers can have fun along the way when taking the bus.
Those who are going to use the highway bus should take a look around the SAs and PAs, to really feel the local atmosphere. Be sure to check when the bus leaves each SA or PA, and don't forget where it is parked.
** This article is based on information that is current as of October 2017. Please note that some highway buses may not stop at all the SAs and PAs mentioned in the article. Also, please be aware that the kiosks and products at each facility differ, depending on which side of highway it is located.

Photos and text by Kazuma Takahashi. Scenery photos by Shutterstock.
Sponsored by Nex-area Company Limited
The information presented in this article is based on the time it was written. Note that there may be changes in the merchandise, services, and prices that have occurred after this article was published. Please contact the facility or facilities in this article directly before visiting.