Tasty Food And Souvenirs! Hanyu Parking Area And Hasuda Service Area
If you travel from Tokyo to Nasu Highland by car, how about stopping for a break at the local rest areas? The Hanyu Parking Area offers impressive Edo-style streetscapes while the Hasuda Service Area has excellent services for adults and children.
A Day-Trip to Nasu Highland from Tokyo
Nasu Flower World. Photo by Pixta
After visiting bustling tourist spots, such as Asakusa, Shinjuku, and Harajuku, why not spend the next day surrounded by nature? We recommend a day trip to Nasu Highland (Nasu Kogen) from Tokyo. This picturesque highland resort is only a 2.5-hour drive from Tokyo.
There are several places where you can relax in the great outdoors in Nasu. At Nasu Flower World, colorful flowers such as tulips, marigolds, and cosmos bloom throughout the year.
Minamigaoka Dairy Farm offers a pastoral landscape and the chance to interact with adorable animals such as hedgehogs and sheep. At Nasu Alpaca Farm, visitors can see more than three hundred alpacas grazing on an idyllic pasture.
A popular summer retreat, Nasu is also renowned as a fall foliage viewing spot. The area boasts a beautiful hot spring town as well, so it's wonderful place for an overnight stay.
Enjoy Exclusive Cuisine on Your Road Trip
The beautiful sightseeing spots in Nasu are in the middle of nature.
The best way to get around is by car. By taking a break at service areas (SA) and parking areas (PA) along the expressway, you can find exclusive food and local souvenirs. Not to mention, you can enjoy your trip without being pressed for time.
The expressway heading towards Tokyo is called nobori (inbound). When departing from Tokyo, the direction is referred to as kudari (outbound).
In this article, we introduce a service area and a parking area that are worth dropping by when driving back to Tokyo (inbound direction) from Nasu.
Hanyu Parking Area (Inbound): Slip Back through Time to the Edo Period
Parking areas are rest stops for drivers along the expressway. They usually have seats for visitors to take a break and either a cafeteria or a restaurant where everyone can enjoy a light meal. However, initially, they were not places where one would spend a lot of time because most drivers would quickly head back on the road.
However, things are noticeably different when dropping by the Hanyu PA on a road trip.
What first comes into view are the many buildings that take you back in time!
This row of buildings resembles the setting of a historical drama. Visitors will feel like they've gone back in time to ancient Japan.
This parking area is called Onihei Edodokoro. It is based on "Onihei Hankacho," a popular Japanese historical novel, and features streetscapes and buildings recreated from the Edo Period, some 200 years ago.
Among Japan's many parking areas, this is the only one that recreates scenery from the feudal Edo Period.
Both the exterior and the interior of the facility bring to mind the architectural style of Edo-era houses.
The food court has shops modeled after the ones in the historical novel, "Onihei Hankacho." The concept was to round up long-established stores from the Edo period that fit with the theme of this parking area.
Let's enjoy the atmosphere of the past over a delcious meal!
Ippon Udon: 850 Yen for a Single Noodle?
Shamo Nabe Gotetsu, located in the corner of the food court, is an eatery created based on a dining place in the novel Onihei Hankacho.
Tamahide, a long-standing shop established in Tokyo's Ningyocho in 1760, reportedly served as the model for Shamo Nabe Gotetsu. The menu at Shamo was created under the supervision of Tamahide's staff.
Ippon Udon (850 yen including tax), the specialty menu, apparently took three years to develop. This single noodle is one centimeter thick and measures 55 centimeters in length! The dish is garnished with an onsen tamago (softly cooked egg) and green onions (see photo above).
The noodle has a firm, chewy texture. The soup is slightly sweet and tastes similar to the teriyaki sauce in chicken dishes. Because the noodle soaks up the flavor of the sauce, you can enjoy its rich flavor combined with the soft, silky egg.
Kuzu Mochi: A Traditional Dessert from the Edo Period
The parking area includes the famous Funabashiya, known for its traditional Japanese dessert called kuzu mochi (see photo above).
Kuzu mochi is a sticky dessert made from wheat starch fermented with lactic acid.
The most popular way to savor this treat is to sprinkle the triangular-shaped mochi with kinako (roasted soybean powder) before pouring kuromitsu, or brown sugar syrup, on top.
Prices start from 422 yen (after tax) for takeout. If you're eating on the premises, prices start from 430 yen (after tax).
For a limited time at the Hanyu PA (inbound), you can purchase skewered kuzu mochi, which is convenient for eating in your car.
The most popular variety is mochi covered with koshian (smooth red bean paste) and kuromitsu (right side of the photo; prices from 294 yen after tax). You'll be hooked on its delicious, smooth taste.
The strawberry-milk-flavored kuzu mochi (middle of the photo) and sesame-flavored kuzu mochi (left side of photo) are also available for a limited time.
Other flavors appear during each season, including zunda (*1), sakura-an (white bean paste mixed with salted cherry leaves), chestnut, and sweet potato, to name a few.
Be sure to check out the latest flavors when you stop by this parking area.
*1 Zunda: sweet edamame (young soybean pods) paste.
Okonomi Taiyaki: A Quick Bite for Busy Travelers
The Okonomi Taiyaki (220 yen after tax), overflowing with a tasty filling, is the perfect snack to eat on the go.
While a typical taiyaki is filled with sweet red bean paste, this variety is packed with cabbage, bacon, hot pickled ginger, and other savory ingredients. In other words, you get to enjoy the flavor of okonomiyaki through this snack. Ningyoyaki Bunrakuyaki Honten, a shop that's outside the main facility, sells these fish-shaped cakes.
Hanyu PA (inbound) is a fun facility, even if you only take a stroll around the shops. The local products, popular with customers of all generations, are arranged beautifully on the shelves.
This parking area also offers leisure activities so do stop in and experience a part of Japan's history here.
Hasuda Service Area (Inbound): Fun for Adults and Children Alike!
We recommend taking a break at the Hasuda Service Area (inbound) if you're on a trip with your family or seeking travel information. The facility has a nursing room, a children's play area, and an information center. The main information signboard has a multi-language display.
The facility includes a convenience store and a Starbucks cafe, so you can stock up on coffee, chewing gum, and whatever else you need to stay awake while driving.
Shunsen Club: Stock up on Souvenirs From Eastern Japan
The Hasuda SA is a rest stop on the Tohoku Expressway when heading for Tokyo from Sendai, Fukushima, Aomori, and other cities in the Tohoku region. You can also access it from sightseeing spots in eastern Japan such as Nikko.
At the souvenir shop Shunsen Club, the shelves are lined with specialty products from the Tohoku, Saitama, and Tochigi.
For example, the Goyotei Cheesecake (left side of photo; 1,350 yen after tax) is a popular souvenir from Nasu. This homemade creation is made using several types of cheese and has a rich, luxurious taste.
Hasuda SA (inbound) is located in Saitama. Specialty products from this prefecture are, of course, also available. Saika no Hoseki fruit jelly (middle of photo; 540 yen after tax) is a type of gumdrop-shaped candy filled with fruit juice. These colorful souvenirs are a delight to the eyes.
The round sweets shown on the right side of the photo are a brand-name confectionery called Hakuroho (1,026 yen after tax; ten pieces per box). They are made by Kasho Hanami, a confectionery shop established in Saitama in 1912.
Hakuroho is made with white bean paste that is baked then covered with a milk coating. Other flavor variations include coffee, green tea, and black sesame. There are special seasonal versions as well.
Make Your Travel Memories a Part of Daily Life
In addition to snacks, why not purchase some souvenirs that you can use every day?
The famous Japanese brand Hinomoto Hanpu has a store at Hasuda SA. They specialize in canvas products using thick cotton fabrics that are processed with paraffin wax.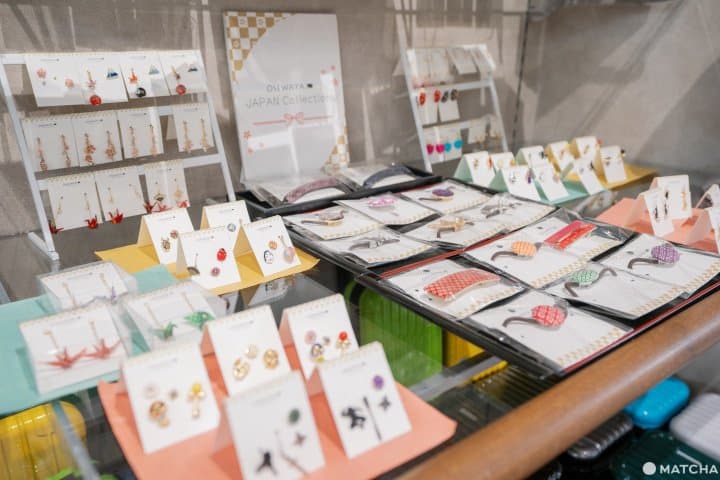 In one corner of the shop, there are earrings with designs that conjure up images of Japanese culture, including ninja, kendama (*2), and folded cranes.
Why not treat yourself to some of these delightful souvenirs to commemorate your trip?
*2 Kendama: a traditional Japanese ball-and-cup toy. It has a handle (ken) and ball (dama) connected by a string.
Taste Seasonal Gourmet Foods!
The food court offers a wide variety of dishes that will satisfy your appetite. The options include a tonkatsu set meal, oyakodon (rice topped with a chicken omelet), and udon noodles among other dishes.
The counter seats are even equipped with electrical plug-ins, so you can recharge your smartphone while enjoying a tasty meal.
If you wish to try a Hasuda SA (inbound) special menu item, we suggest taking the Fukaya-Negi Green Onion Ramen with Chashu (1,000 yen after tax) from the shop called Setagaya.
The dish consists of flat, thick noodles in a rich-tasting soup. It's topped with Fukaya negi green onions, a vegetable found only in Saitama, which gives it a spicy accent. This generous serving of ramen is also garnished with bite-sized pieces of chashu pork.
Nihonbashi Ippei, a shop specializing in oden, also offers original menu items.
Fua Fua Kushi, a type of agekama kushi (oden on a skewer, see above photo), is made with a mixture of minced fish, egg whites, and onions. This popular item has a soft texture and gentle flavor.
There are six varieties of agekama kushi, including the tako-shoga kushi (a squid and ginger mixture) and ebi-cheese kushi (shrimp and cheese).
We also recommend ordering the kushi and dashi set (430 yen after tax). The dashi broth, made with konbu seaweed and dried bonito flakes, brings out the savory flavor of the dish.

Visit Local PAs and SAs for a Memorable Road Trip!
While Hanyu PA (inbound) is fun to visit as a sightseeing spot, Hasuda SA (inbound) is a handy site offering many convenient services. Both places have numerous attractive features not found at ordinary roadside rest spots.

Make sure to include these rest stops as your final stops on your trip!

Written by Miho Moriya
Photos by Karin Hirokawa
Sponsored by Nex-area Company Limited

The information presented in this article is based on the time it was written. Note that there may be changes in the merchandise, services, and prices that have occurred after this article was published. Please contact the facility or facilities in this article directly before visiting.