Sendai Travel Guide: 21 Sightseeing Spots, Access, Souvenirs and More!
Enjoy the city and the vast nature of Sendai while experiencing the history and culture of Japan up close. Find out how to get to Sendai and what are the great spots to visit during your journey, as well as other useful information!
What Kind of Place Is Sendai?
Sendai is a city located in Miyagi prefecture. It is the most populated city in the Tohoku region and an important center of politics, economics, and culture.
Sendai's history goes back to the year 1601 when the famed general and feudal lord, Masamune Date, had his castle constructed in this very location. His popularity still lives today and many visitors continuously visit the sites associated with him.
The city of Sendai is also referred as the "Hometown of Forests" and as suggested by this name, the city is surrounded by lush greens. Right outside of the city there are wonderful hot spring spots such as Akiu hot springs and Sakunami hot springs. Other iconic nature spots include the Akiu waterfall and the Homei shijuhachi waterfall. In addition to that, Matsushima, one of Japan's top three scenic sites is located only 25-minutes by train from Sendai.
Sendai is also known for its delicious cow tongue specialties and zunda mochi rice cakes which attract many tourists from all over. In this article, we will introduce you to Sendai and its surrounding areas. Enjoy what this great city has to offer!
Contents:
1.How to Get to Sendai City
2.Transportation in Miyagi and Sendai City
3.Sendai Area Guide
4.21 Tourist Spots in Sendai and Miyagi
5.Shopping Spots in Sendai
6.Suggested Sightseeing Route in Sendai
7.Events in Sendai
8.Hotels in Sendai
9.Local Food of Sendai
10.Souvenirs from Sendai
11.Weather and Clothes Suited For The Season
12.Other Helpful Information For Your Trip
How to Get to Sendai City
Going From Tokyo on the Bullet Train
If you use the Tohoku bullet train (shinkansen), Hayabusa, you can reach Sendai in one hour and thirty minutes from Tokyo. One way fare for a standard reserved seat is 11,200 Yen. If you use the Yamabiko bullet train, it will take one hour and fifty minutes and a standard reserved seat is 10,890 Yen. If you use the Japan Rail Pass, you can get a reserved seat, so it is recommended for those who wish to visit multiple cities aside from Sendai.
For more information about the bullet train, please read Getting Around In Japan: How To Use Trains, Buses And Taxis.
Going From Tokyo by Bus
Ten bus companies such as JR Bus Tohoku (Japanese) or Miyagi Kotsu (Japanese) offer bus transportation throughout the day and night. It takes about five hours and thirty minutes. Prices vary by season and day and it can range from 2,000 to 8,000 Yen.
Going From Tokyo by Plane
Two ANA flights leave per day from Narita International Airport. The flight time is approximately one hour and the standard price for a one-way flight is around 21,000 Yen. A special discount can be applied if you purchase the ticket at least three days in advance and the price becomes around 16,000 Yen. If you manage to catch the early bird deal, it can be as low as 6,000 Yen. From Sendai airport, there is the Sendai Airport Access Line that will take you to Sendai Station in approximately 25-minutes. If you catch the express, you can get to the station in 17-minutes for 650 Yen per way.
Transportation in Miyagi and Sendai City
JR Lines
Aside from the Tohoku shinkansen, there are three other lines running throughout the area. The Tohoku Main Line, Senseki Line which is great to use when going to Matsushima, and the Sanzen Line that continues up to Yamagata prefecture. You can also hop on the Tohoku Main Line and transfer to the Senseki Tohoku Line that can take you all the way up to Ishinomaki city.
Bus
A reasonable method of transportation is the city bus operated by the Sendai City Transportation Authority. If you plan to stay near the Sendai Station area, there is the "100 Yen Pack" where you can ride the bus for only 100 yen in the designated area around the station. In addition, riding to areas around the Yagiyama Animal Park, Yakushido and Arai Stations on the Tozai Subway Line is also 100 Yen.
Loople Sendai is a retro looking bus that is great for touring around the city. It is a bus that loops around tourist areas such as the Zuihouden, Sendai Castle ruins, and central Sendai city.
On weekdays it comes every 20 minutes and on weekends and holidays, it comes every 15 minutes. A one-way ride is 260 yen, the "Loople Sendai 1-day Pass" is 620 Yen, and the "Loople Sendai and Subway 1-day pass" is 900 Yen. On the 1-day pass, special discount coupons are offered, so it is great to use during your visit. You can purchase the tickets at the Sendai Station west exit bus information center, facilities along the route or at selected hotels.
Subways
There are two city subway lines, the Namboku line and the Tozai line operated by the Sendai City Transportation Authority. Going three stops any way from Sendai Station is 200 Yen one way.
Sendai Marugoto Pass
This is a great two-day unlimited pass that will allow you to go on the JR trains, subways, bus, Sendai Airport line, and Abukuma Express in Sendai and surrounding areas. You can use it straight from the airport, ride the Loople Sendai, and even get discount coupons and a reasonable price of 2,670 Yen. Major sightseeing spots you can see using the pass include the scenic Matsushima, Shiraishi Castle, Yamadera Temple in Yamagata, Sakunami hot springs, and Akiu onsen.
You can purchase the pass at the Midori no Madoguchi ticket office of the JR East Japan stations in the area, View Plaza and vending machines at Sendai Airport Station.
Ferry
From Sendai Port, a ferry departs daily to Tomakomai Port in Hokkaido, along with a ferry going to Nagoya every other day. It takes approximately 15 hours to Tomakomai Port and starts from 7,200 Yen for standard class. To Nagoya, it takes around 21 hours and 40 minutes and starts from 6,700 Yen for a standard class.
Taxi
In Sendai, there are 12 taxi companies and that run throughout the city. The starting fare of a middle size taxi is 680 yen within Sendai city.
Car Rental
If you rent a car, not only will you be able to explore Sendai, but you can extend your trip out to places such as Matsushima, Zao, and Kesennuma. There are 20 car rental service centers around the Sendai Station area.
For more information about renting cars in Japan, please read A Guide for Renting Cars in Japan.
Sendai Area Guide
Central Sendai City Area
True to its name as the "hometown of forests", central Sendai has many trees among the remains of the Sendai castle and the castle town that was once ruled by the great Masamune Date. Along with the Sendai castle remains, there are other great tourist spots such as the Zuihoden shrine which is dedicated to Masamune Date, and the path of trees at the Jozenji Temple. In addition to all the sites, you can't forget the many restaurants that serve fresh seafood and Sendai's local specialty, cow tongue.
Akiu Hot Springs
With the Natori river running through the hot springs and the 20 meter deep Rairai valley that is lit up during spring, Akiu hot springs has many scenic sites that are great to see. Ranked in with the Fukuroda Falls of Ibaraki and the Nachi falls of Wakayama, on the upstream of the Natori River, you will be able to spot one of the top three waterfalls of Japan, the Akiu Great Falls. At the falls, you will also find the Akiu Great Falls Fudoson Shrine and the Akiu Great Falls Zoo as well. After touring around, take a break at the foot baths and try the local Akiu ohagi rice cake as a snack.
Sakunami Hot Springs
The famous hot springs along the Hirose river also has wonderful spots to explore. On the upstream of the Hirose River, there is the Homei Shijuhachi Falls and in the downstream, you will find the Miyagi Distillation Factory for the Japanese Nikka Whiskey. The town itself has an iconic five-storey pagoda within the Gokurakuzan Saihoji Temple built in 1706 that continues to attract many visitors. Within the city, there are facilities where you will be able to see how traditional Sakunami kokeshi dolls are made. For local treats to try during your tour, the tsutsumiage from Tsutsumiya shop is a tasty Japanese confectionery with a semi-sweet red bean paste and walnuts.
Matsushima
As one of Japan's top three scenic sites, there are many ways to capture the picture perfect scenery of the islands. Whether you sail by boat or enjoy the view from the four scenic spots, the Soukan, Reikan, Ikan or Yukan, you will be able to capture a different view of Matsushima from each respective area. You can also visit the Zuiganji Temple built in 1609 by 130 famous constructors under the order of Date Masamune. This temple contains impressive decors of the Momoyama period in the late 16th century. Gorgeous artwork can be spotted on the sliding doors (Japanese) and ornamental alcoves.
Another spot to go is the Entsuin Temple also known as the rose temple. It has Japan's oldest western rose painted inside of the right door of the alter and the garden is a sight to see when in bloom. The city is also known for fresh seafood and the Matsushima oysters are a must try at the Matsushima fish market.
21 Sightseeing Spots in Sendai and Miyagi
Historical Spots
1. Sendai Castle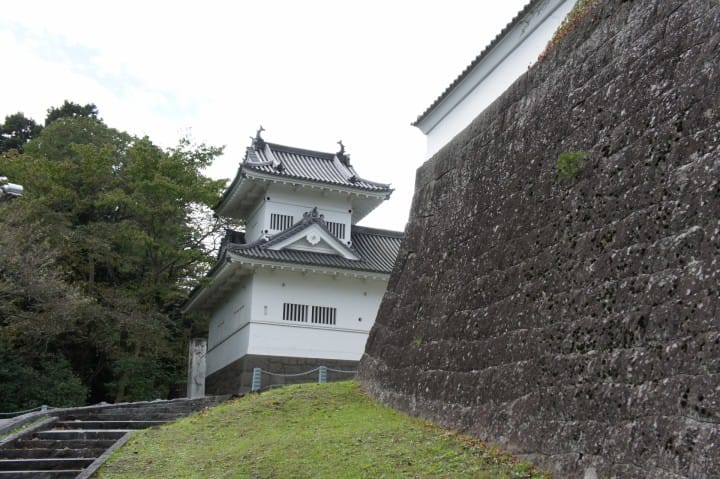 Also known as the Aoba Castle, it was formally the castle of Masamune Date. Surrounded by cliffs on the east and south side, it is a natural fortress. From the castle ruins, you will be able to see the city of Sendai and the Pacific Ocean from above.
Address: Miyagi, Sendai city, Aoba ward, Kawauchi 1-2
Website: http://www.sendaijyo.com/ (Japanese)
2. Taga Castle Ruins
Constructed in the year 724, it was a massive castle that spread over 900 square meters. It was formally used as an office that held important state affairs and ceremonies. Along with Nara's Heijo Castle remains and Fukuoka's Dazaifu ruins, it is considered to be one of Japan's top three historical ruin sites.
Address: Miyagi, Tagajo, Ichikawa
3. Zuihoden
A mausoleum dedicated to Masamune Date is known for its gorgeous decor representing the Momoyama culture of the end of the sixteenth century.
Address: Miyagi, Sendai city, Aoba ward, Otamayashita 23-2
Website: http://www.zuihoden.com/en/
4. Osaki Hachimangu
This was a shrine constructed under the order of Masamune Date in 1607. The main shrine, stone hall and shrine entrance are all together and contain the glamorous design of the Momoyama period.
Address: Miyagi, Sendai city, Aoba ward, Hachiman 4-6-1
Website: http://www.oosaki-hachiman.or.jp/pop/index.html
5. Tsuriishi Shrine
Located in Ishinomaki, this shrine was known to have sacred colossal rocks that were wrapped with a rope to ward off evil. The name of the shrine, Tsuriishi, literally translates to "rock fishing" and comes from the sacred rocks that looked as if they were fished out.
Address: Miyagi, Ishinomaki city, Kitakamicho Jusanhamaji, Oppa
Amusement
6. Sendai Anpanman Children's Museum Mall
A museum and shop for Anpanman merchandise can be found here. Anpanman is a character in an animated show that is popular among young children in Japan. If you get hungry during your visit, you will be able to eat bread like the one that comes out in the anime.
Address: Miyagi, Sendai, Miyagino ward, Odawara Yamamotocho 101-14
Website: http://museum.anpanman-acm.co.jp/en/
7. Yagiyama Benyland
An amusement park with nearly 30 types of thrilling, family-friendly and fun attractions is the Yagiyama Benyland. There are character shows and cosplay events held too.
Address: Miyagi, Sendai city, Taihaku ward, Koeji 19-1
Website: http://www.benyland.com/
8. Nikka Whiskey Miyagi Distillery
Founded by Masataka Taketsuru, he wanted to create different alcoholic blends using different ingredients in various locations. Here, you will be able to see and taste rich flavored whiskey freshly made from the distillery.
Address: Miyagi, Sendai city, Aoba ward, Nikka 1
Website: http://www.nikka.com/eng/
Galleries and Museums
9. Sendai Media Park
In a glass building by the Jozenji temple, it is a facility that has a gallery, library, media center and provides information for the blind and deaf. Sendai Media Park supports activity relating to media.
Address: Miyagi, Sendai city, Aoba ward, Kasukabe city 2-1
Website: http://www.smt.jp/en/
10. Sendai City Museum
Sendai city museum is located on the outer side of the Sendai castle ruins. It displays many donated artifacts from the Date family along with many items to learn more about the history, art, culture of Sendai.
Address: Miyagi, Sendai city, Aoba ward, Kokubuncho, 3-7-1
Website: https://www.city.sendai.jp/museum/ (Japanese)
11. Seishi Nakamoto Museum of Modern Art
This white Spanish castle-style building was originally made by the artist Seishi Nakamoto to create and present his works. Currently, this facility is used to raise young artists and host their exhibitions, live performances, as well as hold events and concerts.
Address: Miyagi, Sendai city, Aoba ward, Higashi Katsuyama 2-20-15
Website: http://www.seishi-nakamoto.com/e/mokuji/mokuji.html
12. Rias Arc Museum
Located on the top of the hill looking over Kesennuma bay, it displays artwork and folk art of the people of Tohoku. The museum also has records of the Tohoku earthquake and documents recording the damages done by the tsunami.
Address: Miyagi, Kesennuma city, Akaiwa Makisawa 138-5
Website: http://rias-ark.sakura.ne.jp/2/ (Japanese)
13. Kamei Museum
Bunzo Kamei is a famous collector of butterflies, and at this museum you will be able to see a part of Mr. Kamei's collection. On occasion, special exhibits are held as well.
Address: Miyagi, Sendai city, Aoba ward, Itsutsubashi 1-23
Website: http://www.kameimuseum.or.jp/ (Japanese)
14. Ishinomori Manga Museum
Enter the world of the famous manga artist Ishonomori Shotaro in this interactive museum. Mr. Ishinomori was born in Miyagi prefecture. This museum is home to displays of works such as Kamen rider and Cyborg 009. There are also displays of original artwork, exhibitions and over 6,000 books in the library corner.
Address: Miyagi, Ishinomaki city, Nakaze 2-7
Website: http://www.man-bow.com/manga/ (Japanese)
Zoos and Aquariums
15. Sendai Umi no Miyako Aquarium
At Umi no Miyako Aquarium, which has Tohoku's largest marine animal show, you can get close to penguins and sea lions. This aquarium is great to experience and discover the natural environment of the Japanese sea.
Address: Miyagi, Sendai city, Miyagino ward, Nakano 4-6
Website: http://www.uminomori.jp/umino/en/index.html
16. Sendai City Yagiyama Zoo
With nearly 140 species of animals including the popular polar bear, lion, and tigers, you can spend time with nearly 550 animals in the zoo. Even a fun feeding activity is available!
Address: Miyagi, Sendai city, Taihaku ward, Yagiyama Honcho 1-43
Website: https://www.city.sendai.jp/zoo/ (Japanese)
Hot Springs
17. Akiu Onsen
Known as the salon area of Sendai, Akiu onsen became well known after the Emperor during the 6th century visited. After spending time in the hot springs, the ill emperor recovered in a matter of days. After that, the hot springs became known as the "Spring of Natori". Along with the hot springs, there are plenty of great nature spots such as Rairai valley and Akiu Great Falls.
Address: Miyagi, Sendai city, Tashiro ward, Akiucho Yumoto
18. Sakunami Onsen
The hot springs in Sakunami are said to have been discovered by the monk Gyoki in the year 721. The iconic symbol of the town, the massive "Sakunami kokeshi doll" welcomes you at the entrance of the hot springs town. They also have a fun stamp rally where you can get free admission to one hot spring if you collect all the stamps.
Address: Miyagi, Sendai city, Aoba ward, Sakunami
Website: http://www.sakunami-spa.com/ (Japanese)
Nature
19: Akiu Great Falls
6 meters wide and with a 55 meter high, it is one of the top three waterfalls of Japan. The seasonal view of the falls is definitely a wonderful sight to see.
Address: Miyagi, Sendai city, Taihaku ward, Otaki Akiumachi Baba
20. Homei Shijuhachi Falls
Located on the upstream of Hirose River, you will be able to see various sizes of streams falling down natural stairs. The name of the falls, Homei translates to "cries of a phoenix" and comes from the sound of the water falling sounding like the legendary creature.
Address: Miyagi, Sendai city, Aoba ward, Bomeki Sakunami
21. Matsushima
260 large and small islands along the Matsushima bay make one of Japan's top three scenic sites. There are three courses by boat to tour around along with small sized boats operating constantly. You will be able to get up close to the beautiful sites on the water.
Address: Miyagi, Miyagi district, Matsushima city, Matsushima
Website: http://www.matsushima-kanko.com/en/
Shopping Spots in Sendai
Aer
The 31 storey high building right by Sendai Station is considered to be one of Sendai's major landmarks. Shops are in the first to the fourth floor, facilities of Sendai City are in the fifth to seventh, and various offices fill the remaining floors. The thirty first floor has an observation deck to view the scenery of Sendai City from above.
Address: Miyagi, Sendai city, Aoba Ward, Chuo 1-3-1
Website: http://www.sendai-aer.jp/ (Japanese)
Mitsui Outlet Park Sendai Port
The largest outlet mall of Tohoku, Mitsui Outlet Park Sendai Port, is located by the Sendai port and contains approximately 120 shops popular brand name shops from Japan and worldwide.
Address: Miyagi, Sendai City, Miyagino Ward, Nakano 3-7-2
Website: http://www.31op.com/sendai/english/
Sendai Izumi Premium Outlet
Sendai Izumi Premium Outlet is an outlet in the Izumi park town with designs influenced by the New England area of America. There are nearly 80 brand named shops from all over the world and Japan.
Address: Miyagi, Sendai City, Izumi Ward, Teraoka 6-1-1
Website: http://www.premiumoutlets.co.jp/en/sendaiizumi/
S-Pal Sendai Main Store
This is a shopping center connected to the Sendai station that is ideal to go look for souvenirs. Along with fashion and food, the Sendai Miyagekan has a selection of local specialties of Sendai.
Address: Miyagi, Sendai city, Aoba Ward, Chuo 1-1-1
Website: http://www.s-pal.jp.e.yf.hp.transer.com/sendai/
Clis Road
In this naturally lit, modern looking shopping arcade, many shops stand side by side including historical shops handling luxury products, clothing shops and select shops carrying a variety of small items. Among the many stores, in the center of the arcade is the Mitakisan Fudoin Temple which is dedicated to the God of good business.
Address: Miyagi, Sendai City, Aoba ward, Chuo
Website: http://www.clisroad.jp/ (Japanese)
Nishikigaoka Hillside Mall
Along with clothing, small item shops, and restaurants, this mall has a theme park featuring light and wate - the Aqua Terrace Nishikigaoka. There is also an animal doctor and on Sundays, an interactive zoo opens in the courtyard. On weekends and holidays, a fluffy park and a mini train is also set making a fun time for families with small children.
Address: Miyagi, Sendai City, Aoba Ward, Nishikigaoka 1-3-1
Website: http://hillside-mall.com/ (Japanese)
Suggested Sightseeing Route in Sendai
After getting a good look of the city from the observatory of Aer shopping mall, it would be nice to take a walk around Hapina Nakakecho and Clis Road. Take a relaxing stroll around the path of trees around Jozenji Temple for a scenic walk. If you're starting to get hungry, savor a delicious cow tongue lunch at Kokubunjicho. For the remainder of the day, trace the roots of Masamune Date and visit locations such as the Sendai Castle remains and the Zuihoden mausoleum.
If you have another day, take an extended trip out to Akiu or Sakunami hot springs for an overnight trip to see the beautiful islands of Matsushima!
Events in Sendai
January: Enkorobushi National Tournament, the Donto Festival
Every year there is a national tournament focused on the Japanese folk song, the "Enkorobushi". It has been done continuously from the Edo period and held every January in the Watari town in the Watari district. Also, at the Donto festival, people burn their New Year's decorations and pray for good health and the safety of their homes for the year. The name of the festival orignates in the word describing the way the fire burns ("don don" in Japanese).
For more information about the Donto festival, please read "Unique Festivals In Japan You Shouldn't Miss - With Video!".
February: Yukinko Festival
This is an event held by the Akiu visitor's center where you can have fun in the snow. In this festival, you can enjoy sledding, snowshoeing, and even treasure hunting in the snow.
April: Kumano Shrine Annual Festival
Normally held on the third Sunday of April, it is said that this festival was once passed down from a yamabushi mountain priest (*1) 500 years ago. This festival contains a festive hereditary dance (*2) called the "Deer Dance of the Twelve Gods of Kumano".
*1 Yamabushi: A priest that undergoes harsh training in the mountains.
*2 hereditary dance: A dance that has been passed down from one generation to the next.
May: Bonten Bayai, Sendai Aoba Festival
Bonten Bayai is a festival held at the Funagatayama Shrine on May first. This is the annual special shrine opening and a sacred item called "Bonten" is brought out by the priest. The festivity starts when the priest throws the Bonten into the crowd of visitors and people compete to get the sacred item. This festival is held for the God of agriculture and wishes for good crops in the year. The Aoba festival is held on the third weekend of May and celebrates the beginning of spring. This festival was first held in 1655 at the Sendai Toshogu. On this day, you will be able to hear authentic Japanese music while seeing a procession of warriors and massive floats throughout the city.
August: Sendai Tanabata Festival
This iconic festival of the summer has been held since the time Masamune Date was in rule. You will see gorgeous Tanabata festival decoration all over Sendai Station to the main road and all the way to the shopping arcade of the Ichibangai street.
December: Shimada Candy Festival
The Shimada Candy Festival (Japanese) is a special celebration held on December 14th when the "Shimada Candy" of good luck is distributed to visitors on this day. It is said that if you manage to get hold of this candy, you will be blessed with good connections in the upcoming year. Do take a look also at the procession of brides when they do the offering as well.
Hotels in Sendai
From business hotels to capsule hotels, there are many accommodations in Sendai to choose from. There are even ryokan inns that have hot springs. A five-star hotel where accommodation for a night starts at 20,000 yen is the Westin Hotel Sendai. With this hotel being located on the 28th floor of the Sendai Trust Tower, not only will you see the view of the city, but you will also see the mountains and the sea in the distance.
The Sendai Royal Park Hotel is a four-star hotel with a castle-like appearance. From the rooms, you will be able to see an elegant English garden or you can enjoy the views of the forest. Another four-star hotel where you can stay for roughly 10,000 Yen is the Mitsui Garden Hotel Sendai. Not only does it have a grand bath on the top floor, but you can enjoy the spa as well. Other four star hotels include the Sendai Washington Hotel and Hotel Metropolitan Sendai. Sendai Washington Hotel is located only three minutes from Sendai Station and is known to have a great breakfast menu. While the Hotel Metropolitan Sendai is connected to Sendai Station and is a great place to stay with one's family.
There is a wide range of three-star hotels offering reasonable stays for 10,000 Yen per night. For instance, Richmond Hotel Premium Sendai Station Front offers comfortable rooms for a good night sleep with a down blanket. Hotel Monterey has concept rooms decorated in the art nouveau style. Hotel JAL City has rooms in both Japanese and Western styles. The hotel with the Tanabata decor on the outside is the Daiwa Roynet Hotel Sendai. Lastly, Hotel Leopalace Sendai has well lit Scandinavian style rooms that are comfortable to stay in.
If you are looking for a ryokan inn in Sendai, Bansuitei Ikoisou Ryokan offers twin rooms starting at 4,200 Yen per night. Another suggested ryokan inn located in Akiu Onsen is Hotel Sakan. Here, you can even experience bath hopping and try different types of baths. For one night stay with two meals, prices start at 20,000 Yen per person.
Another recommended accommodation is the Saryou Souen. The main building is constructed in the traditional Sukiya (*3) style and in the ten annexes, there are private outdoor baths in each. For one night stay with two meals in the main building start at 34,710 Yen per person and for the private annex, it starts at 48,750 Yen per person.
At Ryokusuitei, you can spend time in rooms with a magnificent view of a Japanese garden. The outdoor baths are great at night when you take a relaxing dip in a tub lit by a bonfire. A standard plan with a one night stay with two meals start at 16,200 Yen per person, however, depending on the plan, you can enjoy a stay starting at 11,800 Yen. If you plan on visiting Sakunami onsen, the Yuzukushi Salon Ichinobo is recommended. Starting at approximately 10,000 per person, you can stay one night with two meals and enjoy three natural hot springs and eight types of baths.
*3 Sukiya style: A type of Japanese construction inspired by the architecture of tea houses.
Local Food of Sendai
Gyutan (Cow Tongue)
Otherwise known as edible cow tongue, this is a popular delicacy of Sendai that is known nationwide.
Aburaage
Aburaage is thinly sliced tofu that has been deep fried. The "triangle aburaage" sold at the Teigi Tofu shop located at Monzen town of Gokurakuzan Saihoji temple is a well-known dish. On a freshly fried aburaage, many add soy sauce, garlic and shichimi (*4) for seasoning. You can also find this in the department store, Fujisaki Honkan in Sendai City.
*4 shichimi: A condiment with a blend of seven ingredients such as pepper and sesame.
Sasakama
A perfect match with Japanese sake is the Sasakama. The fish cake (kamaboko) in the shape of a bamboo leaf and is a local specialty of Sendai and is also a favored souvenir.
Hyotan- age
This is another fried fish cake dish that has been put on a skewer and coated with a pancake batter. The name comes from the shape that looks like a hyotan gourd. It is a staple snack from Sendai!
Harako Meshi
Harako meshi is a dish created by local fishermen. It is made with rice cooked in salmon stock and topped with salmon and roe.
Ishimaki Yakisoba Noodles
This local pan-fried noodle dish uses brown noodles that have been steamed twice. When frying, broth gets added and steamed again in the soup. As a finishing touch, a fried egg gets topped on the noodles. It is best eaten with the sauce that comes with it.
Sendai Yubeshi
A traditional mochi rice cake confectionery of Sendai. Inside there are walnuts and you are able to choose from walnuts flavored in soy sauce, sesame walnuts, and matcha green tea walnuts.
Zunda Mochi Rice Cakes
A local treat of Sendai is the green zunda mochi rice cakes. The rice cakes are coated with a light green bean paste made of edamame.
Souvenirs from Sendai
Zunda mochi rice cakes of Sendai
Aside from the famed zunda mochi rice cakes, another tasty souvenir is Hagi no Tsuki, which is a fluffy sponge cake with custard inside. There is also the Hasekurayaki, which has white bean paste flavored with walnuts and is coated with a crispy shell. Local treats such as Sendai Dagashi and Sanshoku Monaka (made with sesame, red bean, and white bean paste covered in a wafer) are also recommended.
In the winter, another great treat is the rare and delicate candy, the Shimobashira, made by an experienced candy artist. This is actually a sweet that is pretty difficult to get hold of. Miyagi is also known for its rice, and where there is rice, there is good sake. Recommended sake of Miyagi includes the clear Urakasumi sake of Saura, or the Ichinokura or Himezen sake known for their concept of "good rice, good work, good sake".
Weather and Clothes Suited for Each Season
In the summer, the wind from the sea makes the temperature feel more refreshing than in the Tokyo area. However, there are extremely hot days as well, so it is recommended to bring cool clothes as well. In the winter, it does not become too cold in Miyagi and the area has a very low amount of snow fall despite being up north. However, it still remains rather breezy and cool even during spring time in May. Compared to Tokyo, winter comes earlier. Whenever you visit, it is best to be prepared for the seasonal change in order to be able to enjoy touring around the city.
Other Helpful Information For Your Trip
How much does food cost in Japan? Let's set a budget before leaving.
Do you need to exchange foreign currency?
If you run out of cash, find an ATM with a "PLUS" mark. You will be able to use a foreign cashing service easily.
It is helpful to use simple Japanese phrases when staying at hotels. Here are a few you can use:
In Japan, there are useful Wi-Fi services such as the "Japan Connected-free Wi-Fi". It is recommended to download the app on your phone prior to coming to Japan.