5 Great Souvenirs From Sendai Station - A Special Campaign Too!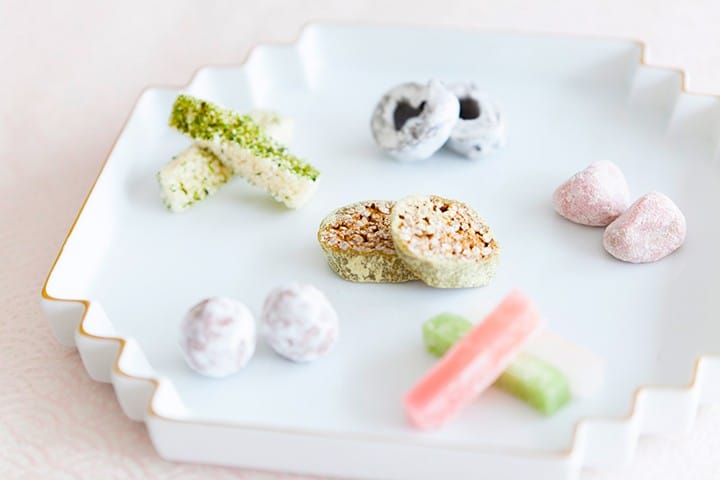 When visiting Sendai city, check out these wonderful souvenirs you can buy around Sendai Station. If you download the app and spend 2000 yen or more, you can get a special voucher for you can exchange for some delicious local sweets.
Among the numerous potential Japanese tourist destinations, one that is sure to inspire is Sendai, one of Japan's major cities, located in charming and greenery rich Miyagi prefecture.
Built by the feudal lord Date Masamune over 400 years ago, throughout Sendai you will find the remnants of history, such as the Sendai Castle ruins, and Zuihoden, the mausoleum where Date Masamune and his family sleep. Not only that, but Sendai is also a gourmet city, where beef tongue, freshly caught Pacific saury, Hitomebore and Sasanishiki brand rice and other specialty items are produced in abundance.
Sendai has a diverse selection of souvenirs, both foods and traditional crafts. In this article, we'll introduce our recommended souvenirs from each category of Japanese sweets, sake, traditional handicrafts, and character goods!
With a Rich Green Tea Scent - Ganache Truffles
LEAFELL was born out of the desire to share the appeal of Japanese green tea with younger generations and the world, from the long-established Igeta Tea House in Sendai. They specialize in products that make it easy to enjoy green tea, such as green tea bags and matcha-based sweets. One of their most popular items is their ganache truffle.
An ample serving of Sendai's fragrant, rich green tea in cream is in the center of each truffle. This sweet simply melts in your mouth, spreading the flavor across your palate - this ganache truffle is a favorite of young and old.
Price: Box of 8, 1188 yen (with tax)
Where Available: Miyagi, Sendai, Aoba, Chuo 1-1-1 S-PAL Sendai East Building 2F LEAFELL
Website: LEAFELL (Japanese)
Hometown Sweets Loved for Generations - Sendai Dagashi
Some of Sendai's most popular types of sweets are Sendai dagashi, which have a history dating back to around 300 years ago. Their simplistic flavor has made them beloved by generations in the Sendai area.
There are several confectionery shops in the city that produce Sendai dagashi. One leading brand is Sendai Dagashi Honpo Hitachiya, who hand makes all their sweets. Their Sendai dagashi are made entirely from local products, including Miyagi prefecture's own glutinous rice when making their mochi, and no preservatives are added to any of their dagashi sweets.
The Sendai Dagashi Honpo Hitachiya's Sendai Dagashi assortment includes their anko tama, a round sweet containing anko, as well as their own hakkato, one made with mint and slowly boiled white sugar; their assortment comes with ten different types of dagashi all packed together in one satisfying box.
And recently, their bite-sized selection of Sendai dagashi, known as Chacco, has become increasingly popular. These mini sweets make the perfect souvenir for someone special.
Price: Sendai Dagashi Assortment Box of 12 - 1080 yen, Box of 17 - 1620 yen, Box of 23 - 2160 yen, and Box of 35 - 3240 yen
Chacco Treasure Chest Box of 13 - 850 yen, Box of 21 - 1250 yen (all prices include tax).
Shops: Miyagi, Sendai, Aoba, Chuo 1-1-1 S-PAL Sendai and Main Building B1F Sendai Dagashi Honpo Hitachiya
Website: Sendai Dagashi Honpo Hitachiya (Japanese)
A Fruity and Easy to Drink Sake: Himezen
One of the most popular types of sake in Sendai right now is Himezen, made by the Ichinokura Sake Brewery. This sweet liquor is produced from Miyagi prefecture grown rice and local groundwater, and has a fruity, refreshing taste to it. It also has an alcohol content of only eight percent, which is just over half that of regular sake, standardly produced at 15 percent. This makes it the ideal souvenir for those who have never tried sake before or are not very big drinkers in general.
Himezen can also be drunk in many other ways than just straight. Delicious cocktails can be made from combining it with orange juice or peach liqueur, and enjoying it alongside chocolates as you would champagne is another highly recommended treat.
Price: 300ml 514 yen, 720ml 1028 yen (prices include tax)
Where Available: Miyagi, Sendai, Aoba, Chuo 1-1-1 S-PAL Sendai B1F Shusen Kurayoshiokaya, East Building 2F Michinoku Sake Kiko
Website: Ichinokura (Japanese)
Kokeshi Dolls - A Traditional Handicraft, Also Available in Souvenir Friendly Sizes
When referring to traditional crafts from Miyagi prefecture, the wooden kokeshi dolls immediately come to mind. The round faces and long bodies of these children's toys were first made about 200 years ago, and today they are popular as both a decor item an souvenir, with many people collecting them for their humorous expressions, or giving them as souvenirs.
Other than the kokeshi produced as souvenirs, kokeshi are typically made by highly skilled traditional artisans. Handcrafted kokeshi can be purchased at shops like Irodori Soeru Shimanuki, a long-established shop in the Sendai area.
Standard kokeshi range in size from three to sixty centimeters in height, and those on the smaller size make for excellent souvenirs. As their painted kimono and faces vary from doll to doll, so by all means, take a look around and see if you can find one that catches your eye! Kokeshi are sold in souvenir shops and department stores all around Sendai.
Price: from 800 yen
Where Available: Miyagi, Sendai, Aoba, Chuo 1-1-1 S-PAL Sendai Main Building B1F Irodori Soeru Shimanuki S-Pal Shop, and others
Website: Irodori Soeru Shimanuki (Japanese)
Round and Cute! Musubimaru Goods
Musubimaru is the mascot character for both Sendai city and Miyagi prefecture.
The rice production industry thrives in Miyagi prefecture. Musubimaru, who is shaped like an onigiri (rice ball), represents this vital food culture. He is also depicted wearing a samurai helmet with a crescent moon on top, which is the symbol of Date Masamune, and what his helmet is said to have resembled. The round, cute goods featuring this popular character make great souvenirs for kids and anyone with a playful side.
The costumes that Musubimaru wears come in four varieties: a suit of armor or a happi (*1), the uniforms of Miyagi's sports teams, or traditional fishing costumes. In addition to their popular stationery items such as pens and washi masking tape, bags and t-shirts featuring this character are also popular souvenirs. Goods featuring Musubimaru can be found throughout the prefecture in department stores in Sendai and at many prefectural offices too.
*1 Happi: a type of light, open jacket, usually worn during festivals.
Price: 200 - 3000 yen
Where Available: Miyagi, Sendai, Aoba, Chuo 1-1-1 S-PAL Sendai Main Building B1F Irodori Soeru Shimanuki S-Pal Shop, and others
Website: Irodori Soeru Shimanuki (Japanese)
Bonus Tip: Only in Sendai - Stroll and Drink a Zunda Shake!
When you come to Sendai, we recommend trying one of the local gourmet treats known as zunda mochi. Zunda is a sweet paste made from mashed soybeans, which has a more refreshing taste to it than anko.
Recently, different zunda-based sweets have been produced, such as zunda cookies, and even a zunda roll cake. Among these treats though, Zunda Saryo's Zunda Shake is a milkshake that you'll definitely want to try. This smooth shake has hints of vanilla and the texture of the shake, which evokes the image of the mashed soybeans, are two of its main features. The Zunda Shake has been declared delicious by locals and travelers a like.
Special Campaign: Spend Over 2000 Yen and Receive a Free Gift!
Many of the souvenirs introduced above can be purchased at S-PAL Sendai, the department store located in front of JR Sendai Station, but there is a sales campaign that you should know about before shopping!

This campaign is sponsored by Sendai City and begins from October 1st, 2017. First, download the JOURNEY of JAPAN application from their official page. If you spend more than 2000 yen at any of their campaign stores in Sendai, you can get a Zunda Shake or hyotanage voucher. S-PAL Sendai is participating in this campaign.

Hyotanage is a popular street food made from kamaboko (fish paste) that has been battered and fried until crispy. This is a regional cuisine that you'll surely want to try. If you bring your voucher to the proper shop, you can exchange it for a hyotanage for free.

If you post to your SNS about their campaign, you'll also have the double chance of receiving some original badge pins from Sendai too. Before purchasing your souvenirs, download the application, and try out Sendai's specialty Zunda Shakes and hyotanage! For more details about this special campaign, check out the JOURNEY of JAPAN website.

By joining the campaign, you're sure to find shopping for souvenirs even more exciting!

Sponsored by SUMITOMO MITSUI CARD CO. , LTD.
Photos by Chiaki Ono

The information presented in this article is based on the time it was written. Note that there may be changes in the merchandise, services, and prices that have occurred after this article was published. Please contact the facility or facilities in this article directly before visiting.