Sip Green Tea And Indulge In Local Sendai Sweets At Ocha No Igeta
Ocha no Igeta in Sendai is a shop selling many varieties of green tea, Japanese sweets, and matcha. This is the ideal shop to find gifts, souvenirs, and to relax with a cup of delicious tea. Stop in and take part in the rich tradition of green tea.
A Tea Shop with Refreshing Seasonal Flavors
Green tea has been a cherished drink in Japan for many centuries. Even now, many people drink green tea on a daily basis.
There are many tea shops throughout the rural areas of Japan. Today we'll be introducing Ocha no Igeta (Ichibancho Honten), a shop which has had its main location in Sendai since 1920. This is a well-established tea shop that is well-regarded in the local region.
Ocha no Igeta is known for offering different green teas to match each season of the year. Customers here will ask about the stock of teas each season, looking forward to the arrival of these unique products.
In addition to green tea, they also sell sweets which utilize ingredients from the Sendai area. We highly recommend this shop to visitors who want to try regional sweets.
This article features our suggestion from Ocha no Igeta. We hope it is helpful for those buying green tea for the first time, visitors wanting to drink slightly different tasting tea, and also for those people who'd like to try some delicious local sweets to go along with their tea.
A Wide Variety of Green Tea
There are dozens of different kinds of green tea, all of which pair nicely with Japanese sweets. It might be difficult to choose the right variety with all the types of tea available.
We have picked some products you can enjoy inside the shop and also items ideal for relaxing and enjoying the tea in your home.
Convenient Teabags for Beginner Green Tea Drinkers
For customers who have never tasted green tea or have never bought green tea in Japan, we recommend the cute sencha tea pack. Each pack has one tea bag inside, and is reasonably priced at just 108 yen (including tax).
In Japan, sencha green tea is the most commonly consumed standard variety of tea.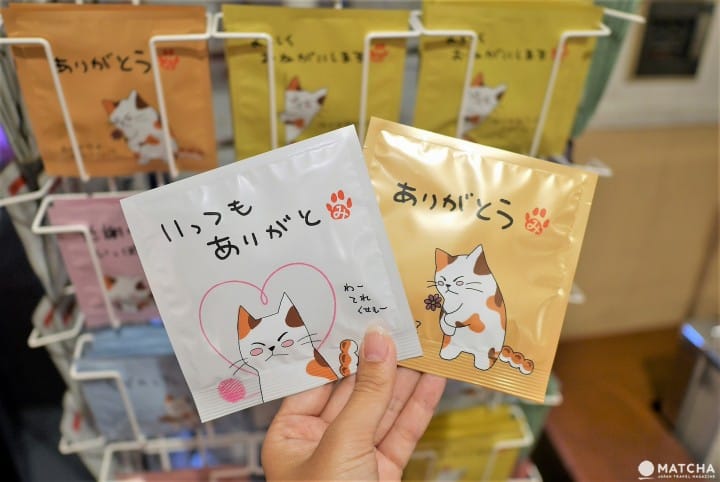 On the outside of each tea pack there's a cute picture such as a cat or flower, along with a Japanese message of gratitude.
As shown in the picture above the tea bags have the following messages written in Japanese: "Thank you for everything!" (itsumo arigato) and "Thank you" (arigato).
These would make a thoughtful gift to give to someone special.
The tea package in the above picture features an adorable Japanese pattern. It come swith three sencha tea bags inside and retails for 410 yen (with tax).
These tea packages come in over ten different varieties, including black tea that is domestically-made and contains distinctly Japanese flavor, like konbucha (kelp tea), Jasmine tea, and other rare types.
Tea Leaves - For Those Who Want to Enjoy Green Tea
Green tea is made from the leaves of the tea plant, Camellia sinesis. After picking the leaves, they undergo repetitions of a steaming and hand-rolling. The flavor of the tea changes when this process is adjusted.
The products in the picture above are from a brand called Kikusui, made by Ocha no Igeta. Each different colored package contains a different flavor.
The light blue colored package on the left side (pictured above) was made in order to retain the aroma of just picked tea leaves. It's made with minimal processing.
In contrast, the purple colored package (second from left in the above picture) has leaves that have undergone a high-temperature firing process. This intensifies the tea aroma for consumers to enjoy.
The package second from the right in the picture is suggested for customers who like a strong umami and tea taste. On the far right-hand side is tea with a balanced, delicious taste.
100 grams cost around 1,000 yen for all varieties.
When our writer visited the shop for this interview in September, they were selling the fragrant Akichabiyori tea which is only on sale in autumn. It retails for 1,080 yen per 100 grams including tax.
The store often sells certain products only during specific times of the year in order to provide customers with a sense of the season when they visit the shop.
To make the tea, simply put in two large tablespoons of the leaves into the pot (kyusu) and then fill it up with hot water. After letting it steep for about one minute, pour into a teacup or regular cup and enjoy!
Delicious Sweets to Enjoy With Green Tea!
Ocha no Igeta also sells confections made with tea, which taste great with a cup of tea and make ideal souvenirs.
Next we'll introduce our top four sweets, which are all local to Sendai.
1. Kikufuku Daifuku - The Most Popular Sweet is a Store Original
A popular choice here is the kikufuku, a unique daifuku (*1) made by Ocha no Igeta. It comes in four varieties: Matcha nama cream (fresh cream), Hojicha (roasted green tea), Zunda (green soy beans), and Nama cream (fresh cream).
There are also seasonal varieties available at certain times of the year.
*1 daifuku: a Japanese confection consisting of a small round mochi (glutinous rice cake) with a sweet filling, usually red bean paste (anko).
Our writer tried the Matcha nama cream (123 yen for one, including tax), which is the most popular flavor here. The sweet aroma of the anko (red bean paste) is simply delicious. The matcha inside the daifuku is not bitter and recommended for anyone with a sweet tooth.
The kikifuku are sold at the store frozen. They can be consumed after being thawed out, and during the hot summer months they are delicious when they are still cold.
The price depends on the flavor, but they generally sell for about 150 yen each.
2. Zunda Mochi - Sendai's Most Well-Known Treat
Sendai is famously known as an area that makes zunda. Zunda is made by grinding edamame into a paste.
The shop sells zunda mochi in bite-size pieces. It is a flavorful treat with slightly lumpy texture. It's sweet, but leaves a refreshing aftertaste that is deliciously addictive.
A four mochi pack costs 594 yen, an eight-piece set is 1,080 yen, and the fifteen-piece pack is 1,944 yen. All prices include tax.
3. Little Zunda Parfait - A Matcha and Edamame Combination
Customers to Ocha no Igeta are highly recommened to try the Puchi zunda parfait (350 yen including tax).
Matcha ice cream, made at the tea shop, is garnished with the famous locally produced mochi.
This dessert is available only in limited quantities, so if you would like to try some, be sure to visit the store as early as possible.
There's also Puchi Kikufuku parfait (350 yen including tax), in which the zunda is substituted with kikufuku.
4. Zunda Mochi & Matcha Set - Enjoy Matcha Flavor
This is a set with real matcha and zunda mochi.The sweet taste of the zunda mochi is complimented by the slightly bitter, refreshing flavor of the matcha.
This dessert costs 500 yen (including tax).
There are many other kinds of sweets available, including a zunda milkshake and a Japanese-style parfait.
You can also order these desserts at the shop, as there's a cafe space on the premises. However, you can also request take-out and eat them on the way home.
The Perfect Place for Souvenirs and Food Sampling
The shop is located in a traditional Japanese shopping street (shotengai) called VLANDOME. This shopping area is an indoors, so on a rainy day you can easily stop in without an umbrella.

Some of the products featured in this article can be also purchased in front of JR Sendai Station and inside the ticket gates of the shinkansen (bullet train) area.

If you're looking for the ideal souvenir from Sendai, be sure to stop in at Ocha no Igeta. You won't be disappointed!

In cooperation with Ocha no Igeta-Ichibancho Honten

The information presented in this article is based on the time it was written. Note that there may be changes in the merchandise, services, and prices that have occurred after this article was published. Please contact the facility or facilities in this article directly before visiting.