Tashirojima Island Guide - Visit The Cat Island Of Miyagi
Tashirojima Island is an island ideal for cat lovers, located off the coast of Ishinomaki City in Miyagi Prefecture. Several hundred cats live among the islanders here. Learn how to get to this island and spend quality time with these felines.
Tashirojima Island: A Paradise for Cat Lovers
Tashirojima Island is a small island off the coast of Ishinomaki City in eastern Miyagi Prefecture in the Tohoku region. Over 130 cats live alongside with the human residents on this 11km island. There are more cats than people on the island, resulting in it being known as one of Japan's cat islands, gathering attention from cat lovers.
The easiest way to get to Tashirojima Island is to take a bus and ferry from Ishinomaki Station. Ishinomaki Station is about an hour from Sendai by train. A detailed way of getting here is introduced in the latter half of this article.
Use Odomari Port to Explore Tashirojima Island!
There are two ports on Tashirojima Island. Odomari Port is in the north and in the south is Nitoda Port.
There is actually a higher chance of meeting more cats at Nitoda Port, but if you wish to explore the island, we recommend starting at Odomari Port. The ports are about two kilometers apart, and you can reach either port in about 30 minutes. You can also stop by some traveler-friendly areas and rest spots in between.
You can find a map of the island (pictured above) at the ferry ticket booth at Ishinomaki Port. Paw prints on the map indicate tourist attractions. These maps are only available in Japanese, but there are ferry times indicated on the back of the map, so take a copy with you.
Also, make sure to keep the ferry ticket with you will be handing it to the employees when you arrive at the island.
Start Your Cat Adventure from Odomari Port!
At Odomari Port, we spotted two cats that were peeking into the boat. It seems like the fishermen feeds them every morning.
The fisherman cut the fish and gave it to the two cats, who quickly devoured it.
A fisherman told us, "The striped one may be the fattest cat on the island." The kitty certainly looked satisfied feasting upon the freshly caught breakfast.
After being greeted by the felines at the port, stop by the three spots while heading to Nitoda Port!
1. A Shrine Dedicated to Cats
After continuing 1km from Odomari Port, you will reach the Cat Shrine that enshrines a cat god.
According to legend, the fisherman around Tashirojima Island used to predict their catch and the weather based on the cats. However, one day, a cat passed away in an accident. The fisherman mourned heavily and established the shrine to worship the cat as a deity.
There are many cat toys and statues left as offerings around the shrine. As we approached the shrine, real cats began making themselves comfortable around the shrine. The cats on Tamashiro Island do not have a strong fear of humans and will approach you.
2. Eat and Play with Cats at Shima no Eki Rest Stop
About 200 meters south of the Cat Shrine is Shima no Eki, a rest stop. Here, you can find shops providing cat-themed souvenirs, snacks, and drinks. There are also plenty of cats relaxing in front of the store.
The entrance is an ideal spot to mingle with the friendly felines! You are also welcome to use the cat toys to play with them.
Unfortunately, cats are not allowed inside the shop. If they follow you inside, make sure you gently guide them out.
In addition to Shima no Eki, there is also Tashirojima Olive Cafe (Japanese) and other eateries near Nitoda Port, but there aren't too many options. For those who are worried, we advise purchasing lunch at Ishinomaki Station.
3. Path Around Nitoda Port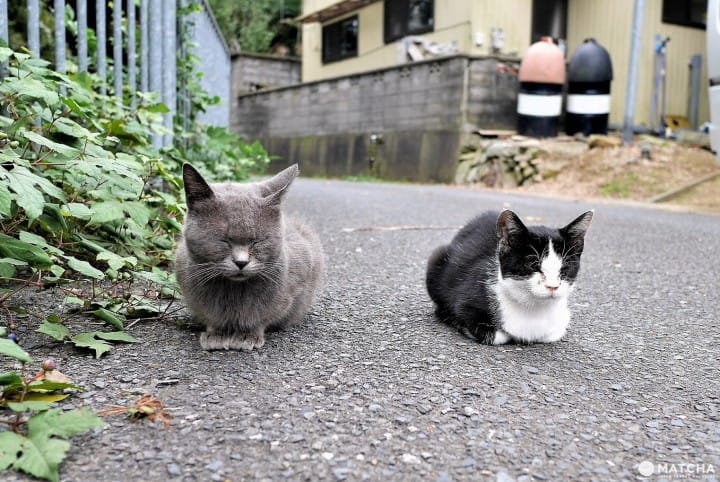 As you approach Nitoda Port from Shima no Eki rest stop, you will spot many felines relaxing in front of houses, closed shops, and on the streets. You will also likely see multiple cats playing with each other!
Around Nitoda Port there are inns and a camping site with cat-shaped lodgings called Manga Island (Japanese) that is around 15 minutes away. You can enjoy the island as a day trip but you can also spend a night as well.
Access
Take a bus and a ferry to get from Ishinomaki Station to Tashirojima Island. In order to secure your time with the cats, we suggest to boarding the ferry that departs at 9:00 AM.
Ride the bus from the roundabout area in front of the station leaving from stop number 2. The bus departs at 8:30 AM and you will arrive at Kadonowaki Ni-chome bus stop in about fifteen minutes. It costs 280 yen one way.
Please note that the bus announcements are in Japanese only. Tell the driver that you wish to go to the ferry port so that they will let you know when you are at the correct bus stop.
The path leading to the ferry boarding area from the bus stop.
It is about a five-minute walk from the bus stop to the ferry platform. You won't have much time during your transfer so we advise to looking up your route prior for easy access.
Upon arriving at the ferry platform, purchase your tickets. It costs 1,230 yen one way to arrive at Tashirojima Island. The ticket machine has English options, and there are also employees around to inquire if you are unsure.
You will arrive at Odomari Port in 40 minutes and Nitoda Port in 50 minutes on the ferry!
After 9:00, ferry times are at 12:00 and 15:30. The last ferry departing from Tashirojima Island is at 15:33 from Nitoda Port. If you are doing a day trip, make sure to board the 12:00 ferry departing from Ishinomaki at the latest.
Ajishima Line (Ferry Platform)
Address: 3-1 Kadonowakicho, Ishinomaki, Miyagi Google Map
Different Departure Times for Different Ports
Ferries heading back to Ishinomaki Port depart at 14:12 and 15:33 from Nitoda Port, and only at 14:18 from Odomari Port. If you miss the last ferry, you will not be able to return from the island. Please make sure to be aware of the time.
Also, please note that ferry operation is subject to cancellation due to strong winds and high tides. The times listed on this article are from October 2018 and are subject to change. Readers wanting to see the most current information should refer to the official site (Japanese) or check the information center in front of Ishinomaki Station.
Follow the Rules and Enjoy Touring Around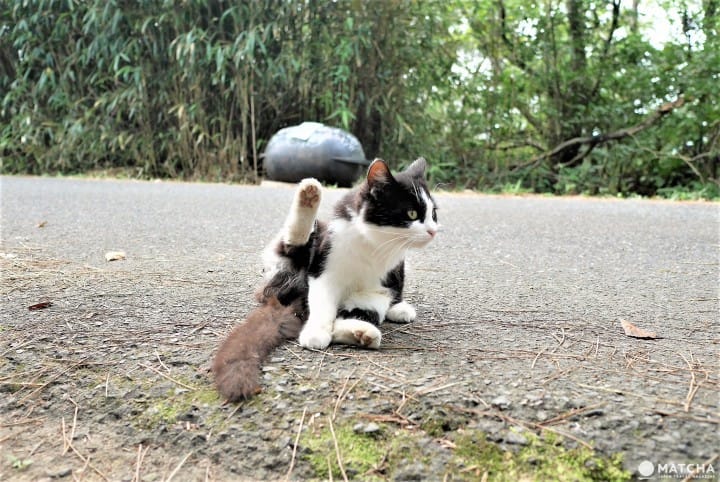 The cats on this island roam around freely. While it may be tempting to lure them with food, however, it is not good to overfeed the cats. Please refrain from feeding the cats in order for them to maintain their health.
There are also cars driving on the island. Please be careful when taking photos on the streets. This island is the home of residents who carry out their daily lives here, so respect their privacy and do not enter private owned properties.
Please follow these rules and manners while playing the cats.
Enjoy Ishinomaki More!
After spending a fun time with the cats, why not indulge in some delicious Ishinomaki dishes? COMMON-SHIP bashi street houses many food stalls specializing in yakitori, curry, and local B-rank cuisine at reasonable prices.
Ishinomaki City is also renowned as one of the world's top three largest fishing ports. At Ishinomaki Ishinomaki Genki no Ichiba (Japanese), you can savor some delicious seafood bowls.
Picture from Kinkasan Koganeyama Shrine Overnight Stay - A Spiritual And Nature-Filled Trip

Kinkasan Island is also in Ishinomaki City and is a spot we recommend visiting. It contains Kinkasankoganeyama Shrine, a shrine associated with bringing its visitors financial luck. According to legend, those who visit the shrine for three consecutive years will be financially stable for the rest of your life.
There are only a few people who live here, but there are over 500 wild deer inhabiting the island. Why not visit the deer island along with the cat island?
A Relaxing Journey with Cats
Adorable cats freely live on this island. They are treated well by the residents here and seem very calm. This is an island that will keep cat lovers entertained for hours.

For those who wish to spend time with these adorable felines, Tashirojima Island is a must-visit destination.

In cooperation with Machizukuri Mambo Co., Ltd. (COMMON-SHIP bashi Street)

The information presented in this article is based on the time it was written. Note that there may be changes in the merchandise, services, and prices that have occurred after this article was published. Please contact the facility or facilities in this article directly before visiting.