Fukuoka's Ainoshima: Take Photos At One Of The World's Best Cat Spots!
Fukuoka's Ainoshima is a tourist spot in Kyushu that was also chosen as one of the world's five best cat spots on CNN's website in 2013. This article will introduce the paradise where these cats freely live and recommended ways to enjoy the island.
What Is Ainoshima?
In 2013, the article "Five Places Where Cats Outshine Tourist Attractions" was featured on the website of the news broadcasting station CNN.
Fukuoka's Ainoshima is a cat spot that is famous across the world and was chosen as one of those five places. Although access is slightly complicated, as you will have to take either the bus or train and then take the ferry from Shingu Port for seventeen minutes, a paradise where nearly 100 cats live awaits you!
An Island Where Cats and Islanders Coexist
Ainoshima is an island located in Genkai Nada (*1) and is 7.5km northwest from Fukuoka's Shingu Fishing Port. Nearly 100 cats live on the roughly 1.25 square kilometer-sized island
*1 Genkai Nada (Genkai Sea): an area of the ocean that stretches across the northwestern part of the Kyushu region.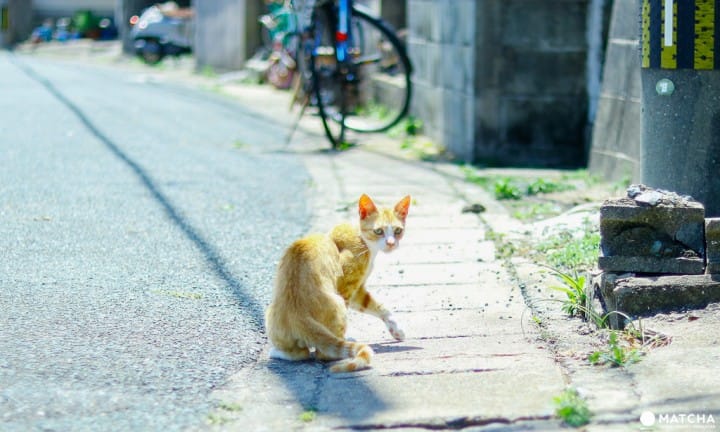 Ainoshima's main industry is fishing. In the process of developing the fishing industry, it appears that rats that would damage their fishing gear became a great problem. Cats were raised on the island in order to eradicate these rats.
Aside from eradicating rats, the cats on the island also lived by eating the heads and bones of fish thrown away by fishermen. As the cats and islanders have come to coexist with one another, the number of cats also gradually increased.

The information presented in this article is based on the time it was written. Note that there may be changes in the merchandise, services, and prices that have occurred after this article was published. Please contact the facility or facilities in this article directly before visiting.