Fukuoka-Hakata - Six Wonderful Things To Enjoy In This Area
Fukuoka-Hakata is the main urban center of Kyushu region, and famous as a major sightseeing spot, with several of its own unique local dishes. Read on to learn more about the charms of this history rich and popular area.
Fukuoka - Hakata
Fukuoka-Hakata (*1), located in the Kyushu region, is one of the most compact districts in the world, with an international airport, train stations and a port packed into a 2.5-kilometer radius. In 2017, Fukuoka City was ranked 14th among the 25 cities chosen by the British magazine Monocle, in their Quality of Life Survey.
Their unique food culture, such as Hakata ramen, motsunabe and yatai (food stalls), are also well-known, as some people visit Fukuoka just to taste these dishes.
Fukuoka City has a wide variety of appeal, which includes sightseeing, dining and shopping. According to the Jalan Research Center, visitors from China, Korea and Taiwan has chosen Fukuoka as the best place to visit in Japan. Read on to learn about the appeals of Fukuoka-Hakata.
*1 Fukuoka-Hakata: This is a special term used in this article which refers to the urban areas of Fukuoka City.
1. Local Cuisine: Ramen, Motsunabe and Mizutaki
Hakata Ramen
Photograph courtesy of Fukuoka City
Hakata ramen is the most famous Fukuoka-Hakata cuisine.
Over the past few years, ramen restaurants from this district have gained attention by making inroads to foreign markets. Hakata ramen is known for its cloudy white soup made from boiling pork bones for long hours, and thin noodles with a firm texture. The kaedama system, a second helping of noodles, is another unique trait of Hakata ramen.
There are many ramen restaurants in Fukuoka City. The flagship restaurant of Shin-shin, based in the amusement area of the Tenjin district, is always filled with customers. Ippudo has expanded its business to over ten countries, and is equipped with a menu for visitors from abroad.
Motsunabe
Photograph courtesy of Fukuoka City
The next cuisine is the motsunabe.
This is a one-pot meal filled with motsu (the internal organs of pigs and cows), and known as the local cuisine of Fukuoka-Hakata. Most Japanese one-pot meals are consumed in winter, but motsunabe is consumed throughout the year in this area, as Fukuoka City is dotted with motsunabe restaurants.
Motsunabe is known for being low in calories, and cooked with a lot of vegetables, making it a popular dish with dieters. Some restaurants offer motsunabe for about 1000 yen, so it can also be a reasonably-priced, filling menu item.
After finishing off the motsu and vegetables, the leftover soup is consumed with noodles. Most can't help but eat every last bite of this savory dish.
Motsunabe Ohyama has a restaurant inside the Hakata Station and also in the Tenjin district. Hakata Motsunabe Ikkei is known for its grilled motsu. Both restaurants are very popular with local residents.
Mizutaki
Photograph courtesy of Fukuoka City
Mizutaki is another popular one-pot meal well known to the residents of Fukuoka-Hakata. It is a dish with chunks of chicken and vegetables cooked in a cloudy white chicken stock.
First, add some salt and savor the umami-filled soup. Move on to the chicken chunks and vegetables. In the end, add some rice to the soup, and enjoy a Japanese-style porridge.
Mizutaki is said to have started from Suigetsu, a restaurant in Fukuoka-Hakata. In 2017, Toriden opened a mizutaki restaurant in Kuala Lumpur. Iroha is a restaurant favored by the people in show business. Be sure to try this local cuisine at these famous restaurants.
2. Visit the Yatai at Night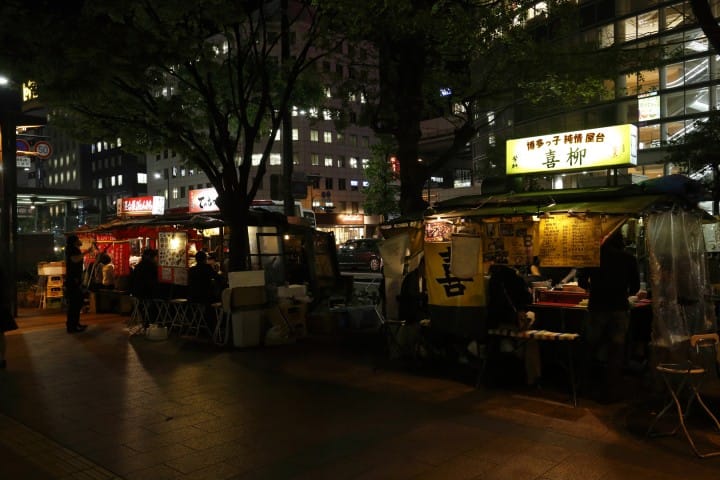 Photograph courtesy of Fukuoka City
In the evening, yatai (food stall) appears from nowhere in Fukuoka-Hakata. They are set up quickly, and customers rush in. A wide variety of food, from ramen, gyoza and yakitori, to French cuisine, game meat dishes and even bars appear on the scene.
Fukuoka-Hakata has drawn attention from abroad, and was chosen as the only Japanese city in "Asia's 10 greatest street food cities". The food stalls appear everywhere in the city, but most of them are gathered in the Tenjin, Nakasu and Nagahama districts.
First-time visitors should try the yatai in the Tenjin district. Commercial facilities and office buildings are located nearby, so mainly young people and office workers come to the yatai, most of which offer a moderately priced menu.
If you want to see a row of yatai, go to the Nakasu district. The sight of food stalls lined up along the Nakagawa near Canal City Hakata is worth a look.
The Nagahama district, which is said to be the cradle of Nagahama ramen, is located near the port. Along with the yatai, there are various ramen restaurants in this area, so ramen-lovers should pay a visit here.
Photograph courtesy of Fukuoka City
As the customers are seated close to each other in the yatai, it will be easy to make friends. If you want to enjoy a conversation with local residents, a visit to the yatai is strongly recommended. However, most food stalls will be closed in case of harsh weather conditions, so be careful.
3. Fresh Beer and Sake
Fukuoka-Hakata is a compact district, with various facilities packed into the area. The following are two spots near Hakata Station which offer a chance to taste great local liquor.
Asahi Beer Hakata Brewery
Photograph courtesy of Asahi Beer Hakata Brewery
Asahi Beer is a major Japanese beer company. Its Hakata Brewery is located near Takeshita Station, only one station away from Hakata Station, and the brewery tour is popular with visitors from abroad. The tour takes about ninety minutes, and participants can sample the freshly brewed beer at the end.
Hakata Hyakunengura
From the article Traditional Local Sake at Hakata Hyakunengura in Fukuoka
Speaking of liquor, you must try the sake. Though it may not be well known, Fukuoka-Hakata is a prosperous sake-brewing area, with many breweries in Fukuoka City.
Hakata Hyakunengura is located a 10-minute walk from Gion Station, one station away on the subway from Hakata Station. The building is 140 years old, and registered as a tangible cultural asset. A direct sales shop accompanies the brewery.
The shop handles various liquor such as Hyakunengura, which comes direct from the brewery, ume brandy made from sake, and a sparkling liqueur made from Amaoh, a strawberry produced in Fukuoka prefecture. Visitors can also sample a wide variety of liquors at this shop.
4. Yanagibashi Market
Photograph courtesy of Yanagibashi Market
Yanagibashi Market is known as the "Kitchen of Fukuoka," and supports the food culture of Hakata - Fukuoka. It handles a wide variety of food including fresh fish, and professional chefs frequent this market, which is always bustling with customers.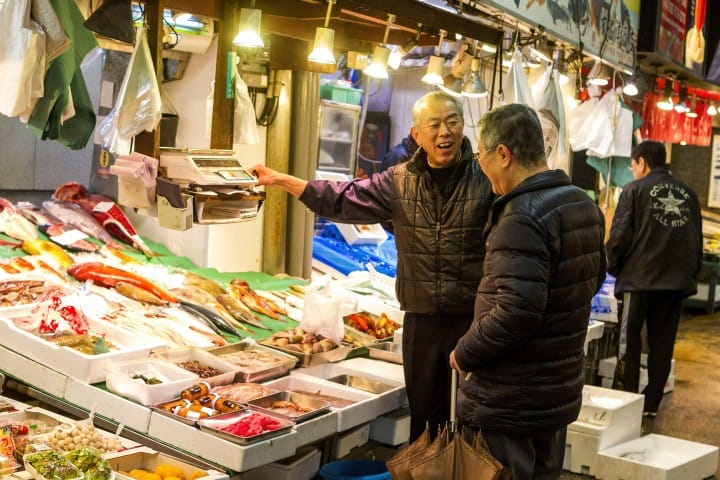 Photograph courtesy of Fukuoka City
The market stretches for a hundred meters, and has about fifty shops in total. Visitors can enjoy shopping and dining at the same time, such as sampling kamaboko and tempura at the shops, or trying the kaisendon (a bowl of rice topped with fresh seafood) at the restaurant.
On the third Thursday of the month, the market hosts a special sale featuring shopping tickets. There is also the "Yanagibashi Saturday Fish Market," when the shops host a limited sales of the day's best bargain.
5. A Historic Tour of Fukuoka-Hakata
Fukuoka-Hakata was one of the few cities in Japan that other nations were permitted to access in the past. Although it may not be a well-known fact, this area is filled with temples and shrines rich with history, just like Kyoto and Nara.
Kushida Shrine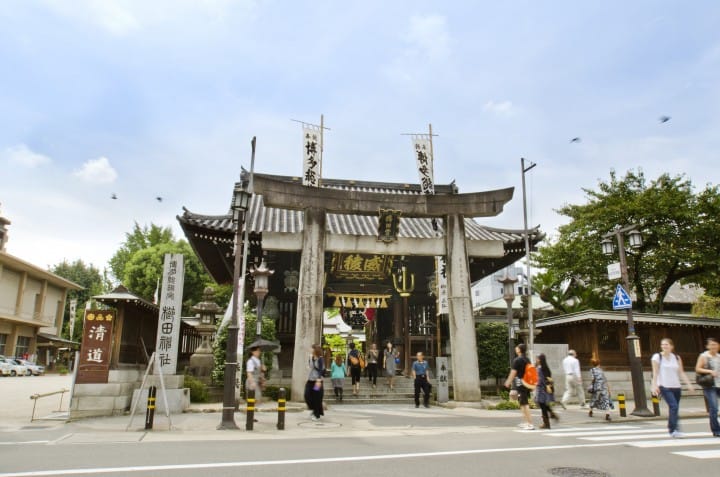 Photograph courtesy of Fukuoka City
Kushida Shrine is an 8-minute walk from both Nakasu-Kawabata and Gion subway stations. The deity enshrined at Kushida Shrine is considered to be the guardian deity of this area and is worshiped for its power to support business and longevity.
Kazariyama (*3), which marches through the streets at the time of the Hakata Gion Yamagasa Festival, and is a summer attraction of Fukuoka-Hakata, is displayed throughout the year at the shrine grounds. The gorgeous dashi (festival float), made by the master puppeteers of Hakata, is worth a look.
*3 Kazariyama: A highly decorative festival float, more than ten meters tall, used in the Hakata Gion Yamagasa Festival.
Tochoji Temple
Photograph courtesy of Fukuoka City
In 806 A.D., Kukai, a Buddhist priest also known as Kobo Daishi, returned from his studies in the Chinese dynasty of Tang, and founded the Tochoji Temple. This temple is famous for its scarlet five-storied pagoda, and for the Fukuoka Daibutsu (a large statue of Buddha), which rises to the height of 10.8 meters. Shofukuji, the first Japanese Zen temple, and Jotenji Temple, which is said to be the cradle of udon and soba noodles, are also located in the neighborhood.
6. Shopping
Photograph courtesy of Fukuoka City
Fukuoka-Hakata is the largest commercial district in the Kyushu Region. There are many shopping spots in the area: department stores such as Iwataya, Fukuoka Mitsukoshi and Hakata Hankyu, which handles local products as well as high-end brands, and Canal City Hakata, which consists of a shopping mall, cinema complex, theater and a hotel.
Thanks to the size of Fukuoka-Hakata, visitors can make a round of these spots to experience the latest fashion brands and also look for souvenirs in a relatively short time.
For further information on the shopping spots, please take a look at this article.
Stay for a Night
Fukuoka-Hakata is a compact district, so visitors will be able to see most of the sightseeing spots in a day.
But the food stalls are open only at night, and to fully enjoy the appeals of Fukuoka-Hakata, you should stay at least for one night.
There are moderate-priced guesthouses in this area, so that should help on the lodging costs.
The Time to Visit
Hakata Dontaku Minato Festival: Photograph of the courtesy of Fukuoka City
Although Fukuoka-Hakata fronts the Japan Sea, the climate is moderate throughout the year. But the temperature may drop below zero degrees Celsius in winter.
The best season to visit is from spring (April) to early summer (July). The Hakata Dontaku Minato Festival, which is held in May, draws two million spectators, and the Hakata Gion Yamagasa Festival is held in July. These are the two main festivals in the area, so it might be fun to visit at this time of the year.
Access from Tokyo
Airlines
From Haneda Airport, ANA, JAL, Starflyer and Skymark fly routes to Fukuoka Airport. There are more than fifty flights per day, while the flight itself takes about two hours. The one-way fare ranges from 10,000 yen to 40,000 yen, and some airlines offer discounts for early reservations.
From Narita Airport, low-cost carriers such as Jetstar and Peach Aviation flies to Fukuoka. The one-way fare is about 10,000 yen or cheaper, so this route can be an inexpensive alternative. However, please note that it takes about sixty to ninety minutes by bus or train to reach Narita Airport from Tokyo, and the ride to the airport will cost 1000 to 1500 yen.
Shinkansen (Bullet Train)
From Tokyo Station, it will take about five hours on the shinkansen to Hakata Station. The one-way fare for a reserved seat is 22,950 yen, which might cost more than flying.
The shinkansen also stops at Kyoto, Osaka, Kobe and Hiroshima, so a layover at one of these cities might be fun. A boarding ticket and a limited express ticket will be required to ride the shinkansen.
Transportation in Fukuoka City: Bus, Subway and Bicycle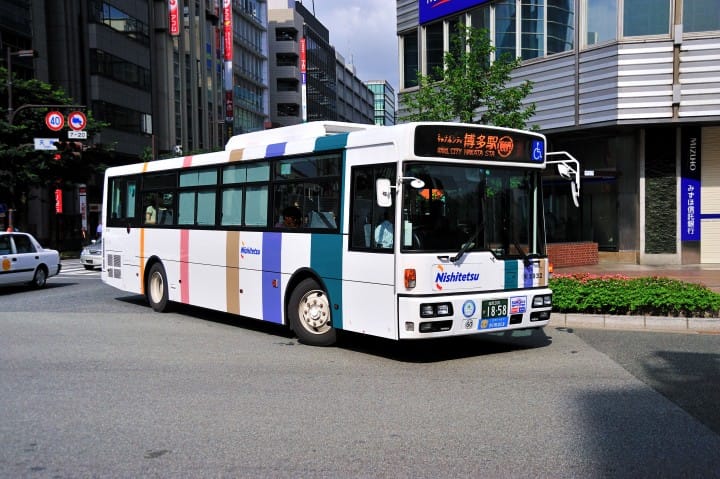 Photograph courtesy of Fukuoka City
Bus
The 100-yen loop bus is a convenient way to tour Fukuoka-Hakata, as it visits most of the spots introduced in this article. The fare is 100 yen per ride, so the bus is an inexpensive ride.
Subway
By subway, Fukuoka Airport is only two stations away from Hakata Station, and the Tenjin and Nakasu districts can also be reached easily by train. The "2 Day Pass", a special ticket for visitors from abroad priced at 720 yen, debuted on September of 2017.
This ticket can be purchased at the International Terminal of both Fukuoka Airport and Hakata Port, Fukuoka City Tourist Information at Tenjin and Hakata Station General Information Center. For further information, please take a look at the official site.
Bicycle
The terrain in Fukuoka-Hakata is mostly flat, so a bicycle is another way to tour the area. Bicycle rental providers such as COGICOGI and Merchari also offers service to the visitors.
A Town to Revisit
Many people may want to visit Fukuoka-Hakata, as it is becoming popular not only domestically but internationally as well.

A great number of visitors to the region are actually repeat customers, who have grown fond of Fukuoka-Hakata. It is easy to reach Nagasaki, Oita and Kumamoto from Fukuoka-Hakata too, so the area also serves as a gateway to Kyushu.

Fukuoka-Hakata boasts a wide variety of attractions, and it is worth the time to make a visit.

The information presented in this article is based on the time it was written. Note that there may be changes in the merchandise, services, and prices that have occurred after this article was published. Please contact the facility or facilities in this article directly before visiting.