Nagasaki Guide: Places To Visit, Festivals, Dining and More!
Nagasaki, a city known for its role in World War II, is also a place that has always had a very international character thanks to it being a port city. This article features area guides, information on the best sightseeing spots, local cuisine and more!
Nagasaki - Home to Japan's Oldest International Port
Nagasaki City in Nagasaki Prefecture, located in northwestern Kyushu, has a remarkably international feel to its townscape and cultural scene, while still remaining quintessentially Japanese.
During the Edo period, the Portuguese came to Tanegashima Island in Kagoshima, their ships bearing guns and Christian missionaries. After their arrival, Nagasaki prospered as a hub of trade with Western countries, as the man-made Dejima Island was the only area in Japan allowed to continue trading with the Chinese and Dutch during the period of national isolation. For that reason, Nagasaki still contains traces of having been heavily influenced by Christian and Western culture. It is also known for being one of the targets of the atomic bomb, and there is a never-ending stream of tourists who visit the Peace Park to pray for peace.
In addition to its plethora of historical sites, Nagasaki has many other delights to offer visitors, with seasonal events, an international vibe, delicious food and more. This article will help you get the most out of your trip to Nagasaki, as you eat, travel and experience the area's history.
Table of Contents
1. How to Get to Nagasaki
2. Nagasaki City - Area Guide
3. An Area Guide to Shimabara, Hirado, and Sasebo
4. Gunkanjima (Battleship Island) and The Goto Islands
5. Weather in Nagasaki and What to Wear
6. Traveling around Nagasaki
7. Traveling from Nagasaki to Other Tourist Areas
8. Nagasaki's Highlights - the Best Sightseeing Spots
9. A Model Itinerary around Nagasaki
10. Nagasaki Festivals and Events
11. Nagasaki Culture
12. Nagasaki Souvenirs
13. Shopping in Nagasaki
14. Dining in Nagasaki
15. Nagasaki Hotels
How to Get to Nagasaki
From Tokyo to Nagasaki via Airplane
The most recommended way to get to Nagasaki is by airplane when coming from Tokyo. It takes far less time than traveling via trains and Shinkansen, and costs less, too. Domestic flights in Japan are comfortable and relatively short.
JAL, ANA, Solaseed Air, Skymark, and other domestic lines all operate flights from Haneda and Narita airports to Nagasaki Airport. Fares vary by season and airline, but you can expect to pay between 10,000 to 20,000 yen for a one-way ticket.
Nagasaki Airport is about one hour away via bus from Nagasaki Station and major sightseeing spots. Click here to see how to get to Nagasaki city from the airport.
From Tokyo to Nagasaki via Shinkansen
To get to Nagasaki from Tokyo via Shinkansen, take the Nozomi Shinkansen train from Tokyo Station to Hakata Station, which takes five hours. At Hakata Station, switch to the JR Limited Express Kamome and ride for an additional two hours to get to Nagasaki Station. You can reserve Shinkansen tickets between Tokyo and Hakata (Fukuoka) here: Search for/Book Shinkansen Tickets between Tokyo/Fukuoka.
If you are using the Japan Rail Pass, you cannot ride the Nozomi. Instead, take the Tokaido Shinkansen Hikari train to Shin-Osaka, then switch to the Sanyo Shinkansen Sakura train and get off at Hakata, then switch to the JR Limited Express Kamome. You can reserve the JR Pass here to save money on the trains.
From Osaka to Nagasaki via Airplane
Several airlines operate flights to Nagasaki: ANA and JAL from Itami Airport, Peach from Kansai International Airport, and Skymark from Kobe Airport. On a low-cost carrier (LCC), you can expect to pay around 5,000 to 7,000 yen for a one-way ticket; a non-LCC ticket will cost between 9,000 and 15,000 yen. Travel time is about an hour and 20 minutes to Nagasaki Airport.
From Osaka to Nagasaki via Shinkansen
To get to Nagasaki from Shin-Osaka, take either the Nozomi or Sakura Shinkansen train to Hakata Station, which will take about two and a half hours. From there, switch to the JR Limited Express Kamome and head to Nagasaki, which takes around two hours. You can reserve tickets here for the Shinkansen between Osaka and Hakata (Fukuoka): Get Shinkansen Bullet Train Tickets between Osaka/Fukuoka
As mentioned above, you can reserve the JR Pass here to save money on the trains between Osaka and Nagasaki, too.
From Fukuoka/Hakata To Nagasaki
You can take the JR Limited Express Kamome from Hakata Station to Nagasaki Station; the ride takes about two hours.
Kyushu Kyuko Bus also operates routes to Nagasaki. The ride takes about two and a half hours and costs about half the amount of the JR Limited Express Kamome.
An Area Guide to Nagasaki
Within Nagasaki City
Nagasaki has unusual topography among cities in Japan - surrounded by the ocean and three mountains, the city's hilly landscape allows visitors to see the backdrop of Nagasaki's characteristic beauty, spreading out in all directions. Best viewed from elevated locations, Nagasaki is well-known for its gorgeous views at night.
Since it was the only city which traded with foreigners during the period of national isolation, Nagasaki has many tourist spots which are historically relevant, including Dejima Island and Glover Park, and is also home to a Peace Park, since the city experienced the devastation of a nuclear bomb.
An Area Guide To Shimabara, Hirado, and Sasebo
Shimabara is located in southeastern Nagasaki. Shimabara Castle and old samurai residences are still standing, and you can feel the history of the area. Once known as the Water Capital, channels of clear, beautiful spring water run through the whole town. The active volcano Unzen Fugen-dake and the volcanic mountain Mt. Heisei Shinzan tower over the western side of Shimabara, which is also home to the Shimabara Onsen resort.
On the northwestern tip of the island of Kyushu, you will find Hirado and about 40 other islands of varying sizes. Hirado is known for its castle, its Dutch hall, temples, and churches. It has a distinctive look, with a combination of Eastern and Western architecture.
Sasebo is most famous for the Huis Ten Bosch amusement park, but also has many other fascinating places to visit, including the 99 Islands, nature spots and hot springs, as well as fresh seafood to enjoy.
The Goto Islands and Gunkanjima
Nagasaki has 971 islands -- the most islands of any prefecture in Japan. Around 140 of them can be found at the western edge of Kyushu, in the archipelago of the Goto Islands. The Goto Islands also host 50 churches, which are registered as part of a group of World Heritage sites: "Churches And Christian Sites In Nagasaki."
Gunkanjima contributed to the modernization of Japan as an industrial site, and is now uninhabited, but can be visited.
The Weather in Nagasaki and What to Wear
Nagasaki weather is typically warm, with few extreme temperature swings, but winter temperatures can be freezing, depending on seasonal winds, so dress warmly. The cold will persist until about March, so bring a heavy coat or jacket.
During the rainy season, the air will be damp and humid. Summers are hot even in the morning, so buildings may have their air conditioning at full blast. If you can, prepare extra layers of clothing, like a long-sleeved shirt or cardigan.
Fall temperatures are comfortable but can get chilly in the mornings and evenings, so have a light jacket or coat at the ready.
Traveling around Nagasaki
Getting From Nagasaki Airport into Nagasaki City
You can hop on a bus bound for Nagasaki Station from the airport. The ride is 40 minutes, and costs 900 yen one-way, or 1600 yen roundtrip.
The Streetcar Lines
Trains are convenient for getting around Nagasaki City. In addition to the JR lines, the Nagasaki Electric Railway company operates five streetcar lines within the city, which is very helpful for visitors to Nagasaki. All streetcar fares are 100 yen, but the 500 yen all-day pass is the best bargain for tourists. You can also buy a 500 yen all-day pass for the city bus lines.
These one-day passes are not sold on the streetcars themselves. You can buy them at the tourist information counters in Nagasaki Station or at the reception desks of major hotels, so if you think they'll be useful, pick one up ahead of time.
For more information about Nagasaki's streetcar system, read our Use the Tram to Tour Nagasaki, the City of Slopes article.
Rental Bicycles
The city of Nagasaki has many slopes, which means that very few people ride bicycles, but electrical assist bicycles are available to rent at Nagasaki Station. The rental fee is 500 yen for up to an hour, 1000 yen for up to four hours, and 1500 yen for more than four hours. Bike returns are only accepted until 5 PM, so be careful to return your bike before then.
Traveling From Nagasaki to Other Tourist Areas
Shimabara
You can access Shimabara by heading to Isahaya from Nagasaki via the JR Limited Express Kamome (20 minutes, 1270 yen) or the JR Nagasaki Main Line (40 minutes, 460 yen) then taking the Shimabara Railway to Shimabara (one hour, 1,430 yen). You can also take the Shima-Tetsu Bus from Isahaya to Shimabara, which takes two hours and costs 1,900 yen one way. Buses operated by Nagasaki Prefecture connect Nagasaki to Unzen (40 minutes, 1800 yen one-way, 3240 yen roundtrip). You can then head from Unzen to Shimabara (one hour, 830 yen)
Hirado and Sasebo
We recommend taking the JR Express Seaside Liner from Nagasaki to Sasebo, which runs along the coast (one hour and 40 minutes, 1650 yen). You can also take a bus operated by Nagasaki Prefecture or Saihi Bus (90 minutes one-way, 1,500 yen). To get to Hirado from Sasebo, take a Matsuura Railway train to Tabira Hiradoguchi Station (90 minutes, 1340 yen).
The Goto Islands
Three types of ships from the Kyusho Ferry company run routes from Nagasaki Harbor, out to the ports of Fukue and Narao. By jetfoil, the voyage to Narao takes 75 minutes and the voyage to Fukue by high-speed boat takes 85 minutes (5,370 yen one-way on either ship). By ferry, the trip to Fukue is three hours and 10 minutes, and the trip to Narao is two hours and 40 minutes. A reserved ticket on either route is 3000 yen one-way, but the price can vary by season.
Gunkanjima
Several cruise companies make trips to Gunkanjima: Yamasa Kaiun (4200 yen, with early booking discounts available), Gunkanjima Cruise (3,600 yen), Seaman Shokai (3900 yen with 300-yen discounts available) and Gunkanjima Concierge (4000 yen). No matter the cruise company, you can expect the roundtrip journey to take two and a half hours from when you leave Nagasaki Harbor. Visiting the island of Hashima is a separate 300-yen charge.
Nagasaki's Highlights - the Best Sightseeing Spots
1. Dejima Island
Dejima, a man-made island constructed in 1636, served as a central hub for foreign trade and culture while Japan was closed off from the rest of the world. While it is no longer an island due to the development of the surrounding areas, the area has been reconstructed to retain Dejima's original appearance. You can see how the Dutch brought their Western lifestyles into Japanese homes, and stroll the streets while dressed in a kimono.
For more information, check out A Stroll Through Dejima - Where Japanese And Dutch Culture Coexist.
2. Peace Park (Peace Memorial Park)
Inside this park, located on the site where an atomic bomb was dropped on the city, there is a Peace Memorial Statue whose image is meant to reflect both God's love and Buddha's mercy. The statue's right hand pointing toward heaven symbolizes the menace of nuclear weapons, while the wide open palm of its left hand symbolizes peace, and its softly-closed eyes represent a prayer that the hibakusha - those who died in the atomic bomb attack - find peace in the afterlife.
A spring fountain was built in the park to provide water for the spirits of the hibakusha, or victims of the atomic bombing, who died begging for water. The fountain is designed to resemble the wings of pigeons and cranes, as it continues to pray for peace. This park is quite peaceful and visitors often remark on how reflective they feel after paying a visit here. The Nagasaki Atomic Bomb Museum is also located in the park, and is where you can see the horror of the atomic bombing through various documents and actual objects that survived the blast. To learn more about this park and its surroundings, please see 5 Things To Experience In Nagasaki, Where West Meets East.
Address: Nagasaki, Nagasaki City, Matsuyama-cho
3. Glover Garden
A World Heritage site found atop one of the hills in the southern part of the city, Glover Garden is the former residence of a Scottish merchant named Thomas Blake Glover, who lived in Nagasaki around the turn of the century. Built in 1863, it is currently the oldest Western-style wooden building in Japan. Its colonial English style, constructed with the bricks and packed mud walls of traditional Japanese architecture, give this building a very unique character when compared to other historical structures in Japan.
There are six historical buildings which have been rebuilt and restored, including the Old Ringer House and the Old Alt House, which contain beautiful Western architecture from that era. You can enjoy the trees and flowers in the park all year round, and get an unbroken view of the city and Nagasaki Harbor.
Check out Discover Nagasaki's International History At Glover Garden to learn more about these historical buildings.
4. Ipponbashira Torii Gate At Sanno Shrine
There were originally four torii gates at Sanno Shrine, located 900 meters from the drop site of the atomic bomb, but they were mostly destroyed; however, one of them remained standing, even though one of its support pillars was blasted away, so it is called the Ipponbashira (single pillar) Torii Gate. In 1950, the radiation-damaged camphor trees inside the rebuilt compound miraculously sprouted buds again, and tower above the shrine today.
Address: Nagasaki, Nagasaki City, Sakamoto 2-6-56
5. Meganebashi (The Glasses Bridge)
©JNTO
The arch-shaped stone bridge across the Nakashimagawa River, the first of its kind in Japan, looks like a pair of glasses, which is how it got its name. It was first constructed in 1634, and rebuilt using its original materials in the 1980s after a flood washed away part of the structure. Twenty heart-shaped stones are embedded in the levees around the bridge, which make it popular as a place for people to wish for luck in love. It has also been recognized as an Important Cultural Property in Japan, and is a great photography spot all year round.
Address: Nagasaki, Nagasaki City, Uonomachi
6. Nagasaki Shinchi Chinatown
©JNTO
The Chinatown in Nagasaki is one of Japan's three major Chinatown areas, along with Yokohama's Chinatown and the Nankinmachi area in Kobe. There are entrance gates to the north, south, east and west, and the area is the venue for the winter lantern festival. Here you will also find numerous Chinese temples, which make it easy to compare the differences between Japanese and Chinese temples for yourself. Of course, we also recommend sampling the chanpon and udon dishes that this area is famous for. Enjoy a bowl of unique noodles topped with fresh seafood and a heaping helping of vegetables, and taste the flavors of Nagasaki's Chinese cuisine.
To learn more about Nagasaki Shinchi Chinatown, and take a virtual tour of its streets, please see Yokohama, Kobe, Nagasaki - Comparing Japan's Three Chinatowns.
Address: Nagasaki, Nagasaki City, Shinchi-cho 10-13
Website: Nagasaki Chinatown
7. Oura Church
Built in 1865 by French missionaries, this Gothic minor basilica is Japan's oldest church. Its official name is the Church of 26 Martyrs, to honor the 26 Christians executed in Nagasaki in the late 16th century on the orders of Hideyoshi Toyotomi. After the church was built, descendants of Christians who had gone into hiding in Nagasaki (the Kakure Kirishitans) revealed themselves to the priest. It was soon discovered that there were thousands of secret Christians in the city, and the pope called this discovery "the miracle of the Orient." Entry to the church is 600 yen.
Address: Nagasaki, Nagasaki City, Minamiyamate-machi 5-3
Website: Oura Church
8. Oranda-zaka (Holland Slope)
In the past, the residents of Nagasaki referred to all non-Asian people as "Dutch," so they referred to the hilly cobblestone street lined with foreign residences as "the Holland slope", which is where the name originates.. In modern times, the slope in front of Kwassui Gakuin University, Shitanozaka, Kwassuizaka and Joko-in is called Oranda-zaka, and has rows of homes built in Western architectural styles.
Address: Nagasaki, Nagasaki City, Higashiyamate-cho
9. Nagasaki's Confucian Temple
Built in 1893 with the cooperation of the Chinese government, this mausoleum was made to honor Confucius, the founder of Chinese Confucianism. With a traditional beauty which rivals that of the original Chinese mausoleum, the building is brightly colored, and is linked to a Chinese history museum.
Address: Nagasaki, Nagasaki City, Oura-cho 10-36
Website: Confucian Temple
10. Nagasaki Atomic Bomb Museum
©JNTO
This museum has comprehensive exhibits about the bombing, including displays of the terrible spectacle of nuclear devastation visited on the city and the chronology of the events that led up to the bombing. The exhibits look at the development of nuclear weaponry, the city's gradual recovery from the war up to the present day, and end with a plea for a peaceful world without nuclear weapons.
Address: Nagasaki, Nagasaki City, Hirano-cho 7-8
Homepage: Nagasaki Atomic Bomb Museum
11. Nabe Kanmuriyama Park
Nabe Kanmuriyama Park, at a height of 169 meters, is ten minutes on foot from Gate 2 of Glover Park. The view of the city and harbor from the park observatory is wonderful, especially the view at night, and it's a prime spot to get photos of cruise ships pulling into Nagasaki Harbor.
Address: Nagasaki, Nagasaki City, Izumo 2
12. Mt. Inasa
It goes without saying that the 333-meter tall Mt. Inasa has a great view of the city at night, and on a clear day, you can see all the way to Unzen, Amakusa and the Goto Islands. There is a trail to the top, but you can also take the ropeway (1230 yen roundtrip) or drive (the parking lot is free for the first 20 minutes, then an additional 100 yen every half hour).
13. Suwa Shrine
As Christians grew in number in Nagasaki, many shrines and temples from other religions were destroyed. During that period, this shrine was built in 1625. The odd lion-dog statues on the shrine compound are well-known by people from Nagasaki City. The Nagasaki Kunchi Festival, which began in 1634, is also popular.
To see more of the lion dogs, check out Nagasaki - See The Lion-Dogs At Chinzei Taisha Suwa Shrine.
Address: Nagasaki, Nagasaki City, Kaminishiyamamachi 18-15
Website: Suwa Shrine (Japanese)
14. Ryoma Street
Towards the end of the Edo era, the patriot Ryoma Sakamoto and his revolutionary comrades often went up and down this street, which is how it got its name. It is beloved by locals.
Address: Nagasaki, Nagasaki City, Teramachi, Kazagashira-machi
15. Siebold Memorial Museum
This structure was built to honor Phillip Franz von Siebold, a lecturer who taught Dutch studies in Nagasaki. The building is patterned after Siebold's former home in Leiden, Holland, and is built out of red brick. The museum tells the story of Siebold's life and displays other valuable documents.
Address: Nagasaki, Nagasaki City, Narutaki 2-7-40
Website: Siebold Memorial Museum (Japanese)
Other Sightseeing Destinations
16. Huis Ten Bosch
Holland's city streets have been recreated at this theme park in Sasebo City. In addition to being able to enjoy seasonal flowers during the day, there are also games and shows, and at night, the park transforms into a kingdom of light, thanks to well-placed illumination.
Address: Nagasaki, Sasebo City, Huis Ten Bosch-cho 1-1
Website: Huis Ten Bosch
17. Tenkaiho Observatory
You can get a great view of the 99 islands from this observatory in Sasebo. Visitors can see rape blossoms and cosmos flowers in full bloom during the spring and fall.
Address: Nagasaki, Sasebo City, Shimofunakoshi-cho 399
18. Hirado Dutch Trading Post
This trading post of the East Indies Company was set up in 1609, but was destroyed in 1640 after the ban on Christianity was imposed. The current structure has been restored, with exhibits that explain the historical situation, and it is a venue for various events.
Address: Nagasaki, Hirado City, Okubo-cho 2477
Website: Hirado Dutch Trading Post
19. Misojien Garden
This 25,000 square-meter garden in Unzen City is a special place to see the fall foliage for those in the know. Since the garden is situated at a high elevation, visitors can enjoy the colors for an extended period of time.
Address: Nagasaki, Unzen City, Obama-cho, Minamikisashi
Homepage: Misojien Garden
20. Unzen Onsen
Taking a dip in the sulfur-rich, strongly acidic hot springs at Unzen Onsen can help with skin disease and skin beautification. In the area known as "Unzen Hell," sulfurous odors and blasts of steam waft towards visitors from 30 fuming pools. There are foot baths as well as mixed bathing facilities, and bathers can enjoy their soak while surrounded by the majesty of nature.
Address: Nagasaki Prefecture, Unzen City, Obama-cho, Unzen
Website: Unzen Onsen
21. Goto Islands (The Hidden Christian Churches)
A hundred kilometers to the west of Nagasaki Harbor, there is a string of more than 140 islands. When Christianity was banned in Japan, the prohibition was not draconian, so many "hidden Christians" moved to these islands and built churches for the faithful. Nagasaki is now campaigning for these island churches to be registered as World Heritage sites. The islands are host to many other sightseeing highlights, as they are set against the beautiful southern seas.
22. Gunkanjima, The Battleship Island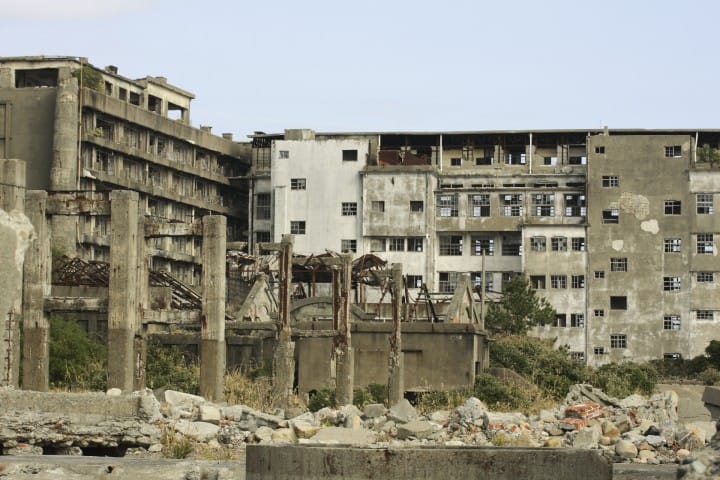 Officially known as Hashima, this island once prospered as a harvester of coal from the ocean floor, but after the coal plant shut down in 1974, it became uninhabited. The sight of its towering apartment buildings, surrounded by fencing, make the island look like a Tosa-class battleship, which is how it got its name. It was registered as a World Heritage site in July of 2015, and has since become a popular international filming location, where the Japanese live adaptation of Attack on Titan, a popular manga and anime, was filmed, and images of the island can be seen in the James Bond flick, Skyfall, as well.
Read The Filming Location Of "Attack On Titan"! Gunkanjima, Nagasaki to learn more about this island and see a virtual tour of it.
A Model Itinerary For Tourists To Nagasaki
Here we'll introduce an efficient travel itinerary for people who only have a day to spend in Nagasaki City.
Go to the Peace Park in the morning, then head to the Meganebashi Bridge. Once you take a walk through Shinchi Chinatown, your stomach will start growling, so try a bowl of Nagasaki's famous chanpon. After you've satisfied your appetite, work off those calories on the hills by going to Dejima, then Oranda-zaka, and on to Oura Church and Glover Garden. For a finale, get a glimpse of the city at night from either Nabekanmuriyama Park or Mt. Inasa.
If you've got more than one day to spare, by all means, venture out to Gunkanjima, the Goto Islands, and Unzen Shimabara!
For more information about each spot, check out our article on 5 Things To Experience In Nagasaki, Where West Meets East.
Nagasaki Festivals and Events
Nagasaki Tall Ships Festival
Galleons from ports around the world gather at Nagasaki Harbor during this late April event to commemorate the relationship between Japan and Holland, which had its fourth centennial anniversary in 2000. You can do more than just look at the impressive scene; you can go for a cruise, explore the ship interiors, participate in knot-tying workshops, and learn how to make boats out of paper.
They're also illuminated at night, and you can enjoy the sight of fireworks in the sky above the harbor.
Nagasaki Harbor
Address: Nagasaki Prefecture, Nagasaki City, Kokubun-cho
Homepage: http://www.doboku.pref.nagasaki.jp/~rinkai/nagasaki_port/
Nagasaki Peron Championships
This event has been around for more than 350 years. Peron is a competition where crews of 26 rowers race their dragon boats - which can be up to 14 meters in length - through a 1150-meter roundtrip course, in time to rhythmic taiko drumming and clapping. Held over the course of two days in late July, attendees can also try rowing in a dragon boat for themselves.
In Nagasaki Harbor (in front of the Matsugae International Cruise Ships Wharf)
Address: Nagasaki Prefecture, Nagasaki City, Matsugae-cho 7-16
Homepage: http://nitca.at-nagasaki.jp/event/peron/
Nagasaki Kunchi
The Nagasaki Kunchi Festival, held at Suwa Shrine, is one of Nagasaki's major fall festivals. It is said that the festival began in 1634, when two women of the street dedicated a little dance to the gods in front of the shrine. The festival grew to incorporate styles of dance from other countries, and is now famous for exotic and dynamic dance performances. The festival takes place in early October every year. In addition to the dancing at Suwa Shrine, you can see dance performances at the plaza in front of the town hall, the Otabisho area, and the Yasaka Shrine. In 2017, the festival will be held from October 7th-9th, and more information about this exciting event can be found in The Exotic Nagasaki Kunchi Festival 2017: Event Schedule And Highlights.
Nagasaki Lantern Festival
The Nagasaki Shinchi Chinatown festival to commemorate the Chinese New Year grew in scale until it became the Nagasaki Lantern Festival in 1994, which is now a symbol of winter in the city. During the festival, which is typically held from January 1st through the 15th (may vary by year), 15,000 brilliantly colored Chinese lanterns will be hung up all throughout Nagasaki to create a romantic atmosphere that feels like another world entirely. Visitors can fill their hearts with warmth in the middle of winter during this Chinese celebration.
Homepage: http://www.at-nagasaki.jp/festival/lantern/
Nagasaki Culture
With one of Japan's three major Chinatown areas and Chinese-style architecture, as well as Western buildings, churches and Christian sites, Nagasaki offers a fascinating mix of Chinese and Christian influences. You could say that the Nagasaki Kunchi Festival epitomizes the city's unique blend of Japanese, Chinese and Dutch cultural aspects.
In addition, as Nagasaki faces out onto the ocean, visitors can enjoy a variety of marine sports and activities, like sea kayaking, snorkeling and diving, along with fishing.
Nagasaki Souvenirs
Nagasaki Castella
The Castella sponge cake was brought to Japan in the 16th century by the Portuguese, and was reworked to suit Japanese tastes. In the 17th century, sugar starch syrup was added to the recipe in Nagasaki to give it extra sweetness, creating the Nagasaki castella.
The originator of Nagasaki castella is said to be Fukusaya, which opened its doors in 1624; other places known for their castella include the venerable shop Bunmeido; Seifudo, a shop with uniquely flavored castella that can be found on the hilly road to Glover Park; Kinkaido, which uses finely-grained high quality Wasanbon sugar in its famous products; and Shokando near Meganebashi, which offered its castella to the Imperial Household. However, note that they have a relatively short shelf-life of seven to ten days, so eat them up quickly!
Nagasaki Sable Cookies and 99 Islands Senpei
If you're looking for a snack that will last, how about a Nagasaki sable cookie?
Baked using a traditional, safeguarded European technique, these cookies are crunchy but melt in the mouth, and have a distinctly Nagasaki vibe to their packaging.
The crunchy and savory 99 Islands Senpei are baked in the shape of six-sided turtle shells, said to be lucky charms. The crackers also contain peanuts that bring the 99 Islands to mind. By the way, while senbei crackers are made from rice, senpei crackers are made from flour, which is how the 99 Islands Senpei got their name.
Gunkanjima, Chinatown and Huis Ten Bosch Goods
You can buy clear files and keyholders emblazoned with Gunkanjima motifs on the island, and there are feng shui charms and panda goods available in Chinatown. Huis Ten Bosch has various original items for sale, including Miffy items and teddy bears.
Other popular souvenirs, and more about where to purchase what can be found in this article: 10 Best Souvenirs From Nagasaki! Beautiful Crafts, Sweets, And More.
Shopping In Nagasaki

It's Convenient To Buy Souvenirs At The Airport
Naturally, you can buy staple souvenirs like Nagasaki castella and chanpon at the airport, but you can also find airport-exclusive items. Some of these items include Jagamel, a collaboration of potato and caramel, Yu-brand shochu liquor, and "ourin" meat buns that contain spinach. You can also find Gunkanjima products, so if you forgot to get them on the island, drop by one of the souvenir spots in the airport.
Amu Plaza Nagasaki
Amu Plaza Nagasaki is directly connected to JR Nagasaki Station, and handles all sorts of special Nagasaki products along with duty-free shopping. The facility also houses Fukusaya, Sho-o-ken, and Bunmeido, three longstanding castella shops, so it's quite convenient. In addition to containing more than 130 shops, Amu Plaza also has a movie theater and the JR Kyushu Hotel.
Address: Nagasaki Prefecture, Nagasaki City, Onoue-machi
Mirai Nagasaki Coco Walk
Linked to the bus terminal, theMirai Nagasaki Coco Walk has a Ferris Wheel on the 5th floor, and a movie theater on the 6th floor. This multipurpose commercial facility has over 100 shops, fashion boutiques and gourmet restaurants.
Address: Nagasaki Prefecture, Nagasaki City, Morimachi 1-55
Holland Souvenir Hall
A Western building located below Glover Park and close to Oura Church, the Holland Souvenir Hall has all sorts of Nagasaki products, and the second floor has a restaurant where diners can gaze out at the harbor while they eat. For more details about shops, check out their official homepage.
Dining in Nagasaki
The fresh seafood is great, but if you're talking about Nagasaki food, you have to mention its two major noodle dishes: chanpon and sara udon!
Chanpon
Chanpon was developed by the first owner of the Chinese restaurant Shikairo, who wanted to feed filling food to his Chinese exchange student customers. The noodles are made by adding alkali saltwater to flour, a technique from Shanghai, before adding them to tonkotsu (pork bone) or chicken broth. The ingredients are seasonal, and can include pork, clams, shrimp, cabbage, carrots are more. The word "chanpon" means a hodgepodge of ingredients in Japanese, and that's exactly what this stomach-satiating dish is.
Sara Udon (Plate Udon)
This dish came about when the founder of Shikairo wanted to create a yakisoba version of chanpon, using thicker noodles. However, there can be either thin or thick noodles in Nagasaki udon recipes. There are two ways to prepare it: either by frying only the noodles and covering them with toppings afterward, or by frying the noodles and toppings together. Check when you order if you have a preference. It's typical in Nagasaki to order a large plate as a group, then divide it into individual portions.
Toruko Rice (Turkish Rice)
This popular Nagasaki menu item is rice pilaf or dry curry, spaghetti, pork cutlets and salad all piled onto one plate, and is surely a "kid's meal for adults." Other variations include Seafood Toruko, with fried shrimp, and Teki Toruko, with beefsteak.
For more information about this dish, check out ourEnjoy Delicious Turkish Rice At Kyushu's Oldest Café, Tsuruchan article.
Nagasaki Hotels
If you're looking to stay at a four-star hotel, you have several options, each with their own advantages. The Best Western Premier Hotel Nagasaki has an exceptionally convenient location, and the European-style Hotel Setre Glover's House is close to Oura Church and Glover Garden. The Nisshokan Shinkan Baishokaku hotel offers guests the chance to relax in an open-air bath while looking out over Nagasaki at night, and the Hotel New Nagasaki is the most convenient place possible for a visiting tourist, found a mere three minutes from JR Nagasaki Station.

Many three-star accommodations cost under 10,000 yen a night. Our recommendations for reasonable hotels include the JR Kyushu Hotel Nagasaki inside the station, the simple but modern Richmond Hotel Shianbashi, which has a coin laundromat, the popular Hotel Forza near Shinchi Chinatown, and the cost-effective S-Peria Hotel.

Some popular two-star lodging establishments in the city include Fujiwara Ryokan, which has Japanese-style rooms and coin laundromat, the Hotel Saint Paul near the Peace Park, and the Business Kanko Hotel Ikeda, which offers a choice of Western or Japanese style rooms. Nagasaki also has a few guesthouses. Though it's out of the city, Kakamiya has decent streetcar access, and Traveler's House on the Road has a communal kitchen. Casablanca Guesthouse is also another option.

The information presented in this article is based on the time it was written. Note that there may be changes in the merchandise, services, and prices that have occurred after this article was published. Please contact the facility or facilities in this article directly before visiting.