Enjoy The Nights Of Nagasaki! Recommended Spots And Delicious Foods
Nagasaki is renowned for its amazing night views. While taking in the beauty of the nightscape, how about enjoying local dishes at excellent Nagasaki restaurants that are open until late at night? This article introduces the dishes you should look for.
Nagasaki in Kyushu once prospered during the Edo period as Japan's only port city open to foreign trade. A unique culture influenced by Europe and China blossomed in the city, making the city a popular place where you can experience the feeling of being in a foreign country while in Japan.
The city is home to the Glover Residence, believed to be the place that inspired the opera "Madame Butterfly", and Oura Church, Japan's oldest Gothic-style church. With foods such as the popular confectionery castella, brought over from Portugal in the sixteenth century, foreign-style buildings and food cultures that still remain till this day, there is no end to the list of things that attract visitors to this city.
After visiting sightseeing spots in the afternoon, there is something we definitely want you to see during the evening in Nagasaki. It is the beautiful night view over the city, chosen as one of the Three New World Record Night Views, alongside Hong Kong and Monaco.
In this article, we'll be introducing our recommended Nagasaki night spots and local foods! Nagasaki in the evening has a charm that won't lose out to the city in the afternoon.
Nagasaki's Three Best Night View Spots
When thinking of places where you can especially see the beautiful night view in Nagasaki, these three places below come to mind.
1. The Sparkle of the City and Port Seen From Mt. Inasa
Photo courtesy of Nagasaki City
Mt. Inasa, located in northeast Nagasaki, is a night viewing spot loved by Nagasaki locals. You can see both Nagasaki Port and the city all at once from the Mt. Inasa Summit Observation Deck at the top of the mountain.
2. The Dynamic Night View From Mt. Nabekanmuri Park
Photo courtesy of Nagasaki City
The view from Mt. Nabekanmuri Park rivals with Mt. Inasa in popularity. You can enjoy a dynamic night view of the port and the radiance of the streets before your eyes from Mt. Nabekanmuri. The park is located opposite Mt. Inasa across from Nagasaki Port.
3. A Romantic Night View From Dejima Wharf
Photo courtesy of Nagasaki City
You also can't miss out on the view from Dejima Wharf, a commercial complex that looks towards Nagasaki Port. From here, you can enjoy a romantic night view of the lights from anchored boats and nearby buildings reflected onto the water's surface.
You'll be completely satisfied gazing at the beautiful buildings and night views on your Nagasaki trip... is what we'd like to say, but it's still too early to say that you've fully enjoyed Nagasaki with just this! There are excellent gourmet foods that can be found in the streets of Nagasaki as the night goes on, which we warmly recommend trying.
Excellent Foods You Can Enjoy at Night in Nagasaki!
The regional dishes loved by the locals can be said to be the real pleasure of visiting Nagasaki during the evenings.
We'll now introduce Turkish Rice and Nagasaki Champon, two staple foods that you'll just want to try, seafood dishes unique to Japanese bars in the port city of Nagasaki, as well as oden, a dish Nagasaki is famed for!
We'll also introduce recommended restaurants that are open late into the night so that you'll be able to stop by after gazing at the night view, so please check them out!
Hearty Nagasaki-Style Turkish Rice
Turkish Rice is a dish that consists of pork cutlet, pilaf, and Napolitan, a tomato sauce-based spaghetti, all served onto one plate. It has a unique, colorful appearance, combines fried foods, noodles, and rice all at once, and even today remains one of Nagasaki's local specialties.
Turkish Rice is said to have been served at Western restaurants in Nagasaki since the 1950s. There are various theories behind why it came to be known as Turkish Rice, one of them being that the original dish that would later become the Turkish Rice was first served at a restaurant in the prefecture called Restaurant Turkey.
Turkish Rice from Tsuruchan, Established in 1925
Nostalgic Turkish Rice (1280 yen plus tax)
When you think of a well-known restaurant for Turkish Rice, you think of Tsuruchan. Established in 1925, Tsuruchan is said to be Kyushu's oldest café and was the first to serve Turkish Rice in the city.
Their most popular item is the Nostalgic Turkish Rice which boasts a crispy cutlet. Many people come to this restaurant just for this dish, whose recipe took a long time to perfect.
Sanshiro Turkish Rice (1480 yen plus tax)
The Sanshiro Turkish Rice, served with a steak instead of the cutlet and Japanese-style cream spaghetti, is steadily gaining popularity as a new style of Turkish Rice too.
Original Nagasaki-Style Milkshake (680 yen plus tax)
After eating the Turkish Rice at Tsuruchan, we recommend trying the Original Nagasaki-Style Milkshake (*1). Its refreshing flavor is perfect for after a meal. There is also the Post Meal Half-Sized Milkshake (350 yen plus tax) on the menu, too.
*1 Milkshake: a type of cold dessert famous in Nagasaki that consists of sugar, condensed milk, and shaved ice mixed together with an egg.
The Nagasaki Champon Made for Exchange Students
Nagasaki Champon is a noodle dish containing a mixture of various ingredients. To be more precise, an abundance of ingredients such as pork, squid, cabbage, and bean sprouts are piled on top of noodles. The soup has a gentle flavor with a pork or chicken bone base and is considered to be the soul food of Nagasaki locals.
This dish was created during the Meiji period. It's been said that the dish was created by the owner of a Chinese restaurant in the city who wanted Chinese exchange students to "eat nutritious foods that filled their stomachs".
Tentenyu - Loved for Its Unchanging Flavor
Champon (750 yen plus tax)
Tentenyu, established in 1946, is a popular champon restaurant known by all the locals.
Owner Mr. Tatsumasa Kan (left) and his younger brother Mr. Hidemasa Kan (right)
Mr. Tatsumasa Kan, the owner, cooks with the desire to protect the taste of the champon that he has known since childhood. The nostalgic flavors, the unchanging atmosphere of the restaurant, and the warm hospitality of the staff are reasons why this restaurant continues to be loved by the locals.
The restaurant is open until 24:00, so you can make it with more than enough time to eat even after seeing the night view or drinking.
Rows of Japanese Bars Near Shiambashi
A place where you can enjoy both food and alcohol at night in the city is in the Shiambashi area. The area has been gathering attention from tourists in recent years as a place where you can experience the deep charm of Nagasaki through the rows of izakaya (Japanese bars) and small restaurants.
If you'll be visiting nearby Shiambashi, be sure to visit the Japanese bars that serve Nagasaki seafood and restaurants that sell Nagasaki oden.
Izakaya Asa's Sashimi and Nagasaki Famous "Hatoshi"
When it comes to Japanese bars that represent Nagasaki, Asa is what comes to mind. With pride in its seafood procured from Nagasaki Port, Asa has now become a popular bar with six locations in the city.
Photo courtesy of Dejima Asa
Dejima Asa, located a ten-minute walk from Shiambashi, has grasped the hearts of the locals with their food and great service.
Nagasaki Dejima Hatoshi (450 yen plus tax)
You can encounter the local food "hatoshi" at the bar. It is a dish of minced fish paste sandwiched in bread and fried, and is a familiar food for Nagasaki locals.
Photo courtesy of Dejima Asa. Sashimi Platter (1900 yen ~ plus tax)
We also recommend the fresh sashimi made using seafood caught that very morning.
According to president Noriaki Fuji, "The deliciousness of our sashimi won't lose out to famous restaurants in Tokyo!" Menus are available at the bar in English, Chinese, and Korean so that international visitors are able to freely enjoy Nagasaki cuisines.
An Ingredient Unique To Nagasaki! Oden at Momowaka
Though oden may be a dish that can be found throughout Japan, the oden in Nagasaki is characterized by the use of a particular ingredient. Momowaka, established in 1931, is where you can eat that very Nagasaki oden.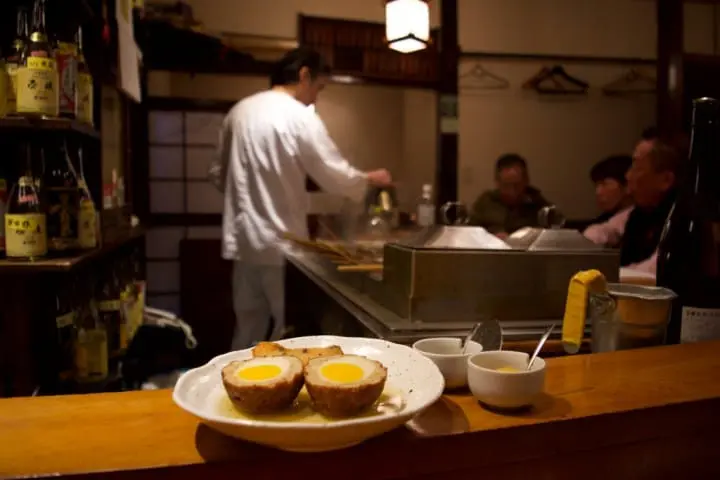 Ryugan
Ryugan, or egg wrapped in fish paste, is an oden ingredient unique to Nagasaki.
Oden (one serving), 150 yen ~ plus tax
Delicious, staple oden ingredients like daikon radish, tofu, and a vegetable tofu pouch, (vegetables that have been packed into aburaage (*2)), permeated with the flavor of the stock taste best in these types of restaurants.
*2 Aburaage: a type of food made of thinly sliced tofu fried in oil.
Owner Mr. Takanori Matsuyama
The restaurant has an atmosphere that is easy to approach for first-timers thanks to owner Mr. Takanori Matsuyama's friendly hospitality. Please feel free to stop by and enjoy the flavors of this well-established restaurant.
Taste Local Foods And Fully Enjoy The Night Of Nagasaki
Nagasaki is well-known for its night views, but it's a waste to return to your accommodation after only seeing the view!

Let's enjoy local foods at local restaurants like the ones we've introduced above during the nights in Nagasaki.

The city of Nagasaki is where you will be warmly received by people filled with kindness, such as the staff and regular customers of these restaurants. There is no doubt that your trip will be a memorable one.

Photos by Regional Branding Institute Co.,Ltd..
Sponsored by Nagasaki International Tourism and Convention Association

The information presented in this article is based on the time it was written. Note that there may be changes in the merchandise, services, and prices that have occurred after this article was published. Please contact the facility or facilities in this article directly before visiting.