10 Best Souvenirs From Nagasaki! Beautiful Crafts, Sweets, And More
Nagasaki is known to have many local products that make great souvenirs. From traditional sweets to beautiful crafts, we have selected ten recommended souvenirs to get when visiting this historical city.
For a long time, Nagasaki has been a city with flourishing trade businesses. Many products have been created from with western influences here, such as the castella cake that originated from Portugal. It is now a popular souvenir that represents Nagasaki. This treat has undergone many changes and now, there is even a drink called castella cider too. Aside from the castella, Nagasaki has many signature products. In this article, we would like to recommend ten must-get souvenirs from Nagasaki.
Recommended Souvenirs from Nagasaki
1. Nagasaki Castella
The castella cake is said to have been brought into Japan in the 16th century by a Portuguese missionary. Originally, it was a simple baked treat made with egg, flour, and sugar only. After many years and changes being made, the Nagasaki Castella with a rich egg flavor and a nice sweetness has been created.
© Nagasaki Tourism Organization
The origin of the Nagasaki Castella has been said to be the store Fukusa-ya. Other historical shops such as Shoouken and Bunmeido are also well-known for carrying castella as well. Shokando makes castella for the nobility and Seifudo is known to carry a castella that goes very well with wine, along a variety of other flavors. The castella of Fukusa-ya and Bunmeido can be bought in locations such as JR Nagasaki Station or Nagasaki Airport. Please be aware that this cake has a short shelf life of a week to ten days only. One cake ranges from about 1000 yen and up.
Fukusa-ya Nagasaki Main Branch: Nagasaki, Nagasaki city, Funadaikumachi 3-1 / Hours: 8:30-20:00
Shoouken Main Branch: Nagasaki, Nagasaki city, Uonomachi 3-1 / Hours: 9:00-20:00
Bunmeidou Main Branch: Nagasaki, Nagasaki city, Edomachi 1-1 / Hours: 8:30-19:30
Shokando: Nagasaki, Nagasaki city, Uonomachi 7-24 / Hours: 9:00-19:00
Seifudo Glover-zaka dori Branch: Nagasaki, Nagasaki city, Minami Yamatemachi 2-6 / Hours: 9:00-18:00
2. Castella Sweets
© Nagasaki Tourism Organization
The castella has gone through many changes, including the castella sweets such as the castella roll or mikasayama produced by the famed castella shop Bunmeido. Each treat is individually wrapped, so these make for great souvenirs to distribute at work or school.
The mikasayama is a round castella cake with red bean paste in the center that is almost like the Japanese confectionery called dorayaki. A four piece box costs 800 yen. The castella roll is a confectionery that wraps a castella with the mikasayama batter. You can enjoy the delicate flavors of the castella and a traditional Japanese confectionery all at once. The price is 821 yen (with tax) for six pieces. You can purchase both of these in all of the Bunmeido branches or at Nagasaki Station and Nagasaki Airport. Please note that the shelf life of both of these treats is only one week.
3. Castella Cider
© Nagasaki Tourism Organization
Castella Cider is a beverage that turned the castella cake into a drink. Inside a cute castella box-like package, you will find two bottles inside for 540 yen. For those who are looking for a gift for castella lovers or simply something unique, this may be a great choice for you. You can find this drink in souvenir shops throughout the prefecture.
4. Nagasaki Sable Cookies
The Nagasaki Sable made by the Nagasaki Kabo is a sable cookie made using traditional European baking methods. With a light and crispy texture, it is sure to have you craving for more. The packaging that reminds people of Nagasaki and its culture also adds to its popularity as well. The shelf-life of these cookies is longer, so it is great for those who won't be able to hand gifts out for a while. You can find these sable cookies in souvenir shops in Nagasaki city and the airport; a box of 16 cookies costs 648 yen (with tax).
5. Otakusa
Otakusa refers to the hydrangea flower that is loved by many people of Nagasaki, and this confectionery is meant to represent the hydrangea itself. It has a crispy texture, is made with a pie crust, and can be found at shops in Nagasaki station, airport, and bus terminals. A box of 18 pieces is sold for 864 yen (with tax).
6. Chinese Confectionery
© Nagasaki Tourism Organization
Nagasaki is also known for their Chinatown and throughout the city, you can find many shops carrying various Chinese treats. Out of the many sweets, a few we would like to recommend is the twisted fried snack called yori yori, otherwise known as mafa, and the moon cakes with walnuts and peanuts inside. The mafa is sold for 500 yen a bag. You can find these treats at locations such as Soshuurin shop in Chinatown.
Soshuurin Nagasaki Chinese Sweets Shop: Nagasaki, Nagasaki city, Shinchimachi 13-17 / Hours: 10:00-20:30
7. Kujukujima Senpei
The Kujukujima senpei is a senbei cracker that is made with flour and has peanuts sprinkled on top. The peanuts are supposed to represent the famous view of the Kujukujima islands in Nagasaki. In the Kyushu region, they refer to rice crackers as 'senbei' and to flour based crackers as 'senpei'. That is how this snack got its name. One bite into this cracker, and you can taste the rich flavor of the peanuts. A box of 12 crackers is 720 yen (with tax), and can be purchased at shops in Nagasaki Station and Nagasaki Airport.
8. Shochu
© Nagasaki Tourism Organization
In the Kyushu region, shochu liquor is very popular. Nagasaki also has many shochu breweries, making it a well-known local specialty. In the photo, you can see Ikishima Shochu, a type of shochu that is made using the Iki-no-shima island's water. It is a brand name shochu known worldwide. Many of the Ikinoshima Shochu varieties have been stored and aged for a long period, and its smooth and rich flavors gather many fans from all over. You can purchase this in liquor shops and souvenir shops throughout the prefecture. One bottle starts from 1000 yen and up.
9. Nagasaki Bekko
© Nagasaki Tourism Organization
Bekko is a traditional craft made using the shell of a Taimai sea turtle. Bekko crafts are said to have been first made by the Chinese during the 1700's and were brought into Nagasaki. Now, it is considered to be a traditional craft that represents Nagasaki. Tie pins, brooches, necklaces and hair accessories made using bekko are expensive, but are also a popular gift from Nagasaki. Famous Bekko craft shops include Esaki Bekko and Tagawa Bekko.
Esaki Bekko shop: Nagasaki, Nagasaki city, Uonomachi 7-13
Tagawa Bekko shop: Nagasaki, Nagasaki city, Imahakatamachi 56
10. Hasamiyaki Porcelain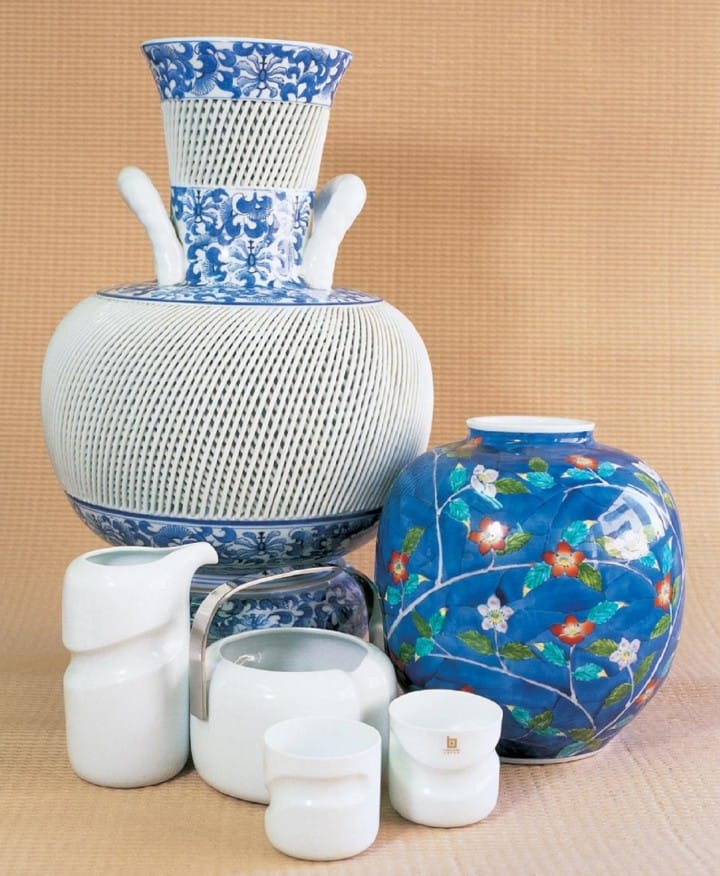 © Nagasaki Tourism Organization
Porcelain made in Hasami town in Nagasaki is referred to as Hasamiyaki and is considered to be a traditional craft of Japan. The almost clear, white porcelain with its indigo designs is the distinguishing feature of Hasamiyaki. It is used frequently as a daily necessity and is also liked for its durability. Lately Hakusan ceramics and Horie ceramics, which have been making simple and stylish designs influenced by Scandinavia, have been gaining popularity with the younger generation.
Recommended Shopping Spots in Nagasaki
For those who wish to buy souvenirs from Nagasaki in one collective shop, shopping at a souvenir shop in Nagasaki Airport or the Amu Plaza connected to JR Nagasaki Station is recommended. In the area called Nagasaki Souvenir Street inside the first floor of the Amu Plaza you can find a large collection of Nagasaki-centric souvenirs. Aside from that, they also have clothes, accessories, interior decorations, and small household goods as well.

Also at Huis Ten Bosch, you can find original goods and snacks related to the little rabbit character Miffy and teddy bears, and at Gunkanjima island, they have goods such as clear file folders with a Gunkanjima island designs. If you happen to find any of these, it would be great to pick them up too!

*Please note that this article is based on information as of December of 2016. Prices and businesshours are subject to change.

The information presented in this article is based on the time it was written. Note that there may be changes in the merchandise, services, and prices that have occurred after this article was published. Please contact the facility or facilities in this article directly before visiting.