Japanese Encyclopedia: B-kyu Gurume (B Rank Cuisine)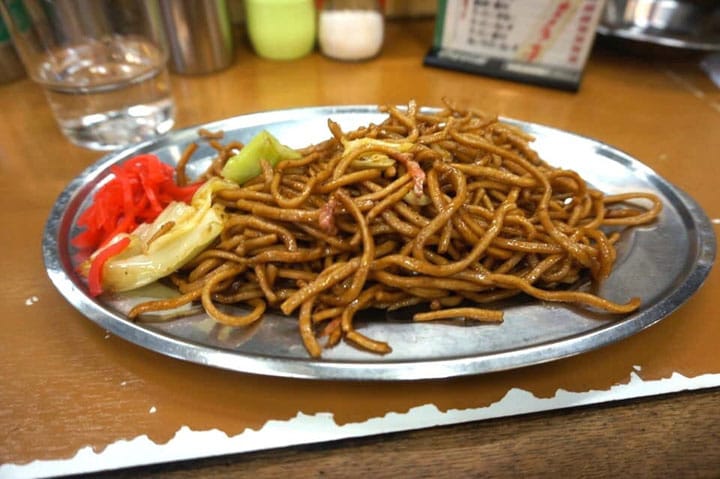 This article explains the term "B-kyu Gurume" ("B Rank Cuisine"), which is affordable, delicious food, very popular among the Japanese.
B-kyu gurume refers to the kind of cuisine that is popular with the masses and does not use high-quality ingredients. On the whole, it is Japanese fast food with a strong taste, eaten both at home and out at restaurants. B-kyu means "second rank" in English, whereas gurume refers to the word "gourmet".
Regions and B-kyu gurume
Main contenders for the B-kyu gurume are yakisoba (fried noodles) and ramen, which are found all over Japan. Tokyo's monjayaki and the okonomiyaki in the Kansai region are both varieties of savory Japanese pancakes that contain flour. There are also dishes that contain beef and pork gizzards seasoned to taste, referred to as motsu (giblets) and horumon (broiled pieces of pig innards) in Japanese.
From "Miroku Yokocho - a place where you can meet the people and taste the cuisine of Hachinohe in Aomori region"
The fact that they are made using local ingredients and have a local flavor is also a feature of B-kyu gurume. There is also local area gurume which showcases the speciality of the region. Fujinomiya yakisoba from Shizuoka prefecture and Hachinohe-senbei-jiru (see picture), a kind of rice cake and soup dish from Aomori prefecture, are particularly well known examples. Fujinomiya yakisoba is steamed, non-chewy Chinese noodles with little water content, that have been flavored in sauce (contains meat extract), then fried in lard extract until crisp.
It Even Extends to Western-Inspired Japanese Food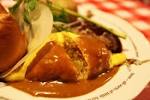 Image from "RAKERU" in Shibuya - a new challenge on omurice

There are also Japanese derived western dishes that count as B-kyu gurume. For example, you will often see spaghetti Napolitan, cooked rice wrapped in an omelette known as omurice (refer to picture), and Japanese-style curry at old school cafes. The recipes of these kinds of food tend to differ depending on the area, shop or household, but it's a menu that is loved by many Japanese, both young and old alike.

The information presented in this article is based on the time it was written. Note that there may be changes in the merchandise, services, and prices that have occurred after this article was published. Please contact the facility or facilities in this article directly before visiting.