19 Spots to Visit in Miyagi – Sendai, Naruko, Ishinomaki, and More!
This service includes sponsored advertisements.
Miyagi prefecture located in the northeastern part of Japan, is known for its beautiful coastline, picturesque landscapes, and cultural attractions. Additionally, you can enjoy the city of Sendai, which is the capital of Miyagi Prefecture and a vibrant hub of the region.
Visit Miyagi Prefecture
Miyagi Prefecture is located in the Tohoku region. It looks out onto the Pacific Ocean to the east. Mountains, like the Zao Mountain Range, and nature parks are located to the west. Miyagi is a great place to enjoy the great outdoors. In the summertime, hike up the mountains covered in fresh greenery. During the winter, you can go skiing and snowboarding.
This same prefecture suffered damage from the tsunami during the Great East Japan Earthquake in March 2011. Reconstruction is still ongoing, with cities actively involved in revitalization of the region. We introduce the highlights of Miyagi divided by its five areas: Sendai, Matsushima and Ishinomaki, Zao, Naruko, and, Akiu and Sakunami Onsen.
Table of Contents
Sendai
Matsushima and Ishinomaki
Miyagi Zao
Naruko
The Akiu and Sakunami Area
Sendai
Photo by Pixta
Sendai is located in the center of Miyagi and is the prefecture's main transportation hub. Japanese history buffs may know about Date Masamune (1567-1636), a Sengoku-era military commander with ties to Sendai. There are numerous historic sites in the city that are related to Masamune, such as Zuihoden.
Sendai is also famous for its Sendai Tanabata Festival, which is held annually in July. 3,000 tanzaku (wishes on paper strips) of various sizes decorate the shopping arcades in the city, making it a unique summer feature in Sendai.
Continue reading to learn about sightseeing and events in Sendai!
1. Facts on the Feudal Lord Date Masamune
Photo by Pixta
Date Masamune was a feudal lord active from the Sengoku Period to the early Edo Period. Following the unification of Japan by Tokugawa Ieyasu—the founder of the Edo shogunate—he became the first lord of the Sendai Domain (a domain is equivalent to a modern city). Masamune was known as the One-Eyed Dragon (a one-eyed hero) because he lost his right eye during childhood.
He has remained a popular historical figure, as he was unbeatable in battle and trusted by his affiliates for his enduring efforts towards the domain. Date Masamune also frequently appears as a character in anime and video games.
His trademark is his helmet adorned with a large crescent moon. You can see the actual helmet at the Sendai City Museum (Japanese).
2. Zuihoden
Photo by Pixta
Zuihoden is the mausoleum where Date Masamune is enshrined. It is Sendai's most famous sightseeing spot, with over 100,000 people visiting every year. The dazzling main hall is fitting for the attention-loving Masamune. The hydrangeas and flowering trees that bloom along the road leading to the mausoleum are beautiful and soothing to the soul.
There is much to view within the mausoleum grounds. Some of them include the museum and museum shop where magnificent grave goods are displayed, the Kansenden—the mausoleum of the Lord Tadamune, the second lord of the Sendai Domain—and the Zennoden, the mausoleum for Lord Tsunamune: the third lord of the domain. There are also illuminations during tanabata, and the autumn leaves season.
3. Sendai Castle Ruins
Photo by Pixta
Photo by Pixta
Sendai Castle was established by Date Masamune in 1602. It also has been nicknamed the Aoba Castle as it was constructed on top of Mt. Aoba—202 meters (around 663 feet) above the ground. The castle itself was destroyed in a fire, leaving only the watchtower and stone walls to survive the massive blaze. The bronze statue of Masamune on a horse is symbolic of the castle, so don't forget to take a picture!
4. Sendai Tanabata Festival
Photo by Pixta
The Sendai Tanabata Festival has been held annually since the time of Date Masamune. It is one of three major Tohoku festivals. Shopping arcades and districts in the city are decorated in tanzaku (wishing paper strips) alongside folded paper cranes and paper garments, which make up the seven decorations. These decorations are used to pray for the well-being of one's families, bountiful harvests, and abundant catches from the sea.
While tanabata festivals are typically held throughout Japan on July 7. Please note the Sendai Tanabata Festival is held annually from August 6 – 8. Over two million visitors come every year to see the stunning paper decorations.
5. Sendai Stadium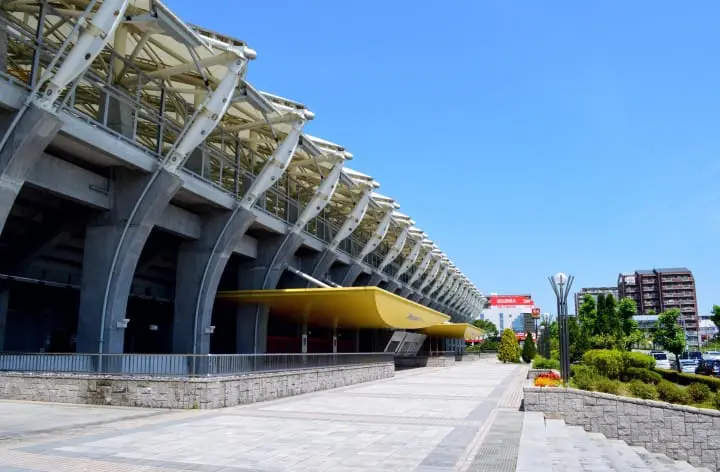 Photo by Pixta.
Sendai Stadium is a sports stadium for soccer, American football, and rugby. It's also called the Yurtec Stadium Sendai. It is the home stadium for the Vegalta Sendai, a soccer club in the Japan Professional Football League (J-League).
The stadium has an excellent seating layout that makes it easy for spectators to watch the game from every location. If there's a game you're interested in, be sure to go and check it out!
6. Bandai's official "Gashapon®" large-scale store arrives in Miyagi Prefecture for the first time!
photo by PR Times
The "Gashapon Bandai Official Shop" opened in June 2023 in the large-scale bookstore "Ayumi Books Sendai Ichibancho" (Sendai City, Miyagi Prefecture). The special feature is that it has all the new Bandai capsule toy products.
You can experience "gashapon" unique to this official shop and also pick up products purchased online at the store. Bandai's original capsule toy brand "Gashapon" offers an "exciting experience" and "unique products".

Gashapon Bandai Official Shop Ayumi BOOKS Sendai Ichibancho
Opening hours: 9:00-22:00 on Weekdays and Saturdays, 9:00-21:00 on Sundays and national holidays
Address: Miyagi, Sendai, Aoba-ku, Ichiban-cho, 4-5-13, Sunshine Bldg. 1F
7. Dormy Inn's Japanese style premium hotel brand "Onyado Nono"
photo by PR Times
Onyado Nono is a Japanese style premium hotel with tatami flooring throughout. Conveniently located along Hirose-dori street, it has good access to the downtown area and nearby sightseeing spots. The hotel is equipped with communal natural hot spring baths, authentic dry sauna, and cold water baths on the top floor. Ice cream and lactic acid beverages are offered free of charge which is a nice detail.
You can enjoy a Japanese and Western buffet breakfast complete with over 50 dishes made with ingredients from Tohoku as well as "okonomi kaisen don seafood rice bowl" and "seasonal freshly fired tempura". Dormy Inn's famous light soy sauce ramen "yonaki soba" is also available as a late night snack.

Natural Hot Spring "Oyado Nono Sendai"
Address: 2-2-5 Honmachi, Aoba-ku, Sendai City, Miyagi Prefecture
Access: 12-minute walk from JR Sendai Station, or a short walk from Exit 2 East of Hirose-dori Subway Station.
8. "OF HOTEL"; Good location, 6-minute walk from Sendai station.
photo by PR Times
The concept is to "co-create with local people and pass on Tohoku's not yet known innovation, culture and history to the future".
On the 2nd floor of the hotel, the popular café "dare store" which has 2 stores in Sendai city roasting their special coffee in-house, has its third store offering breakfast and coffee. On the B1 floor, there is also a restaurant that serves a set meal of 12 dishes using Tohoku ingredients as well as selected sake from the region. On the 1st floor, you can buy souvenirs, various items and food unique to Tohoku at the "SHOP OF HOTEL". The 55 guestrooms of 14 types feature interiors using local materials and vintage furniture.

OF HOTEL
Address: Miyagi, Sendai, Aoba-ku, Kakyoin, 1-4-14
Access: 6-minute walk from JR Sendai Station
Access to Sendai
It's recommended to take the Tohoku Shinkansen from Tokyo to Sendai. There are three train services on the Tohoku Shinkansen: the Hayabusa, Hayate, and Yamabiko. You'll arrive in one hour and 40 minutes on the Hayate or in one hour and 35 minutes on the Hayabusa. The fare for the Yamabiko is relatively cheap, but the train makes frequent stops and will take between two to two hours and 15 minutes.
Fares range from 10,000 – 19,930 yen for a one-way ticket and fluctuate depending on the train service and type of seat.
Matsushima and Ishinomaki
To the east of central Miyagi is the Ishinomaki area, which is home to picturesque and remote islands along the Pacific Ocean. It was also devastated by the Great East Japan Earthquake in 2011. Its most famous islands are a group of islets collectively called Matsushima, Tashirojima—informally known as "Cat Island"—and Kinkasan, a well-known spiritual spot.
In Ishinomaki, post-disaster reconstruction continues to progress and has also created an increase in tourism. Let's take a look at the attractions of this area on the shores of Miyagi.
9. Matsushima
Photo by Pixta
Matsushima is a group of islands in Matsushima Bay to the east of Miyagi Prefecture. Made up of over 260 islands in all sizes, its scenery with the ocean backdrop has a picture-postcard beauty.
It is considered one of the great Three Views of Japan (other spots include Miyajima (Itsukushima) in Hiroshima and Amanohashidate in Kyoto). It has even been designated as a Special Place of Scenic Beauty in Japan. A special place of scenic beauty is a location that has value among other picturesque spots. There are currently 36 places registered under this title.
To get to Matsushima from JR Sendai Station, take the Senseki Line towards Matsushima-Kaigan Station. It will take approximately 40 minutes and costs 420 yen one-way.
10. Tashirojima (Cat Island)
Photo by Pixta
Tashirojima is a 3.14-square-kilometer island on the Oshika Peninsula in northeastern Miyagi. It is also known as "Cat Island" because over 100 stray felines live here, outnumbering the 80 human residents.
The island is accessed by ferry. Take a ferry called the Ajishima Line (Japanese) from Ishinomaki Port and you'll arrive on the island in about 50 minutes. It costs 1,230 yen one-way for adults.
11. Ishinomaki City
Photo by Pixta
Ishinomaki is a city located in northeastern Miyagi. During the Edo Period, it was known as the largest rice-shipping port in the Tohoku region. Nowadays, it operates as a prosperous fishing industry.
Seawalls, oceanside residences, and shops were washed away by the tsunami during the Great East Japan Earthquake. Thanks to reconstruction efforts by the city, the damaged shops were able to reopen their businesses in two temporary shopping districts called Oshika Noren Mall and Ogatsu Tanakoya Mall.
These shopping districts are great places where travelers can experience the local culture and taste the city's specialty foods at restaurants. These delicacies include mackerel, oysters, and Ishinomaki yakisoba (stir-fried noodles) made with a seafood dashi stock.
Ishinomaki Station can be accessed from JR Sendai Station on the JR Senseki Line. It will take about one hour and 30 minutes and costs 860 yen.
12. Kinkasan
Photo by Pixta
Kinkasan is a remote island off the coast of Ishinomaki with a population of five residents. It's where gold was first made in Japan. Kinkasan Koganeyama Shrine was built over 1,200 years ago to celebrate the first production of gold.
This shrine is a prominent Japanese spiritual spot for economic fortune. It's believed that if you visit here for three consecutive years, you won't have to worry about money for the rest of your life. Be sure to visit if you want to increase your luck with money!
A boat bound for Koganeyama operates every Sunday from Onagawa Port. To access the island from JR Ishinomaki Station, take the Ishinomaki Line and exit at Onagawa Station. Walk for about 10 minutes to Onagawa Port, then take a regular Ushio Planning (Japanese) boat from the port. It will cost 3,500 yen per person (round-trip) and take about 35 minutes.
Miyagi Zao
Photo by Pixta
The Zao Mountain Range extends over Miyagi and Yamagata Prefecture, with the mountains in Miyagi coined Miyagi Zao. The Miyagi Zao area is a resort area where you can enjoy trekking and barbeques in the summer, and activities like skiing in the winter.
Zao includes an area at the foot of the mountain and is an area flourishing in dairy farming. Zao cheese (Japanese), soft-serve ice cream, and other dairy products made with their premium milk are excellent items.
13. Snow Activities
There are two ski slopes in Zao. They are Sumikawa Snow Park (Japanese)— where you can enjoy the area's best powder snow—and Miyagi Zao Eboshi Resort (Japanese), a slope that boasts the longest ski run in the prefecture.
Skiers and snowboarders from across the country flock to Zao in the winter to enjoy snow activities. Snow trekking, or walking on the snowy mountain in snowshoes, is a popular activity to try here.
14. Fox Village
Photo by Pixta
This place is a rare fox zoo where over 100 captive foxes roam. You'll find yourself grinning while observing these foxes residing peacefully.
The village also sells original fox goods. Popular items include adorable fox key holders and mugs.
15. Okama Crater
Photo by Pixta
The Okama is a crater lake that is amazingly picturesque and serves as a symbol of Zao. Formed by a volcanic eruption, it came to be known as Okama because the lake's shape resembles a cooking pot ("okama" in Japanese) when seen in its entirety. The lake is a beautiful emerald green changes color depending on the season and weather. It is called Goshiki-numa or Five-Colored Lake.
The area consistently remains at low temperatures compared to the foot of the mountain, making the lake feel quite cool even during midsummer. Make sure to bring clothing and equipment for the wind and cold.
Access to Miyagi Zao
We recommend traveling to Miyagi Zao by car as spots of interest are very far apart from each other. For example, if your destination is the Zao Summit Rest House near the Okama Crater, then it will be a 90-minute drive from JR Sendai Station.
You will be driving on local roads to the foot of the mountain before heading towards the summit on a tolled mountain road called the Zao Highline. The toll is 550 yen for standard vehicles. There is no toll when using the route at night from 16:00 to 8:00 the next morning.
*The road is closed between 16:00 and 8:00 the next day from the end of October 2019 through late April 2020.
Naruko
Photo by Pixta
Naruko is a hot spring town in Miyagi Prefecture's Osaki City. In addition to the onsen here, the area is famous for its kokeshi dolls, which are a traditional Miyagi craft. Many kokeshi workshops where visitors can make their own dolls can be found in Naruko. We recommend trying a workshop while visiting the hot springs in town.
16. Naruko Onsen
Naruko Onsen is a major hot spring area in Tohoku. Over 370 types of hot spring sources are in Naruko Onsen, and nine of the 11 existing hot spring types in Japan can be found here.
You can enjoy day-trip bathing at bathhouses such as the 1,000-year old Takinoyu (Japanese), Waseda Sajikiyu (Japanese), which uses a spring source discovered by a college student, and numerous other hot spring inns.
Painting workshops can be enjoyed at kokeshi specialty shops such as Iwashita Kokeshi Museum (Japanese), the Japanese Kokeshi Museum (Japanese), and Matsuda Workshop (Japanese).
17. Naruko Gorge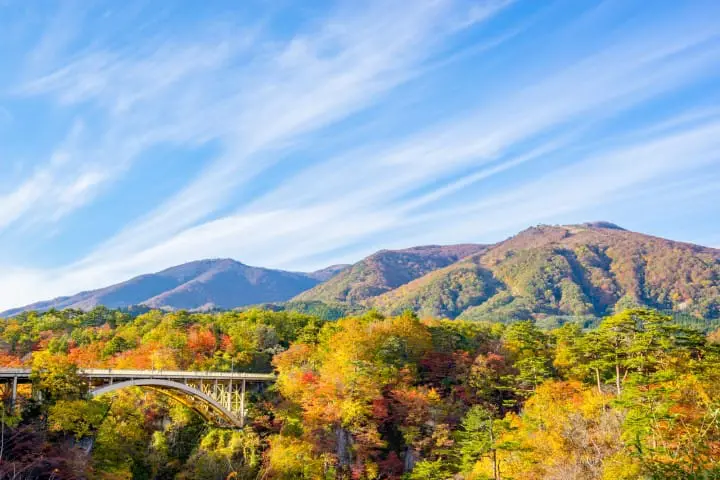 Photo by Pixta
Naruko Gorge, a ten-minute trip by taxi from the hot spring town, is a designated place of scenic beauty in the prefecture. The landscape seen from the viewing platform near Naruko Rest House—a hub for sightseeing—is truly enchanting. You can enjoy fresh greenery in the summer, or richly colored autumn leaves in the fall paired with this gigantic rocky valley.
Access from Sendai to Naruko
We recommend traveling to the Naruko Onsen area by either train or express bus.
・Train: JR Sendai Station (Tohoku Shinkansen: 15 minutes)→ JR Furukawa Station (Rikuu East Line Rapid: 40 minutes)→ Naruko-Onsen Station
・Bus: JR Sendai Station (Express bus: 1 hour and 30 minutes)→ Naruko Onsen Kurumayu
The Akiu and Sakunami Area
We'll introduce Akiu Onsen and Sakunami Onsen, two of Miyagi Prefecture's leading hot spring areas.
18. Akiu Onsen
Picture courtesy of Miyagi Prefectural Government Tourism Division
Akiu Onsen is a hot spring town situated in Akiu, Sendai. It is one of the three best Oshu (an old province that encompassed parts of modern-day Tohoku) hot springs. Additionally, it's one of the three best hot springs in Japan (others include Dogo Onsen in Ehime Prefecture and Arima Onsen in Hyogo Prefecture).
There are many traditional and well-established inns in the area, but there are also reasonably-priced hotels to stay at. There are several experience-based facilities in the area, making it a hot spring town enjoyable for young travelers, too. It is recommended taking the express bus to get to Akiu Onsen.
If departing from Sendai Station, take a Miyagi Transportation Bus bound for Akiu Onsen from the bus terminal outside the west exit. You will arrive in 60 minutes.
19. Sakunami Onsen
Picture courtesy of Miyagi Prefectural Government Tourism Division
Known as a retreat in Sendai, Sakunami Onsen is a hot spring town in western Sendai. It is a well-known hot springs area that has been visited by many educated and prominent figures since its opening in 1796. It is said to have spring waters with beautifying effects for sensitive skin, making it an immensely popular hot spring for those in search of these benefits.
Access from within Sendai takes 70 minutes by Sendai City Bus from JR Sendai Station to arrive at the hot spring. If taking the train, head to JR Sakunami Station on the Senzan Line. Then, transfer to the shuttle bus for your respective inn, and you'll arrive in about five minutes.
Miyagi Food
Zunda mochi, mochi coated in green soybean paste, is a famous and delicious Miyagi treat. Zunda shakes—a milkshake made with soybeans like zunda mochi—are also a popular and adorable sweet to try.
Photo by Pixta
For those wanting to try Japanese beef, gyutan (beef tongue) is a must-eat Sendai specialty. Its unique texture and rich flavor are delicious.
Another edible souvenir we recommend is Hagi no Tsuki, an iconic confection made of custard cream wrapped in a spongy dough.
Get the Most Out of Miyagi Prefecture
Many of the sightseeing spots we've introduced are mostly locations that are easily accessible from JR Sendai Station and Sendai Airport. These spots have such great access that you'll be able to arrive without getting lost.
If you're visiting Miyagi for the first time, we recommend visiting the hot spring towns and islands around Sendai. You may even become captivated by the charms of Miyagi's nature-abundant scenery.
Main image by Pixta

Written by
Top Articles
There are no articles in this section.