Akita Dogs, Tohoku Cats, And Miyagi Foxes - A Warm Winter In Tohoku!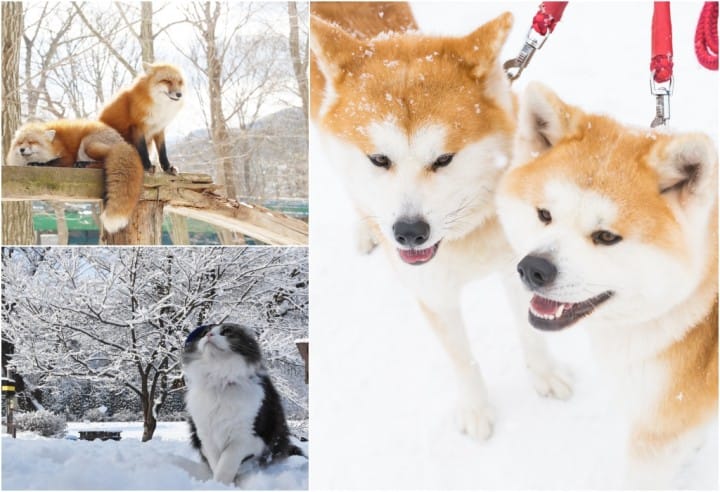 Have you ever wanted to meet Akita dogs in the region where this breed originates from? Enjoy a trip to Tohoku and meet Akita dogs at the Dog Festival, the cute foxes of Zao, and charming cat station masters in Miyagi.
Warm Your Body and Soul with Animals and Hot Springs
How about spending the winter with cute, furry friends in Tohoku? The cats, foxes, and dogs living in this area will make your heart flutter and melt at the same time.
The Akita dogs, a Japanese dog breed originating in Akita Prefecture, are, of course, among them. You shouldn't miss them when visiting Akita! They are a real comfort during the cold, harsh winters.
If you choose your accommodation at the hot springs in the area, you'll be able to relax and unwind both physically and emotionally. Now, to what would you like to owe the comfort?
1. Calling All Cat Lovers! Meet the Station Master of Ashinomaki-Onsen Station in Fukushima
The first representative of the animal comfort group is "stationed" at Ashinomaki-Onsen Station – actually, it is the very station master, an adorable cat called Rabu (Love).
Picture courtesy of Aizu Railway Ashinomaki-Onsen Station
Love is the second honorable master of Ashinomaki-Onsen Station. His role is to protect the visitors to Ashinomaki Onsen.
Picture courtesy of Aizu Railway Ashinomaki-Onsen Station
As it can get quite tiresome for Love to guard the station all by himself every day, he shares this honorable duty with the station facility master, Pichi (Peach). Although it is prohibited to hold both Love and Peach, you are allowed to give them a fuzzy pat on the back. Just leave it to them to make your heart tickling and fuzzy for sure!
You can check out the schedule of the two lovely masters here (Japanese).
Picture courtesy of Aizu Railway Ashinomaki-Onsen Station
The previous, and the first, station master, Basu, who passed away in 2016, had her eyes hurt because of the visitors flashing their cameras. For this reason, it is forbidden to take pictures of the masters at Ashinomaki-Onsen Station.
Therefore, instead of shooting your camera, let your heart's shutter open and keep Love and Peach forever in your memory.
Ashinomaki Onsen
Picture courtesy of Fukushima Prefecture Tourism and Goods Exchange Association
Love and Peach are the mascots of the station for Ashinomaki Onsen, a well-known hot spring area with a more than 1000-year old tradition. It takes about 15 minutes by car to reach it from Ashinomaki-Onsen Station.
Stay for the night and make the best of this place by relaxing in a hot bath with a calming view of the snow-covered area.

Ouchi-Juku
Picture courtesy of Fukushima Prefecture Tourism and Goods Exchange Association
If you wish to explore an area giving off a traditional feel, you can visit one close to Ashinomaki-Onsen Station. One of Japan's three largest thatched settlements, Ouchi-juku, is a 30-minute taxi ride from the station. You can admire here more than 40 buildings with thatched roofs (*1).
It was originally used as a resting area for travelers from Edo (former name for Tokyo). In winter, when the snow piles up in this area, the view of the settlement is just spectacular.
There is an annual event held in February called Ouchi-juku Snow Festival that lasts for two days. The festival makes the settlement appear as if it were part of a fairytale, with lanterns lit up in snow, taiko drums, and fireworks.
*1 Thatched roof: a roof covered with a thick layer of pampas grass.

2. Shaggy Hair All Around! Visit Miyagi's Zao Fox Village
The second representative of the heart-melting animal group is located in Miyagi Prefecture, in a special village that is gaining much popularity recently – the Zao Fox Village.
It takes about 20 minutes by car to reach this village from the closest station, Shiroishi-Zao Station. The reason why the village is always overwhelmed with visitors, even when the weather is cold and it is snowing, you might have guessed already – yes, it is the lovable foxes roaming about.
Upper left picture, lower left photo, upper right photo by FUKA KAMATA
Their furry coat gets especially fluffy in winter only. Because the foxes are raised in their natural habitat at this village, they are always roaming freely around the park.
You can have fun watching over foxes doing various things, such as sleeping circled up, walking proudly around, coming close to the visitors in pair, or fighting among themselves loudly.
Photo by FUKA KAMATA
There is a platform inside the park where the foxes get their food. The visitors are also allowed to feed them, although it is good to take caution as foxes are feisty animals. They sometimes attack when approached bare-handed, so it is best to ask the staff for assistance and instructions.
Akiu Onsen
Picture courtesy of Miyagi Tourism Department
If you've had your fill of fluffy joy, we suggest visiting a hot spring for some relaxation. Although there are many hot spring sites in Miyagi, there is one that was especially loved by the former daimyo (lord of a certain domain, *2) of Sendai, called Date Masamune (1567-1636), and that is Akiu Onsen, or Akiu Hot Springs.
Apart from the high-quality spring water, there are also many sightseeing spots you can visit nearby, such as the picturesque Rairaikyo Gorge. You can think about the adorable foxes you had fun with before, and warm up your heart and body while soaking in a hot spring bath.
*2 Domain: a unit of land according the land division established during the Edo Period, governed by a lord.

3. It's Majesty, the Dog! Meet Akita Dogs at the Dog Festival in Akita
And for the grand finale of our animal-consolation members list, we present Akita (dogs)!
Photo by MONAMI ISHII, edited by FUKA KAMATA
The Akita dog breed became famous thanks to one dog that loved its owner to the end – the loyal dog Hachiko. Akita is one of the six Japanese dog breeds and is considered a natural monument of Japan. Its characteristics are a large body and friendly and gentle nature. You'll become friends in no time!
You can meet Akita dogs regularly at JR Akita Station. But, if you want to hang out some more with them, you definitely shouldn't miss the Dog Festival (Inukko Matsuri), held in Yuzawa, Akita Prefecture!
Inukko Matsuri, the Dog Festival
Photo by MONAMI ISHII, edited by FUKA KAMATA
Every February, the visitors to the Dog Festival get to meet Yuzawa's tourism ambassadors, the Akita brothers Gon and Tora. And guess what? The two are always excited to meet the festival audience, too!
Other than the wonderful chance to spend some time with Akita dogs, at this festival you can also admire dog statues made of snow, and enjoy various events and food at the stalls.
Photo by MONAMI ISHII, edited by FUKA KAMATA
Many visitors gather on stage, and together with the dogs pray for a year of good health and longevity, at the Aiken Kigan Festival ("prayers for the beloved dog" festival). Therefore, during this event, you can get to meet not only the Akita breed, but also Shiba dogs, corgis, and many other dogs, as well.
On the second day of the Aiken Kigan Festival, you can witness a spectacular sight of more than 400 dogs gathering in one place! If you wish to pet or take a picture of (or with) some of them, don't forget to ask for their owners for permission.
Photo by MONAMI ISHII, edited by FUKA KAMATA
The Dog Festival has been celebrated for more than 400 years already. It is said that the lord of the old Yuzawa expelled an intimidating bandit from the area, and wanted to keep him away for good, so he made an inukko, a dog-shaped doll and hung it to scare him away. It gives us the chance to celebrate the dogs and be thankful for their existence, as well as pray for the happiness of both dogs and humans.
This festival is a must-visit, dreamlike event for every dog-lover out there!

Oyasukyo Onsen
Picture courtesy of General Incorporated Association Yuzawa City Tourism Association
You definitely shouldn't miss out on the opening ceremony of the Dog Festival – you'll get plenty of chances to play around with the dogs as much as you want.
As for the afternoon, we recommend visiting Oyasukyo Onsen, to relax and gaze upon the glorious Oyasukyo Great Hot Springs gushing from the ground! The gorge is 60 meters tall, and in winter, you can witness the majestic ice pillar that froze because of the cold weather and snow. It seems that there is no end to vapor gushing from the hot springs, making the scenery appear fantastic.
Picture courtesy of General Incorporated Association Yuzawa City Tourism Association
After you've taken in the stunning view of the gorge, let's check in at the inn in the hot spring area! Some inns have a shuttle bus that'll take you to Oyasukyo from JR Yuzawa Station and vice versa, so it will be useful to inquire about it and make a reservation beforehand.
This is a great opportunity to enjoy both the view and the hot springs for a night, get some rest, and head back to JR Yuzawa Station the next day, for the second day of the festival.

The Greatest Ally of Your Tohoku Trip: JR EAST PASS (Tohoku Area)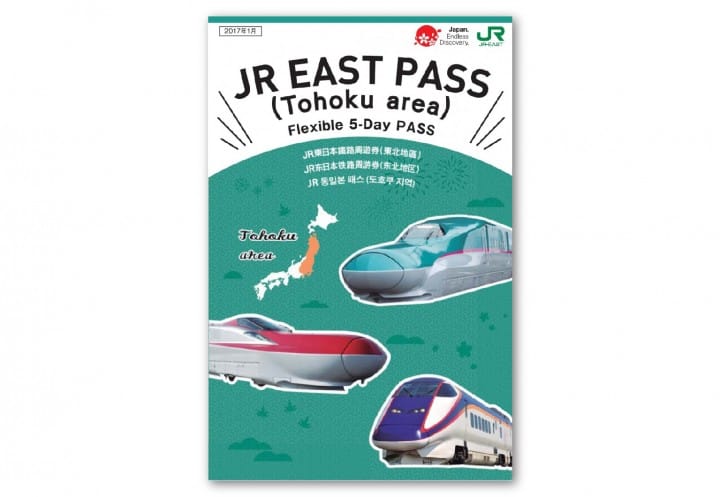 Picture courtesy of East Japan Railway Company
Now that you've learned that the cutest furry buddies are waiting in those three prefectures in northern Japan, are you interested in visiting all three of them at once? If so, the JR EAST PASS (Tohoku Area) will be your best companion for this Tohoku trip. With this pass, you can ride on the Shinkansen, rapid-transit trains, rapid local trains, regular local trains, and JR buses as much as you'd like.
For detailed instructions on how to purchase and other useful information on the ticket, please refer to the following page: JR EAST PASS (Tohoku Area).
**Please be aware that the JR EAST PASS is available for visitors to Japan only. Japanese citizens and visitors who don't hold the tourist visa cannot purchase this ticket.
A Model Itinerary for a Comforting Trip: Visit Animals and Hot Springs
Day 1: Fukushima Prefecture's Ashinomaki-Onsen Station, Ouchi-juku, lodging at Ashinomaki Onsen
Day 2: Sightseeing in Aizuwakamatsu, Fukushima Prefecture, lodging in Sendai, Miyagi Prefecture
Day 3: Miyagi Prefecture's Zao Fox Village, strolling around Akiu Onsen, lodging at Akiu Onsen
Day 4: First day of the Dog Festival in Yuzawa, Akita Prefecture; Oyasukyo Great Hot Springs, lodging at Oyasukyo Onsen
Day 5: Second day of the Dog Festival in Yuzawa, Akita Prefecture; return to Tokyo or travel to another area of Japan.

This 5-day itinerary is a model course in case you intend to travel the area using the JR EAST PASS (Tohoku Area). Feel free to change the order of the sightseeing spots, events, and days, and to adjust the model to fit your own schedule.

Even though you're embarking on a trip that'll keep your heart warm and fuzzy, you might feel cold staying outside for a long period of time. Don't forget to dress appropriately for the cold weather and keep yourself warm 100%!

**JR EAST PASS (Tohoku Area) cannot be used at Aizu Railway Ashinomaki-Onsen Station.

Written by Chia
Sponsored by East Japan Railway Company

The information presented in this article is based on the time it was written. Note that there may be changes in the merchandise, services, and prices that have occurred after this article was published. Please contact the facility or facilities in this article directly before visiting.