All The Charms Of Japan In One Place! 10 Things To Enjoy In Fukushima
This service includes sponsored advertisements.
Fukushima has everything that visitors to Japan hope to experience: hot springs, castles, old townscapes, beautiful scenery, and fine cuisine. We introduce 10 things that everyone visiting Fukushima should enjoy in the area.
Fukushima - Full of Japanese Charm
Fukushima is an area that's full of charming elements of Japanese culture such as historic townscapes, a castle looking over the town, various places to view the natural surroundings, a hot spring with a rich history and fine local cuisine.
In Fukushima, visitors can experience almost everything that Japan has to offer. This article introduces 10 things to enjoy in Fukushima.
Table of Contents
1. A Lakeside Stroll in Urabandai
Picture courtesy of Fukushima Prefecture Tourism and Product Association
Emerald green, cobalt blue, pastel blue... At Goshikinuma ("the five-colored ponds"), visitors can enjoy a wide variety of colors, just as the name suggests.
There are twenty to thirty lakes and ponds in the area, and at Bishamon-numa, which is the largest, visitors can enjoy a lake cruise as well.
Picture courtesy of Fukushima Prefecture Tourism and Product Association
There is a trekking course in the area which takes about an hour and a half to complete. The route is mostly flat, so the trekkers can enjoy a pleasant walk through the woodlands.
The color of the lakes and ponds changes depending on the weather, on the surroundings and on the volcanic materials contained in the water.
Goshikinuma Lakes
Goshikinuma Iriguchi bus stop: Google Map
Access: From JR Inawashiro Station, a forty minute ride on the Bandai Toto Bus. The fare is 770 yen. Get off at "Goshikinuma Iriguchi" bus stop.
Official website: https://www.urabandai-inf.com/?page_id=25649
2. Visiting a Castle in a Historic Townscape - Aizuwakamatsu
Photograph by Eri Tashiro
Tsurugajo Castle is the only castle in Japan with reddish brown tiles (akagawara) on its roof.
In 1868, during the last year of the Edo Period, this castle became a battleground of the Boshin War, a civil war to overthrow the Edo shogunate, also called Edo Bakufu (*1).
*1 Edo Bakufu: The government of the Edo Period (1603 - 1868), ruled by the Tokugawa family. Created by the first Tokugawa shogun, Tokugawa Ieyasu (1543-1616), the government ended when the 15th shogun, Tokugawa Yoshinobu, returned the political power to the Emperor.
Picture courtesy of Aizuwakamatsu Tourism Bureau
The snow-covered Tsurugajo is a must-see! Fukushima is blanketed in snow from the middle of January to March, which produces a scene like in the photograph above. This is a rare sight, even in Japan.
The color of the tiles is also a product of this cold climate. Black tiles tend to absorb fluids from the snow and crack, so red-colored tiles, which contain iron, are more crack-resistant.
Photograph by Eri Tashiro
Aizuwakamatsu, where Tsurugajo is located, is famous for its old town atmosphere. Historical buildings can be seen all along the streets called Nanokamachi-dori and Noguchi Hideyo (*2) Seishun-dori.
Visitors can take a break at a cafe inside a renovated house, or tour a local sake brewery.
*2 Noguchi Hideyo: A renowned Japanese bacteriologist who suffered a severe burn in childhood. He was a candidate for the Nobel Prize, and the current 1,000 yen banknote carries his portrait. Noguchi spent his youth in Aizuwakamatsu.
Tsurugajo Castle
Location: Google Map
Access: A twenty minute ride on the Machinaka Shuyu Bus from JR Aizuwakamatsu Station. The fare is 210 yen. Get off at "Tsurugajo Iriguchi" bus stop.
Official Website: http://www.tsurugajo.com/language/eng/city-tours/
3. Viewing the Impressive Landscape of Soma Nomaoi - Minamisoma
Picture courtesy of Minamisoma City
The grand sight of kacchu-clad (*3) warriors on horseback welcomes the spectators at the Soma Nomaoi Festival. This festival is believed to be more than 1,000 years old.
Taira no Masakado, a warlord in the Heian Period, began capturing wild horses as a military exercise and offered the captured horses to the deities.
*3 Kacchu: Samurai armor.
Picture courtesy of Minamisoma City
Soma Nomaoi is held for three days every year, in late July. On the first day of the festival, a ceremony to commemorate the beginning of a battle is held at shrines in both Soma City and Minamisoma City. After the preparations, the general calls out to the troops, and the horagai (*4) is blown as the warriors begin their march.
The warriors don their kacchu and swords and proceed through the town bearing their ancestral banners on the second day. This procession is called Ogyoretsu. The highlight of the festival, Kacchu-keiba, a race of ten horses, and Shinki-sodatsuen, where the warriors try to snatch flags shot out from canons, is being held afterward.
On the third day, the festivities end with Nomagake, a ritual in which the participants capture a horse with their bare hands. Soma Nomaoi is a unique festival, introducing the samurai spirit to the modern world. If you are visiting Japan during this period, don't miss it.
*4 Horagai: A conch shell, about forty centimeters in length, the large sound of which was used as a signal on the battlefield.
Soma Nomaoi
Hibarigahara Field (the site of Kacchu-keiba): Google Map
Access: It takes about 25 minutes to walk from JR Haranomachi Station to Hibarigahara Field. On the second day of the festival, there is a free shuttle-bus service to the field.
Official Website: http://soma-nomaoi.jp/en/top-page/
In 2018, Soma Nomaoi was held from July 28 to 30. It will be held every year in July, from the last Saturday to Monday, and scheduled from July 27 to 29 in 2019. For details, please check the official website.
4. Eating Negi Soba Noodles in a Historic Town - Ouchi-juku
Photograph by Eri Tashiro
Ouchi-juku is a place where you can experience the atmosphere of the Edo Period (1603-1868). Nowadays, a row of thatched roof houses can only be seen in certain areas such as the Shirakawa-go Village, but it used to be a common sight in rural Japan.
Photograph by Eri Tashiro
Ouchi-juku is located between Aizu and Nikko, and thrived as a shukuba-machi (*5) in the Edo Period. The thatched roof houses have been preserved thanks to a well-timed preservation movement.
These houses now function as souvenir shops, soba restaurants, cafes, and private residences, as well.
*5 Shukuba-machi: A town located between major cities, serving as a rest stop for travelers.
Photograph by Eri Tashiro
Takatoh Soba (negi soba) is the specialty of Ouchi-juku. Its appearance has a strong impact because it's topped with a whole leek. Although there are many restaurants in Ouchi-juku offering negi soba, Ouchi-juku Misawa-ya serves the original dish, which is shown in the photograph.
It is said that the owner of Misawa-ya once forgot to bring his chopsticks to lunch, and used the leek from a nearby field in its place. That&s how the dish originated.
Photograph by Eri Tashiro
To taste this soba, use the fresh and edible leek as a chopstick. This is an excellent dish made using the best ingredients that was created by trial and error.
Dip the fragrant soba noodles in the cold dashi soup. When the weather is fine, you can enjoy your meal on the porch; the warm sunshine will make the meal taste even better.
Ouchi-juku
Misawa-ya: Google Map
Access: A twenty minute taxi ride from Yunokami Onsen Station (Aizu Railway Aizu Line).
Official Website: http://ouchi-juku.com/ (Japanese)
5. View an Artwork Created by Nature! Abukuma Cave in Tamura City
Photograph by Shiho Kito
Abukuma Cave is a place where you can experience the wonder of nature. This limestone cave is located in Tamura City, in the Naka-dori area. The cave was discovered in 1969, at a former limestone quarry.
The photograph above shows Takine Goten, the largest hall in the cave, with stalactites hanging from the height of 29 meters.
Photograph by Shiho Kito
The stalactites are created over an immense period of time. It is the result of rainwater seeping through the ground, creating caves by melting the limestone, and the calcium phosphate recrystallizing into stalactites.
It takes about a hundred years for a stalactite to grow one centimeter, and the estimate for the completion of the Abukuma Cave is about 80 million years. An unbelievable amount of time has passed in this cave!
Photograph by Shiho Kito
The standard course for the cave tour is 600 meters long and takes about forty minutes to complete. Although this is an interesting course, how about trying the discovery course instead? This course allows the participants to visit adventurous spots, like the one shown in the photograph. The cave temperature is around fifteen degrees Celsius throughout the year, so it will be cool in summer, and warm in winter.
If yu get the chance to come here, we hope you fully enjoy the charm of this cave which was created over such a long period of time!
Abukuma Cave
Location: Google Map
Access: A five minute taxi ride from JR Kanmata Station.
Official Wensite: http://abukumado.com/en/
6. Tasting Kawamata Shamo, the Famous Poultry of Kawamata-machi
Photograph by Shiho Kito
The dish in the photograph above is made with Kawamata Shamo (gamecock), a locally produced poultry. Raised only at Kawamata-machi in Fukushima, it has become famous throughout Japan, and is now certified as a brand-name poultry by Fukushima Prefecture.
Photograph by Shiho Kito
Kawamata-machi, located in the mountains of Abukuma, has a cool climate even in summer, which is ideal for raising chickens.
While an average chicken is bred for forty days before being shipped to the market, Kawamata Shamo is bred for 110 days. They are allowed to roam freely in a spacious chicken coop, and the longer breeding period helps to create amino acid in their bodies, which makes their meat tastier.
Kawamata Shamo is used by famous restaurants in Tokyo, as it is said to be one of the best five poultry types in Japan. With a deep taste and just the right texture, it gets better with each bite.
Photograph by Shiho Kito
The photograph above shows shamo-suki, a type of sukiyaki using Kawamata Shamo, served at the restaurant En-ya in Kawamata-machi. The chicken is preserved in sake for a week, which makes it even softer. Dip the cooked chicken in a beaten egg, and it will add mildness to the taste.
En-ya also serves various original chicken dishes, such as a soup donburi (a meal served in a bowl). About ten restaurants in the area serve Kawamata Shamo, so it might be fun to compare the various dishes.
En-ya
Location: Google Map
Access: A forty minute ride on the JR bus from JR Fukushima Station. The fare is 960 yen. Get off at "Kawamata Teppo-machi" bus stop.
7. Staying at a Historic Hot Spring Resort in Higashiyama Onsen
Photograph by Eri Tashiro
Fukushima is a prominent onsen (hot spring) area, ranked fifth in Japan with more than 130 hot springs in the prefecture.
The photograph above shows Higashiyama Onsen, which is only a 15-minute bus ride away from Aizuwakamatsu Station. It is famous for its view of the bridge across the river and the ryokan (Japanese-style inn) Mukaitaki.
The inn is a registered tangible cultural property, so let's take a look inside this historic building.
Photograph by Eri Tashiro
The building was extended repeatedly, reaching further into the back, surrounding the pond in the grounds. As a result, the current interior is like a maze.
The ingenuity of the builders can be seen throughout the inn, as all 24 guestrooms are designed differently.
Many celebrities, such as the Prime Minister and men of letters, have stayed at Mukaitaki. The building has also appeared in various movies as well. It is a renowned inn where many Japanese hope to stay one day.
Photograph courtesy of Mukaitaki
Higashiyama Onsen is known for its sulfate spring water, which is smooth and soft on the skin. It will also warm your body from the core. There are more than fifteen inns in the area, including facilities that offer only the hot springs where there is no need to stay for the night. (Please note that the bathing facility at Mukaitaki can be used by the guests only).
Higashiyama Onsen
Mukaitaki Location: Google Map
Access: Take the Aizu Bus from "Wakamatsu Ekimae" bus stop in front of JR Aizuwakamatsu Station. The fare is 210 yen. After a fifteen minute ride, get off at "Higashiyama Onsen Eki" bus stop.
Official Site: https://www.mukaitaki.jp/
8. Tasting the Famous Kitakata Ramen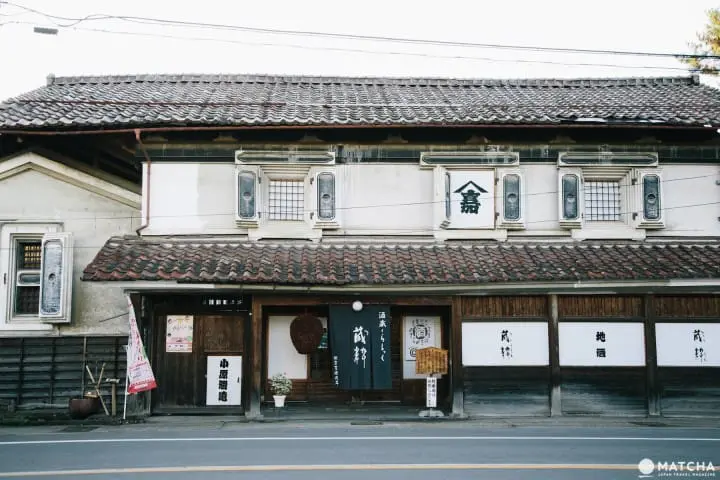 Photograph by Eri Tashiro
Kitakata, located north of the Aizu area, is known for its many kura (storehouses), which are sturdy buildings that protect the valuable family belongings from fire.
The kura was regarded as a status symbol in Kitakata. According to a local resident, owning a kura meant that the person had some asset to protect, and thus considered respectable.
Photograph by Eri Tashiro
Nowadays, a kura is used for various purposes. Some use it as a storehouse, some as a parlor, and there are some which have been turned into a souvenir shop or a cafe.
Most of the kura are located on Fureai-dori and Otazuki Kura-dori streets, near Kitakata Station.
Picture courtesy of Fukushima Prefecture Tourism and Product Association
Kitakata is also known for its spring water. The area produces sake, miso and soy sauce, all of which cannot be made without good water. The well-known Kitakata Ramen, with its simple soy sauce-based soup, is made using this water. For those who like to start their day with a bowl of ramen, some restaurants open from 7:00.
Ramen is a soul food of the Japanese, who consume in volumes at breakfast, after a drink, or, of course, at lunch.
Kitakata
Fureai-dori Location: Google Map
Access: Fifteen minute walk from JR Kitakata Station.
Official Website: http://www.kitakata-kanko.jp/
9. Enjoying a Ride Through Wilderness on the Tadami Line
Picture courtesy of Fukushima Prefecture
The JR Tadami Line, regarded as "the most romantic railroad in the world," is a local line connecting Aizuwakamatsu and Niigata Prefecture. The photograph above shows Dai-ichi Tadamigawa Bridge, located between Aizu Hinohara Station and Aizu Nishikata Station, and known for its grand view of the Tadami River running through the wilderness.
Visitors can enjoy the sight of the Tadami Line trains crossing the bridge from the observatory near Michinoeki Oze Kaido Mishima-juku.
Picture courtesy of Fukushima Prefecture Tourism and Product Association
During the train ride, you can enjoy beautiful snowscapes in the winter, lovely fall foliage or lush trees in the summer. The Tadami Line offers great sights of Fukushima's natural environment, which includes vast rice paddy fields, steep valleys, and rivers reflecting the forest. The number of trains operating in a day is limited, so be sure to check the timetable.
Tadami Line
Aizuwakamatsu Station (The first station of Tadami Line): Google Map
Official Website: https://www.tadami-net.com/tadamiline/20160728/11099
10. Sampling Fukushima's Superb Peaches
Picture courtesy of Fukushima Prefecture Tourism and Product Association
Fukushima is famous for its quality fruit, and ranks second in Japan in the production of peaches.
Picture courtesy of Fukushima Prefecture Tourism and Product Association
The peaches are cultivated in the basin area of northern Fukushima, where the temperature rises in summer, and the warm climate helps to enhance their sweetness. The pure water and fertile soil also contribute to growing delicious peaches.
Various fruit such as pears and apples are also cultivated in Fukushima. There are orchards such as the Marusei Fruit Farm, located in Fukushima City, where family groups can have fun picking fruit.
A Recommended Fukushima Itinerary
We introduce a recommended itinerary for a two-day tour of Fukushima that includes the places mentioned above.
Day One
Photograph by Eri Tashiro
We suggest starting your tour from Aizuwakamatsu Station. Take a stroll through the old town of Aizuwakamatsu, visiting Tsurugajo, and spending the night at Higashiyama Onsen, which is located about fifteen minutes away by bus.
Day Two
Photograph by Eri Tashiro
The following day, head to Ouchi-juku by riding a train from Aizuwakamatsu Station to Yunokami Onsen Station. It is a fifteen minute taxi ride from the station to the destination. On some weekends, there is a direct bus service to Ouchi-juku from Aizuwakamatsu Station.
There is also a route which goes through Kitakata and Goshikinuma. From Aizuwakamatsu, it is a fifteen minute train ride to Kitakata. Enjoy a bowl of great ramen, then head for Goshikinuma, a 65-minute bus ride from Kitakata.
Add another day, and you will be able to enjoy the area more leisurely.
Access from Tokyo
It takes about three hours from Tokyo to Fukushima.
From Tokyo Station, take the shinkansen to Koriyama Station, switch to the JR Ban'etsu West Line and get off at Aizuwakamatsu Station.
Enjoy Your Trip to Fukushima!
Fukushima is the third largest prefecture in Japan and it boasts many charms throughout the year. Visit Fukushima, and find your own favorite place in this beautiful area of Japan.
In cooperation with Aizuwakamatsu Tourism Bureau, Misawa-ya, Abukuma Cave, En-ya, Kasama Hideo, Mukaitaki. (All titles are omitted.)
Sponsored by Ministry of Economy, Trade and Industry
Written by

MATCHA's promotional account for corporate and local government advertising. We aim to provide useful information to our readers in an enjoyable manner.

The information presented in this article is based on the time it was written. Note that there may be changes in the merchandise, services, and prices that have occurred after this article was published. Please contact the facility or facilities in this article directly before visiting. Some of our articles contain affiliate links. We kindly ask our readers to exercise careful judgement when making a purchase or booking a service online.