A Sight To Behold! 4 Dreamworld Winter Railroads In Tohoku
The sight of the trains dashing through the snow is spectacular! Four railways in Fukushima, Iwate, and Yamagata, offer wonderful sights. Use the JR EAST PASS (Tohoku) to ride on Tadami Line, Kitakami Line, and Flower Nagai Line.
A Wonderful Sight! Snow and Trains Combined
When somebody mentions snow, the first thing that comes to mind is breathtaking landscapes covered in pearl-white. However, there is something you should see at least once: a train gliding along in the snowy scene! The sight of the engine and cars chugging steadily across the sparkling white environment, heading forward as if giving a performance with the snow petals, is truly a one-of-a-kind experience.
In this article, we will introduce the most spectacular winter-edition train scenes you can view in the Tohoku Region, where to find them, and other sightseeing spots to visit during your trip!
1. JR Tadami Line in Fukushima - The Best Railway Scene in Tohoku!
Picture courtesy of Mishima Town Tourism Association
There can't be a conversation about winter landscapes and trains without mentioning the JR Tadami Line. It is also referred to as "world's most romantic railroad spot". When looked upon from the window when the train is crossing the No. 1 Tadami River Bridge, you can see the perfect symbiosis between the surrounding valley and mountains and the blindingly white snow (as shown in the photo above).
The No. 1 Tadami River Bridge is located right next to Roadside Station Ozekaido-Mishimajuku.
There are around 8 trains departing daily from the Tadami Line, but we recommending riding early in the morning. Ride the first train from Aizu-Wakamatsu Station for about an hour and 30 minutes, and get off at Aizu-Miyashita Station, then get on a bus bound for Roadside Station Ozekaido-Mishimajuku. There are many photos you won't be able take anywhere except the Tadami Line.
You can experience the beauty of the Tadami Line at other places, too. One such spot (pictured above) is the Miyashita-Achi-Sankyodai Bridge (roughly translated as the Miyashita Arch Three Brothers Bridge), where you can admire three railways at the same time.
Picture by FUKA KAMATA
Another great spot to visit is the very flat railway on the No. 2 Tadami River Bridge. You can obtain a map at Aizu-Miyashita Station with information on each spot. The station is near the Roadside Station Ozekaido-Mishimajuku, so be sure to use it when searching for it.
After you've taken in these three picturesque spots in Fukushima, return to the Roadside Station Ozekaido-Mishimajuku for a nice meal and relaxation at the restaurant. After warming back up, head to the next destination!

Tsurugajo (Aizu-Wakamatsu Castle)
In the afternoon, how about going back to the area around Aizu-Wakamatsu Station, to resume our quest and move onto the next location? There is a considerable amount of non-railway, beautiful scenery to be seen in winter nearby.
Picture courtesy of (General Incorporated Foundation) Aizu-Wakamatsu Tourism Bureau
Also known as Aizu-Wakamatsu Castle, Tsurugajo Castle is an iconic fixture and symbol of Aizuwakamatsu. This castle is the tallest in all of the eastern Japan area, and it leaves its visitors breathless when they see it up close.
Another trait that sets Tsurugajo Castle apart from others is its unique red roof tiles. They are especially stunning to view in winter especially, when the castle is blanketed in sparkling white snow, making the crimson tiles very dazzling and giving it the whole castle a magical appearance. This is a the trademark of Tsurugajo Castle.

Higashiyama Onsen
Picture courtesy of Higashiyama Onsen Tourism Association
You can reach Higashiyama Onsen by riding a bus from Aizu-Wakamatsu Station for about 20 minutes. The Yukimi Rosoku (Snow-viewing Candle), decorate and light up the snow-covered Higashiyama Onsen. This scene can only be admired during the harsh winter season.
Spend some great time warming up in a hot spring, relaxing, and gazing at the winter scenery.
2. JR Kamaishi Line in Iwate - The Milky Way Winter Railway!
Have you ever heard of the "Night on the Galactic Railroad", a story by the famous Japanese children tales' writer, Kenji Miyazawa? The railroad that inspired him to create the "milky way railroad", spreading across the universe, is found in his hometown in Iwate Prefecture.
Picture by FUKA KAMATA
It takes about 10 minutes by foot from Miyamori Station to reach the Miyamori River Bridge, also known as the Megane Bridge (roughly translated as "Glasses Bridge"). When crossing the bridge, the train appears as if floating in the air, worthy of the "milky way railroad" title. This railroad is the JR Kamaishi Line, which connects Hanamaki and Kamaishi cities in Iwate Prefecture.
You can see the sign for Miyamori Station at the Roadside Station Miyamori, near the Miyamori River Bridge. It's romantic, colorful look will bring to mind the "Night on the Galactic Railroad".
If you visit the roadside station, you can admire a to-scale figure of Kenji Miyazawa with his back turned and the model for the "milky way railroad" heading toward the Southern Cross.
Picture courtesy of Tonoshi Sightseeing Information Center
After the sunset, the charming Miyakawa River Bridge is illuminated, which gives it an even more romantic look. The light-up lasts from the sunset to 22:00, all year round.

3. JR Kitakami Line in Iwate - An Impressive Railroad Crossing the Snow Kingdom
Another railroad in Iwate with spectacular scenery is JR Kitakami Line, connecting Kitakami City to Yokote City in Akita Prefecture.
As soon as you exit the tunnel passing through the heavy snow in Nishiwaga in mid-western Iwate, the ice-covered Kinshu Lake in a winter wonderland will appear in front of your eyes.
The vibrant crimson bridge stands out in the vast white landscape. Many railroad fans and photography enthusiasts visit this spot to capture the beauty in a picture.
Picture by FUKA KAMATA
However, this view transforms and surprises viewers at night. Because the surface of the Kinshu Lake is completely frozen, the light reflects off the surface when the train passes by. The light from the train shines through the pitch-black night brightly like a star.
For further information on this viewing spot, please inquire at the tourism association. You can find it inside JR Hottoyuda Station's Yume Plaza.
Hottoyuda Higaeri Onsen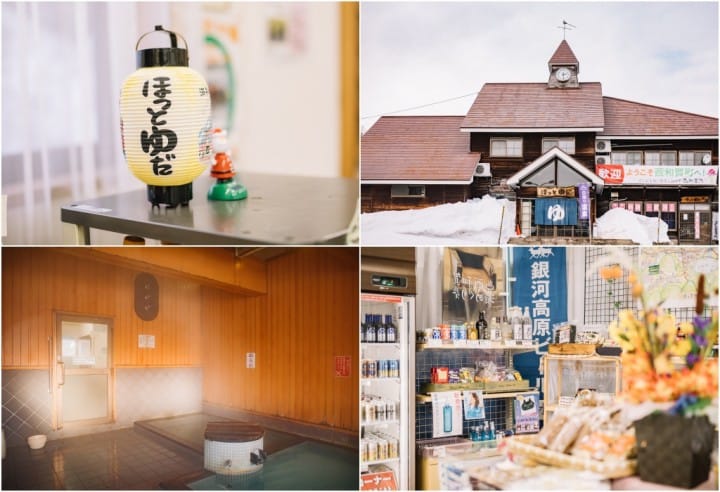 Picture by FUKA KAMATA
As there aren't many trains running on the Kitakami Line, why not using the spare time to relax at the day-use hot springs, Hottoyuda Higaeri Onsen? You can get there directly from JR Hottoyuda Station.
There is a signaling mechanism installed in the bathroom allowing you to check the arrival time of the next train, so you have nothing to worry about! By the way, this signaling light was actually used by the Japan Rail (JR) Company.

Nishiwaga: Yukiakari in Nishiwaga
Picture courtesy of Nishiwaga Society of Commerce and Industry
If you visit Nishiwaga in early February, you can have fun at Yukiakari in Nishiwaga, a special event where numerous candles are lit in the snow, radiating bright yellow light. It is said that the yukiakari festivals originated right here in Nishiwaga.
During the event, the whole city seems to give off a heart-warming light. Take this opportunity to warm up while enjoying the yukiakari atmosphere created by the locals, and enjoy this winter-only Nishiwaga event.
4. Flower Nagai Line in Yamagata - Japan's Oldest Railway Bridge and Flowers
Picture courtesy of Yamagata Railway
Flower Nagai Line has a 105-year old history in Japan. It was formerly known by the name "Nagai-Keiben Line". It started as a small local railway, but it expanded and is now a large, long railway.
The reason why this line has this peculiar name is due to the many mesmerizing flowery spots located along the railway. For the same reason, trains started to be decorated with flower illustrations. Even today, the trains are usually fully covered with lovely floral designs.
One look at the Flower Nagai Line train dashing through the vast white snow will put a smile on your face.
Picture courtesy of Yamagata Railway
One location that is especially impressive along this railway is Japan's oldest railway bridge, the Mogami River Bridge. As soon as you cross the bridge over the Mogami River, you will reach the last station, Arato Station.
The retro railway bridge and colorful flowers appear as if they represent a collaboration between the past and the present. This spot fills the serene wintery landscape with excitement and fun.

Ginzan Onsen
Picture courtesy of Yamagata Prefecture
Now, one popular spot you shouldn't miss when visiting Yamagata Prefecture in winter is Ginzan Onsen, located close to JR Oishida Station. Akayu Station of Flower Nagai Line is also a JR East station, too, so you can board the Yamagata Shinkansen from this station.
It takes about one hour from Akayu Station to Oishida Station. Use the transit or the hotel's shuttle bus to get to Ginzan Onsen.

JR EAST PASS (Tohoku Area): An Easy and Fun Way to Explore the Tohoku Region
Picture courtesy of East Japan Railway Company
If you wish to see these four railways, we recommend the JR EAST PASS (Tohoku Area). This one pass will allow you to travel through the area by Shinkansen, rapid local trains, rapid-transit trains, local trains, and JR buses as much as you want.
For further information on how to purchase a ticket and other things you should know about the pass, please refer to JR EAST PASS (Tohoku Area).
*JR EAST PASS (Tohoku Area) is available to visitors to Japan only. Please note that Japanese citizens and visitors to Japan who do not have a travel visa cannot purchase this ticket.
A 5-Day Travel Itinerary to See the Best Railways
There is a way to make the best out of these four wonderful railways and nearby spots for only 5 days! However, it might feel a bit rushed, so we recommend arranging the trip ideas below to best fit your own plans.
Day 1: Fukushima Prefecture Tadami Line, Tsurugajo Castle (Aizu-Wakamatsu Castle), lodging at Higashiyama Onsen
Day 2: Iwate Prefecture Miyamori River Bridge, lodging in Iwate Prefecture Kitakami City
Day 3: Iwate Prefecture Kitakami Line, onsen at Hottoyuda Station, lodging in Kitakami City
Day 4: Yamagata Prefecture Flower Nagai Line, lodging at Ginzan Onsen
Day 5: Sightseeing at Ginzan Onsen, return home
As trains don't run often on each of the lines, make sure to check the railroad's operation schedule beforehand. Also, if you intend to take photos outside, don't forget to dress appropriately for the weather.
If you plan in advance, we are sure you will be able to take gorgeous photos.
*JR EAST PASS (Tohoku Area) can't be used on Yamagata Prefecture Flower Nagai Line.
Written by Chia
Sponsored by East Japan Railway Company
The information presented in this article is based on the time it was written. Note that there may be changes in the merchandise, services, and prices that have occurred after this article was published. Please contact the facility or facilities in this article directly before visiting.