Sendai And Matsushima Two-Day Trip: Castles, Scenic Views, And Local Treats
This service includes sponsored advertisements.
This article features a two-day trip itinerary in Sendai and Matsushima, two must-visit destinations in the Tohoku region. From historical landmarks to Japanese sweets and local delicacies, there is so much to enjoy in this area of Japan! Use this travel guide for planning a future trip.
Two Days of Travel in Sendai and Matsushima
Sendai, a major city and transportation hub in the Tohoku region, is famed for its historical sites and local cuisine. A half-hour train ride from Sendai is Matsushima, another must-visit city in northern Honshu.
This article features a two-day itinerary for first-time travelers to the area. On the first day, we explore Sendai, and then check out the scenic beauty of Matsushima on day two!
Day 1: Take a Tour of Sendai Sights
To get around Sendai, you can take JR trains, the subway, or local bus lines. If you prefer a whole day of exploring the city, we recommend the one-day pass aboard the local sightseeing bus Loople Sendai. This grants ticket-holders unlimited rides for 630 yen (adult fare). You'll also receive discounts on the museum and restaurants at Sendai Castle and Zuihoden Mausoleum upon showing your ticket.
Purchase the one-day pass at the Bus Terminal Information Center (West Exit) in front of Sendai Station. There, you'll also find Terminal 16, which is where people wait for the Loople Sendai bus.
Morning: Zuihoden Mausoleum
Photo by Pixta
A 15-minute ride from Sendai Station, the Zuihoden Mausoleum is where Date Masamune is enshrined.
Date Masamune was a daimyo during the Sengoku and early Edo periods. Having lost his right eye at a young age, Sendai's then-feudal lord also earned the nicknamed "Dokuganryu" (One-Eyed Dragon). He remains a popular figure among modern historians.
The brilliant main hall is surrounded by a grove of trees. This architectural beauty features elaborate carvings on the Nehanmon, the main gate of Zuihoden. There are other buildings and shrines where descendants of the Date family are enshrined around the main hall, too.
Lunch and Afternoon: Sendai Castle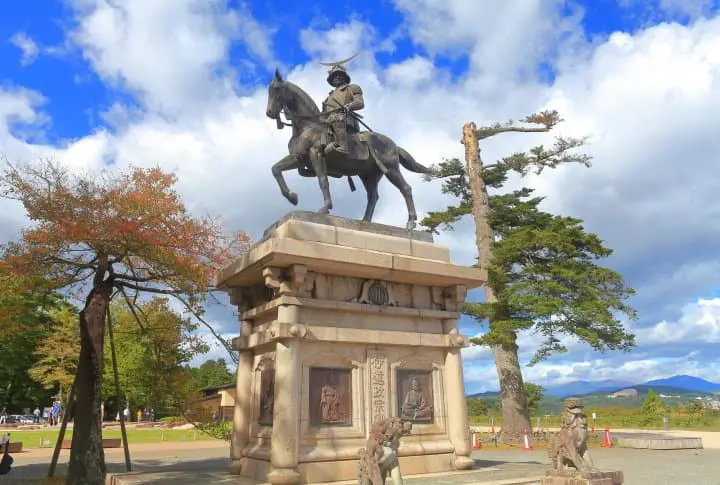 Photo by Pixta
Take the bus from Zuihoden Mausoleum to arrive at the ruins of Sendai Castle within seven minutes. Sendai Castle's construction was commissioned by Date Masamune, but was then lost in a great fire. Although only the stone walls and turrets remain today, the castle grounds are open to the public as a park.
A statue of Date Masamune on horseback stands in the park, as if the feudal lord was still watching over the city of Sendai.
Aoba Castle Museum. Picture courtesy of Aoba Castle Museum
The Aoba Castle Honmaru Kaikan (Japanese) is a facility near the castle ruins that includes a museum and restaurants. Since Sendai Castle was constructed on Mt. Aoba, it's also called Aoba Castle.
For lunch, we recommend the Japanese restaurant Sendai (Japanese). In addition to sushi, soba, and other Japanese dishes, the restaurant serves local Sendai cuisine.
After lunch, rent a pair of virtual reality glasses from Sendai Castle VR Go (Japanese) and take a walk in the park. At designated spots, put on your glasses and experience what the castle looked like 400 years ago.
Apply for your VR Go glasses at the Aoba Castle Museum (Japanese).
Evening: Snack on Desserts at the Shopping District
Our next destination is Vlandome Ichibancho Shopping District, one of the main shopping arcades in Sendai. Take a 40-minute bus ride from Sendai Castle and disembark at Hirose-dori Station. Head to the teahouse Ocha no Igeta (Ichibancho Main Store) when you arrive at the shopping area.
Ocha no Igeta sells a variety of green teas and desserts using matcha and zunda, a type of green soybean paste that is a specialty of Sendai. The store has an eat-in space in the back for guests to enjoy their sweets.
Picture from Ocha No Igeta - Sip Green Tea And Indulge In Local Sendai Sweets!
If you're visiting Sendai for the first time, we recommend ordering the Petit Zunda Parfait. Zunda is a sweetened paste made by mashing edamame beans. The matcha ice cream and zunda mochi (rice cake) create a harmonious blend of flavors.
There are a total of six arcade streets around Vlandome. Immerse yourself in the local culture as you explore the shopping district.


Night: Indulge in Gyutan! Grilled Beef Tongue
Picture from 4 Must-Try Gourmet Japanese Beef Dishes At Sendai's Kisuke!
If you are in Sendai, you must try gyutan: grilled beef tongue. Many restaurants offer this local delicacy, so we suggest asking your hotel staff or lodging host for their recommendations.
Aji no Gyutan Kisuke is a restaurant known for its delicious flavors and expertly-cooked beef. As such, their tender, juicy gyutan impresses all who try it. You can also order gyutan appetizers and savor them with some local sake.


Where to Stay in Sendai
ORIT
Picture courtesy of ORIT
Looking for an accommodation near Sendai Station? We recommend ORIT, which is only four minutes on foot from the station. Opened in 2018, ORIT is a minimalistic, yet stylish guesthouse. You will find the check-in desk on the first floor, as well as the in-house cafe and bar.


Keyaki Guesthouse
Picture from A Comfortable Stay At Keyaki Guesthouse, Sendai - Traditional And Friendly Lodging
Looking for a night out on the town? We recommend Keyaki Guesthouse on Kokubuncho-dori, an entertainment district with a number of local bars. Renovated from a traditional Japanese home, this lodging facility has a warm, relaxing atmosphere. The welcoming staff are ready to assist and make you feel like you're staying at your best friend's place.


Day 2: Marvel at the Scenic Beauty of Matsushima
On our second day, we'll travel to the charming town of Matsushima, boasting what is considered to be one of Japan's three most scenic views. To get to Matsushima, take the JR Senseki Line from Sendai Station. You will arrive at Matsushima-Kaigan Station within 30 minutes.
Morning: Cruising Around Matsushima Bay
Photo by Pixta
About a six-minute walk from Matsushima-Kaigan Station, the Tourist Port (Kanko Sanbashi Pier) is where you can take a ferry (Japanese) to cruise around Matsushima Bay. You'll spot some 260 islands dotting the bay while onboard.
Our recommendation is the 50-minute Niomaru Course around Matsushima Bay. Feel the sea breeze as you take in the breathtaking scenery. The fare is 1,500 yen per adult.
We also recommend checking out Godaido Temple on one of the small islands. Known as sukashibashi, this vermilion bridge has a gridded structure where glimpses of the ocean water can be seen through the gaps. Just be careful not to fall between the boards as you cross.
Lunch: Santori Chaya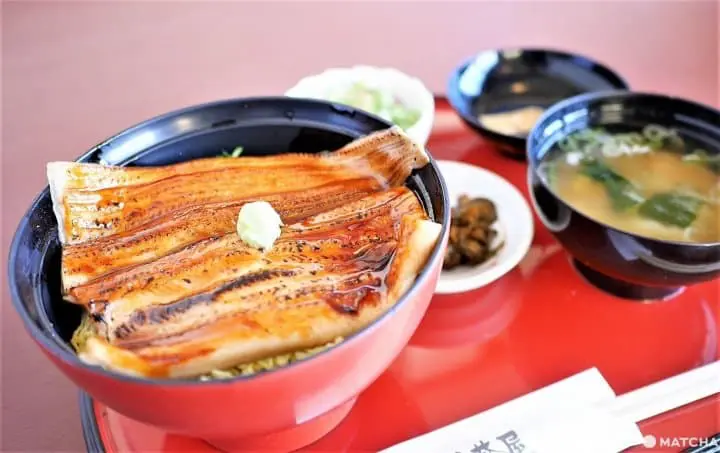 Picture from Delicious Seafood At Santori Chaya, Matsushima - Local Food And Drink In Tohoku
Sampling the seafood is a must when visiting Matsushima! At Santori Chaya, you can savor dishes made from fresh seafood and locally grown vegetables.
The anago (conger eel) bowl is perfect for the summer season. The soft, fluffy texture of the sea eel is a true delight! Oysters, on the other hand, are a winter delicacy of Matsushima. Shellfish harvested from Matsushima Bay are said to be more nutritional than the average oyster.


Afternoon: Zuiganji Temple and Entsuin Temple
Let's visit Zuiganji Temple and Entsuin Temple after lunch.
Zen temples are typically characterized by their minimal embellishments, such as ink-wash paintings. However, Zuiganji Temple has a luxious room in the main hall decorated in delicate gold leaf. This embellishment was apparently commissioned by Date Masamune as the Date family temple.
The rooms of the Date family and the samurais are lavish, but the tea and meditation room are adorned in traditional ink-wash paintings.
Photo by Pixta
Located next to Zuiganji Temple, Entsuin Temple enshrines the spirit of Masamune's grandson, Mitsumune. The spectacular seasonal colors and blooms can be admired in the four inner gardens. Autumn, especially popular among visitors, is when illumination displays and concerts are held.
Additionally, you can make DIY prayer beads using colorful gemstones and glass beads. Take home one-of-a-kind memorabilia during your trip!
Evening: Sweets and Senbei Rice Crackers
Picture from Shokado Confectionery - Delight In Matsushima's Classic Japanese Sweets
If you're tired after all the sightseeing, why not take a break at a local cafe? Right near the boarding dock, Shokado Confectionery makes quality castella sponge cakes and pudding. The large window inside the store offers sweeping views of Matsushima Bay. Enjoy this lovely scene, regarded as one of Japan's top three scenic sights, as you leisurely savor your local dessert.
The first floor is where you'll find Yukitakeya, a souvenir shop famed for its senbei (rice crackers). There are a plethora of appealing products, from freshly-made senbei to Japanese crafts.
Once you've purchased your souvenirs, our brief visit to Matsushima will come to an end. Now, let's take the train from Matsushima-Kaigan Station back to Sendai.
Sendai and Matsushima: Charming Destinations that will Beckon Another Visit
Sendai, with its stylish cafes and boutique shops, and Matsushima, boasting a scenic bay and mesmerizing views, cannot be experienced in one trip. Please use this travel itinerary as inspiration when planning your next visit to these charming destinations––whenever that may be!
Main photo by Pixta
Written by

MATCHA editor and freelance writer. Born, raised, and currently living in Tokyo. Have visited over 30 countries and lived in four different prefectures. I have traveled to almost all 47 prefectures in Japan! I try to create articles that help convey the charms of a destination through words and pictures. I love forests, temples, and camels.

The information presented in this article is based on the time it was written. Note that there may be changes in the merchandise, services, and prices that have occurred after this article was published. Please contact the facility or facilities in this article directly before visiting. Some of our articles contain affiliate links. We kindly ask our readers to exercise careful judgement when making a purchase or booking a service online.
Top Articles
There are no articles in this section.