A Guesthouse Near Sendai Station! ORIT Hostel & Cafe + Bar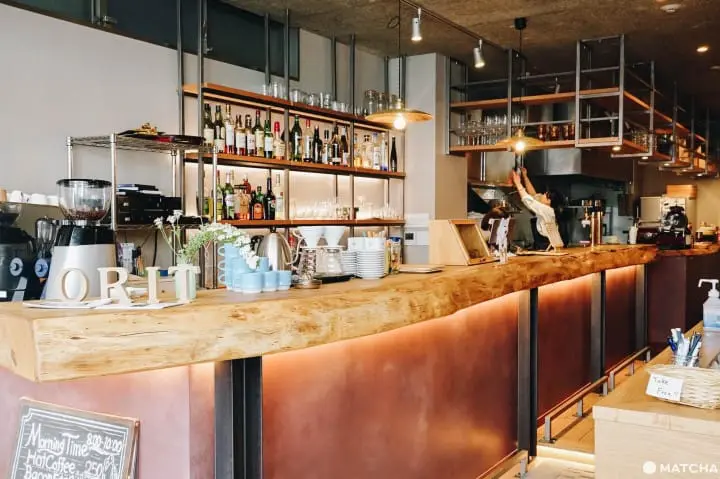 Sendai Station, just one hour and a half from Tokyo, is a major hub in northern Japan, offering access to World Heritage site Chusonji Temple or Hirosaki Castle. ORIT Hostel is a convenient lodging just 4 minutes away from Sendai Station.
ORIT Hostel – A Practical Lodging in Sendai
The Tohoku region (Northern Japan) is home to sightseeing spots like Chusonji Temple in Iwate, a registered World Heritage Site, Hirosaki Castle in Aomori, which is famous for its cherry blossoms, and Zao, on the border of Yamagata and Miyagi, which is known for frost-covered trees.
Sendai— just one hour and a half away from Tokyo via the Shinkansen (bullet train) — is the central hub for sightseeing in Tohoku.
ORIT is a guesthouse located four minutes on foot from JR Sendai Station. Opened in July 2018, this guesthouse is based on the idea of creating "a place that not only connects Tohoku with the world, but also creates interactions among people."
ORIT's Café+Bar – Creating Interactions among Guests
A recommended feature of ORIT is their café and bar located on the first floor. It operates as a café in the mornings and afternoons then converts to a bar in the nighttime.
The bar counter is made from a single log of a walnut tree and creates a warm atmosphere. This is just one example of the owner's attention to detail. Located on the opposite side of the counter are the café seats.
Picture courtesy of ORIT
These tables, which seat up to two people, were originally one large table which was cut and separated into several counters in 2019. You can enjoy a private conversation with just two people or join all the tables together to use it as an entire group. This is ORIT's unique method of dealing with the various interactions between its guests.
Picture courtesy of ORIT
Guests can eat their breakfast here. Pictured above are scrambled eggs, a coarsely ground sausage, salad, and natural yeast bread (600 yen with tax). It's a simple but filling breakfast that we recommend if you'll be heading out in the morning to walk around the city.
They also sell snacks like muffins and cookies at the counter. During the dining and bar hours from 17:00 to 24:00, you can purchase alcoholic beverages and appetizers.
Menu items and prices change depending on the season. There are also vegan or gluten-free snacks available, so please inquire with the staff if you're interested.
Regular customers can also use the café and bar even if you're not staying as a guest. Cooking classes and other events are also held in this space.
A Women-Only Floor!
The second to fourth floor is reserved for ORIT's guest accommodations. Rooms are available in three styles: a dormitory, twin room, and double room. The third floor is a women-only floor, which is reassuring for solo female travelers or girls' trips with friends.
The guesthouse also has a kitchen equipped with a refrigerator where you can cook for yourself. There is also a coin laundry machine where you can wash your clothes. We would also recommend this accommodation for those planning a long-term stay.
A Friendly Reception for International Guests
When you open the glass doors on the first floor, you'll immediately see the reception desk. First, tell them the name your reservation is under.
Picture courtesy of ORIT
Pictured above is Ms. Yamauchi, a staff member. She previously studied abroad in Germany and is very friendly with guests. After you're finished at the reception, you will be given an explanation on how the guesthouse is used.
The guesthouse area is entirely fitted with combination locks. They will teach you the combination at this time.
An Elevator for Your Luggage
ORIT is equipped with a baggage-only elevator, which is something quite rare in a guesthouse. ORIT's building was originally the office of a wagashi (traditional Japanese sweets) shop. This elevator is apparently from the time it functioned as an office.
Use this elevator to transport your heavy backpacks and suitcases up to the lodging floors. The staff will teach you how to use the elevator when you check-in.
Dormitories with Key Locks
The guest accommodations are composed of a co-ed dormitory on the second floor, a women-only dormitory on the third, and twin or double rooms on the fourth. This time, our writer stayed in the dormitories on the third floor.
On the third floor, there will be a combination lock at the floor entrance. Inside, there are two shower rooms and toilets.
The wooden dormitory beds are clean and feel spacious when lying down. The fact that there are two electrical outlets at your bedside is also a nice feature.
There are also lockers with keys inside the dormitory. Inside, you'll find hangers and house slippers. You can hang your clothes and place your shoes inside these lockers.
User-Friendly Communal Facilities
On the fourth floor, there are various communal facilities that all guests can use.
Clean Shower Rooms, Sinks, and Toilets
There are three bathroom sinks and two shower rooms at ORIT. Towels can be rented for 150 yen.
A Kitchen for You to Cook Your Meals
Picture courtesy of ORIT
The fourth floor is furnished with a kitchen and refrigerator. The Sendai Morning Market is open every day from 8:00 to 18:00 near ORIT. At the market, you can purchase fresh fruit and vegetables and have fun making your own meals.
In front of the kitchen is a free space where you can eat or do computer work.
Picture courtesy of ORIT
Outside is the balcony. We recommend relaxing out here on sunny days.
Easy to Use! The Coin Laundry Machine
Picture courtesy of ORIT
A coin laundry machine can also be found on the fourth floor and costs 100 to 400 yen for one cycle. It also has a drying function.
Advice for Traveling in Tohoku
The name "ORIT" comes from "oriito" or weaving yarn in Japanese. This naming is filled with the desire to connect travelers together like threads that are woven together.
The logo was also designed based on the image of connecting people and regions together by a thread. This is based on the concept of "creating journeys filled with happiness where people gather, relax, and enjoy life."
This design, which is composed of dots connected by threads, is also used in the labels and pictograms inside the guesthouse. It's a fun activity to search for them as well!

At ORIT, you can count on asking for advice from those that are planning to travel through Tohoku—perhaps even growing cordial in the process. Definitely try to stay at this guesthouse at the start of your travels in northern Japan.

In cooperation with ORIT

The information presented in this article is based on the time it was written. Note that there may be changes in the merchandise, services, and prices that have occurred after this article was published. Please contact the facility or facilities in this article directly before visiting.