Delicious Seafood At Santori Chaya, Matsushima - Local Food And Drink In Tohoku
Matsushima in Miyagi Prefecture is a travel destination in northern Japan known for seafood. You can find seasonal dishes like oysters and salt-water eel, year-round. Santori Chaya specializes in the local flavors of Matsushima, including Japanese sake.
Scenic Views And Clear Blue Sea
Matsushima is in Miyagi Prefecture, about a 30-minute train ride from Sendai Station in northern Japan. It is a travel destination well-known for the picturesque Matsushima Bay. The sea is gorgeous during the day and the sight of the moon is breathtaking at night. Due to this, Matsushima is also known as one of the Three Views Of Japan.
In addition to its scenery, Matsushima is also known for its seafood.
In this article, we will be introducing to you Santori Chaya, a restaurant specializing in Matsushima cuisine. Customers can appreciate the stunning seascape during lunch and enjoy socializing over dinner. Santori Chaya is the place to create travel memories when you visit Matsushima!
Locally Grown Ingredients from Miyagi Prefecture
Santori Chaya is about a 10-minute walk from Matsushima-kaigan Station. From the train station, walk along the coast towards Fukuura Shima (*1) and you will find a two-story building, opposite a wide parking space, with a purple noren at the entrance.
The Majority of the ingredients used, such as fish and vegetables, are grown locally in the prefecture. Some of their menu items include a tuna rice bowl set meal, sashimi to go with your alcohol, tempura, and sea urchin with salted salmon roe. The menu changes daily, so ask the staff for recommendations when you order!
Let's take a look at three dishes that you should try when in Matsushima!
*1: Fukuura Shima: Island located at the East side of Matsushima Bay. The 252 metres long vermilion bridge that connects the island to shore is one of Matsushima's main tourist attraction.
1. On the Summer Menu! Salt-Water Eel Rice Bowl Set Meal - Only 20 Servings A Day
The salt-water eel rice bowl set meal (1,730 yen including tax) comes with miso soup, salad and oshinko (*2). Salt-water eel is similar to the eel used in many dishes such as tempura and sushi.
This dish is available all year round. However, it is limited to 20 to 50 servings a day.
The salt-water eel is soft and fluffy. The combination of salt-water eel, rice, eggs, and cucumbers creates a refreshing flavor. The eel goes well with the sweet and spicy sauce and wasabi, which gives it a clean flavor.
The best season for this menu item is between June to October, and is a dish you cannot go without during summer.
*2: Oshinko: Pickled vegetables with a light flavor. They are served as a side dish to complement dishes with rich flavors.
2. Grilled Oysters For Winter
We recommend oysters if you are planning to visit Matsushima between October and March! The staff told us that, "Oysters from Matsushima Bay are filled with more nutrients than oysters from other regions of Japan."
Oysters protect themselves in rapid sea currents by releasing nutrients to their shells. Due to the steady current at Matsushima Bay, there are many nutritious oysters.
The prime season for these oysters is between January and February. This is when the temperature of the seawater decreases, which intensifies the umami flavor and fragrance of the fresh seawater in the shellfish.
For 660 yen (including tax), customers can indulge in two grilled oysters with a squeeze of lemon.
3. Exquisite Seasonal Ingredients - Tempura Set
Fish is delicious with rice, grilled or as tempura. Customers can enjoy seasonal tempura for 1,280 yen (including tax). During our interview, we were served seasonal seafood items such as salt-water eel, squid, shrimp, and seasonal vegetables such as pumpkin. In winter, oysters are served instead of squid.
Tempura can also be ordered in the tempura set meal (1,420 yen including tax) which comes with miso soup, salad, and oshinko.
Picture courtesy of Santori Chaya
We recommend a glass of Miyagi Prefecture's Japanese alcohol to go with dishes such as oysters, tempura or sashimi. Ask the employees for recommendations on seasonal food and beverage pairings.
Different Seating Depending on the Time of Day
The restaurant has two levels. There are counter seats on the first floor and table seatings on the second floor.
Choose Window Seats With a View for Lunch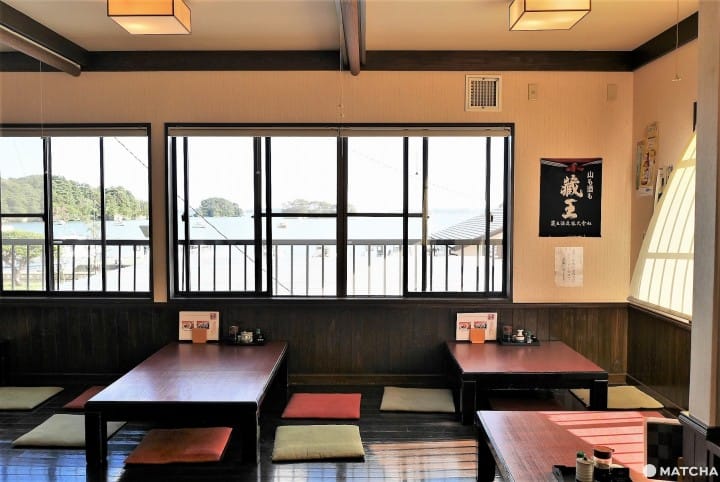 We recommend customers dine on the second floor during lunch time. It is spacious and has many windows that offer sweeping views of Matsushima Bay.
The restaurant's decorations are also noteworthy. The black aprons on the wall were used by Kuramoto (*3). As the local sake brewery association meets here, the restaurant has close relationships with the local sake breweries.
Hung in front of the kamidana (*4) is a gift from a loyal customer. It is made of three pieces of paper cut into complicated shapes and designs. This gift is a valuable ornament used at Shinto shrines and is not usually found in Miyagi Prefecture.
*3: Kuramoto: Someone who manufactures and sells sake.
*4: Kamidana: An altar made to worship Shinto gods. It is bright, clean, and made in places to gather customers.
Socialize at Counter Seats During Dinner
Picture courtesy of Santori Chaya
On the first floor, there are counter seats where the chef prepares food before the customers. Counter seats are recommended for those interested in socializing during dinner. Many regulars like socializing, so they are always seated at the counter seats.
Although not everyone is not able to communicate in English, they try their best to talk and be friendly with all guests.
A Cozy Restaurant
Owner Goto-san and his family

Santori Chaya is a cozy, local restaurant managed by owner Goto-san and his family. Born and raised in Matsushima, this family offers a glimpse of the authentic food culture, charm and inside stories of Matsushima.

Visit Santori Chaya for a local gourmet experience!

In cooperation with Santori Chaya

The information presented in this article is based on the time it was written. Note that there may be changes in the merchandise, services, and prices that have occurred after this article was published. Please contact the facility or facilities in this article directly before visiting.