Kagoshima Guide 2020 – Must-Visit Spots, Food, And Travel Tips
Sakurajima, Ibusuki Onsen's steamy sand baths, alluring remote islands, and amazing local gastronomy come to mind when you think of Kagoshima! This comprehensive guide introduces the best places to visit, food to enjoy, and access information.
Kagoshima – A Place You'll Want to Visit More than Once
Fresh seafood, amazing local cuisine, unique hot springs, invigorating nature, and warmhearted locals are synonymous with Kagoshima.
One trip is all it takes to want to visit again. Kagoshima has many repeating visitors who come for its unwavering charms. We'll introduce these very charms in the article below.
Kagoshima - Location in Japan

Kagoshima is located in southern Kyushu.
Sakurajima, a symbolic landmark of Kagoshima, can be seen towering over the central downtown area of Kagoshima. Some typical areas to visit include the Kirishima area, where you'll find the Kirishima hot springs, and the Ibusuki area known for its sand baths. Take either a ferry or plane from the main island of Kyushu and you'll also be able to access remote islands such as Yakushima and Amami Oshima.
We'll introduce our selection of places to visit—including Yakushima and Amami Oshima Island—along with things to do in Kagoshima.
Table of Contents:
1. Sakurajima – The Symbol of Kagoshima
Picture courtesy of K. P. V. B
First let's start with Sakurajima, the undeniable symbol of Kagoshima. It is an active volcano that is visible everywhere in Kagoshima City.
Small eruptions occur almost every day on Sakurajima, with over 1,000 eruptions a year depending on the time period. Although volcanic eruptions are an everyday occurrence, it neither has any effect on sightseeing nor traffic.
The view around an observatory on Sakurajima. The volcanic ash is so thick that you can easily leave footprints
Volcanic ash rains incessantly down on the town depending on the time period. However, Kagoshima residents are accustomed to it. They'll casually comment, "Sakurajima is full of energy today," and go about their lives with the active volcano close to them.
When you're watching TV in Kagoshima, the day's volcanic ash forecast will play during the weather broadcast because the ashes' direction will change every season. Those visiting Sakurajima and the neighboring areas should take preventive measures such as preparing a hat and not wearing contacts.
Access to Sakurajima Island
While Sakurajima can be seen from several places, including the higher grounds in Kagoshima, you can actually travel to the volcano.
It is accessible from the Kagoshima Port Ferry Terminal and you'll arrive in fifteen minutes (160 yen). If you're feeling a little hungry, then try the Kaku Udon (450 yen), a famous dish offered at the udon shop Yabukin (Japanese) located inside the ferry terminal. Satsuma-age (explained below), another Kagoshima specialty, will be served on top of the noodle soup. Since it's served right away, you can eat it within the fifteen-minute timeframe.
The loop bus called Sakurajima Island View (Japanese) has a terminal right next to Sakurajima's ferry terminal. It travels around Sakurajima's major spots, including the observatory, in approximately one hour (500 yen).
Shiroyama Observatory – Option One For Optimal Sakurajima Viewing
Picture courtesy of K. P. V. B
Shiroyama Observatory is one spot in Kagoshima where you can get a nice view of Sakurajima. On clear days, please head to this spot to observe the volcano. The observatory is about a three-minute walk from Shiroyama bus stop, where sightseeing buses operating in the city (refer to the end of the article for details on the sightseeing buses) run.
The observatory can also be reached in a 20-minute walk up the mountain path from downtown. Give it a try if you're physically fit and feeling up to the task. It feels great to trek through the forest when you're in the mood for hiking.
Arimura Lava Observatory – Option Two for Optimal Sakurajima Viewing
Take note that the observatory is located near the volcanic crater and ashes will fall during the winter
This is the Arimura Lava Observatory situated on Sakurajima.
It is also where "Segodon," an NHK historical drama that was broadcasted in 2018, shot its main visual posters. It might even be a great idea to mimic the pose of Ryohei Suzuki, the lead actor, jumping with Sakurajima in the background when snapping a photo.
Head here by car rental or taxi when planning a visit because the observatory is not included on the Sakurajima Loop Bus's route.
Rental car service with pickup at Kagoshima Airport is available via Klook: Click here to see details and book

2. Ibusuki Onsen – Enjoy Sand Baths
You must visit the sand baths during your Kagoshima sightseeing along with Sakurajima. While they may be called hot springs, you don't soak in hot water. Instead, your entire body warms up after it's buried in sand that has been heated by an underground hot spring.
The process is simple. Proceed to the sand bath facility to rent their special yukata (bathrobe). As you move to the beach, you'll be accompanied by a staff member. Once there, all you have to do is lie on the sand. The staff will cover you with sand, leaving your body to gradually become nice and warm.
Sand baths are said to have a detoxifying effect. During your ten minutes submerged in the sand bath, you will have a steady stream of sweat and feel as if excess waste is exiting your body.
Be sure to replenish yourself with plenty of water before you begin as you will be sweating profusely in the baths. The sand will also add some pressure on your heart, so please refrain from this activity if you're in poor physical condition.
Sand baths are found in the Ibusuki area in southern Kagoshima. It's best to travel here by train or bus because it's far from the city. The baths can be experienced at locations such as Saraku and Sayuri.
3. Spots to Visit from "Segodon"!
Takamori Saigo statue. Picture courtesy of K. P. V. B
When talking about one of the famous figures in Kagoshima, then surely Takamori Saigo comes to mind. Takamori Saigo was active during the nineteenth century and has a hero-like existence in Kagoshima. He also happens to be the main character in the historical drama "Segodon."
During the late Edo period, all kinds of chaos occurred throughout Japan and the country fell into unrest. Then, the Edo shogunate (*1) that governed Japan at the time was overthrown in 1868, thus giving birth to the new Meiji government. Takamori Saigo was the sole figure who led the revolutionary movement and a series of reforms called the Meiji Restoration. He continues to garner respect from people till this day as an ideal leader.
You can thoroughly learn about the historical period Takamori Saigo lived in at the Museum of the Meiji Restoration.
*1 Edo Bakufu: a regime reigned by the Tokugawa family between 1603 – 1867. It was founded by Tokugawa Ieyasu, the first shogun (feudal lord), and continued to be under their control until Tokugawa Yoshinobu, the fifteenth shogun, returned the government to Emperor Meiji.
Potato chips featuring a design of Saigo's face on its entire packaging
You'll encounter goods and illustrations of Takamori Saigo's face throughout the city while walking in Kagoshima.
Sego Latte (Nanshu)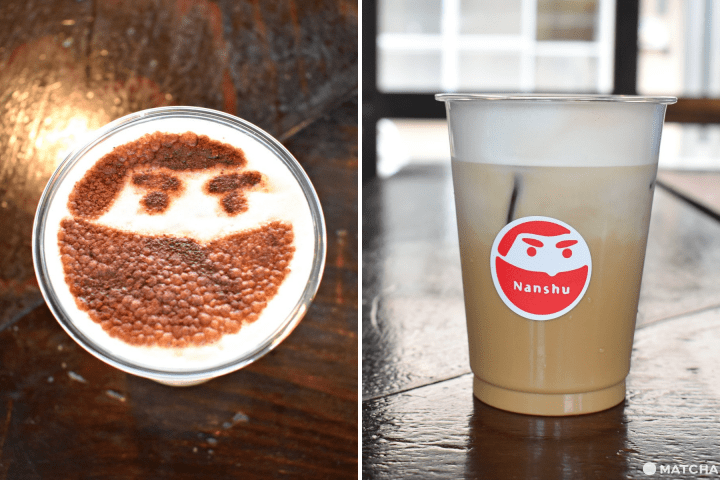 The cutest of them all just might be this Sego Latte! This café latte, decorated with Saigo's face, can be found at Nanshu. The café latte is 400 yen and the matcha latte is 450 yen (both including tax).
Nanshu is a café found in the corner of Nanshu Shrine. This shrine is where Takamori Saigo is enshrined and, on the same grounds, is where his tomb is located. This land has an extremely deep connection to Saigo.
You can find countless original products, all marked with a Saigo motif, at Nanshu. You can also get your hands on adorable souvenirs that can only be found here!
4. Senganen – Kagoshima's Famous Japanese Garden
Picture from 8 Things To Do In Sengan-en, Kagoshima: Gardens And Samurai Houses
Senganen, a signature Kagoshima spot, is a Japanese garden that must be visited during your Kagoshima sightseeing.
Built by Mitsuhisa Shimazu, who ruled over Satsuma in 1658 during the Edo period, it was once used as a villa for the Shimazu family. Currently, the gardens and a portion of the buildings from that period are preserved and open to the general public as Sengan-en.
Picture from 8 Things To Do In Sengan-en, Kagoshima: Gardens And Samurai Houses
Senganen also became a filming location for "Segodon." Suzumon, pictured above, is the gate where actor Ken Watanabe traveled through in the drama. Mr. Watanabe portrayed Nariakira Shimazu, the 28th head of the Shimazu clan.
Additionally, Senganen was not only the filming location for "Segodon", but also was featured in another historical drama titled "Atsuhime" (aired 2008). It's certainly a spot drama fans won't be able to resist.

Starbucks Coffee Kagoshima Sengan-en
Picture from Starbucks Coffee Kagoshima Senganen – One-of-a-Kind Café And Scenery!
When you visit Sengan-en, stop by the trendy Starbucks next to the gardens as well. This location, a remodeling of a building owned by the Shimazu family, is officially registered as a Tangible Cultural Property. You can even see Sakurajima from the cafe windows on clear days!

5. Taste the Amazing Local Cuisine!
The local cuisine is something you should definitely try in Kagoshima. This prefecture is not only blessed with the bountiful sea and nature but is also a treasure trove of delicious food that can only be found here.
Berkshire Pork
Berkshire Pork Tonkatsu. Picture from 8 Things To Do In Sengan-en, Kagoshima: Gardens And Samurai Houses
Berkshire pork is a Kagoshima specialty. The Berkshire pigs raised in Kagoshima are sweet and have a strong, juicy flavor. Because the heritage breed's fat melts at a high temperature, it also has a refreshing taste without being sticky.
Berkshire pork shabu-shabu is a dish made with this breed of pork you should definitely try. It can be enjoyed at the popular restaurant Ichinisan.
After dipping the Berkshire pork in boiling water, you should eat it with the special dipping sauce. Shabu-shabu is normally eaten with either a ponzu or sesame dipping sauce, but they use a special sauce made with Kagoshima-produced soy sauce and dried bonito flakes at Ichinisan.
The tender Berkshire pork exquisitely paired with the gentle flavors of the special dipping sauce will have you eating it up in a flash.
Once you've eaten most of your meal, have some soba (buckwheat noodles) in the dipping sauce. Soba eaten with the sauce, flavored with the Berkshire pork, is the best!
Satsumaage
Picture from Kagoshima's YORU ILCA – Everything Is 300 Yen At This Izakaya!
Satsumaage is a local Kagoshima specialty known across Japan.
Satsuma-age is minced fish deep-fried in oil that has a tender texture and faint sweetness when eaten. There are many variations of the delicacy available, including fishcakes made with mixed vegetables and some having a tinge of spice.
Although satsuma-age is also sold in supermarkets in other regions in Japan, Kagoshima's satsumaage is seasoned with a slightly sweet flavor. It goes very well with shochu, a famous Kagoshima liquor.
Shirokuma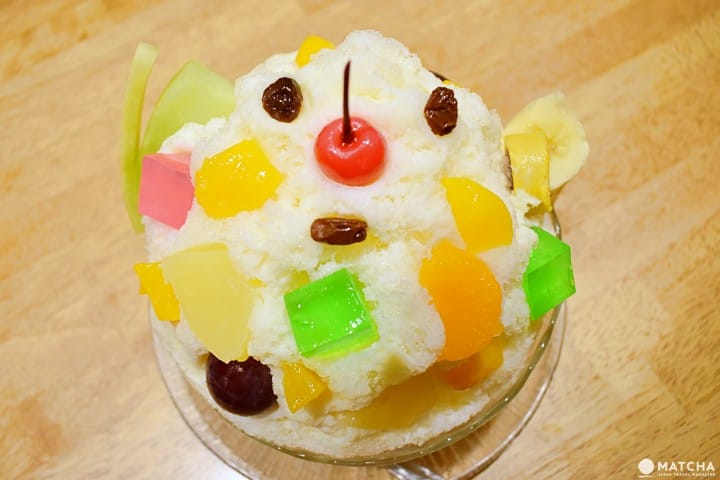 Picture from Adorable Polar Bear-Shaped Dessert – Shirokuma Shave Ice In Kagoshima
Shirokuma is a sweet that originated in Kagoshima. It is a type of shave ice eaten in Japan decorated with generous amounts of fruits and distinctly covered in condensed milk.
It gets its name from having similar features to a polar bear ("shirokuma" in Japanese) and is now a well-known sweet across Japan. Tenmonkan Mujaki—located in Tenmonkan, a shopping district in the Kagoshima city center—is the flagship store where shirokuma was first created.
6. The Unique Kirishima Onsen: Natural Mud Baths and Giant Springs
Kirishima Hotel's Gigantic Baths
Picture courtesy of Kirishima Hotel
Kagoshima is the country's leading hot spring region with many of these hot springs found in the Kirishima area.
Kirishima Hotel is where you can enter giant, theme-park-like hot springs. The Large Garden Bath pictured above—useable on a day trip even if you're not a hotel guest—is 25-meter deep, gushes out 50 drums of hot water per minute, and is an extremely impressive bath.
Because the baths are unisex, we recommend a visit for those with children or traveling as a couple. Enter the waters wearing a bath towel. Hotel guests should note that the baths become available for women only from 19:30 to 22:00.
Sakura Sakura Hot Spring's Mud Baths
Picture from Sakura Sakura Hot Springs, Kagoshima – Try A Relaxing Natural Mud Bath
Kirishima's Sakura Sakura Hot Springs is where you can experience the unusual "mud baths." Alhough it is called a mud bath, the mud used isn't actual mud. Instead, it is a sediment that contains an abundance of hot spring properties collected at the bottom of the water sources owned by the facility.
Your skin will become smooth and shiny thanks to the mud's hot spring properties. Simply place it on your hands and body, then rinse it off! Please give these hot springs a try—you can certainly expect a beautifying effect.

Recommended Kirishima Spots: Kirishima Shrine
Picture courtesy of K. P. V. B
If you'll be in the Kirishima Onsen area, you should also stop by Kirishima Shrine—one of Kagoshima's best spiritual spot. The shrine that was established in the sixth century is dedicated to Ninigi-no-Mikoto, a character in Japanese mythology who is the main enshrined deity.
Its current main building was constructed in 1715. The scarlet inner sanctuary, which is registered as an Important Cultural Property of Japan, has a dignified appearance.
7. Recommended Shopping Spots in Kagoshima
Tenmonkan
Tenmonkan was the first to earn fame as a Kagoshima shopping area. It is located in the city center and is home to several restaurants serving Kagoshima dishes and souvenir shops to meet a wide range of needs.
If you're looking for a commercial facility with a variety of tenants, then we recommend Maruya Gardens and Yamagataya. Maruya Gardens (photo upper right), wrapped with greenery outside, is a shopping mall containing the general goods store LOFT and various brand shops.
Yamagataya (photo upper left) is a well-established department store loved by the locals with a profound exterior that draws the eye.
Although not shopping locations, there are tons of other interesting spots near Tenmonkan. Retroft Chitose (bottom left) is a fashionable complex building with a used bookstore, café, and hotdog store inside. Meizanbori (bottom right), which has been seizing the spotlight in recent years, is an area where small izakaya (Japanese pubs) and bars have gathered near Meizancho. While it's quiet in the afternoons, the area comes to life at night.
8. Kamafuta Shrine – A Little-Known Photogenic Spot
Picture courtesy of K. P. V. B
If you want to go to a unique spot, how about visiting Kamafuta Shrine? Its official name is Itatetsuwamononushi Shrine, but it is commonly known by its nickname Kamafuta Shrine.
"Kamafuta" refers to the lid used when cooking rice. Many pot lids have been left next to the shrine's worship hall. It's said that balancing the lid on your head and walking from the torii gates to the worship hall without it falling will make your wish come true.
Many professional athletes visit this shrine before the Olympics or tournaments to pray for victory as the guardian deity of competitions is enshrined here. The shrine is located in southern Kagoshima, so it would be great to visit together with Ibusuki Onsen.
The Ei Area – Visit Alongside Kamafuta Shrine!
Bandokorobana Nature Park in Ei. Mt. Kaimondake is the mountain seen to the left
An area called Ei, neighboring Kamafuta Shrine, is a place where time moves slowly with an old townscape enclosed by stone walls and beautiful nature. There are also amazing scenic spots such as Bandokorobana Nature Park, where Mt. Kaimondake can be seen possessing a shape as beautiful as Mt. Fuji.
Top photo is Futatsuya, bottom photo is Fukunoya. Picture courtesy of Futatsuya, Fukunoya
Ei—where beautiful seas, nature, and traditional townscapes still remain—has been gaining spotlight in recent years resulting in the construction of new accommodations. Guesthouse Futatsuya and Fukunoya, a first-class lodging rental opened in 2018, have both been renovated from old Japanese homes by the younger generation in an attempt to liven up Ei. These guesthouses are facilities and sites where you can directly experience the lives of the locals.
Activities are also organized by the lodgings. At Futatsuya, you can experience SUP ("standup paddleboarding"/ summer only) in the beautiful rivers and seas that run through Ei. At Fukunoya, they have prepared a complete set of programs (reservation only) such as walking the streets of Ei, strolling and having a picnic in a tea plantation, or corn harvesting according to the season.
9. Chiran Samurai Residence Complex – Kagoshima's "Kyoto"
Picture courtesy of P. K.N
Chiran Samurai Residence Complex is known as Kagoshima's "Little Kyoto." Samurai residences preserving the elegance of the Edo period line a path in the complex and measure 700 meters in length. The inside of many of these residences have been opened to the public, making it possible to tour its unique gardens. There are also restaurants, cafes, and general goods stores in the area so let's enjoy a stroll.
Chiran was also where the Special Attack Unit base was located during World War II. Many young people who left from here lost their lives. The Chiran Peace Museum, a place that passes down this history, can also be found here.
10. Yakushima, Amami Oshima, Koshikishima Islands
Yakushima: Explore the World of Hayao Miyazaki
Shiratani Unsui Gorge. Picture courtesy of K. P. V. B
If you want to come into direct contact with Mother Nature, then how about a visit to Yakushima?
Yakushima is known for having rich nature—including "yakusugi" or Japanese cedar over 1000 years old—with 90% of the island being made up of forests. Approximately 20% of the land that covers the island's surface area is registered as a UNESCO World Heritage site.
Access to Yakushima is possible through two methods: plane or ferry. It takes about 35 minutes from Kagoshima Airport by plane, while the fastest speed by ferry from Kagoshima Port Ferry Terminal takes one hour and 45 minutes to arrive on Yakushima.
Jomon Sugi. Picture courtesy of K. P. V. B
There are many yakusugi over 1,000 years old that grow in the mountainous parts of Yakushima, but the most famous cedar tree is the Jomon Sugi. Discovered in 1966, it is said to be around 2,000 to 7,200 years old. To see the Jomon Sugi, you will need to wake up at 4:00 in the morning and trek for eight hours.
If you think that's a bit tiring for you, then we also recommend Yakusugi Land or Shiratani Unsui Gorge, where you can stroll through with comparative ease. Shiratani Unsui Gorge was the model for "Princess Mononoke," a Studio Ghibli animated film, and exudes a wondrous atmosphere.
There are guesthouses and even restaurants where you can eat fresh seafood scattered around Yakushima. There are also buses, but they are few in number. Due to the island being so expansive, we recommend traveling by car rental if possible.
Amami Oshima: An Island with Untouched Nature
Picture courtesy of K. P. V. B
If you have extra time, how about visiting Amami Oshima? This remote island, also referred to as the "Oriental Galapagos," is brimming with untouched nature such as beautiful cobalt blue beaches, coral reefs, and mangroves.
It takes one hour by plane from Kagoshima. Flights also depart from other areas such as Tokyo. If traveling by ferry from Kagoshima, it will take eleven hours; the ferry will leave depart at night and arrive early in the morning the following day.
Koshikishima: Where Time Moves Leisurely
Koshikishima is a remote island that is a niche spot in Kagoshima sightseeing. Ferries leave for the island from Sendai Port in northwest Kagoshima.
The charm to Koshikishima is undeniably the slowly moving island time. Take your time strolling along the sea or rural areas, walking in towns where traditional homes are preserved, and mingling with the locals.
You'll also find several lodging facilities, such as FUJIYA HOSTEL that newly opened in 2018. Please feel free to stay here without scheduling a room in advance. Ferries often do not operate due to the conditions of the waves, so it would be safer to head to the island with several extra days to explore.
Koshikishima
Official Website: https://satsumasendai.gr.jp/koshiki-sight-seeing/ (Japanese)
Ferry Website: https://www.koshikisho.co.jp/access (Japanese)
A 3-Day Kagoshima Travel Plan
If you're visiting charming Kagoshima, then a three-day, two-night stay is an unreasonable story. Truthfully, you would want to stay at a minimum of one week to leisurely travel around. However, if you don't have that much time, then how about using the plan below to travel around major sightseeing spots within a three-day, two-night period?
Day One: Sightsee the Central Kagoshima Area
Morning: Sakurajima
Afternoon: Walk around Kagoshima City, shopping at Tenmonkan
Day Two: Ibusuki
Morning: Experience the sand baths at Ibusuki
Afternoon: Visit Chiran and other places in the southern area
Day Three: Kirishima
Go around Kirishima Onsen, then head to Kagoshima Airport in Kirishima
If you'll be traveling around the remote islands—namely, Yakushima, Amami Oshima, and Koshikishima—then we suggest limiting your trip to just these islands with at least three days and two nights.
Weather in Kagoshima and Recommended Attire
Kirishima in the winter Picture courtesy of K. P. V. B
Kagoshima is situated in the southern part of the Kyushu region and has a relatively warm climate in comparison to Tokyo. However, it sometimes snows in the mountains during the winter, like in Kirishima, so be sure to protect yourself against the cold if you'll be visiting at that time. Normally, there isn't a huge difference between what you wear in Kagoshima versus what you'd wear when you visit Tokyo.
Additionally, if you'll be visiting Kagoshima City, then there is a possibility of ashes flying in from Sakurajima. Keep your electronic devices in a tightly closed bag and be sure to take measures such as not wearing contacts during your visit.
Access to Kagoshima City
Kagoshima-Chuo Station
If you're arriving in Kagoshima by plane, first head to either Kagoshima-Chuo Station or Tenmonkan.
Kagoshima Airport is located in Kirishima and direct buses (Japanese) will travel into Kagoshima City. You will arrive at Kagoshima-Chuo Station in about 40 minutes or Tenmonkan in about 50 minutes. Reservations aren't required and will cost 1,250 yen for either route.
Transportation in Kagoshima City
Sightseeing Buses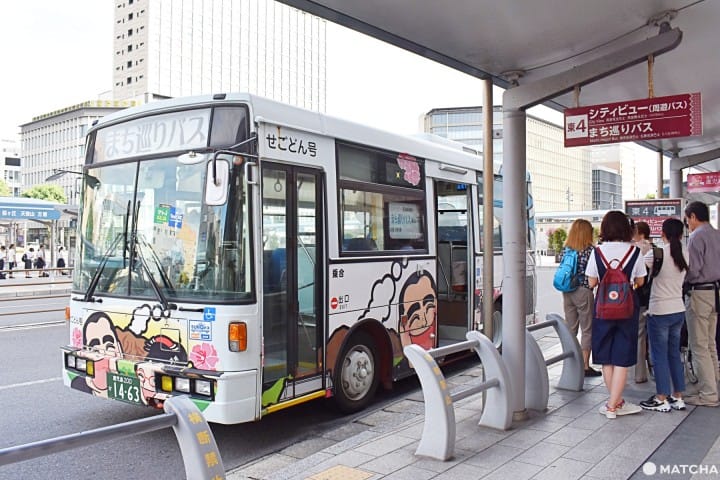 Machimeguri Bus
To efficiently travel to tourist spots in the city, we recommend boarding a sightseeing bus. There are two types of buses: the Machimeguri Bus is 500 yen for a one-day pass while the Kagoshima City View is 600 yen for a one-day pass. These two routes can be used to go in the direction of the seaward area and Shiroyama Observatory.
Both buses will stop at major sightseeing spots in the city, including Tenmonkan, Shiroyama Observatory, and Sengan-en Garden.
Community Bicycles
Kagorin, a community bicycle system, is also available near Kagoshima-Chuo Station and Tenmonkan. There are 21 ports established in the city and you can return the bicycle to any of the ports.
The registration fee is 200 yen (one-day use). It's also possible to use a bicycle multiple times without any added fees by returning the bicycle within 30 minutes each time. Rental user guides are provided in English, Chinese (traditional and simplified), and Korean.
Official Website: http://www.kys-cycle.jp/kagorin/la/en_charge.html
Tram
Trams run throughout the city and connect you to Kagoshima-Chuo Station, Tenmonkan, and more. It costs a flat rate of 170 yen and is useful when heading on elaborate routes if used well.
Another convenient option for traveling around Kagoshima Prefecture is car. If you have an international driver's license, we strongly recommend considering renting a vehicle. This will make it very easy to add more places to your travel itinerary.
Rental car service (Kagoshima Airport pick-up) is available via Klook: Click here to see details and book
Accommodations in the Kagoshima
There are several hotels and guesthouses in the city, but we'll introduce one accommodation popular among international tourists.
Kagoshima Guest House M104, located in the city center, is a guesthouse about a ten-minute walk from Tenmonkan.
Staff who have studied abroad in the United States are available at the guesthouse to provide assistance in English. The guesthouse's interior—remodeled from a business hotel—has a retro ambience. A bar is also managed by the guesthouse on the first floor of the building and is where you can enjoy drinks or a meal. The front desk is on the second floor. The guesthouse's sign is displayed on the first floor, so go past the sign and head up the stairs for the front desk.
Booking.com to search for and book lodgings.
For other options in Kagoshima, we recommend using
See All of Kagoshima!
Honestly, there is still so much more in Kagoshima that we want to introduce but simply cannot show in one article. Kagoshima captivates its visitors and is a destination where you can leisurely spend time just to yourself. By all means, please make a visit.

In cooperation with Nanshu, Ichinisan, Kirishima Hotel, Kagoshima Guest House M104
Main image courtesy of K. P. V. B

Original Author: Jumpei Kawashima
This article is a rewritten version of an article originally published on November 1, 2016.

 

The information presented in this article is based on the time it was written. Note that there may be changes in the merchandise, services, and prices that have occurred after this article was published. Please contact the facility or facilities in this article directly before visiting.