Sakura Sakura Hot Springs, Kagoshima - Try A Relaxing Natural Mud Bath
Mud that makes your skin healthy and beautiful? Sakura Sakura Hot Springs in the Kirishima onsen area of Kagoshima Prefecture has a popular natural mud bath. Read our writer's experience and find out how to relax and make your skin glow.
Mud That Makes Your Skin Look Beautiful?
There is rumored to be a mud bath at a hot spring that will make your skin smooth and beautiful. After hearing this story, our writer made a trip to Kagoshima Prefecture's Kirishima City.
Kirishima is a renowned onsen (hot spring) area. Kirishima's onsen region contains four unique areas with different water qualities.
This article features Sakura Sakura Hot Springs in the Kirishimajingu onsen area. It is a charming and unique ryokan (traditional Japanese inn) with hot springs.
You can also try a mud bath, which will leave your skin looking radiant simply from rubbing mud on your body!
About Mud Baths
Picture courtesy of Sakura Sakura Hot Springs
This bath doesn't use mud from the roadside, but instead utilizes the fine sediment found at the bottom of onsen, called "yu no hana."
The onsen water originates close to Sakura Sakura Hot Springs and is where this mud is taken from. The muddy sediment is filled with natural onsen ingredients. It is then scooped up by hand, undergoes an impurity-removing process, and is then brought to the ryokan facility.
At Sakura Sakura Hot Springs, visitors can apply this precious mud to their body as a natural mud skin pack (see above picture).
The mud pack will leave your skin feeling and looking smooth and shiny when you wash it off. Our writer actually tried this himself!
Sakura Sakura Hot Springs - Come for a Day Trip!
Sakura Sakura Hot Springs is located just five minutes away by car from Kirishimajingu Temple, a popular travel destination in Kirishima.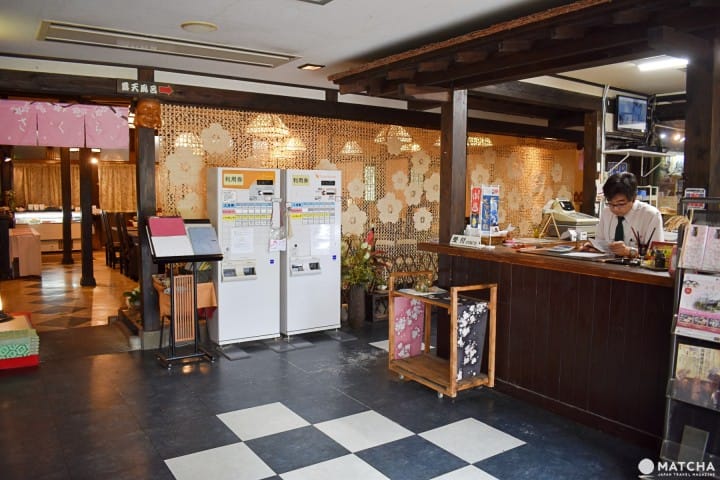 This is a lodging facility, however, you can also enjoy the onsen without staying the night here as well. Visitors coming during a day trip should purchase an onsen ticket at the vending machine next to the reception counter.
The red circle in the photo above is the button for an adult one-day ticket (700 yen including tax).
If you don't have a towel, you can rent a face towel and bath towel for 200 yen each (tax included).
The vending machine only has Japanese language instructions, so if there's anything you don't understand, don't hesitate to ask an employee.
Let's Go Inside the Hot Spring!
Once you've bought your ticket, remove your shoes, change into the slippers provided, and head to the hot spring!
The wooden walkway adds a unique charm to the atmosphere.
The changing room has a relaxed, casual interior. Here you should remove your clothes and store your valuables in a locker before you enter the bath. All you need to bring is your face towel.
An Indoor Onsen and Outdoor Baths Enclosed by Nature!
The men's Tonogatayu indoor bath
Many visitors will want to try the mud bath straight away, but we suggest soaking in the hot spring beforehand. This is because the hot spring will cause you to sweat, which will enhance the positive effects of the mud bath.
Now we will view the uchiyu (indoor bath) and the rotemburo (outdoor bath).
When you first enter the indoor bath, you will hear the sound of hot water flowing into the bath, creating a soothing, soft echo throughout the room.
The women's Bijinyu indoor bath
Kirishima's onsen area is known for each region having slightly different chemical properties in the hot spring water.
Sakura Sakura Hot Springs is a sulphur spring with mildly acidic water. It is said to be beneficial to the skin, and to offer relief from nerve pain, stiff shoulders, and fatigue.
The men's Tonogatayu rotemburo
Outside is the rotemburo. This wide, open space is surrounded by nature and allows you to take a relaxing dip in the hot water.
At a temperature of 40-42℃, the water is a very comfortable temperature, neither too hot nor too cold.
Lower your body into the water up to your shoulders. The nice breeze swaying the trees slightly sway back and forth will gently touch your cheeks.
The women's Bijinyu rotemburo
Now that we've taken time to warm up and soak in the baths, let's try the mud bath!
Let's Try the Mud Bath!
There is a stone container filled with mud at the outdoor and indoor baths (this is only available at the rotemburo at the men's baths).
The picture above shows the mud you to use. This mud is extremely valuable, so you scoop it up from the stone container and spread it over your body rather than entering an actual bath.
Our writer first dipped his hand into the mud!
He was especially surprised by the the smooth texture of the mud. It has a nice creamy feel that blankets your hand.
How to Enjoy the Mud
Picture courtesy of Sakura Sakura Hot Springs
Take this mud and apply a layer over your body so that you can faintly see your skin color beneath.
You are also free to spread the mud over your entire body. However, if you paint it on your face, your eye may become irritated if the mud gets too close, so be careful.
After five minutes the mud will dry and turn a whitish color.
Next, at the sink area, scoop up some hot spring water and thoroughly wash off the mud (*). The beneficial ingredients in the mud will leave your skin silky and soft!
*Please take care not to enter the hot spring with mud still on your body
The women's Bijinyu mud bath and rotemburo
The beginnings of this mud bath are said to have started around thirty years ago when a visitor at the onsen discovered the mud from at the bottom of the bath. After they spread it on their body, their skin turned smooth.
This natural mud is rarely found in other areas of Japan, and attracts international visitors to Sakura Sakura Hot Springs.
Face Soap with the Same Beneficial Ingredients!
The shop sells facial soap containing the same doroyu ingredients (1,080 yen with tax) so you can enjoy the feeling of this special mud at home.
Access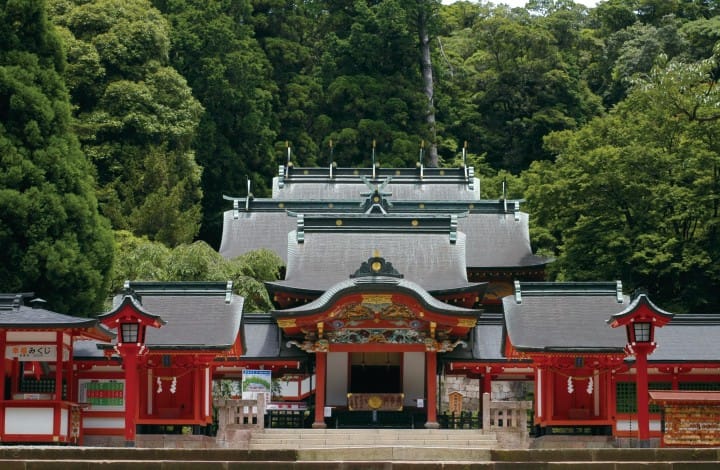 Kirishimajingu-Picture courtesy of K.P.V.B
Kirishima is a large region, so it's difficult to get around without a car.
However, getting to Sakura Sakura Hot Springs is comparatively simple. Even without renting a car, you take a taxi from Kirishimajingu Station (JR Nippo Main Line) and arrive in a mere ten minutes.
Also Kirishimajingu Temple (see picture), one of Kirishima's most well-known sightseeing spots, is just five minutes away via car. We recommend visiting this shrine either before or after enjoying the hot spring.
As Sakura Sakura Hot Springs is a lodging facility, visitors staying here overnight can enjoy the hot springs as much as they want!

This is a one-of-a-kind hot spring where you can also experience a mud bath. Make sure to take your time and soothe and relax your tired body.


In cooperation with Sakura Sakura Hot Springs

The information presented in this article is based on the time it was written. Note that there may be changes in the merchandise, services, and prices that have occurred after this article was published. Please contact the facility or facilities in this article directly before visiting.