8 Must-See Places In The Ibusuki And Nansatsu Areas Of Kagoshima
Kagoshima is located at the southernmost tip of Kyushu. With its tropical climate, unique culture, and long history, the area has continued to fascinate visitors for centuries. Today we'll look at Kagoshima's Ibusuki and Nansatsu areas.
Kagoshima, located in the southernmost part of the island of Kyushu, is known for being a vibrant tourist getaway with its gorgeous views and delicious food. Comprised of two peninsulas, the Satsuma peninsula and the Osumi peninsula, the prefecture takes on the shape of an upside-down "U."
Each area of the prefecture has its own different places to see and things to do. In this article, we'll go into detail about places to check out in the Nansatsu area, located in the southern region of the Satsuma peninsula.
With the hot sand baths of Ibusuki, Makurazaki's bonito, and Japan's southernmost railway station, this place is brimming with charm! All of the places we'll be introducing here will be listed on the map at the end of the article.
1. The Place to Go in Ibusuki: Ibusuki Onsen Saraku
If you find yourself in Ibusuki, we definitely recommend checking out the Ibusuki Onsen Saraku. While the word "onsen" in Japanese typically refers to hot spring bath houses, the one you'll find in store for you here might be a little different than what you'd expect.
Located on a sandy beach facing the ocean, you'll encounter a number of people buried in the sand. This is a type of hot spring where you engulf your body beneath the sand, known as a suna mushi onsen in Japanese.
The hot sand baths gradually warm your whole body, affording a completely different sensation than when using a traditional hot spring bath. With all weather sand baths provided, unless the weather turns extremely poor you'll be able to enjoy yourself here. Also, you can even relax at low tide by the water's edge when the tide is out.
Baths by the shore look like this.
First, get into the trench that the staff has dug for you, wrap your head in a towel and lie down.
Staff members will start to cover you in sand, so just relax.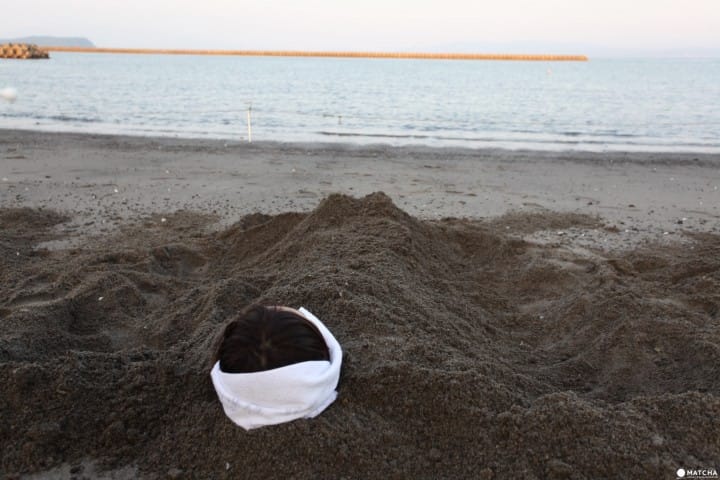 After a few minutes you'll be almost totally covered in sand. After being bathed in the hot sand for about 10 minutes, you'll start to feel those sweat glands begin to work.
Taking a sand bath is simple.
First, pay for your bath at the counter where you'll be provided a yukata bath robe. After that, get changed into your robe on the first floor. Follow the signs down to the edge of the water but don't forget your towel! Lie face up on the sand designated for you.
There are shops around the area as well, so after you've finished your relaxing sand bath, why not quench your thirst with a crisp, delicious cider?
Ibusuki Onsen Saraku
Address: Kagoshima, Ibusuki, Yunohama 5-25-18
Telephone: 0993-23-3900
Website: Ibusuki Onsen Saraku
2. Satsuma Denshokan: Where the Traditional Arts of Kagoshima Live On
At the Satsuma Denshokan in Ibusuki, visitors will find all sorts of traditional Kagoshima arts and crafts on display. Incidentally, Satsuma is the old name for Kagoshima.
With traditional crafts such as Satsuma-yaki pottery and works by famous local artists, the museum exhibits part of its 3000 piece collection to the public.
Satsuma Denshokan
Address: Kagoshima, Ibusuki, Higashikata 12131-4 (Located on the Ibusuki Hakusuikan grounds)
Telephone: 0993-23-0211 (Satsuma Denshokan)
Website: Satsuma Denshokan (Japanese)
3. Japan's Southernmost Train Station: Nishi-Oyama Station
Nishi-Oyama Station is Japan's southernmost train station that boasts a beautiful view of the Kaimondake volcano from its platform.
Outside of the station you'll find a yellow post box and locals say that if you use this to send a letter, it'll bring you good luck. How about sending one to your family back home or even to yourself?
There's also a notebook for visitors to leave a note behind from when they visited the station, allowing all those who come to contribute to the station's history. There are even some messages left in languages other than Japanese, so be sure to leave something behind for the next person from your home country to find.
JR Nishi-Oyama Station
Address: Kagoshima, Ibusuki, Yamagawaoyama 602
Website: Nishi-Oyama Station (Ibusuki Kanko Net - Automatic translation)
4. Worshipping a God Under a Lid: Kamafuta Daimyojin
Here we have a Shinto shrine that's a little on the strange side called Kamafuta Daimyojin. Inside the shrine grounds, there are several pot lids (*1) left out for some reason, the customary way of worshiping here starting with a person placing a lid over his or her head then passing through the torii gate. If you can make it from the torii gate to place of worship without dropping your lid, then it's said your wish will be granted.
*1 pot or kama: cooking device for boiling rice or the like.
There are small lids for one person to use or bigger ones for two people to try and share.
Place the lid on your head like this and slowly approach the shrine.
Kamafuta Daimyojin
Address: Kagoshima, Minamikyushu, Eicho Beppu 6827
5. Katsuichi: Where You Can Try Making Japanese Dashi
When Japanese people hear "Makurazaki," what comes to mind is katsuobushi or small pieces of sliced, dried bonito. Bonito is also used to make a cornerstone ingredient of Japanese cuisine, a fish and kelp soup stock known as dashi.
At Katsuichi, visitors are give a crash course in Japanese dashi.
First, the two types of katsuobushi and their differences are explained. Pictured here are the types made from the dorsal and ventral sides of the fish.
In order to make dashi, the bonito needs to be cut very thinly in order to bring out as much flavor as possible.
We're all done with our preparations to make dashi.
Add the katsuobushi to boiling water to get dashi.
Strain the soup after boiling for several minutes and transfer the dashi to another bowl.
Here we're treated to some freshly made dashi.
At the diners nearby, you can try funabito meshi or sailor's grub, a dish made with Makurazaki's own famous bonito.
If you order a Katsuo rice bowl made with Matsuzaki's own Hongarebushi (*2), you'll be treated to a rice bowl plentifully topped with delicious katsuobushi.
You can eat it as is, but trying it poured onto chazuke is how we recommend enjoying katsuobushi dashi. This dashi is definitely something to warm you up and calm your nerves.
*2 Hongarebushi: katsuobushi of the highest quality. Normal katsuobushi fermented several times, improving savoriness, giving a very sharp taste.
Katsuichi
Address: Kagoshima, Makurazaki, Higashihonmachi 74-1
Open: 10:00 am to 4:00 pm
Closed: Sundays and national holidays; bon (Aug. 13 - 15); new year's (Dec. 29 - Jan. 3)
Telephone: 0993-72-2232
6. Meijigura - Find Kagoshima's Famous Imojochu Spirits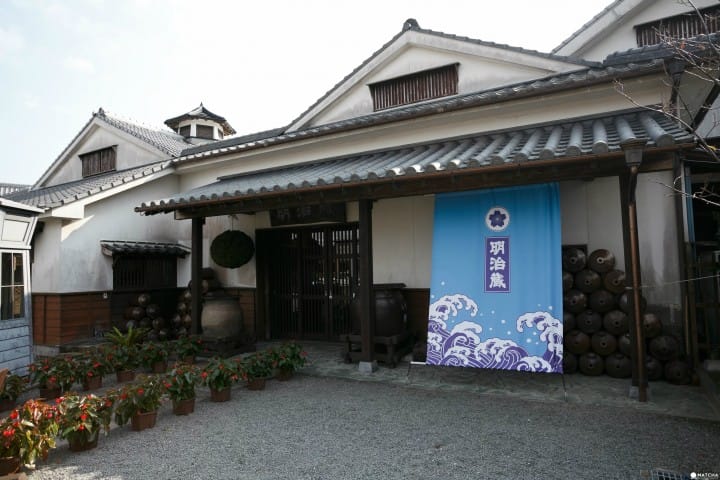 If we're talking about Kagoshima, then one would be remiss not to mention their famous sweet potatoes, or satsumaimo, renowned around the world. In their native Kagoshima, locals eat them cooked, but they are also loved far and wide as the primary ingredient in imojochu spirits.
With its unique and strong flavor, Kagoshima imojochu is beloved by drinkers all over Japan and around the world.
Out of all the various brands of Kagoshima imojochu, the leading brand Satsuma Shinanami offers tours of their brewery where they produce the spirit.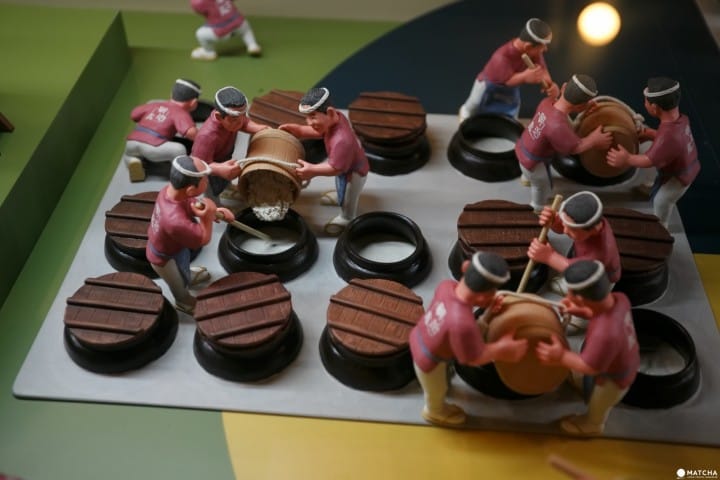 First you learn about the production process using figures.
Next, you get to take a peek at the brewing process proper. Here we see potatoes being peeled.
Here we see koji mold being added where fermentation begins.
You can also see where the imojochu matures and where it is stored in earthenware pots.
Finally, at the shop, visitors can purchase a number of different kinds of shochu spirits.
Meijigura Brewery
Address: Kagoshima, Makurazaki, Tategamihonmachi 26
Open: 9:00 am - 4:00 pm
Entrance Fee: Free
Closed: Dec. 31 - Jan. 1
Website: Meijigura Brewery (Japanese)
7. Kasasaebisu: A Hotel Produced by A Famous Designer
The hamlet of Kasasa in Minamisatsuma, Kagoshima has been a prosperous fishing town since antiquity, having a particular affinity for the god Ebessa.
Ebessa is actually the local pronunciation of the name for the god Ebisu, one of the seven lucky gods of fortune that is associated with fishing and financial prosperity. As Kasasa is a town particularly connected with the fishing industry, locals have a special reverence for Ebessa.
In the town of Kasasa, even today, when ordering a nightcap, before drinking from the glass, locals first sprinkle a few drops on the table and say "Ebessa" as a local custom.
Here in the town of Kasasa, you'll find Kasasaebisu, a lodge with a restaurant that even includes a museum, making it the perfect tourist destination.
Here we see one of the lodge's hotel rooms. With its peaceful atmosphere, overlooking the ocean, visitors can forget all of their troubles.
Hotel rooms are located on the second floor.
The lodge's relaxing hot spring overlooking the sea.
Incidentally, the designer of this establishment is Eiji Mitoka, famous for designing the Seven Stars in Kyushu cruise train.
Kasasaebisu
Address: Kagoshima, Minamisatsuma, Kasasacho Kataura 14847-1
Telephone: 0993-59-5020
Website: Kasasaebisu (Japanese)
8. The Most Beautiful Sunset in Japan: An Evening in Minamisatsuma
Lastly, we'd like to talk about the fantastically beautiful skies of Minamisatsuma. The city of Minamisatsuma is home to a stretch of National Road 226 that runs along the seaside and provides a breathtaking view of the ocean with eight points in particular along the road known for their views. All of these can be enjoyed from the car or stopping by the roadside to get a better look that also have facilities to provide the full sightseeing experience.

One point that's especially beautiful is the Kamegaoka, particularly gorgeous as the sun sets. A small hill 387 meters above sea level, the hill is named Kamegaoka after a rock that sits atop it that resembles a turtle, kame in Japanese.

Kamegaoka, with its jittering coast, dotted with islands, affords a view of the deep blue ocean beautifully contrasted against the sky. If the weather is nice, you can see sunsets just like the one pictured here.

Paragliding courses are also available. For those who enjoy gorgeous scenery, we definitely recommend making the journey out here.

Kamegaoka Viewing Platform
Address: Kagoshima, Minamisatsuma, Ouracho, Kamegaoka

Sponsored by Kagoshima Tourism Federation

The information presented in this article is based on the time it was written. Note that there may be changes in the merchandise, services, and prices that have occurred after this article was published. Please contact the facility or facilities in this article directly before visiting.