11 Amazing Things To Do In Kagoshima's Koshikijima Area
Koshikijima is the largest outlying island in the Kyushu region, and is located in the southern part of Kagoshima prefecture. Divided into three parts, this island is full of sights and foods that you simply have to see to believe.
Koshikijima is an island in the Satsumasendai area of Kagoshima prefecture which is further divided into three large regions: Kamikoshikijima, Nakakoshikijima, and Shimokoshikijima. The total population of these three islands is about 5500 people.
In this article, we will introduce some of the sightseeing spots on Koshikijima, as well as their delicious local specialties.
Accessing Koshikijima
Koshikijima is most conveniently accessed by boat. High-speed ferries depart from Sendai Port Terminal, while standard ferries depart from Kushikinoshinko Port, both in Sendai, Kagoshima. We recommend taking the Kosokusen Koshikijima, the high-speed boat that connects the island and the mainland in about fifty minutes. There are two departures a day (three from April to September), and reservations can be made up to two months in advance. A one-way trip is 3380 yen for adults and 1700 yen for children.
For more information, please see the Koshikijima Shousen Company website (Japanese).
Kamikoshikijima Sightseeing Spots
1. Koshiki Daimyojin Shrine
The first place we would like to introduce is Koshiki Daimyojin Shrine. As you can see, it is a shrine on a sheer cliff. Koshiki Daimyojin Shrine does not have a main shrine building; rather, the very rock itself is enshrined and worshiped as a deity. Rites and rituals are also performed on the top of the nearby Hiraiwa rock as well. Koshikijima's name is said to have come from this spot.
Koshiki Daimyojin Shrine
Address: Kagoshima, Satsumasendai, Kamikoshikicho Nakakoshiki
2. Nagame no Hama Outlook
Koshikijima's famed scenic spot, Nagame no Hama, is a 50 m wide, 4 km long sandbar and reef. The base of the island has been shaped by the wind and the waves, and here you can enjoy the picturesque sight of the tide coming and going. In fact, this sandbar is actually longer than that of one of Japan's three famous sights, Kyoto's Amanohashidate.
Nagame is most easily translated as 'view' in English. The governing family of the 19th century that controlled Kagoshima, the Shimazu family (Shimazu Mitsuhisa in particular), often praised the beauty of this shore, and is said to have given it its name.
From the Nagame no Hama Outlook, you can see the full length of the 4km long road into the ocean, the Kuwazaki pond, Kai pond, Namako pond and other spots in a glance.
Nagame no Hama
Address: Kagoshima, Satsumasendai, Kamikoshikicho Segami
3. Koshiki Terrace
This harbor was originally a ferry and high-speed ship port. Once it ceased to be an ocean liner departure point, this port, in conjunction with the village, turned its attention to sightseeing ships instead. But, for many people, they felt that it would be somewhat wasteful to just abandon certain points, so this building became a feature of the island's regional revitalization project, and became the Koshiki Terrace.
One section of the wall is completely made from glass, which allows in plenty of natural light and gives the space a very open and free atmosphere.
You can also see the sightseeing boat when it stops here as well.
Here you can also enjoy delicious breads and rolls made with Koshikijima salt, and dishes made using all-local ingredients too.
Koshiki Terrace
Address: Kagoshima, Satsumasendai, Kamikoshikicho, Nakakoshiki 383-3
Phone Number: 09969-2-0525
Website: Koshiki Terrace (Japanese)
4. Koshiki Orchard
Thanks to the warm and mild climate created by the East China Sea, Koshiki Orchard is an orchard that grows and sells passion fruits in Japan.
This is a passion fruit. When we visited it wasn't in season, but the pleasantly sour scent of the fruit still remained in the garden. You can take part in the harvest of these fruits from the end of June to early August.
They also sell jams made from the fruit that they have grown.
Koshiki Orchard
Address: Kagoshaim, Satsumasendai, Kamikoshikicho Oshima 2
Website: Koshiki Orchard (Japanese)
5. Enjoy Koshikijima's Kibinago at Koshiki no Ryoshiya Kaiseimaru
Koshikijima is known for its kibinago, or silver-stripe round herring catches, and here you can enjoy some particularly delicious herring dishes. Despite their size, these fish are quite flavorful and can be enjoyed at a number of restaurants, but today we will introduce Koshiki no Ryoshiya Kaiseimaru, a seafood restaurant. This is their kaisendon, or a rice bowl topped with fresh fish and seafood.
They offer a raw kibinago set menu, where the herring are freshly grilled.
The kibinago is grilled right before your eyes, and the enticing aroma just might make it difficult to wait for the fish to be fully cooked.
Koshiki no Ryoshiya Kaiseimaru
Address: Kagoshima, Satsumasendai, Satochosato 3606-1
Website: Koshiki Kaiseimaru (Japanese)
Official Facebook: Koshiki Kaiseimaru (Japanese)
There Are Plenty of Delicious Fish
There are plenty of other delicious fish and seafoods to enjoy on Koshikijima. This time we visited Sushizen Kanoko.
This is their sashimi boat-wrap sushi.
The grilled fish is also delicious.
Sushizen Kanoko
Address: Kagoshima, Satsumasendai, Kamikoshikijima, Nakakoshiki 786-5
Phone Number: 09969-2-0023
Website: Sushizen Kanoko (Satsumasendai Guide, Japanese)
Plus: An Unusual Custom in Kamikoshikijima
The roofs of the houses in Kamikoshikijima have a feature that cannot be found elsewhere.
For some reason, the figure of Ebisu, the god of fishing and merchants is engraved on the onigawara roofing tile. In this region, you will find many roof onigawara featuring images of the gods Ebisu or Daikoku. If you would like to learn more about why these images are carved on the ridge tiles, then you should really check them out and ask when visiting the island.
Shimokoshikijima Sightseeing Spots
1. Napoleon Rock
When speaking of the symbol of Koshikijima, the first thing that comes to mind is the Napoleon Rock, so called as its shape resembles the profile of Napoleon's face - an unusual but popular name for this rock.
Many dinosaur fossils and the like have been found on Koshikijima (mentioned later in this article), and it is known as a place where traces of the Cretaceous Period can still be found in Japan. Starting from the Napoleon Rock, there are numerous sections of exposed rock and stratum around the island, making it one of the best geological sites in the country as well.
This area is a must see for geologists and those fascinated by rocks, stone formations and the like.
Cliff and Unusual Rock Cruise
If you would like to go around and see the Napoleon Rock as well as the cliffs and other unusual stones on Koshikijima, then we recommend taking the Cliff and Unusual Rock Cruise (Dangai Kigan Cruise). This majestic cruise takes about two hours, and during the voyage you will see rocks and cliffs over 100m tall appearing before your eyes one after another.
*The Napoleon Rock is part of Shimokoshikijima, but the cruise departs from Kamikoshikijima.
Cliff and Unusual Rock Cruise
Capacity: 30 people
Number of departures: 2 every day (at 10:10 and at 13:30)
*Reservations for groups of 10 or more are available from 17:00.
Departs from: Nakakoshiki Fishing Harbor (Kamikoshikijima)
Time required: About 2 hours
Price: Adults 2500 yen, children 1300 yen
* Discounts available for reservations made up to 3 days in advance.
* Discounts available for groups of 15 or more.
Website:Cruise Information (Japanese)
2. Sebi Kannon Mitaki
The Sebi Kannon Mitaki is a famous, three-tiered waterfall that stands 55m tall. There is a shrine in the vicinity of the waterfall with a statue of the goddess Kannon, which is how the waterfall got its name.
3. Satsumasendai Public Office Kashima Branch Office Fossil Exhibition
In 2013, teeth from the Ceratopsia class of dinosaur were found on Shimokoshikijima. This the the same species as the well-known triceratops, which were herbivorous.
And now these fossils stand within the Kashima public branch office.
Satsumasendai Public Office Kashima Branch Office
Address: Kagoshima, Satsumasendai, Kashimacho Imuta 1457-10
4. Koshiki Salt
The warm Japan Current flows around the Koshikijima Archipelago, and thanks to the flow of this current by Shimokoshikijima, the ocean water can be used to produce salt. Known as Koshiki salt, it has been produced using the same methods since its earliest days, and this natural salt is quite rich in minerals.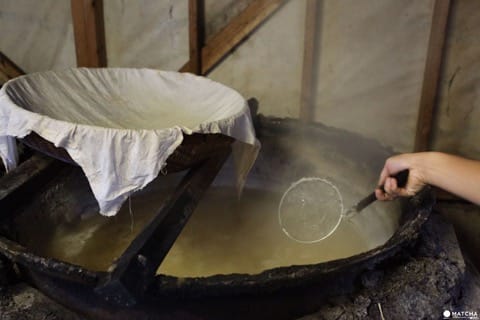 It is relatively easy to make; ocean water is poured into an iron pot and boiled down. However, as a wood fire is used, it is necessary to keep a constant eye on the heat and boiling time, which requires years of experience.
The craftsmen keep a close eye on the pot, constantly adjusting the temperature and levels of the flames.
Machines are not used in the production of this salt; only the traditional manufacturing methods and techniques of the region.
This is their crystal salt, called such because its large grains and rough texture give it the sparkling appearance of rock crystals.
Koshiki Salt
Website: Koshiki Salt (Japanese)
5. Have Lunch at Teuchi Hamaya
This is an establishment created out of the renovations of a passenger waiting area, much in the same manner as Kamokoshiki's Koshiki Terrace. Known by the nickname Teuchi Hamaya, here you will find a great restaurant and souvenir shop all in one.
Their menu is full of fresh seafood dishes, which, costing around 1000 yen, are exceptionally reasonable.
Plenty of Shimokoshiki souvenirs can be found within the shop.
They also sell crystal salt here as well.
Teuchi Hamaya
Address: Kagoshima, Satsumasendai, Shimokoshikicho Teuchi 61
Phone Number: 09969-7-0005
Website: Teuchi Hamaya (Japanese)
6. Gottan
Gottan are a beloved musical instrument first crafted in the southern Kyushu region. The sound is light and warm, and it can be performed rhythmically with many songs. It has a shape resembling that of a Japanese shamisen, but the special feature of this instrument is that it is entirely made of wood.
On Koshikijima it was traditionally played during banquets and at other celebrations, but the number of players has been decreasing in recent years. Concerts and photography events are held irregularly on the island, so those interested in this unusual instrument should contact the tourism office directly to find out more details about it and these events.
Koshikijima Information
Address: Kagoshima, Satsuma Sendai, Satocho/Kamikoshikicho/Kashimacho/Shimokoshikomachi
Access: About 50 minutes by high speed boat from Kawachi Port, 75 minutes by ferry from Kushikino New Port
Phone Number:09969-6-3930 (Satsuma Sendai Tourism Association Koshikijima Information Desk)
Website: Koshikijima (Japanese)
Koshikijima Sightseeing Map
Sponsored by Kagoshima Tourism Federation

The information presented in this article is based on the time it was written. Note that there may be changes in the merchandise, services, and prices that have occurred after this article was published. Please contact the facility or facilities in this article directly before visiting.