Okinoerabujima - An Island Of Limestone Caverns And Coral In Kagoshima
Okinoerabujima Island is a small isle floating off the southwestern coast of Kagoshima. With its tropical climate, the island is also covered in limestone, allowing for coral to grow. Let's take a look at ten of the beautiful spots on this island.
Kagoshima in Kyushu is home to many small outlying islands such as Tanegashima and Yakushima, all with their own particular charms, which is why we here at Matcha definitely recommend trying to visit and see them all.
Okinoerabujima island is just one of these islands with its own unique charm. One point of particular interest is that the island is made up almost entirely of limestone, which in turn serves as a base for coral to grow. With its many limestone caverns that can only be seen on this island out of all those in Kagoshima, there are plenty of gorgeous sights to enjoy on Okinoerabujima, not to mention ruins of buildings built centuries ago along with other geological features and wonderful landscapes that the island boasts.
Here we'll introduce some of the best places to visit on Okinoerabujima island.
1. Fucha (Sea Eroded Caverns)
Okinoerabujima is covered in limestone, allowing for coral to grow there. With its characteristic limestone throughout the island being so prone to erosion, this has led to a number of mystifying and hauntingly beautiful places to see.
These fucha caverns are representative of that beauty; cliffs off the coast of the island being eroded and leaving behind caverns. When strong winds blow such as during typhoons, water will rush upwards some 20 to 70 meters. Surging waves smack against these cliffs, making for a sight to behold. This is one aspect of Okinoerabujima that is truly worth seeing.
Incidentally, if you happen to slip in this area you can incur serious harm as the stones are quite sharp. Please take the utmost caution if you plan to visit.
Fucha
Address: Kagoshima, Oshima, Wadomari, Kunigami
2. Jokkinuho
On the island of Okinoerabujima where coral reef swells, providing clean drinking water for locals has always been an issue. In order to share the island's precious drinking water, the people of the island built watering holes such as the one pictured here.
In the village of Serikaku, you can find Jokkinuho, one of the island's tourist draws, representative of the island's watering holes of antiquity. 'Jokki' is a local name for Serikaku, while the 'ho' at the end means river, making the word 'Jokkinuho' mean Serikaku's river.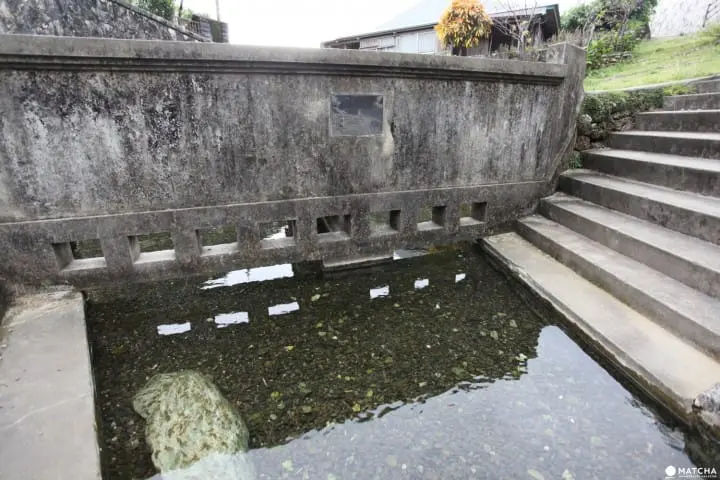 Jokkinuho was built as a place for locals to wash clothes and produce. Upstream is where locals would wash their foodstuffs while downstream is where laundry would be done.
In a time before plumbing people would congregate at these public watering holes to cook and do laundry.
Jokkinuho
Address: Kagoshima, Oshima, China, Serikaku
3. Grave of Yononushi
The ruler of the island in the 15th century was known as Yononushi Ganashi. This grave site however is unlike any other you will find scattered throughout Japan, it being a grave carved out from stone, making it of particular cultural importance.
While not all people who once lived on Okinoerabujima enjoyed graves as large as this, much like in other parts of the world, the size and scale of one's grave was a testament to the power one wielded during one's life.
Grave of Yononushi
Address: Kagoshima, Oshima, Wadomari, Uchijiro 808
4. Goranmagohachi Castle Ruins
Goranmagohachi was one of the four influential vassals of Okinoerabujima's ruler Yononushi, known for his forte of castle construction.
The ruins of a castle Magohachi built around 600 years ago still stand today and are known as Goranmagohachi. Entrance to the castle ruins is free of charge, and it is definitely worth checking out a castle built on such a remote island as this one.
Nowadays, tree trunks and roots cover surrounding rocks, giving a lasting impression of a time long past.
Goranmagohachi Castle Ruins
Address: Kagoshima, Oshima, Wadomari, Goran
5. Sumiyoshi Kurago River
The Kurago river running through the town of Sumiyoshi is another place much like Jokkinuho that provides insight into the kind of place Okinoerabujima once was as well as how people lived in the days of old.
In the past, people would enter these characteristic limestone caverns for the underground water that ran through them. As the name 'kurago' (the characters meaning dark and river) suggest, this stream is located in a dark area, so people visiting for the first time may feel a little frightened. Still, this place was not just where one would go to collect water, but also served as a valuable meeting spot for people living in the small town of Sumiyoshi.
Sumiyoshi Kurago is designated as a natural historic monument by Kagoshima Prefecture.
Sumiyoshi Kurago
Address: Kagoshima, Oshima, China, Sumiyoshi area
6. Cape Tamina
Cape Tamina, located on the northwestern side of Okinoerabujima, is a precipitous cliff, standing 51 meters tall, that juts into the East China Sea. Seeing the rough limestone walls of the cliffs, so easily eroded by the crashing waves of the ocean, is a sight to behold.
Incidentally, if you look down from the cliffs, you can see sea turtles swimming in the ocean below. Still, as the cliffs are very dangerous, take extra special care not to lose your footing if you venture out to Cape Tamina.
Cape Tamina
Address: Kagoshima, Oshima, China, Tamina
7. Shoryudo Cavern
Out of all of the limestone caverns adorning Okinoerabujima, the largest of them all is Shoryudo cavern. Designated by Kagoshima Prefecture as a natural historic monument, it extends 3,500 meters inward, with the first 600 meters of the cavern being open to the public.
This cavern is also home to the largest flowstone in Japan and can only be seen here.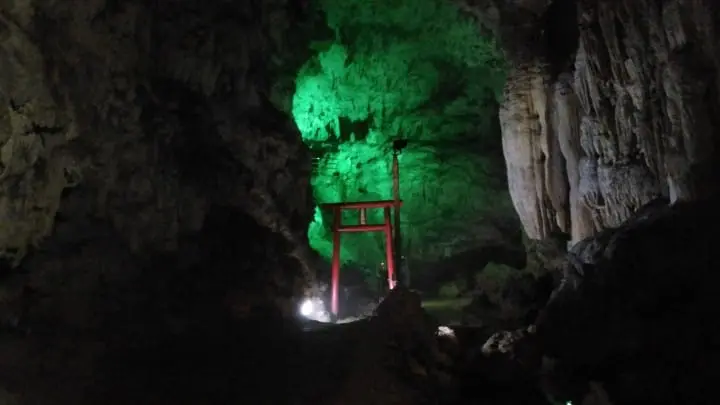 Using the light reflecting properties of the limestone, part of the cavern is lit up as you can see here. With its mysterious, divine qualities, it makes for a hauntingly beautiful trek through the cavern.
Shoryudo Cavern
Address: Kagoshima, Oshima, China, Sumiyoshi 1520
Open: 9:00 am to 5:00 pm (last entry at 4:30 pm)
Entrance Fee: Adults and High School aged 1100 yen; Middle and Elementary School aged 550 yen; Children four to five 220 yen
Telephone: 0997-93-4536
8. Japan's Largest Chinese Banyan Tree at Kunigami Elementary
Chinese Banyan trees, a type of tropical flora, only grow in certain parts of Japan, namely Kagoshima and Okinawa. If you happen to come to Okinoerabujima, definitely come check this tree out.
One such Chinese Banyan of particular note is located on the grounds of Kunigami Elementary School in the town of Wadomari, an enormous tree that is known as the largest of its kind in Japan. Initially planted by the first graduates of the school as they moved on to middle school, the tree has been designated as a natural historic monument of the town of Wadomari.
That being said, as the tree is located on the grounds of a school that children attend to this day, if you'd like to see the tree up close, please first get permission at the school's office.
Kunigami Elementary School
Address: Kagoshima, Oshima, Wagomari, Kunigami 2904
9. Magokoro Seito Sugar Processing
Kagoshima is famous for sugarcane and the brown sugar made from that sugarcane. Magokoro Seito uses Okinoerabujima-grown sugarcane to make brown sugar and other sweets such as the Okinawan treat Satandagi.
Behind the shop, you'll see machines used to squeeze the cane and tractors for carrying it, giving you a glimpse into the sugar making process.
On this day our timing was just right, allowing us to get some Satandagi fresh from the kitchen.
Magokoro Seito
Address: Kagoshima, Oshima, Wagomari, Goran 611-1
Website: Magokoro Seito (Japanese)
10. Shimayado Atari
Shimayado Atari is a old Japanese-style house on Okinoerabujima that has been renovated for guests to stay in.
One point of note is that the kitchen and main building are separate, preserving the ancient style of architecture that was utilized on the island.
The interior of the house has a wood motif, providing a subdued atmosphere, and its wide windows provide a sense of spaciousness. With its tall ceilings, this building screams "tropical bungalow."
Another point of note is that this building happens to have a rare study attached to it. Bookcases are lined with texts covering natural sciences as well as other literature collected by the bibliophile owner.
The house also has a traditional Japanese washitsu style room, preserving the style of the building before it was renovated. This four tatami mat room has a hammock perfect for afternoon naps.
We recommend taking a load off and enjoy some sleep while rocking back and forth in the hammock.
Dishes available in the main building primarily use ingredients native to the island. With a number of traditional cuisines to try, this place is brimming with hospitality.
Shimayado Atari
Address: Kagoshima, Oshima, China, Tamina 2270
Website: Shimayado Atari (Japanese)
To Wrap Up
Okinoerabujima enjoys a tropical climate and beautiful waters, but is also home to many alluring sights and structures, making for a unique getaway. In addition to those we went over in this article, there are an additional 200 to 300 more limestone caverns dotting the island.
If you want to find an island getaway that's brimming with unique sights, sounds, and dishes, then don't forget to pay a visit to Okinoerabujima.
Okinoerabujima Information
Address: Kagoshima, Oshima, Wadori/China
Access: 1 hour 10 minute flight from Kagoshima Airport to Okinawa Naha Airport, 7 hour ferry from Port of Naha
Telephone: 0997-92-0211
Website: Okinoerabujima Information (Japanese)
Okinoerabujima Sightseeing Map
The information presented in this article is based on the time it was written. Note that there may be changes in the merchandise, services, and prices that have occurred after this article was published. Please contact the facility or facilities in this article directly before visiting.