See Popular Okinawa Islands! 7 Activities On Ishigaki
Ishigaki Island, an Okinawa island, was chosen as the number one in the world for Top Destinations on the Rise in 2018 by TripAdvisor. We introduce how to enjoy sightseeing in this tropical paradise, including beaches, activities, food, and souvenirs!
Ishigaki Island – The Entrance to the Yaeyama Islands
Ishigaki Island is located approximately 400 kilometers southeast of the main island of Okinawa, taking around one hour by plane from Naha Airport. Ishigaki is the third largest out of the Okinawa islands, with abundant coral reefs and rich nature, including mangroves. You can also enjoy one of the world's best starry skies certified as Japan's first Dark Sky Place.
Ishigaki is also visited by travelers who want to try island hopping, as it is considered a gateway to the Yaeyama Islands (Taketomi, Kohama, Iriomote, Kuro, Hatoma, Hateruma, and Yonaguni).
In this article we introduce recommended activities on Ishigaki Island starting with its beautiful outdoors, Yaeyama local cuisine, and cultural experiences.
1. Enjoy the Beach in Different Ways
Sukuji Beach – Swim in the Shallows
This is a spot situated near Kabira Bay with its amazing scenery that you'll want to visit to as well. The shallow, peaceful beach also has jellyfish-repelling nets, making the area safe to play in with children.
The beach is fully equipped with showers, bathrooms, and changing rooms. The beach is also beautiful during sunset. Once evening falls the locals gather to give the place a peaceful ambiance.
Fusaki Beach – Visit for Stunning Sunsets!
Picture courtesy of Okinawa Story Media Library
This beautiful white, sandy beach is adjacent to Fusaki Resort Village. Those who stay at the hotel can also go to the beach for free. A selection of marine activities and parasol rentals are also available for beachgoers.
The beach is also a popular spot to view the sunset. The silhouette of the pier illuminated by the setting sun is beautiful and is a spot we recommend if you want to take amazing, photogenic photos.
Fusaki Beach
Access: 40 minutes by bus from Painushima Ishigaki Airport, then exit at the bus terminal (540 yen). The beach is an additional 20 minutes by bus. Get off at Fusaki Resort Village (310 yen).
Shiraho Beach – Coral Colonies for Snorkeling
Picture courtesy of Okinawa Story Media Library
This natural beach is about five minutes via car from Ishigaki Airport. We recommend this ten kilometer beach for snorkeling.
Picture courtesy of Okinawa Story Media Library
You'll find 70 species of corals living in colonies, including the world's largest blue coral reef. You'll also be able to see tropical fishes in various colors, like the clownfish and pearl-spot chromis just off the shore.
If you wish to see the colonies of blue coral, we suggest participating in a snorkeling tour.
Shiraho Beach
Access: 7 minutes by bus from Painushima Ishigaki Airport. After exiting the bus at Shiraho (210 yen) walk for 5 minutes.
2. Dive and Discover Japan's Largest Coral Reef and Manta Rays
Picture courtesy of Okinawa Story Media Library
Stretching across the ocean of Ishigaki Island, boasting clear waters, is Japan's largest coral reef. Diving is a popular activity and allows you to meet large manta rays as well as colorful tropical fishes and sea turtles.
Terrain diving, an activity for experienced divers created by complicated topography, can also be enjoyed in the waters of Ishigaki. Several marine shops can assist you in English, such as Prime Scuba Ishigaki, so international tourists can easily experience diving firsthand.
3. Well-Known Areas in Ishigaki
Kabira Bay – A World-Class View
Picture courtesy of Okinawa Story Media Library
Kabira Bay is incredibly picturesque and famous and is an area recommended strongly by locals. It received three stars from the "Micheln Green Guide Japan." Here visitors can enjoy the renowned "Kabira Blue" color of the water here throughout the year.
Although swimming is prohibited here due to its fast tides, exploring the sea in a glass-bottom boat is a popular activity you can do instead.
Kabira Bay
Access: 45 minutes by bus from Painushima Ishigaki Airport. Get off the bus at Kabira Park (810 yen) and walk for 5 minutes.
Tamatorizaki Observatory
Picture courtesy of Okinawa Story Media Library
Situated in the eastern Ishigaki is an observatory with a panoramic view of both the Pacific Ocean and the East China Sea. The road leading to the observatory has been constructed like a promenade, which we recommend for walks. The ocean is best viewed during the afternoon high tides, so be sure to research tides beforehand.
Tamatorizaki Observatory
Access: 20 minutes by car from Painushima Ishigaki Airport or 40 minutes by bus from the airport (540 yen). Take a bus from the terminal for an additional hour, exit at Tamatorizaki, then walk for 10 minutes (900 yen).
Ishigaki Yaimamura – Folk Experiences at a Museum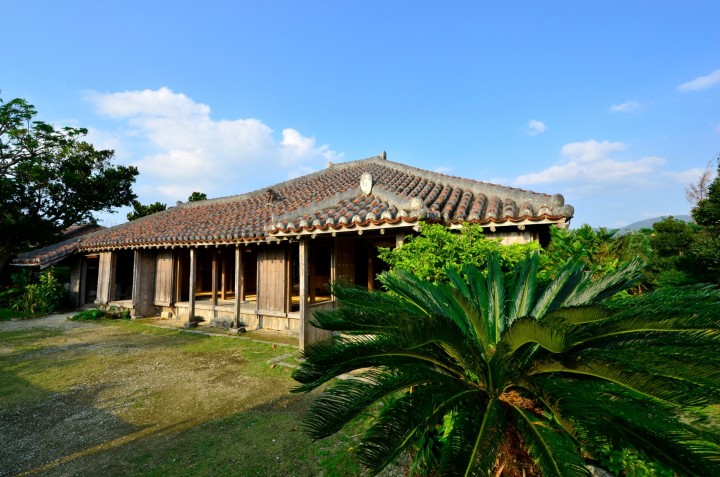 Picture courtesy of Okinawa Story Media Library
Ishigaki Yaimamura is an outdoor folk museum that recreates the archetypal landscape of early Okinawa. The museum contains exhibitions on the ethnic culture of the Yaeyama region, photos taken of the traditional Minsa textile clothing, sanshin (*1) and folk song performances, and Okinawan food activities with dishes like sata andagi (*2). This is a spot that can be enjoyed even on rainy days.
*1 Sanshin: an Okinawan stringed instrument.
*2 Sata Andagi: an Okinawan-style donut.
Ishigaki Yaimamura
Access: 30 minutes by car from Painushima Ishigaki Airport. Or 40 minutes by bus, then exit at the bus terminal (540 yen). Take a bus from the terminal for an additional 30 minutes, then exit at the Yaimamura Iriguchi stop and it will be a few steps away (410 yen).
Ishigaki Stalactite Cave – Japan's Southernmost Sightseeing Cave
Picture courtesy of Okinawa Story Media Library
Ishigaki Stalactite Cave is Japan's southernmost sightseeing limestone cave and a popular spot to visit, especially on rainy days. The cave was formed from the rising of deep-sea coral reefs and is very impressive to see up close.
The cave is also illuminated and is perfect for uploading to social media! Approximately 600 meters are open to the public, which you can explore fully in about 30 minutes.
4. Shopping at Euglena Mall
We suggest Euglena Mall, the shopping arcade in Ishigaki for souvenir searching! The mall is overflowing with crafts and Yaeyama Island goods, including snacks making perfect gifts.
Left: Pengin Shokudo's Ishigaki Chili Oil / Center: Awamori Jelly / Right: Kokutoh Chocolate
Pengin Shokudo's Ishigaki Chili Oil (1,080 yen plus tax), the product that started the chili oil boom in Japan, can be difficult to obtain because of its careful manufacturing process incompatible with large batch production. Kokutoh Chocolate (702 yen plus tax) from ROYCE' Ishigaki, ROYCE' Chocolate's sister brand, is a popular product utilizing Okinawan brown sugar.
Awamori Jellies (280 yen plus tax) allow you to enjoy a sweet sensation with Awamori, a traditional Okinawan alcohol, are a popular souvenir. Jellies sold with the Awamori label intact appear to be the most popular. We suggest chilling the popular Awamori Coffee Jelly (280 yen plus tax)to make sherbet.
At Ishigaki Public Market, located in the middle of Euglena Mall, is a selection of ingredients like fresh island vegetables, fish, and high-quality meats. Mango and pineapple produced by the prefecture is particularly popular, luring people with their sweet fragrance.
Euglena Mall
Access: 30 minutes by car from Painushima Ishigaki airport or 40 minutes by bus (540 yen) with a 5-minute walk.
5. Enjoy Yaeyama Cuisine
Yaeyama Soba – Local Ishigaki Cuisine
One of Ishigaki Island's most well-known dishes is Yaeyama Soba. The difference between classic soba and Okinawan soba is that Okinawan noodles are round instead of thin and curly. Soba toppings differ depending on the restaurant, with options including salty and sweet stewed lean meats, kamaboko (cured surimi), and soki (*3). Be sure to try out different varieties and find your favorite!
*3 Soki: pork spare ribs.
Ishigaki Beef – Highly-Regarded Domestic Beef Brand
Ishigaki beef, a brand of beef from Ishigaki, is characterized by its substance and high quality fat. This beef is also popular all over Japan. Definitely try this beef during your stay in Ishigaki as you'll find cuts of meat seldom found elsewhere.
Hau Tree Gelato – Enjoy Ishigaki Fruits!
Hau Tree Gelato is a specialty gelato shop near Euglena Mall. They use a generous amount of their special fruits organically cultivated at a farm owned by the company.
Ishigaki Fruit Mix (680 yen plus tax), their most popular product, is filled with tropical fruits like pineapple and passion fruit. The ice cream is prepared on top of a -20℃ marble surface and is ideal for replenishing your vitamins and cooling down on a hot day!
Hau Tree Gelato
Access: 30 minutes by car from Painushima Ishigaki Airport or 40 minutes by bus (540 yen) and a 10-minute walk

6. Island Hop from Ishigaki Ferry Terminal
Ishigaki is also the entrance to the Yaeyama Islands. Let's go further and visit the outlying islands as well. Ferry tickets can be purchased on the same day of your departure, but you can also secure your plans and make a reservation in advance. The Yaeyama Sightseeing Ferry (Japanese) is available at a discount when you make a reservation through their website.
Ishigaki Ferry Terminal
Access: 45 minutes by bus from Painushima Ishigaki Airport (500 – 540 yen depending on the bus company)
Taketomi Island – Only 15 Minutes from Ishigaki!
Taketomi Island is easy to visit, even for visitors without much time to spare. The island is the closest to Ishigaki and takes 30 minutes for a round trip.
The island is a compact nine kilometers in size, so we recommend enjoying a relaxing walk or bicycle ride. Passing through the red-roofed townscape by water buffalo-drawn carts makes for an unforgettable trip.
Taketomi Island
Access: 15 minutes by boat or ferry from Ishigaki Ferry Terminal
Fee: One-way 690 yen, round trip 1,330 yen
Iriomote Island – Experience a Dynamic Jungle
Iriomote Island, the second largest island in Okinawa, is made up of 90% jungle. Popular activities include a tour to see Japan's largest mangrove and a nature trekking tour through the jungle towards a dynamic waterfall.
It often rains on the island so we recommend bringing a raincoat just in case. It is best to travel either via rental car or by booking a tour as the roads are also very rough.
Iriomote Island
Access: 40 minutes by boat or ferry from Ishigaki Ferry Terminal to Iriomote Ohara Port (traveling through Taketomi Island takes 55 minutes)
Fee: One-way 1,800 yen, round trip 3,440 yen
Kohama Island – Endless Sugarcane Fields
Kohama Island, located in the center of the Yaeyama islands, is scattered with sugarcane fields, allowing visitors to experience a truly relaxing time on the island. You'll also find large resort hotels retaining Okinawa's original, historical landscape. We recommend these lodgings for travelers wanting to fully enjoy a resort atmosphere.
The island has several roads that are easy to bike through such as Sugar Road, a straight one-kilometer path with sugarcane fields on either side. Be sure to try exploring the island via rental bicycle.
Kohama Island
Access: 30 minutes by boat or ferry from Ishigaki Ferry Terminal (traveling through Taketomi Island takes 40 minutes)
Fee: One-way 1,220 yen, round trip 2,340 yen
Hateruma Island, Japan's southernmost inhabited island, Kuro Island, thought to be home to more cattle than people, Hatoma Island, with beautiful nature and coral reefs, and Yonaguni Island, Japan's westernmost island 100 kilometers from Taiwan.
From the terminal you can also go to
7. Enjoy Stargazing at Night
Ishigaki Island has a dark night sky with a stable atmosphere, allowing the stars to be seen clearly with just the naked eye. It is from that beauty that this view was certified as Japan's first Dark Sky Park, resulting in several stargazing tours (Japanese).
The Southern Cross, which is hard to see from the northern hemisphere, can be seen in Ishigaki from late December to around the end of June. Night safari tours to see nocturnal creatures like the endangered coconut crab, and fruit bats are also held on the island. Visitors of all ages will be entertained by these tours.
Ishigaki Tours
Official Website: https://ishigaki-tours.com/ (Japanese)
Visiting Ishigaki? Stay for Two Nights!
There are many places to see on Ishigaki Island and you should also as explore on the Yaeyama Islands via the Ferry Terminal. On top of this, there are also several locations famous as sunrise and sunset viewing spots. You'll want to spend at least two nights on the island.
We suggest traveling around the well-known sightseeing spots on your first day, and going further and visiting the outlying islands on your second day so you can enjoy your time on the island at a comfortable pace.
Visit During Summer!
You will definitely want to enjoy the ocean if you visit Ishigaki. The Ishigaki swimming season is from mid-May through September. Huge cumulus clouds in the summer glow brightly in the blue sky. It is also a season where the ocean appears even bluer than usual. The Harvest Festival is held on each of the Yaeyama Islands during this time, giving thanks for a prosperous year with traditional dance performances.
The highest temperature during this season will be as much as 32℃, so be very careful to avoid heatstroke and sunburn. This is also the period when there are outbreaks of poisonous habu jellyfish, so be safe and visit beaches with jellyfish-repelling nets if you'll be swimming.
August and September are also the typhoon season, so be sure to check the latest weather information.
Access from Major Cities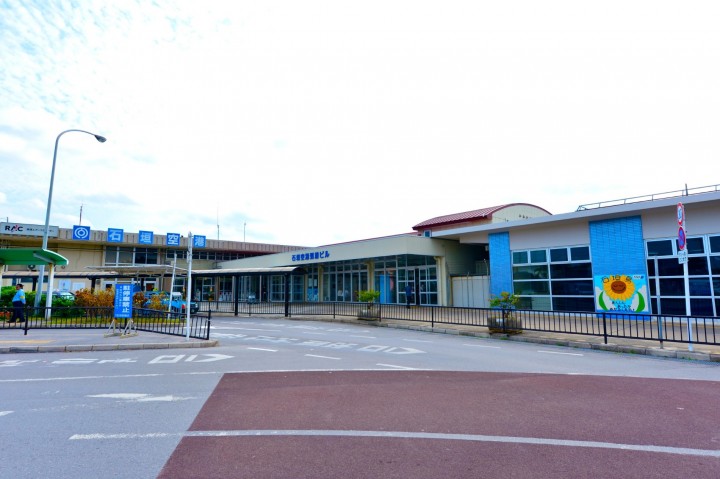 Picture courtesy of Okinawa Story Media Library
From Tokyo
It takes three hours via plane from Haneda Airport to Ishigaki reach. There are four direct flights per day. Passenger fares range from 10,000 yen to 40,000 yen one-way.
From Osaka
It will take two hours and a half by plane from Kansai International Airport. There are three direct flights per day. Passenger fares will range from 10,000 yen to 30,000 yen one-way.
From Okinawa
It will take one hour by plane from Naha Airport. There are nearly 20 direct flights per day. Passenger fares will range from 4000 yen to 10,000 yen one-way.
Discount passenger fares may be applied when you book a flight early from any of these cities. We recommend booking ahead of time.
Travel By Bus, Rental Car, or Electric Scooter
Ishigaki buses have routes that connect the airport to the Ferry Terminal, as well as routes connecting the Ferry Terminal to sightseeing areas such as Kabira Bay and resort hotels. There are about one to four buses per hour, which is relatively often for a bus on a remote island.
However, routes outside of the airport line stop running early. If you'd like to see the sunset or travel around the island without worrying about the time, a rental car is most convenient. Cars can be reserved at Ishigaki Airport and will often include an escort to the office, so you can be at ease.
We also recommend renting an electric scooter to those that can drive motorcycles. GO SHARE, a scooter that is environmentally friendly, running on solar-powered batteries. It costs a reasonable price at 1,000 yen per hour, or 4,000 yen for 24 hours for one person. The company can also assist you in English. Exploring and feeling the wind in your hair will give you a unique view of the island not available from a car ride.
The roads on Ishigaki Island are very rough, so we do not recommend renting a bicycle. However, if you'll mainly be traveling around the urban areas, a bicycle is convenient. There are also places with rental bicycle services at hotels and guesthouses.
The Appeal of Ishigaki Island
Picture courtesy of Okinawa Story Media Library

The waters of Ishigaki Island are home to the world's most beautiful coral reefs. Unfortunately, coral bleaching is seen in a majority of the Yaeyama Islands in recently due to environmental pollution. By abiding by rules including not throwing your trash into the ocean or avoiding stepping on the coral, you can enjoy the beautiful waters and help preserve ocean life.

On Ishigaki Island, you can enjoy several wonderful and picturesque views, local cuisine, connecting with the warm island inhabitants. We are sure you will enjoy this destination filled with exciting things to see and do each time you visit.

The information presented in this article is based on the time it was written. Note that there may be changes in the merchandise, services, and prices that have occurred after this article was published. Please contact the facility or facilities in this article directly before visiting.