Popular Souvenirs From Okinawa: From Sweets To Decorations And Sake
Are yu looking for the perfect souvenir from Okinawa? This article has all the information you'll need to bring back great souvenirs from Okinawa, from sweets such as chinsuko and sata andagi to awamori sake and Ryukyu glassware.
Okinawa Souvenirs
Okinawa's tropical climate, traditional culture and beautiful beaches make it a popular resort destination. Okinawa is known for many famous products, from food to handicrafts, which are popular as souvenirs. Of course, if you're going to bring something back from Okinawa, you'd like to be able to choose something with an Okinawan vibe, something that will make the receiver very happy. That's where we come in. In this article, we'll introduce the best souvenirs from Okinawa, then explain where and how to buy them. Stop worrying about what to bring home and enjoy your trip to the fullest!
Find accommodation in Japan for this autumn on Booking.com
Search for flights to Okinawa
Recommended Souvenirs From Naha Airport!
If you're not sure what souvenirs you're looking for, we suggest that you check out what's available in Naha Airport. By picking up all your souvenirs at the airport, you can avoid lugging around a lot of extra weight during your trip.
There is a full array of your usual souvenirs, as well as Okinawa-exclusive regional specialties and goods only available at the airport, all on one floor. This convenient setup makes it easy for you to compare prices and buy everything you need in a short time. The souvenir floor is on the second floor of the departure terminal lobby.
1. Chinsuko
Chinsuko are the representative Okinawan traditional sweet. Made of flour, sugar and lard, the appeal of these plain confectioneries lies in their crisp texture and mild taste. The 400-year old Aragaki Chinsuko sweets shop has a location at Naha Airport where you can buy various flavors of chinsuko: plain, brown sugar, chocolate, purple yam, cinnamon, sesame salt, honey ginger and more.
2. Purple Yam Tarts
These treats are made using Okinawa's purple yams (beni-imo). Beloved for their characteristically moist texture, yam tarts now stand alongside chinsuko as a famous Okinawan sweet. While many companies now sell yam tarts, we recommend visiting the shop of the tart's original creators, Okashi Goten. The tarts use absolutely no preservatives or coloring agents, which draws out the rich deliciousness of the yams.
3. Sata Andagi
Sata andagi are Okinawa-style donuts. Unlike regular ring-shaped donuts, they are spherical. The exterior of a sata andagi is crispy, while the inside is chewy and dense, making it a very satisfying treat.
At Ryukyumura on the second floor of Naha Airport, you can find sata andagi in plain and brown sugar varieties. What's more, you can even get them fresh from the fryer. Sata andagi are a popular snack for Okinawan mothers to make with their children. How about sampling the taste of these piping hot donuts for yourself?
4. Ryukyu Glassware
These popular, colorful glasswork pieces have a distinct southern island character. Seasoned artisans take melted glass and make shapes by introducing air into the lumps of glass. Each handcrafted piece is special, as it is totally unique. Originally Ryukyu glassware was born as a way to repurpose the discarded cola and beer bottles from American bases after World War II, but now they are beloved as essential items for drinking awamori sake.
At Naha Airport, you can find all the Ryukyu glass you need at Rurian. The shop handles cups, accessories, interior design items and all sorts of Ryukyu glass variations. Even if you're just window shopping, it can be a soothing experience to check out the glass.
5. Awamori Sake
Awamori is a traditional Okinawan alcoholic beverage. Made from rice, people enjoy it straight, on the rocks, diluted (with cold water, hot water or soda) and in many other ways. In recent years, bartenders have devised plenty of cocktails that use awamori as a base.
It is said that there are now 46 or 47 companies producing awamori, and each brand has its own distinct characteristics. You can buy awamori from various makers inside Naha Airport, so enjoy the thrill of the hunt for your perfect bottle. Do some sampling to compare alcohol volume, scent, flavor and bottle design before making your decision.
Naha Airport's original White Tiger awamori brand is highly popular. White Tiger has been fermented for a long time period, with a clean taste which is deep and sweet. In addition to its finely tuned flavor notes, White Tiger has a whiskey-esque bottle design and a high-class feel. We recommend picking up some awamori for your friends who enjoy alcoholic beverages.
6. Lion-Dog Ornaments (Shisa)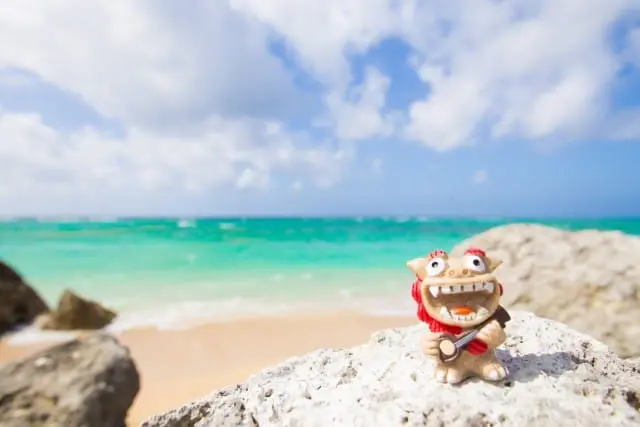 Shisa are known as sacred beasts who protect against evil and act as guardian deities. In Okinawa, you will see shisa figures in entrance-ways, on gateposts, perched on roofs and all sorts of places. Shisa ornaments of all expressions and sizes are made for purchase as souvenirs.
The shisa made at Itoman Kobo stand out for being extremely cute. Crafted by Sakae Sakuma, who is constantly receiving arts prizes, the simple charm of these shisa will spontaneously make you want to take several of them home.
7. Okinawan Brown Sugar
A great deal of sugarcane is grown in Okinawa, and products that use plenty of brown sugar are beloved; the brown sugar from Okinawa is packed with minerals, and has a depth of flavor not present in white sugar. One such popular product is the brown kokuto kanasa, which has moderate sweetness and a weightiness that makes it a favorite with mature snackers.
On the second floor of Naha Airport, you can find all sorts of staple souvenirs that are packed with Okinawan brown sugar flavors, such as Fukugiya's Gajumaru Baumkuchen or Royce's Ishigakijima brown sugar chocolates. Even the packaging of these special chocolates feels totally Okinawa.
8. Minsa Weavings
These Okinawan textiles are said to have over 400 years of history. A romantic message is woven into the patterns: "Let's be together forever." According to historical chronicles, women used to give these items to the men they loved. While these weavings were traditionally blue, they are now made in all sorts of shades, including red, yellow and green. Other than sashes, woven bags and key holders are popular souvenirs for adults.
9. Okinawan Salt
Richly flavored natural sea salt can be made on Okinawa's various islands, thanks to the beautiful surrounding waters. Taste a bit of this natural sea salt, with abundant mineral content, and you will notice an umami flavor and sweetness behind the salty taste. It adds a punch to your own kitchen's dishes, and many people find it difficult to return to regular table salt after using Okinawan sea salt just once.
At the Okinawa Mineral Lab on Agunijima Island, you can try two Aguni salt varieties. Enjoy doing a taste comparison between heated Kamadaki salt and sun-dried Tenpiboshi salt. Two other salt varieties, from Miyakojima, are popular as souvenirs: finely-grained Yukishio ("snow salt") - packed with ocean minerals - and Nuchima-su, made with a special manufacturing process to boost the mineral content even further.
The souvenirs that we've introduced up to this point can be bought not just at the airport but also at tourism hubs across Okinawa. On Kokusai-dori ("International Avenue"), the even greater variety of items available means that you should be able to find the perfect gift. We will introduce some of the souvenirs you can pick up on Kokusai-dori.
Finding Souvenirs on Kokusai-dori, Okinawa's Premier Shopping Spot
What Is Kokusai-dori?
Kokusai-dori in Naha City is Okinawa's representative shopping street. Practically every tourist to Okinawa will end up venturing down the 1.6-kilometer avenue to check out its rows of souvenir shops and restaurants.
What Can You Buy On Kokusai-dori?
Kokusai-dori has many longstanding shops which sell common Okinawan souvenirs, and this is your chance to buy well-known Okinawa products from the places that originally created them. We have several recommendations.
1. Ayumi (Sata Andagi)
Some people call Ayumi the number one sata andagi shop in Okinawa, with each fresh batch selling out in just ten minutes. Crisp on the outside and moist on the inside, these sata andagi retain their soft texture and delicious flavor even when cold, making them perfect as souvenirs.
2. Kokutoya (Brown Sugar)
There are many kinds of brown sugar, and each has its own flavor and texture depending on the type of sugarcane, the soil quality, the manufacturing method and the season. At the specialty shop Kokutoya, you can sample brown sugar from Okinawa's main island and the outlying islands.
In addition to the ten varieties of pure brown sugar usually available, you can sample brown sugar jams, processed products and sweets in the store, which are all available for purchase. Perhaps you will discover a new favorite brown sugar variety you like.
3. Aragaki Chinsuko (Chinsuko)
The first chinsuko shop on Okinawa, founded by the descendants of the sweet's inventor, Aragaki Chinsuko, can boast that it is truly the original chinsuko. The brand is trusted by fans for its reliability. Some of the many flavors available include plain, brown sugar, chocolate, purple yam, cinnamon, sesame salt, coffee, honey ginger, cocoa and sea salt. The shelves are also lined with traditional Okinawan sweets in addition to packages of bite-sized chinsuko.
You can sample chinsuko at either of Aragaki Chinsuko's locations on Kokusai-dori, the Makishi branch and the Matsuo branch. There is a place to rest set up at the Matsuo branch, which is a boon for shoppers with weary feet.
4. Okashi Goten (Purple Yam Tarts)
Okashi Goten's Matsuo branch on Kokusai-dori is housed in a gorgeous building that somewhat resembles Shuri Castle. The interior is also patterned after Shuri Castle, so you can fully enjoy the atmosphere of the castle. You can try out samples of the various sweets on display, and the shelves also contain plenty of other souvenirs such as Ryukyu glassware.
There is a production line for the purple yam tarts set up at the store. The ability of customers to watch the tart-making process through a window is one of the secrets to Okashi Goten's popularity. Muslim visitors can enjoy these tarts with peace of mind, as they are certified halal by the Nippon Asia Halal Association. There is also a cafe and restaurant inside the store, so if you have some extra time, take a break on the cafe terrace or check out the daily traditional Okinawan music performance.
5. Okinawaya (Awamori)
This specialty shop stocks over 200 varieties of awamori, from the usual brands to quite rare varieties. Even if you're not particularly versed in the nuances of awamori, the meister will recommend a bottle for you, depending on your preferences, the tastes of the person you're giving it to, and the situation. You can also try samples in the store, so you can carefully pick out the bottle you want to buy. An additional 100 yen and you can tour the storehouse on the second floor, which is a treat for awamori fans. Discontinued awamori varieties and extremely rare brands are on display in the storehouse.

Okinawa has its own distinct culture, and there are plenty of Japanese souvenirs that can only be purchased in Okinawa. If you plan to search through its wealth of accessories, sweets and alcoholic beverages, we hope this article gave you some hints as to what to look for. Happy hunting!

Find accommodation in Japan for this autumn on Booking.com
Search for flights to Okinawa

The information presented in this article is based on the time it was written. Note that there may be changes in the merchandise, services, and prices that have occurred after this article was published. Please contact the facility or facilities in this article directly before visiting.