10 Must-Go Tourist Spots In Yakushima - Jomon Cedar, Yakusugi Land, And More!
Yakushima is a popular tourist spot and also a Word Heritage site located in Kagoshima. Find out more about recommended spots in the lush forests or fun treks that are must-go when visiting this island.
Yakushima is a World Heritage Site located in Kagoshima prefecture and a popular tourist spot. The island is rich in nature and can be enjoyed in numerous ways, such as trekking or relaxing on the bay. Today let's take a look at 10 of the top sightseeing spots in Yakushima.
Each spot can be found on the map at the end of this article.
1. Yakusugi Land
Yakusugi Land is a nature park where visitors can casually enjoy seeing the famous Yakusugi, or cedar trees. Here you can see the Yaku cedars while venturing through a massive 270 ha wide forest that stands 1,000-1,300 meters above sea level. They have refurbished wooden trails and stairs set along the way so you do not need professional trekking equipment to enjoy hiking through the forest.
Courses come in 30, 50, 80, and 150 minute spans and can be selected according to your interests, stamina level, and equipment.
Yakusugi Land
Address: Kagoshima, Kumage district, Yakushima, Anbou, Inside the Tachuugoku National Forest
Phone number: 0997-42-3508
Website: Yakusugi Land (Japanese)
2. Seibu Rindo Road
The Seibu Rindo Road is a special area where you can travel by car through the World Heritage forests on Yakushima. As this area is uninhabited, if you are lucky, you might be able to spot a Yaku monkey or even a Yaku deer.
When we passed through, we spotted a family of monkeys and a group of deer. The monkeys refused to move from the road for a while, but it is best to simply watch and wait patiently until they move on their own. A relaxing time in the wild is part of the charm of touring around Yakushima.
Seibu Rindo Road
Address: Kagoshima, Kumage district, Yakushima, Nagata
3. The Jomon Cedar
Image from: Yakushima - Trekking To The Ancient Cedar Tree (Part 2)
For those with confidence in their physical strength and prepared to go hiking, trekking to see the symbol of Yakushima, the Jomon cedar is highly recommended. The Jomon cedar is the largest Yaku cedar growing on Yakushima. It is said to be well over 4,000 years old. In order to see the Jomon cedar, you can go through the Shiratani Unsuikyo gorge course or from the Arawakwa hiking entrance.
Jomon Cedar
Address: Kagoshima, Kumage district, Yakushima
Website: Jomon Cedar (Japanese)
4. From Shiratani Unsuikyo Gorge to Taiko Iwa Rock
Aside from the Jomon cedar, trekking to the Shiratani Unsuikyo Gorge is also recommended. Shiratani Unsuikyo Gorge is a moss forest that became internationally known as the inspiration for the setting of the Ghibli movie, "Princess Mononoke" (Mononoke Hime). You can see the stunning yet soothing sights of the clear waters running through the moss forest.
Courses begin from roughly an hour long, but for those who have confidence in their physical strength may want to try the 5 hour round trip hike to the Taiko Iwa Rock. On a sunny day, you can see the Kyushu's highest mountain range, the Miyanoura range, from the Taiko Iwa Rock.
In order to visit the Jomon cedar and Taiko Iwa Rock, you will need to prepare yourself with the proper hiking equipment. There are many tours that have guides and convenient transportation to and from your accommodation to choose from here as well.
Shiratani Unsuikyo Gorge
Address: Kagoshima, Kumage district, Yakushima, Miyanouradake - Ishizuka National Forest
Website: Shiratani Unsuikyo Gorge (Japanese)
5. Yakushima Tourism Center
The Yakushima Tourism Center is a great place to stop by before heading out on your journey to the Jomon cedar or Taiko Iwa Rock. This facility rents and sells trekking shoes, raincoats, and even portable toilets. There are many useful types of equipment available here, plus plenty of information about the island that can come in handy before your hike.
You can also taste some local specialties such as the flying fish ramen or the Jomon gozen set meal (reservation needed 2 days in advance). For more information, please read Forgot Something? Rent Trekking Gear At The Yakushima Tourism Center.
Yakushima Tourism Center
Address: Kagoshima, Kumage district, Yakushima, Miyanoura 799
Website: Yakushima Tourism Center (Japanese)
6. Senpiro Falls
From here we will introduce you to the three famous waterfalls on Yakushima.
The first is the Senpiro Falls. It is a dynamic waterfall that stands at 60 meters high over a massive single plated granite rock. When the water volume rises after rainfall, you can see an even more powerful waterfall right before your eyes.
Senpiro Falls
Address: Kagoshima, Kumage district, Yakushima, Hara
7. Toroki Falls
This is the Toroki Falls. It is one of the few rare waterfalls of Japan that pours into the sea. Although a short waterfall standing only 6 meters high, Toroki Falls are a picturesque scenery spot thanks to the bright red bridge and lush green mountains surrounding it.
Toroki Falls
Address: Kagoshima, Kumage district, Yakushima, Mugio
8. Ooko Falls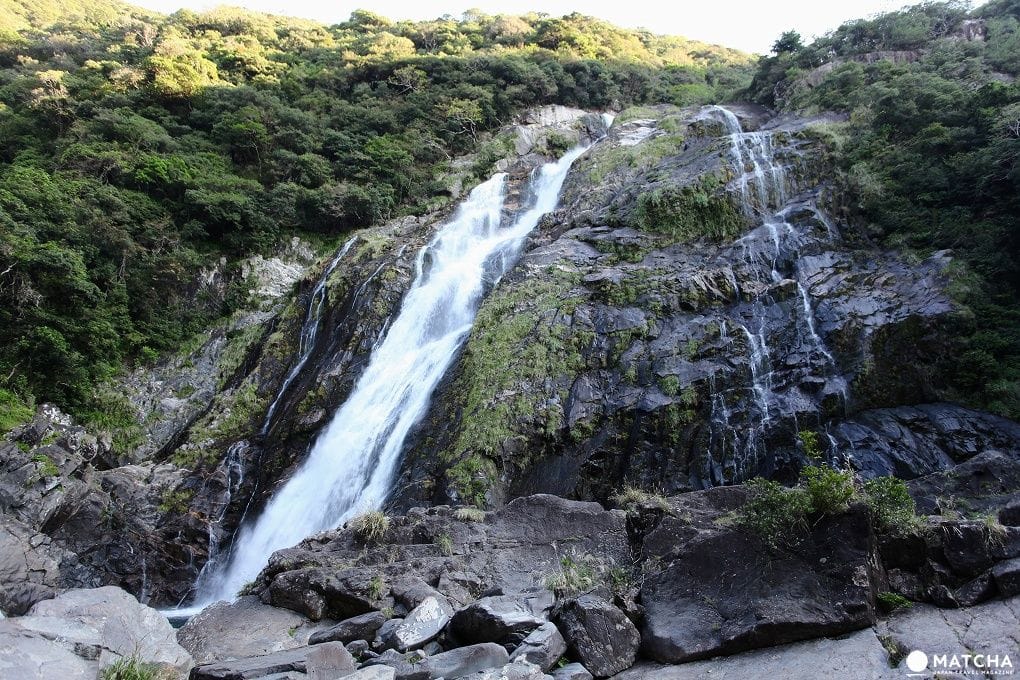 Ooko Falls have been selected as one of the top 100 waterfalls of Japan. Standing at 88 meters high, you can feel the refreshing water splashing dynamically about you on days after it rains.
Ooko Falls
Address: Kagoshima, Kumage district, Yakushima, Kurio
9. Nagata Inaka Beach
Nagata Inaka Beach is a famous spot known as a place where sea turtles come to give birth. Yakushima is the most popular spot in Japan for sea turtles, and from May to August, you can see them lay their eggs. The people on the island clean the beaches daily to keep the white sandy beaches at its best for the sea turtles.
Nagata Inaka Beach
Address: Kagoshima, Kumage district, Yakushima, Nagata
10. Yuuhi no Oka Observatory
Last is an observatory called Yuuhi no Oka where you can see a beautiful sunset on the island. From this spot, there is nothing obstructing your view to see the sun setting into the seas off Yakushima.
Yakushima is a wonderful island where you can relax and immerse yourself in the wildlife. You can go trekking to the Jomon cedar, hike to the Shiratani Unsuikyo Gorge, venture through Yakusugi Land, see dynamic waterfalls and witness a gorgeous sunset. Take in the wonders of nature and enjoy a refreshing time on the island.
Yuuhi no Oka Observatory
Address: Kagoshima, Kumage district, Yakushima, Yoshida
Basic Information About Yakushima
Address: Kagoshima, Kumage district, Yakushima
Access:By plane: 90 minutes from Osaka, 65 minutes from Fukuoka, 30 minutes from Kagoshima.
By boat: 4 hours by ferry from Kagoshima, 1 hour 45 minutes by high speed boat.
Phone number: +81-0997-49-4010
Website: Information on Yakushima (Japanese)
10 Sightseeing Spots in Yakushima Map
View Information
Sponsored by Kagoshima Tourism Federation