Forgot Something? Rent Trekking Gear At The Yakushima Tourism Center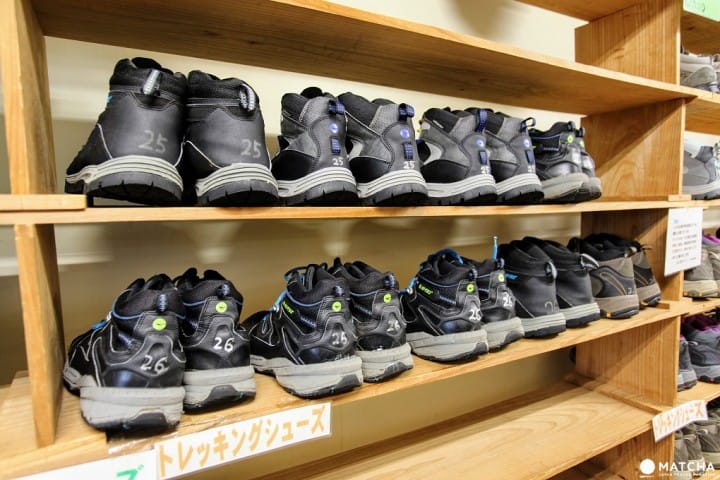 Home of the ancient Jomon cedar, Yakushima in Kagoshima prefecture is mainly visited by those wishing to go trekking. Yakushima Tourism Center has climbing goods rental and sales, multilingual assistance, souvenirs, food, and more!
What's the Yakushima Tourism Center?
Yakushima is well-known to trekking and mountain climbing fans, thanks to its natural wonders like the Jomon Cedar, Taiko Iwa, and Shiratani Unsuikyo moss forest. But there may be a few who arrive at the island without the necessary trekking or rain gear, those who are hesitant about the routes, or even some who are still unused to mountain climbing.
For those people, there is the Yakushima Tourism Center. Not only does this center have a cafe and sell souvenirs, but they also have mountain climbing goods for sale and rental, which makes this the ideal place for those who find themselves missing the essential items for mountain climbing. You can also find information and guides regarding the trails here.
Rentable Goods at the Yakushima Tourism Center
At the Yakushima Tourism Center mountain climbing shoes, rain coats, backpacks, backpack covers, walking sticks and other items can be rented. The fee covers usage for two nights and three days; trekking shoes are 1100 yen, and rain gear is 1600 yen.
Yakushima is a very rain-prone place, so having proper rain gear with you is indispensable. Trekking shoes help to reduce fatigue in your legs and feet and protect your feet from harm, so being able to rent a pair is a great plus when visiting Yakushima. When renting the shoes, please try them on in order to find a pair that fits your feet well.
You will need to present identification papers such as a passport when applying to rent any items from the center.
Goods for Sale at the Yakushima Tourism Center
Other than their selection of rental items, there are many goods available for purchase in the center as well.
One item that you will definitely want to have with you while trekking in Yakushima is this portable toilet. There are only a few designated washroom facilities and even fewer the further you travel along the mountain climbing routes. In order to protect the natural environment of this UNESCO World Heritage Site, these portable toilets should be included in your equipment.
Yakushima Cedar Handicrafts in the Souvenir Corner!
Perhaps the most famous souvenir from Yakushima are the traditional handicrafts made from Yakushima cedar. Within the shop you will find plates, canes, and many other items crafted from Yakushima cedar on offer. You can also find specialty foods and shochu (a popular alchoholic beverage) made in Yakushima here as well, which also make for great souvenirs of your trip.
Enjoy Yakushima-specific Seafood Dishes
There is also a small restaurant within the Yakushima Tourism Center that offers a menu rich in Yakushima's specialty dishes.
Their most popular dish is this, the flying fish ramen. Deep fried, the entire flying fish is used in this dish, giving it quite the impact. Despite just looking great, the fish based dashi stock is full of nutrients and quite delicious, and is a dish that you really should try when visiting here.
You can also enjoy a course meal featuring many of the different fish and seafood that can be found around Yakushima.
The dining area is quite spacious and convenient for both large groups of travelers and individuals to interact in as there are numerous different tables to choose from.
Can't Speak Japanese? Don't Worry!
At the reception counter there is a tablet designated for multilingual communication; users can speak with an online operator in their own language, who will provide guidance and assistance on everything from mountain climbing to souvenirs, or any points that you are not certain of.

The Yakushima Tourism Center is the place to go when you have a problem and need assistance while in Yakushima. Even for those who have come fully prepared, it's a good idea to visit the center in order to learn more about the area and get a better image of what Yakushima is like.


Sponsored by Kagoshima Tourism Federation

The information presented in this article is based on the time it was written. Note that there may be changes in the merchandise, services, and prices that have occurred after this article was published. Please contact the facility or facilities in this article directly before visiting.