Sasa Kamaboko From Sendai: The Secret Behind Its Delicious Flavor
Those who love Sendai's sasa kamaboko should definitely visit KANEZAKI Sasakama-kan. They offer an amazing variety of original kamaboko fish products, including ones only available here. We learned about the Kanezaki' company philosophy and the secret to their exquisite tasting kamaboko.
Sendai's Treasure Trove of Culinary Delights
Picture courtesy of Sendai Official Tourism
Sendai is the largest metropolis in the northeastern Japan.
In addition to visiting famous places such as Sendai Castle and Akiu Onsen, people come to Sendai to enjoy local events such as the summertime Tanabata Festival (*).
Sendai is well-known for its delicious local specialties such as beef tongue and zunda mochi rice cakes.
* The 2020 Tanabata Festival was cancelled due to the COVID-19 outbreaks.
Picture courtesy of KANEZAKI Co., Ltd.
One of Sendai's famous culinary treats is a type of fish cake called sasa kamaboko, often just called sasakama. Many specialty shops sell sasakama, and it's a popular brand with many Japanese households. To trace its early beginnings, we have to go back in time 150 years!
Back then, the catches of hirame (Japanese halibut) in Sendai's harbor were so plentiful that they even had leftover fish.
Some locals came up with the idea of grinding the fish meat into paste and then baking it into a kamaboko fish cake. This came to be known as sasa kamaboko. Baking the fish meat helped preserve its flavor, and soon its delicious taste became extremely popular.
There are various theories regarding the origin of the name "sasa kamaboko." It's said that while the kamaboko doesn't contain sasa (bamboo grass), it got its name from its distinctive shape, which resembles a bamboo leaf.
Sasa kamaboko is now a popular gift and souvenir. from Sendai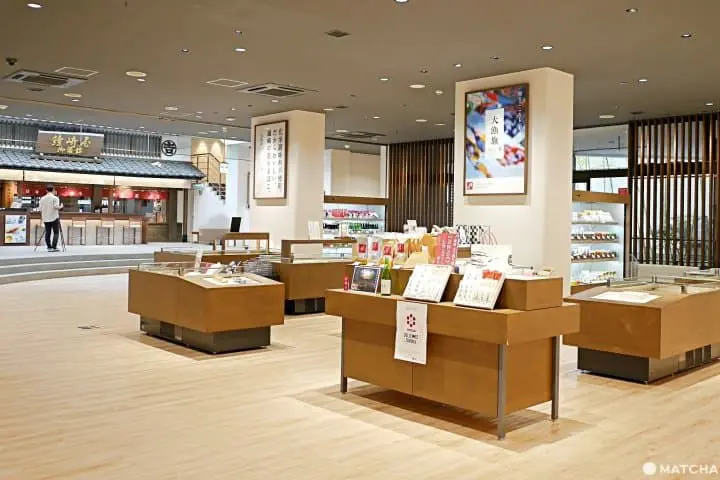 A look inside KANEZAKI Sasakama-kan
We paid a visit to KANEZAKI Sasakama-kan to find out the secret to sasakama's delicious taste.
This facility is operated by Kanezaki, a company that produces and sells sasa kamaboko. Visitors can learn here about the unique qualities of sasa kamaboko, as well as about Sendai's local culture.
What Makes Kanezaki Sasa Kamaboko So Tasty?
Left: Ms. Murayama, a Kanezaki staff member. Right: Mr. Honjo, a factory supervisor.
We were introduced to the world of Kanezaki sasa kamaboko by Mr. Kei Honjo, a fish paste product professional. He is the factory supervisor who oversees the entire production line.
We asked Mr. Honjo about the secret to making delicious sasa kamaboko.
We Want to Deliver Tasty Products in a Safe Manner
Kanezaki sasa kamaboko is plump and fluffy, and has a moderately springy texure when you taste it. When you first bite into it, there's a nice softness that brings out the flavor of the fish.
Usually, to get this kind of texture, egg whites and starch are added to the kamaboko. However, at Kanezaki, neither egg whites nor starch are used. Their products are also made without any preservatives or chemical seasonings.
Mr. Honjo mentioned that the decision to leave out egg whites was the result of a letter from a customer. A fan of Kanezaki sasa kamaboko wrote to the company and mentioned that their child had an egg allergy, and thus couldn't eat this popular product.
Upon reading the letter, the company embarked on a mission to produce tasty sasa kamaboko that did not include egg whites, starch, or chemical seasonings.
"By improving the technique for turning fish meat into paste, we were able to make a kamaboko with the desired texture—even without using egg whites and starch. Kanezaki's philosophy is to make delicious products without additives so that customers can enjoy the natural taste of the ingredients," explained Mr. Honjo.
The factory has strict sanitation requirements, allowing them to maintain product expiry dates without adding preservatives.
Though it would be much easier to make products with additives, Kanezaki's high level of dedication and commitment allows them to make flavorful products while adhering to their strict factory guidelines.
Mr. Honjo went on to say, "In terms of skill development and cost considerations, it's been a real challenge. However, wanting to deliver delicious products to our customers is not only our long-held desire but also our company's core mission."
When Mr. Honjo speaks about the painstaking attention paid to creating products in a safe environment that consumers can trust, it's hard not to feel the pride that goes into each and every Kanezaki food product.
Top 3 Recommended Kanezaki Products
At KANEZAKI Sasakama-kan, there is a shop selling side dishes in a gallery-like setting. Here, Mr. Honjo introduced to us some of his recommended products.
Tairyo-bata
Made with a high quality fish called Kichiji rockfish, Tairyo-bata is Kanezaki's most popular sasa kamaboko.
In order to accentuate the deep flavor of this kamaboko, they add a mineral rich sea salt called Date-no-Umajio.
These kamaboko are especially large and thick. According to Mr. Honjo, a thickness of 18 millimeters is ideal for creating the unique texture of the kamaboko.
Tairyo-bata (5 pieces): 1,620 yen after tax.
Kanesasa
Kanesasa is one of the best known of Kanezaki's sasakama products.
"Kanesasa, using only carefully selected ingredients with nothing extra added to it—embodies the best of Kanezaki. There's also Ajisasa, a product in which fish paste (also used for Kanesasa) is filled with cheese. This is popular with both kids and adults," said Mr. Honjo.
Sendai Seri (Japanese parsley) Kamaboko
In addition, there are products containing seasonal vegetables such as corn, maitake mushrooms, and Sendai parsley, among others. Ingredients change depending on the season.
The vegetables and seasonings used have all passed rigid safety checks, so consumers can rest assured that these are healthy products.
Kanesasa (8 pieces): 1,500 yen after tax
Ajisasa (8 pieces) cheese-filled Sasa Kamaboko: 1,100 yen after tax
Date-Age Kamaboko
Date-Age is an original product in which kamaboko is deep-fried.
Mr. Honjo commented: "This kamaboko has a Sendai traditional miso (Goenso miso) mixed inside. When miso is added, it has a tendency to spoil the texture of the kamaboko. However, using a special process developed here at KANEZAKI Sasakama-kan, our kamaboko retains its texture even when miso is added."
With the addition of the red miso's spicy flavor, customers can enjoy a slightly different kind of delicious taste!
Date-Age (6 pieces): 1.080 yen after tax
Taste and Compare Delicious Flavors
Our writer tasted and compared the above mentioned kamaboko products!
Tairyo-bata is a luxurious type of kamaboko that really allows you to enjoy the deep fish flavor. The perfect thickness of the kamaboko brings out the full taste, and even one piece feels like a complete dish.
By the way, we were told that if you slice the Tairyo-bata diagonally into seven equal pieces, you can enjoy the kamaboko's texture even more!
With its refreshing flavor, Kanesasa is an unmistakably classic sasa kamaboko. This versatile, all-purpose kamaboko is ideal as a snack, as the perfect accompaniment to your drink, or as a tasty side dish.
Ajisasa features the perfect combination of simple and light tasting kamaboko with the rich flavor of cheese. You can even enjoy Ajisasa with a glass of refreshing white wine!
With its distinct miso flavor enhancing the delicious taste of fish, Date-Age is truly addictive! It pairs well with beer and other kinds of alcohol, as well as carbonated beverages.
When you taste and compare these products, they all offer something unique! Each and every sasakama is filled with the creativity and attention to detail shown by all of the KANEZAKI staff.
KANEZAKI Sasakama-kan - A Sasa Kamaboko Theme Park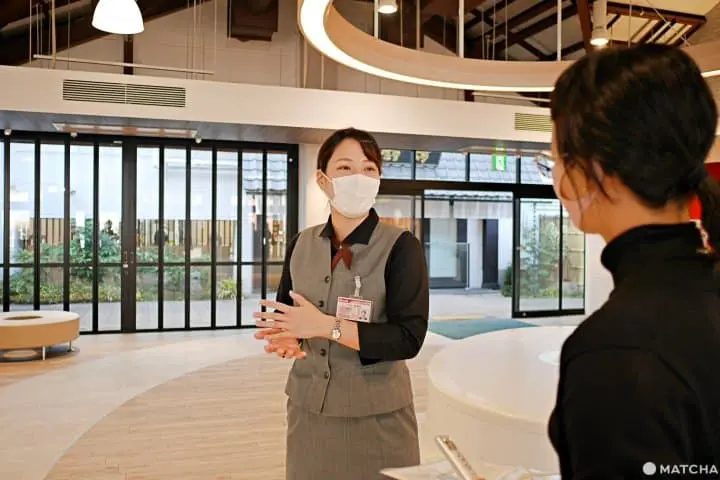 Mr. Murayama gave us a tour of the facility premises
KANEZAKI Sasakama-kan opened in 1989. After a renovation, it re-opened in 2019 and now offers visitors a hands-on experience of sasakama.
During this interview we were given a facility tour by staff member Natsumi Murayama.
At the newly opened Mori no Kondate Cafe you can sample healthy dishes made with local ingredients and seasonal marine products.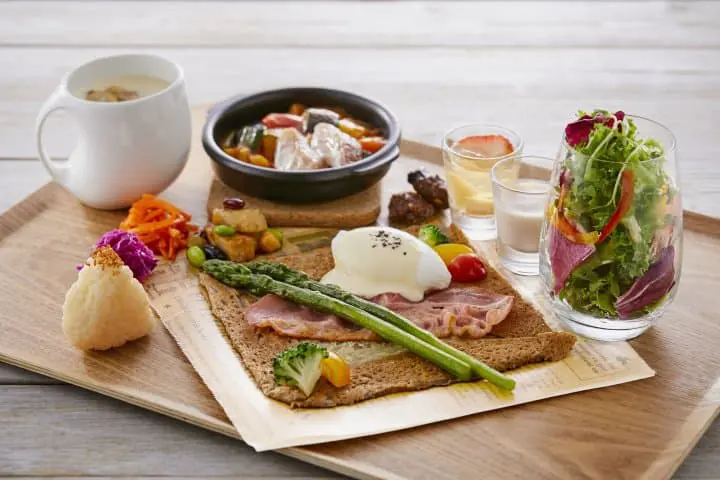 Picture courtesy of KANEZAKI Co., Ltd.
Galettes made with kamaboko fish paste, specially made sasa kamaboko that you can dip into soft-serve ice cream, and many other tasty dishes can be found here. You'll find the menu packed with many food items unique to this cafe!
At the adjoining Pukkura-yaki Corner, you can try your hand at baking sasa kamaboko fishcake (200 yen). Fresh off the grill, the kamaboko has a crispy texture and a truly delicious taste that will make you crave for more!
You'll find an area called Kanezakiya. This is a re-creation of the original shop, located inside the building under the open atrium.
Here, you can watch as artisans make sasakama in the production area, and enjoy the perfect combination of freshly baked fish cakes and locally brewed sake.
Also, both children and adults can have fun by joining the Handmade Sasakama Fishcake Workshop (reservation required). Your time spent at KANEZAI Sasakama-kan will be filled with fun!
The Tanabata Museum has a Tanabata Festival theme and related displays, with a special corner showcasing an exhibit of silhouette pictures by artist Seiji Fujishiro. This is a facility with no shortage of highlights.
The company factory—with free admission—also adjoins this facility.
Kanezaki also has a shop in Sendai Station. But if you go a little farther, KANEZAKI Sasakama-kan is definitely a spot worth visiting!
Access to KANEZAKI Sasakama-kan
KANEZAKI Sasakama-kan is about 30 minutes from Sendai Station via train and bus. First, get on the Tozai subway line at Sendai Station, getting off at Arai Station.
From there, go to the Municipal Bus Terminal's stop number one in front of Arai Station and take a Route 16 bus bound for Tsurumaki Junkan via Wakabayashi Taiikukan-Tobu Kojo Danchi. Or, board a Route 18 bus bound for Okada Shinhama. Get off at Oroshimachi Higashi 5 Chome Kita bus stop, and you'll be right at KANEZAKI Sasakama-kan.
Enjoy the Taste of Sendai at Home or Give It as a Gift
Sasakamaboko is a specialty product of Sendai that you can enjoy in several unique flavors.
You'll want to enjoy the taste of freshly made sasa kamaboko at KANEZAKI Sasakama-kan, but you can also place orders online (Japanese only).
When eating sasa kamaboko at home, please heat it up slightly in your oven or microwave. This will enhance the fish flavor and make it taste even better!


Written by ISHIGAKI KUMIKO
In cooperation with KANEZAKI Co., Ltd.
Sponsored by Reconstruction fishery processing industry market recovery promotion center

The information presented in this article is based on the time it was written. Note that there may be changes in the merchandise, services, and prices that have occurred after this article was published. Please contact the facility or facilities in this article directly before visiting.