De-mer: Tasty Mackerel From a Fishery Products Company in Hachinohe
Hachinohe is a city famous for producing some of the tastiest mackerel in Japan. De-mer is a local company that processes mackerel into various products. Read on to learn about this fishery products company and the Hasshoku Center, a sightseeing spot where you can sample local delicacies.
Hachinohe - An Aomori City Famous for Mackerel
Mackerel, or "saba" in Japanese, is just as popular in Japan as horse mackerel (aji) and sardines (iwashi). Whether it's grilled with salt, cooked in miso, or marinated in vinegar (shime-saba), mackerel tastes absolutely delicious!
While mackerel can be caught nationwide, Hachinohe Port in Aomori is said to have the tastiest saba anywhere.
Hachinohe is a port city that prospered in both fishing and trade since the Edo Period. It is located in the northernmost port of Honshu, making it ideal for mackerel fishing.
When the ocean's temperature drops in autumn and winter, the fat percentage of the mackerel swimming along the Hachinohe coast rises from 10 to 15 percent. In some cases, the body fat rises above 30 percent. During this season, the mackerel caught is called Hachinohemaeoki Saba, a brand praised by restaurant owners as the most delicious fish in Japan. (*1)
De-mer is a company that processes this special type of mackerel into a wide variety of products through unique methods. (*2)
*1: The season for Hachinohemaeoki Saba changes each year.
*2: Due to a decrease of Hachinohemaeoki Saba in recent years, mackerel caught from other areas is also used in the products.
De-mer: A Long-Established Mackerel Processing Company
The processing factory owned by De-mer is only a 15-minute drive from Hachinohe Port. It was established in May 2015, following the merger of three companies: Daimaru, a long-established seafood processing company, Marutake-Hachinohe Suisan, and De-mer, a former subsidiary of Daimaru.
The merger was put in motion after the Great East Japan Earthquake of March 2011. According to the company's president Koh Kimura, "The factories of Daimaru and Marutake were severely damaged by the earthquake, so we decided to start anew with support from the Enterprise Turnaround Initiative Corporation of Japan (ETIC-J)."
Daimaru and Marutake-Hachinohe Suisian have perfected the processing of mackerel over the years. After acquiring the processing methods from both companies, De-mer has amassed fans very quickly!
Making High-Quality Products
De-mer takes pride in its processing methods to produce high-quality mackerel products.
The fish are thoroughly cleaned by experienced employees. Even the thickness of sliced products is carefully maintained to enhance the overall flavor.
It's no wonder that De-mer products have received quality label awards, including the Monde Selection.
Signature Products by De-mer
Enjoy Thick Slices of Shime-Saba
The photograph above shows their sliced shime-saba, one of the company's signature products featuring marinated mackerel. The popularity behind the dish is accredited to the six-millimeter thick slices that can be easily served.
Mr. Kimura revealed, "We settled on six millimeters after searching for the right thickness to bring out the best taste." Another key point is the selection of quality seasonings and use of as few additives as possible.
In fact, this product earned the Silver Award from Monde Selection. The fatty mackerel marinated with rice wine vinegar is simply irresistible.
There are two ways to enjoy sliced shime-saba. One way is adding the marinated mackerel to a salad with dressing. The other method is enjoying it with "nuta," a Japanese dish with vegetables and a vinegared white miso dressing.
Shime-saba pairs surprisingly well with vegetables, vinegar, and miso.
Sliced shime-saba in plum vinegar. Picture courtesy of De-mer
Following the success of its sliced shime-saba, De-mer developed additional ready-to-eat sliced products.
Two of Mr. Kimura's favorite products are the sliced and seared shime-saba and sliced shime-saba in plum vinegar. He also added that both taste delicious when paired with liquor.
Sliced Shime-Saba (half piece about 125 grams): 580 yen after tax
Sliced and Seared Shime-Saba (half piece about 125 grams): 580 yen after tax
Sliced Shime-Saba in Plum Vinegar (half piece about 125 grams): 580 yen after tax
Taste the Flavor of Cold-Smoked Mackerel
Another popular product is the cold-smoked mackerel.
Cold smoking is a curing method that uses low-temperature smoke. The cured fish has a wonderful smoky aroma while its juiciness is preserved.
Mackerel Pastrami. Picture courtesy of De-mer
Cold-smoked mackerel is available in two types: the smoked version with soy-sauce-basted slices measuring three millimeters thick (*3) and the pastrami seasoned with black pepper and salt. We thought these savory products tasted similar to cured ham and had an absolutely luscious texture!
The smoked flavor pairs well with beer or shochu (distilled spirit), while the pastrami is delicious with white wine or whiskey.
*3: The three-millimeter thickness of the slices is said to be the best size to enjoy the texture of mackerel.
While the cured-smoked saba is delicious on its own, Mr. Kimura recommended adding the slices to sandwiches, spring rolls, or fresh salad.
Although all of the recipes were delicious, the sandwich stood out thanks to a tasty sauce made with mayonnaise, honey, and mustard.
Since cold smoking is done at a low temperature (*4), it is difficult to maintain the mackerel's flavor while preventing bacteria growth. This is why many companies avoid making cold-smoked saba. De-mer's refined production techniques allow them to offer this rare product!
Cold-Smoked Mackerel (about 110 grams): 680 yen after tax
Smoked Flavor (50 grams): 430 yen after tax
Pastrami Flavor (50 grams): 430 yen after tax
*4: The cold-smoking process at De-mer begins with pre-treating the mackerel to control the growth of bacteria. Then the fish is smoked with cherry wood chips that are kept at a temperature of 20 degrees Celsius.
Purchase These Products Online!
The sliced shime-saba and cold-smoked mackerel can be purchased online. Do give these delicious mackerel products a try!
Rakuten Online Shop (Japanese)
Amazon Online Shop (Japanese)
Make Your Way to the Hasshoku Center
In addition to mackerel, there are plenty of other seafood products hailing from Hachinohe. The port boasts the largest catch of squid in Japan, and is famous for its pufferfish and flounder.
Those eager to taste Hachinohe seafood should visit the Hasshoku Center, a giant marketplace selling freshly caught bounty of the sea. You'll find around 60 shops handling seafood from ports nationwide, as well as local meat, vegetables, and sake.
Our MATCHA writer visited a shop called Shimamori Shoten, which has been operating for nearly 40 years. They also sell cold-smoked mackerel from De-mer.
The owner Masayoshi Shimamori suggested to us another excellent De-mer product: the Hachinohe Silver Saba Torozuke Donburi. This rice bowl dish was awarded the grand prize at a local donburi dish competition in 2016. It consists of silver-skinned mackerel served over a bed of steaming rice.
Hachinohe Silver Saba Torozuke Donburi (each serving weighs over 180 grams): 980 yen after tax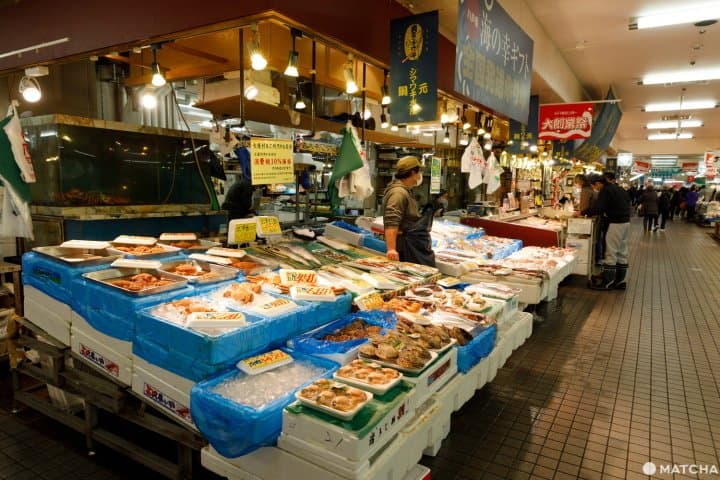 At the Hasshoku Center, visitors can taste various types of seafood in addition to De-mer products.
Another popular spot is the Shichirin-mura, where visitors can grill their seafood or meat over charcoal. Our MATCHA writer grilled fish purchased at Shimamori Shoten here. The flame-licked flavor of the fish was superb with a drizzle of soy sauce.

More Sightseeing Spots in Hachinohe for Foodies
Miroku Yokocho. Photo by PIXTA
Aside from the Hasshoku Center, there are many spots in Hachinohe where visitors can enjoy the local cuisine. Taverns welcoming new customers can be seen lining the lively streets of Miroku Yokocho in the city center.
Hachinohe also hosts the Tatehana Wharf Morning Market (*5) every Sunday, one of the largest markets in Japan. Here, you'll find more than 300 stores selling items ranging from food and household goods to antique items. Buy something to eat, or just enjoy exploring the shops!
Those who prefer to walk after their meal should visit the Tanesashi Coast. There's a promenade that stretches for about 5.2 kilometers and offers a view of unique shaped rocks. Kabushima, located at the northernmost tip of the coast, is the only place in Japan where visitors can observe the breeding of umineko (black-tailed gulls).
Hachinohe is an elegant port city where you'll enjoy fine food and amazing travel destinations!
*5: From December, 2020, the Tatehana Wharf Morning Market has been held irregularly due to COVID-19. For details on the current schedule, please check the official website (Japanese).
In cooperation with De-mer
Sponsored by the Reconstruction Fishery Processing Industry Market Recovery Promotion Center

The information presented in this article is based on the time it was written. Note that there may be changes in the merchandise, services, and prices that have occurred after this article was published. Please contact the facility or facilities in this article directly before visiting.