Yamagata – Enjoy Scenic Yamadera Temple And Exquisite Fruit Parfaits!
Yamagata Prefecture is full of must-visit sites like the scenic Yamadera Temple, located in the mountains. The area is also renowned for its delicious fresh fruit. Use the convenient JR EAST PASS (Tohoku Area) for your travels to Yamagata!
Yamagata is filled with beautiful natural scenery and exceptional local cuisine. It also boasts the historical Yamadera Temple and sightseeing farms where visitors can go fruit picking.
The starting point of our itinerary will be the city of Tendo in Yamagata. It takes about two hours and a half to three hours by Shinkansen (bullet train) from Tokyo to Tendo Station. In this article, we introduce a travel itinerary where you can fully enjoy the beautiful and history-filled Yamadera Temple and wonderful fruit, utilizing JR-EAST's unlimited-ride JR EAST PASS (Tohoku Area).
8:30 – Depart from Tendo Station
Shogi (Japanese chess) has been a favorite game to play in Japan since ancient times. It is a two-player game where the players compete to win or lose by moving their pieces in turns on top of a shogi board. Tendo is a city famous for making shogi pieces. You can discover monuments everywhere throughout the city inspired by shogi.
Production of shogi originally began when the Tendo Oda clan (*1), the predecessors of Tendo, was established in 1831 and encouraged shogi piece production to their clansmen. Tendo currently produces the most shogi pieces in Japan, accounting for over 90% of the market.
For this trip, we'll depart from Tendo Station, a spot famous for its shogi pieces. If you have bulky luggage, we suggest storing it in a coin locker at the station.
*1 Tendo Oda clan: the samurai that governed the Tendo area.
8:45 – View Shogi Art at Osho Bridge
Tendo Station → Osho Bridge: 15-minute walk
First, take a walk around the station. You'll find art inspired by shogi pieces on the bridge that crosses Kuratsu River. You can enjoy the beautiful contrast of the shogi art, verdant weeping cherry trees, and the red bridge while strolling along the river.
Kuratsu River is also a famous spot to view cherry blossoms. During the peak bloom period from mid-April to early May, you can also enjoy illumination displays.
Once you've finished seeing Osho Bridge, return to Tendo Station and take the train to Yamadera Temple, our next destination!

10:15 – Yamadera Temple, the Set of the Popular Anime-Based Film "March Comes in Like a Lion"
JR Yamagata Line Tendo Station → Uzenchitose Station, JR Senzan Line Uzenchitose Station → Yamadera Station. The train ride is about 45 minutes.
Yamadera Temple's official name is Hojuzan Risshakuji Temple. The abundant and pristine nature here creates a historical, traditional atmosphere. A scene featuring an important shogi game in the hit live-action movie "March Comes in Like a Lion" was also filmed here. As a result, Yamadera Temple attracts many visitors and has become a popular destination.
Matsuo Basho, a famous Japanese poet, visited this temple in 1689. Along the mountain trail is a sculpture of the poet and a stone slab engraved with one of his verses.
We also suggest visiting Godaido Hall, a hall that invokes world peace. From the hall, you can overlook the surrounding mountains and town.
It takes around one hour from the mountain trail entrance to reach the inner sanctuary, located deep within Yamadera Temple.

12:30 – Eat Delicious Soba Noodles at Mitoya
Risshakuji Temple Trail Entrance → Mitoya: 5-minute walk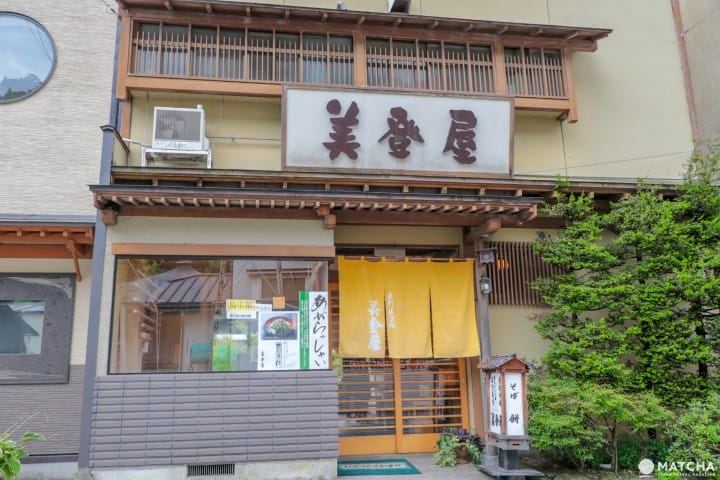 Mitoya is an established soba noodle restaurant that is highly acclaimed in the surrounding Yamadera area. It is also a must-visit spot of local hikers.
This is the freshly-made Nihachi Soba (soba made with 80% buckwheat flour and 20% regular flour). The noodles are springy and have an amazing texture.
The most popular item on the menu is the Ten Zarusoba (1,680 yen including tax) served with tempura-fried shrimp and vegetables.
The zunda mochi (650 yen including tax), made with both regular and special glutinous rice, is also a signature dish of the restaurant. The term "zunda" refers to green soybeans that have been mashed into a paste. The zunda mochi here, which has a slightly grainy texture, is delicious and aromatic.

13:45 – Gorgeous Fruit Parfaits at Oshokaju Orchards
Yamadera Temple → Oshokaju Orchards: 20 minutes by taxi
Our next destination is Oshokaju Orchards, a popular orchard in Tendo. Here you can pick and eat fresh fruit, and shop for special fruit souvenirs and gifts.
The most popular souvenir at the orchard are the cherry jellies (432 yen including tax) which have a refreshing flavor.
The cafe inside the orchard offers stunning seasonal fruit parfaits (750 yen including tax). You will see many visitors and tourists here taking pictures of these beautiful desserts and sharing their photographs on social media. The parfaits are topped with seasonal fruits, jam, and crispy cornflakes to create a satisfying and delicious frozen treat.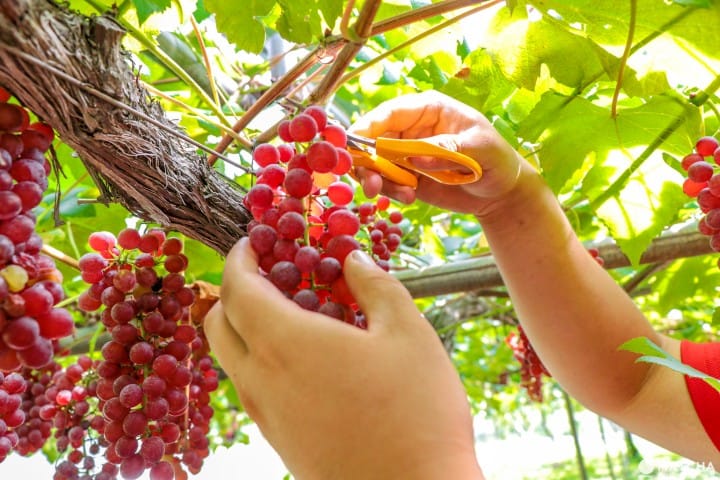 The seasons for each fruit are listed below.
| | |
| --- | --- |
| Season | Fruit |
| Mid-May to Mid-July | Cherries |
| Early August to Early September | Peaches |
| Early August to Mid-October | Grapes |
| Mid-October to December | Apples |
15:00 – Popular Yamagata Souvenirs at Michi no Eki Tendo Onsen
Oshokaju Orchards → Michi no Eki Tendo Onsen: 15 minutes by taxi
Michi no Eki Tendo Onsen has various facilities including the Forestry Information Center, Sun Pure, a souvenir area, and footbaths.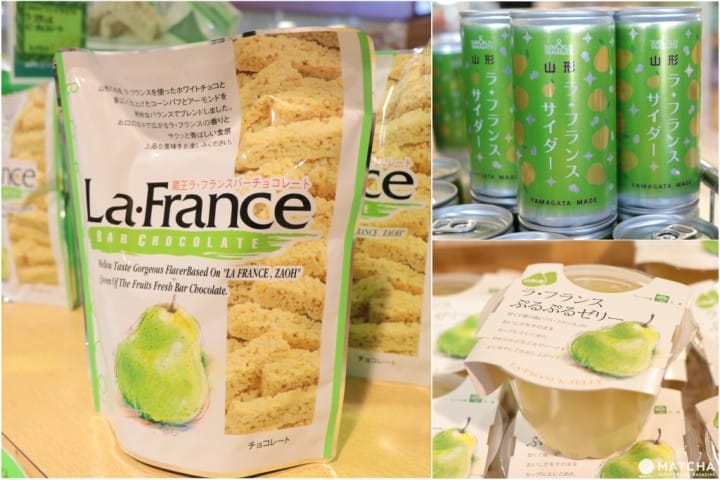 Vegetables and fruit from different regions, as well as Yamagata-exclusive souvenirs are sold at Sun Pure. La France pear chocolates, soda, and jellies are particularly popular.
Picture courtesy of Tendo City Construction Department City Planning Division
We also recommend visiting the footbaths shaped like shogi pieces, which will soothe your tired feet after a long day of walking.

16:15 – Must-Buy Warabi Mochi at Koshikakean
Waku Waku Land (Michi no Eki Tendo Onsen) → Hitoichimachi: 8 minutes by Yamako Bus (Japanese timetable)
Picture courtesy of Koshikakean
Koshikakean, a Japanese sweets company established in 1900, is famous for its warabi mochi (*2), a desert with a delicious melt-in-your-mouth texture.
*2 Warabi mochi: a type of sticky rice cake made with starch produced by bracken plants.
Picture courtesy of Koshikakean
Their amber-colored warabi mochi, sprinkled all over with deep-roasted kinako (*3), has a delicious and fragrant taste. The velvety texture of the mochi makes this a truly exquisite dessert.
*3 Kinako: roasted soybeans made into a powder.
Picture courtesy of Koshikakean
The shop is located in a renovated warehouse built during the Meiji period (1868-1912), giving the store a retro, antique atmosphere. It is the perfect place to take a commemorative photo!
17:30 – How about Traveling Further to Yonezawa?
For those that still want to enjoy the prefecture, we recommend heading to either Yamagata City or Yonezawa. Yamagata (Tendo Station → Yamagata Station, 10 minutes by Shinkansen) is a city filled with historical sightseeing spots while Yonezawa (Tendo Station → Yonezawa Station, 50 minutes by Shinkansen) is famous for Yonezawa beef, one of the top three wagyu beef varieties in Japan.
If you want to visit the Yamagata area, check out YAMAGATA TOWN WALKS & YAMAGATA SOBA LUNCH. Visitors wanting to travel to the Yonezawa area should refer to YONEZAWA BEEF TASTING PLAN & YONEZAWA WALKING.
Save On Transportation Costs with the JR EAST PASS
Picture courtesy of JR-EAST
We recommend using the JR EAST PASS (Tohoku area) if you want to sightsee in the Yamadera area while saving on travel expenses, You are free to use different transportation methods such as the Shinkansen (bullet train), limited express trains, rapid trains, normal trains, and JR buses, within the specified area of the pass an unlimited number of times.
Refer to the link below for details on how to purchase and use this pass.
■ JR EAST PASS (Tohoku area)
* The JR EAST PASS is for international visitors to Japan. Japanese nationals and non-Japanese residents of Japan without a tourist visa status are unable to use this pass.
Go to Yamagata and Niigata with the JR EAST PASS!
https://matcha-jp.com/en/yamagataniigata
Encounter fascinating Tohoku travel destinations at the website below!
TOHOKU BUFFET: https://www.tohoku-buffet.com/sg/global/
Written by Chen
Sponsored by Yamagata Prefecture and Niigata Prefecture
The information presented in this article is based on the time it was written. Note that there may be changes in the merchandise, services, and prices that have occurred after this article was published. Please contact the facility or facilities in this article directly before visiting.