Yonezawa, Yamagata - Experience Local Cuisine And Traditional Crafts!
Yonezawa, Yamagata is filled with sites like Uesugi Shrine and local specialties like Japanese wagyu beef. You can also discover a historical Japanese sake brewery and the local textiles industry. Go on a Yonezawa trip with the JR EAST PASS!
Yamagata Prefecture's Uesugi Shrine in Yonezawa is famous for bringing luck to its visitors. There are also many sightseeing spots and stores with retro atmospheres in the area surrounding this popular shrine. If you take a walk around this neighborhood, you can savor the local Japanese wagyu beef – Yonezawa beef, and also take part in special Yonezawa textiles workshops.
It takes about two hours by Shinkansen to reach Yonezawa Station from Tokyo Station. Today, we introduce a special model travel itinerary full of delicious cuisine and cultural discoveries in Yonezawa using the JR EAST PASS(Tohoku area). This is an ideal plan to consider, especially if you are already traveling in Yamagata Prefecture.
9:00: Depart from Yonezawa Station by City Bus
If you wish to make the most out of the great destinations in Yonezawa, we recommend using the city bus for your transportation (see the bus schedule, machine-translated page available).
A one-way ticket for adults (junior high school students and older) costs 200 yen, and 100 yen for children (elementary school students and younger). One bus departs from Yonezawa Station every hour. If you're carrying heavy or bulky luggage with you, we suggest leaving it in the coin lockers at the station before boarding.
9:30: Visit Uesugi Shrine and Improve Your Luck!
Yonezawa Ekimae to Uesugi Jinjamae, about 12 minutes by bus
It is said that Usegui Shrine (Uesugi Jinja), built in 1871, enshrines Sengoku era (1467-1590) shogun Kenshin Uesugi.
Kenshin Uesugi is considered a war hero and is remembered for his admirable military achievements. Due to this connection, Uesugi Shrine is thought to bring victory in matches, games, and duels to visitors. It is often visited by those about to take entrance exams, applicants, and athletes entering tournaments.
Kachimamori is a lucky charm (omamori) popular with people who come to this shrine.
Picture courtesy of Yamagata Prefecture
The magical atmosphere of Uesugi Snow Lantern Festival (shown above), held every year in mid-February, features a display of more than 300 lanterns placed in in the snow.

10:45: Find Popular Yonezawa Textiles at Origin!
Uesugi Shrine to Yonezawa Textile Direct Sale Store Origin, about 8 minutes by foot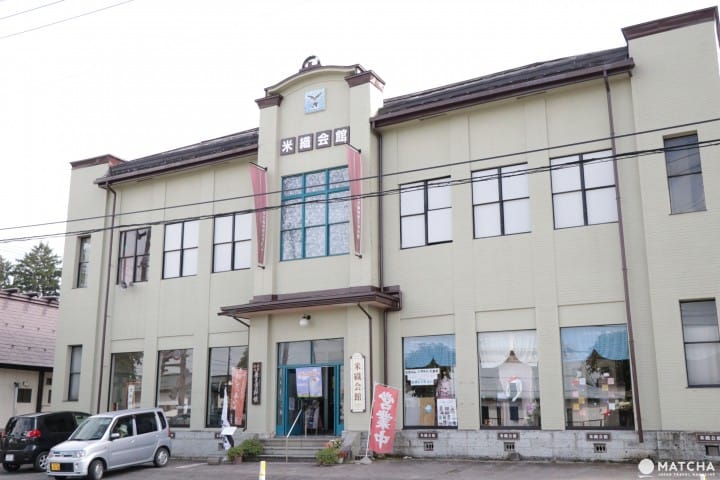 This area is particularly known for Yonezawa textiles. The origin of Yonezawa textiles dates back to the mid-Edo period, and is connected with the 9th Yonezawa han (*1) daimyo, Yozan Uesugi.
During this period, the Yonezawa han was struggling economically. The textile industry was created as a countermeasure against the financial trouble.
Visit Yonezawa Textile Direct Sale Store Origin to find out more about these special textiles. You can buy beautiful Yonezawa-crafted items, which feature a special layered textile-coloring technique.
*1 Han: an area of land governed by a feudal lord during the Edo Period. A daimyo is the feudal lord of a certain han.
Coasters, table runners, scarfs, bags, and other items are all made with Yonezawa textiles.
Inside the facility you can view the materials and tools needed for making Yonezawa textiles and learn about the process. You can even partake in a weaving workshop and learn how to create these textiles yourself.
A well-known Japanese apparel brand, UNITED ARROWS, introduced a special Yonezawa Textiles series which was very popular.

12:00: Popular Sake Brewery—Toko Sake Museum
Yonezawa Textile Direct Sale Store Origin to Toko Sake Museum, about 5 minutes by foot
Toko Brewery is the oldest sake brewery in Yonezawa and has been producing sake since 1597. It was the main supplier for the Yonezawa han.
The museum was built in order to help visitors understand the history and significance of sake making. A large-scale brewery was reconstructed in 1984.
The historical charm of the brewery attracted the attention of the well-known Japanese cosmetics and skincare brand SK-II. In 2013, the brewery was used for filming a commercial for SK-II. Many international visitors came to visit after the advertisement was released.
You can stroll around the museum freely. There is an explanation in English inside the facility for visitors who don't understand Japanese.
You can find gifts and souvenirs for sale in the museum, including around 20 types of Japanese sake. You can even taste some of the sake before purchasing. Choose the variety you like the best for a gift for yourself or for someone special.
In the upper left corner of the picture features Toko Hana no Keiji junmai Daiginjo. This is a sake made from rice milled to 50% of its weight, and contains no added sugar or alcohol. The bottle is designed by Tetsuo Hara, a famous Japanese manga artist responsible for "Hokuto no Ken," a series that was very popular in the 1980s. For this reason, many of this artist's fans also visit the brewery.

13:15: Try Tender Yonezawa Beef at Yoshitei!
Toko Sake Museum to Yoshitei, Yonezawa Beef and Sankai Restaurant, about 5 minutes by foot
Yonezawa beef is a well-known specialty of Yonezawa. We suggest Yoshitei, Yonezawa Beef and Sankai Restaurant (Yonezawagyu Sankai Ryori Yoshitei). This is a restaurant offering sankai dishes (dishes using fresh ingredients picked from mountains). It is a favorite with locals and opened in 1989.
Shown above is the Kiku Course for two, priced at 5,940 yen (including tax) per person.
At this restaurant, you can savor Yonezawa beef in three ways: with steak, shabu shabu, or sukiyaki.
Sukiyaki is a popular choice and features tender rib roast meat. The restaurant puts a lot of effort into the presentation of the meat and serves it neatly folded. As a result, the outer layer of the meat roasts well when put over the flame, but the inner layer remains rare. You can enjoy the perfectly balanced flavors and the rib roast in different ways.
The beef, as well as other ingredients, are all Yonezawa-produced, including the Welsh onions, konjac jelly, and mizuna (water greens). All ingredients are high quality and always served fresh.
The spices used to prepare the dishes are all hand-picked spices of fine quality. In addition to the local Hirayama Magobe Eshoten soy sauce, the chefs use Hidaka konbu (edible kelp) from Hokkaido for the dashi broth.

14:30: Creative Workshops at Dye and Weave Studio Wakuwaku-kan
Jonan-Icchome to Gobyojo-Nishiguchi, about 8 minutes by bus; after that, about 5 minutes by foot
At Dye and Weave Studio Wakuwaku-kan, you can test your weaving skills or try dyeing fabric with safflower.
In the weaving activity, you will learn how to make original silk coasters and tablecloths using a traditional loom. If you take part in dyeing, you can dye silk scarfs and cotton handkerchiefs using safflower.
Both activities take between 30 to 60 minutes. You don't have to worry if you don't understand Japanese well, as there are instruction sheets in English provided.
On the second floor of the facility, you can admire beautiful traditional clothing made in Yonezawa. You can also see some Western-style Yonezawa-made clothes, which reflect different fashion trends of the time.
You'll find souvenir and gift shopping inside the facility as well. We suggest checking out the coin purses (1,188 yen after tax) if you are looking for something to give to your family and friends.

16:00: Before Your Trip is Over – Walk Around Yamagata Station!
Those who wish to travel more throughout the prefecture should stay at Hotel Metropolitan Yamagata, located in the vicinity of Yamagata Station. It takes around 40 minutes from Yonezawa to Yamagata Station by Shinkansen, and around 50 minutes using the JR Ouhon Line (Ou Main Line). There is one train per hour running for each line.
If you're interested in a trip around Yonezawa, refer to YONEZAWABEEF TASTING PLAN&YONEZAWA WALKING. Those staying the night at Hotel Metropolitan Yamagata should view TOWN WALKS & YAMAGATA SOBA LUNCH.
Use These Special Tickets for Your Trip
Picture courtesy of JR East Japan
JR EAST PASS(Tohoku area) is a special pass that gives you an opportunity to use Shinkansen, special local train, limited express train, local train, JR bus, and transportation within a certain area for as much as you'd like. For further information on how to purchase and use it click on the following link.
** JR EAST PASS is available for purchase by those visiting Japan only. Please keep in mind that Japanese citizens, as well as non-Japanese residing in Japan who do not possess a travel visa, do not qualify to use this pass.
Go to Yamagata and Niigata with JR EAST PASS!
https://matcha-jp.com/en/yamagataniigata
Searching for ideas for an exciting Tohoku trip? Take a look at this website!
Tohoku Buffet: https://www.tohoku-buffet.com/sg/global/
Written by Chen
Sponsored by Yamagata Prefecture and Niigata Prefecture
The information presented in this article is based on the time it was written. Note that there may be changes in the merchandise, services, and prices that have occurred after this article was published. Please contact the facility or facilities in this article directly before visiting.