Explore Yamagata's Castles And Samurai Quarters! A Fun Two-Day Trip
Travel to Yamagata Prefecture with the JR EAST PASS (Tohoku Area)! Ride a special train with a foot bath, travel to a nationally recognized castle, and enjoy local Japanese cuisine and orchards. Set out on a 2 day, 1 night Yamagata trip!
Enjoy Yamagata with the Discount JR EAST PASS (Tohoku Area)!
Yamagata, located in the Tohoku region, is a prefecture filled with historical architecture like castles and samurai residences. It is also home to a special café in a renovated storehouse, and local dishes such as soba (buckwheat noodles) and fruit.
Yamagata has countless destinations you can visit, but in order to save on travel expenses, we suggest using the discount JR EAST PASS (Tohoku Area). With this pass, you can use transportation methods such as the Shinkansen (bullet train), limited express trains, rapid trains, normal trains, and JR buses within the specified area of the pass an unlimited number of times. The pass can be purchased in Japan or in your country of residence. Please refer to the link below for details.
■ JR EAST PASS (Tohoku Area)
** The JR EAST PASS is for international visitors to Japan. Japanese nationals and non-Japanese residents of Japan without a tourist visa status are unable to use this pass.
In this article, we'll use the JR EAST PASS (Tohoku Area) to introduce a two-day trip that includes history-filled spots in Yamagata!
Day One – Depart from Tokyo Station at 8:00
Your two days in Yamagata begin with riding the Yamabiko train (8:08 departure) from Tokyo Station to Fukushima Station. This part of the journey will take one hour and 46 minutes (9:46 arrival).
Ride the 10:02 Toreiyu Tsubasa Foot Bath Train
The Toreiyu Tsubasa is a train with a foot bath, servicing the route between Fukushima and Yamagata. The train's interior is designed to help travelers enjoy the ride, and even contains an area inspired by Yamagata-specialty fruit. It also has Japanese-style tatami seats and a bar stocked with local sake (Japanese rice wine).
Head to Kaminoyama-Onsen Station, our first destination, in Kaminoyama, Yamagata, while warming yourself up with the foot bath.
The foot bath train requires a separate fee and advance reservation. For details, please refer to this official website.
11:15 – Sightseeing at Three Historical Spots
Picture courtesy of Kaminoyama Castle
Located near Kaminoyama-Onsen Station are Kaminoyama Castle, a major Kaminoyama sightseeing spot, samurai residences, and Harusame'an.
Kaminoyama Castle was the fortress of the Mogami Clan, the group of Sengoku period daimyo (feudal lords) which once governed over Yamagata. Also called Tsukioka Castle, the castle has now become a local archive center, helping preserve the history and culture of the region. The observation deck overlooks stunning Mt. Zao.
The cherry blossoms are in full bloom every year during late April, transforming the area into a hanami (flower-viewing) spot, attracting many visitors.
** The castle is under construction until the end of March 2019. Tours of the inner area are still regularly offered.
Walk 7 minutes from Kaminoyama Castle and you'll arrive at a 200-year old samurai residence. Samurai residences were once the homes of warriors, and still retain their appearance from when they were originally used.

Harusame'an was the home to Takuan Soho, a monk who had been banished to this region during the Edo period. The building is now open to the public for free.
Inside the garden is a tea house called Chotei. Here, you can enjoy matcha green tea (500 yen plus tax, reservations necessary) in a peaceful space.

A tour is also available for this sightseeing area. If you're interested, check out KAMINOYAMA HISTORICAL WALK COURSE.
15:00 – Stroll Around Yamagata and Have Dinner
JR Yamagata Station to Kajo Park: 10-minute walk
Bottom right: Picture courtesy of Yamagata Prefecture
After enjoying Kaminoyama, it's time to head to JR Yamagata Station. Ride 9 minutes on the Shinkansen from Kaminoyama-Onsen Station.
Kajo Park, a 10-minute walk from the station, contains the ruins of Yamagata Castle, which is designated as one of Japan's top 100 castles. It was also once the fifth largest castle in the country. Here, you can enjoy beautiful scenery year-round, along with the bronze statue of Yoshiaki Mogami, a Sengoku daimyo.
There are also several cultural facilities inside Kajo Park. Yamagata City Local Museum (Former Saiseikan Building) is a Giyofu (an imitation of Western-style architecture) building, which was constructed inspired by a British naval hospital in Yokohama in the Meiji period. It has a circular hallway and an elegant ambiance.
Kajo Park → Bunshokan: 25-minute walk
The Yamagata Local Museum Bunshokan is a structure representative of the Taisho period. It was constructed in the 16th through 18th-century British-style, and will make you feel like you've been transported to Europe.
This location has also been the film location for several movies and dramas, including "Rurouni Kenshin: Kyoto Inferno," the live-action film of the popular manga.
Bunshokan → Beninokura: 18-minute walk
Yamagata Marugoto-kan Beninokura is located in an old storehouse and contains restaurants, cafes, and souvenir shops. The "beni" in Beninokura comes from the safflower (benibana) trade that flourished in Yamagata at one time. Safflower still plays an important part of the culture here, and can be encountered at this historical site.
Beninokura → MITSUYA: 3-minute walk
MITSUYA Dewajian, established in 1921, is a famous Yamagata soba restaurant. The Terasaki family, the passionate founders of the restaurant, conducted research throughout Japan before creating their own recipe.
Don't miss out on eating the exquisite soba at this special restaurant!
We recommend staying at Hotel Metropolitan Yamagata. It is ideally located and connects directly to Yamagata Station.
A walking tour of the town is also available in Yamagata City. See TOWN WALKS & YAMAGATA SOBA LUNCH for details.
Day Two – Yamadera, Local Gourmet Food, and Souvenir Shopping
10:30 – Yamadera Temple
Tendo Station (JR Yamagata Line) → Yamadera: 20 minutes by taxi or Yamadera Station (JR Senzan Line)
The official name of Yamadera Temple is Hojuzan Risshakuji Temple. The temple is mentioned in "Narrow Road to the Interior" by the historically renowned Japanese poet, Matsuo Basho.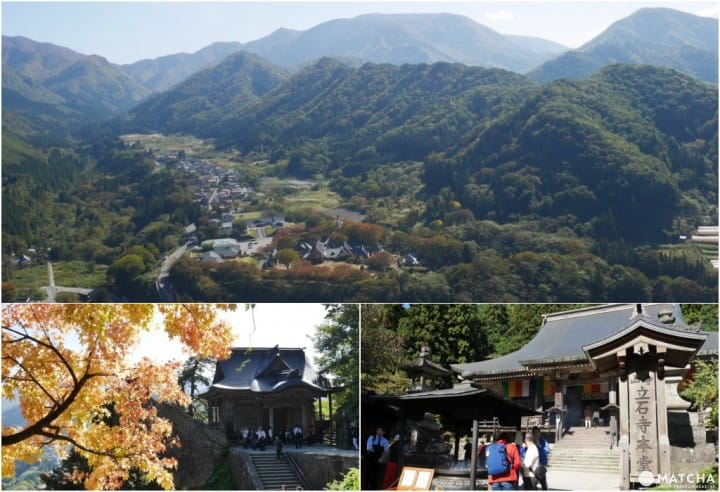 To reach the highest, innermost temple from the temple gate, visitors will climb a 1,000-step staircase that provides an unparalleled view of the picturesque scenery. Also, be sure not to miss Nokyodo Hall, the temple's oldest structure, and Godaido Hall, a temple with a 180-degree view.
12:25 – Pick Fresh Fruit at Oshokaju Orchards
Yamadera → Oshokaju Orchards: 20 minutes by taxi
Oshokaju Orchards is a popular sightseeing orchard in the area of Tendo. At this orchard, you can pick delicious, seasonal fruit like cherries, grapes, peaches, and apples. The orchard also sells souvenirs and sweets.
It was apple season at the time this article was written. We were able to pick and eat as many apples as we wanted for 30 minutes, which were incredibly delicious! You can also take them home as souvenirs (three to five apples).
13:15 – To Michi no Eki Tendo Onsen
Oshokaju Orchards → Michi no Eki Tendo Onsen: 15-minutes by taxi
After walking around all morning, relieve your tired feet in the foot baths at Michi no Eki Tendo Onsen.
Tendo is a city famous for producing shogi (*1) pieces. There are even foot baths shaped like shogi pieces (pictured above). The store next door sells many products including souvenirs and produce, making it an ideal area to shop for gifts and keepsakes.
*1 Shogi: a two-player game where players compete to win by moving their pieces in turns on top of a shogi board.

13:35 – End With Exquisite, Specialty Cuisine at Kunidon
Michi no Eki Tendo Onsen → Kunidon: 5 minutes by taxi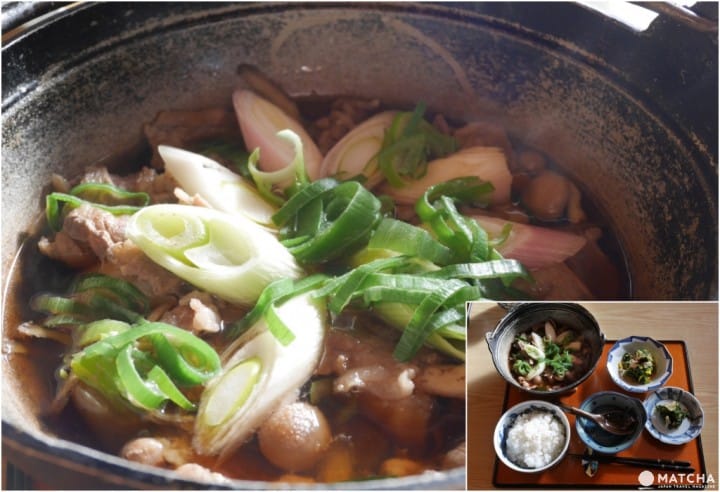 For lunch, eat imoni, a local Yamagata dish, at Kunidon in front of Tendo Station. Imoni is made by boiling taro, green onions, konjac, and beef in a mixture of soy sauce, sake, and sugar.
This soup will recharge your energy and is a delicious and satisfying way to end your travels.
Go to Yamagata And Niigata with JR EAST PASS!
https://matcha-jp.com/en/yamagataniigata
Find more fascinating Tohoku travel destinations here!
TOHOKU BUFFET: https://www.tohoku-buffet.com/sg/global/
Written by Chia
Sponsored by Yamagata Prefecture and Niigata Prefecture
The information presented in this article is based on the time it was written. Note that there may be changes in the merchandise, services, and prices that have occurred after this article was published. Please contact the facility or facilities in this article directly before visiting.