Yamagata And Niigata Travel - 5 Retro Spots Where You Can Slip Back In Time!
Yamagata Prefecture is home to history-filled destinations like Ginzan Onsen and Sakata. In the neighboring Niigata Prefecture, you will find traditional markets and a delightful geisha district. Come to explore these retro spots!
Yamagata Prefecture is famous for cherries, grapes, and Yonezawa beef. Niigata Prefecture is renowned for producing Koshihikari rice and Japanese sake. Both prefectures boast a number of retro, atmosphere-filled sightseeing spots popular with travelers, in addition to their exquisite cuisines.
In this article, we highlight different travel destinations in Yamagata and Niigata that have retained a historical Japanese atmosphere, as well as provide information on discount tickets.
1. Ginzan Onsen – A Pristine Snowscape
Ginzan Onsen is a hot spring located in Obanazawa, Yamagata Prefecture. It received its name due to its close location to Nobesawa Ginzan, a silver mine.
Japanese-Western Wooden Architecture with a Retro Flair
Picture courtesy of Yamagata Prefecture
There are currently 13 ryokans (traditional Japanese inns) situated along the Ginzan River at Ginzan Onsen. Many of these ryokan were built between the Taisho period (1912–1926) and the early Showa period (1926-1989). The three-to-four floor wooden structures create a noticeably Taisho Roman (*1) feeling.
*1 Taisho Roman: refers to the cultural phenomenon of something having an early 20th century, Taisho-period atmosphere.
Picture courtesy of Yamagata Prefecture
The most famous ryokan in the district is Notoya Ryokan, a designated cultural property. It is said that this inn was the model for Director Hayao Miyazaki's animated film "Spirited Away."
Notoya Ryokan
Address: Yamagata, Obanazawa, Oaza Ginzan Shinhata 446 Google Map
Rent a Kimono and Take Photos at Ginzan Onsen!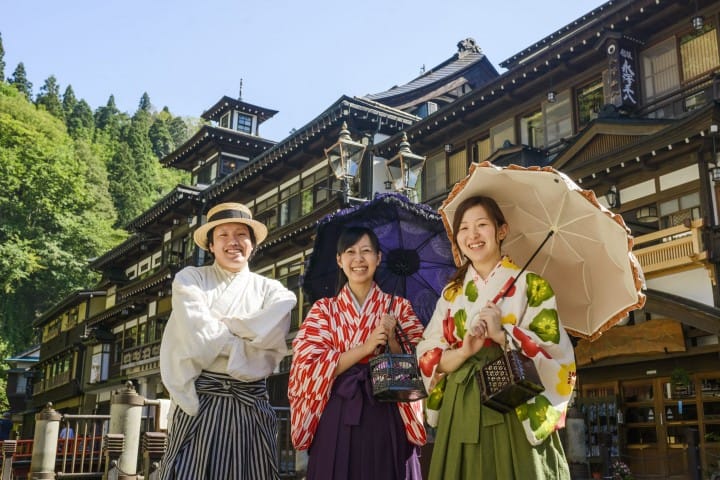 Picture courtesy of Yamagata Prefecture
At Ginzan Onsen, you can enjoy the sulfate hot springs, which are thought to be effective for relaxing stiff muscles. You can also stroll and take in the historic townscape.
We recommend borrowing a kimono and taking some atmospheric photos to remember your trip by!
Picture courtesy of Yamagata Prefecture
The winter landscape is one of the most beautiful sights to see throughout the year. The snow blankets the hot spring village, giving the area a romantic and ethereal appearance. You can experience the snowy atmosphere by visiting between December and February.

2. Nanokamachi – A Blend of Traditional and New
Nanokamachi is a very prosperous neighborhood in Yamagata City.
In addition to the historical buildings here, there are also many commercial facilities constructed following renovation. This new spot was created by combining the new with the old and is crowded by many young people.
TONGARI BLDG. – Encounter Yamagata's Cultural Trends
Picture courtesy of TONGARI BLDG.
TONGARI. BLDG is a spot that has gained popularity recently in the Nanokamachi area.
This building was previously for residential use and was remodeled and reconstructed in 2016. It now houses restaurants that use local ingredients, bookstores where you can learn about Yamagata's nature and culture, spaces to hold art exhibitions, and other businesses. It is an important fixture that helps spreads Yamagata culture.
TONGARI. BLDG
Address: Yamagata, Yamagata, Nanokamachi, 2-7-23 Tongari Bldg. Google Map
Nanokamachi-Gotenzeki – Take a Break by the River
Picture courtesy of Yamagata Prefecture
This is another prominent spot to visit in the Nanokamachi neighborhood.
The gotenzeki (*2) is one of Yamagata's five low dams. It was once an embankment made to prevent the flooding of Mamigasaki River over 400 years ago. At the time, it was used for the moats and daily water in Yamagata Castle as well as for the agriculture.
*2 Seki: an embankment constructed to draw the river water elsewhere and to ease the flow.
Nanokamachi-Gotenzeki opened in 2010 and is lined with stores including a historical teahouse, soba restaurant, and cafés. Explore the shops here and stroll along the Gotenzeki canal.
Nanokamachi-Gotenzeki
Address: Yamagata, Nanokamachi 2-7-6 Google Map
Yamagata also has several other spots worth visiting aside from the ones mentioned above, such as Bunshokan and Kajo Park.
If you want to do more sightseeing in Yamagata, we suggest a stay at Hotel Metropolitan Yamagata, directly accessible from Yamagata Station. Refer to TOWN WALKS & YAMAGATA SOBA LUNCH for more details.

3. Yonezawa by Uesugi Shrine – Historical Samurai Culture
Yonezawa is a city known for its Yonezawa beef cuisine and its retro townscape. Architectural structures connected to Uesugi family (*3), such as Uesugi Hakushakutei and the Uesugi Family Byosho Graves, still remain near Uesugi Shrine.
Here you can experience fuedal period Japan firsthand.
*3 Uesugi Family: the house of a military commander during the Sengoku period.
Uesugi Shrine – A Shrine Honoring a Military Hero
Picture courtesy of Yamagata Prefecture
Uesugi Shrine is a shrine dedicated to Kenshin Uesugi (*4) and is also famous for its cherry blossoms. During the cherry blossom season, you can enjoy a stunning landscape with over 200 Yoshino cherry trees simultaneously in full bloom near the moat.
*4 Kenshin Uesugi: a military commander who lived during the Sengoku period, nicknamed the "God of War."
Uesugi Shrine
Address: Yonezawa, Marunouchi 1-4-13 Google Map
Uesugi Hakushakutei – Yonezawa Beef at a Tangible Cultural Property
Picture courtesy of Yamagata Prefecture
Uesugi Hakushakutei is the former residence of Mochinori Uesugi, the 14th daimyo (feudal lord) of the Uesugi family. It was constructed in 1896 and is a registered Tangible Cultural Property. Here you can view elegant Japanese gardens and indulge in Yonezawa beef prepared in different ways.
Uesugi Hakushakutei
Address: Yamagata, Yonezawa, Marunouchi 1-3-60 Google Map
Uesugi Family Byosho Graves – A Cemetery of Uesugi Fuedal Lords
Picture courtesy of Yamagata Prefecture
The Uesugi Family Byosho Graves are dedicated to the successive feudal lords of the Uesugi family. Brilliant hydrangeas are in full bloom every year around June. The Uesugi Snow Lantern Festival is also held in mid-February with snow and candle lanterns, creating a magical sight.
Uesugi Family Byosho Graves
Address: Yamagata, Yonezawa, Gobyo 1-5-30 Google Map
There are also more charm-filled areas in the Yonezawa area in addition to those mentioned above. These include Waku Waku Kan, where you can try traditional safflower dyeing, the Yonezawa Textile Historical Museum, and other areas. Please read YONEZAWABEEF TASTING PLAN&YONEZAWA WALKING if you're interested in these popular Yonezawa spots.

4. Sakata – Delve Into the Fine Arts
Sakata was historically an extremely prosperous port town. It flourished in the Edo period from the transportation of rice and fish to all areas of Japan via Kitamaebune (*5). Upon visiting you will discover historical buildings containing remnants of this merchant culture, including the Sankyo Warehouses and Homma Museum of Art. You will also feel the artistic atmosphere.
*5 Kitamaebune: active merchant ships that transported goods between the Edo period (1603–1868) and the Meiji period (1868–1912).
Sankyo Warehouses – A Film Spot for "Oshin," a Japanese drama
Picture courtesy of Yamagata Prefecture
There are numerous distinct buildings in Sakata, but the Sankyo Warehouses built in 1893 are the most well known.
The warehouse is an expansive rice granary with twelve buildings constructed near the port for loading and unloading rice shipments. Behind the warehouse is a row of Japanese zelkova trees that were planted to protect the granary from the breeze from the Sea of Japan and sunlight.
The sight of this giant storehouse together with the avenue of Japanese zelkova trees is popular and has been used for filming dramas. "Oshin," the internationally famous Japanese television drama broadcasted from 1983–1984, also used the Sankyo Warehouses as a set.
Sankyo Warehouses
Address: Yamagata, Sakata, Sankyo 1-1-8 Google Map
Homma Museum of Art – The Treasures of Sakata Tycoons
Picture courtesy of Yamagata Prefecture
The Homma Museum of Art was built by the Homma family, who were affluent land owners in Sakata. This museum another one of Sakata's famous structures in addition to the Sankyo Warehouses.
The Homma Museum of Art exhibits valuable items from each historical period. It is also home to the Kakubu Garden, a Japanese garden enhanced in beauty by Mount Chokai located at the prefectural border of Yamagata and Akita. The Seienkaku Tearoom serves delicious tea.
Homma Museum of Art
Address: Yamagata, Sakata, Onaricho 7-7 Google Map
In addition to the locations above, there are several more places where you can learn about the history of Sakata. At Somaro you can watch maiko (apprentice geisha) dance performances, and two of Japan's sokushin butsu (*6) are enshrined at Kaikoji Temple. Please refer to SHONAI, WHICH FLOURISHED DUE TO THE KITAMAEBUNE, TRADITIONAL JAPANESE DANCE, AND JELLYFISH AQUARIUM + TAXI &YUNOHAMA-ONSEN LODGING PLAN if you want to visit and see these popular spots for yourself.
*6 Sokushin butsu are Buddhist practitioners of asceticism who attain ultimate enlightenment, thus becoming a living Buddha.

5. Furumachi – A Friendly Geisha District
Furumachi is one of the most lively areas in Niigata and also contains one of the few geisha districts in Japan.
In this dynamic area, you'll find spots retaining history such as Shirayama Shrine, thought to be effective for matchmaking, Honcho Market, where you'll find fresh seafood and mountain food, and more. It's also crowded with trendy cafés and large commercial facilities.
Shirayama Shrine – A Shrine to Help Find You "The One"
Picture courtesy of Shirayama Shrine
Shirayama Shrine is famous for being responsive to prayers of visitors who are searching relationships. It also attracts locals as the god of safety for long voyages, commutes, and travel, is enshrined here.
Shirayama Shrine
Address: Niigata, Niigata, Chuo, Ichibanboridoricho 1-1 Google Map
Honcho Market – A Traditional Market with Fresh Food
Picture courtesy of Niigata Prefecture
More than 60 shops line the arcade of the Honcho Market. Here, you can find seafood freshly caught from the of Niigata and Sado, seasonal vegetables, and fruits. Local residents often visit this market, so can also take part in the friendly exchange.
Honcho Market
Address: Niigata, Niigata, Chuo, Honchodori 6 Bancho Google Map
Furumachi Kagai – A Traditional Geisha District
Picture courtesy of Niigata Prefecture
Furumachi Kagai is found on 8 Bancho and 9 Bancho and has currently more than 20 professional geishas at local ryotei (traditional Japanese restaurants). Nabedyaya and Ikinariya in particular are large, well-known restaurants.
There are several more must-visit spots in Niigata in addition to the places above, including the Niigata City History Museum and BILLBOARD PLACE, a complex with clothing stores. If you want to see more of Niigata, take a look at WALKING IN NIIGATA STREET&「KIWAMI」LUNCH.

Visit Yamagata and Niigata with the JR EAST PASS!
Picture courtesy of JR-EAST
We suggest using a travel pass for your sightseeing route. If you want to visit popular Yamagata spots like Sakata, Nanokamachi, Yonezawa, and Ginzan Onsen, we suggest the JR EAST PASS (Tohoku Area). If you're going to the exciting Furumachi area in Niigata, use the JR EAST PASS (Nagano/Niigata Area).
By taking advantage of these passes, you can use transportation methods such as the Shinkansen (bullet train), limited express trains, rapid trains, normal trains, and JR buses within the specified area of the pass an unlimited number of times. Refer to the links below to see how to purchase and use these passes.
■ JR EAST PASS(Tohoku area)
■ JR EAST PASS(Nagano, Niigata area)
** These tickets are for visitors coming to Japan and cannot be used by Japanese nationals or non-Japanese residents of Japan.
Don't Miss These Retro Sightseeing Spots!
Yamagata and Niigata Prefectures are not only famous for producing gourmet food but are also very well-known for their retro, historical destinations for sightseeing. If you have the opportunity to visit Japan, be sure to visit Yamagata or Niigata using the discount JR EAST PASS!
Go to Yamagata And Niigata with JR EAST PASS!
https://matcha-jp.com/en/yamagataniigata
We recommend this website to discover travel destinations in Tohoku!
TOHOKU BUFFET: https://www.tohoku-buffet.com/sg/global/
Written by Chen
Sponsored by Yamagata Prefecture and Niigata Prefecture
The information presented in this article is based on the time it was written. Note that there may be changes in the merchandise, services, and prices that have occurred after this article was published. Please contact the facility or facilities in this article directly before visiting.