Yamagata And Niigata - 5 Local Dishes And Tasty Snacks You Must Try!
Yamagata is known for tasty Yonezawa beef, cherries, warabi mochi, and hearty imoni soup. In Niigata, sasa dango, a Japanese dessert, is growing in popularity. We reveal why these local Japanese dishes are so loved and why you should try them, too!
In Yamagata cuisine, Yonezawa beef, imoni (taro and meat soup), fruit parfaits, and warabi mochi (chewy and sweet dumplings made from bracken starch) are considered delicacies of the prefecture. Niigata Prefecture is known for its Koshihikari rice production and has become popular for rice desserts like sasa dango (a sticky rice cake wrapped in bamboo leaves).
In this article, we'll introduce these gourmet Japanese dishes and how you can enjoy them while saving on travel expenses!
1. Try Tasty Yonezawa Beef Prepared in Different Dishes!
Picture courtesy of Yamagata Prefecture
Yonezawa beef sukiyaki is a traditional dish in Yonezawa. To make this sukiyaki, vegetables and Yonezawa beef are added into a pot and simmered with sauce made of sugar and soy sauce. The beef melts in your mouth with your first bite, and the sweetness of the vegetables goes perfectly with white rice!
Picture courtesy of Yamagata Prefecture
Yonezawa beef shabu-shabu is a dish where you dip beef into a beef bone-based soup. The beef is ready to eat once the color of the beef changes, allowing you to enjoy the tenderness of the beef and its delicate flavor.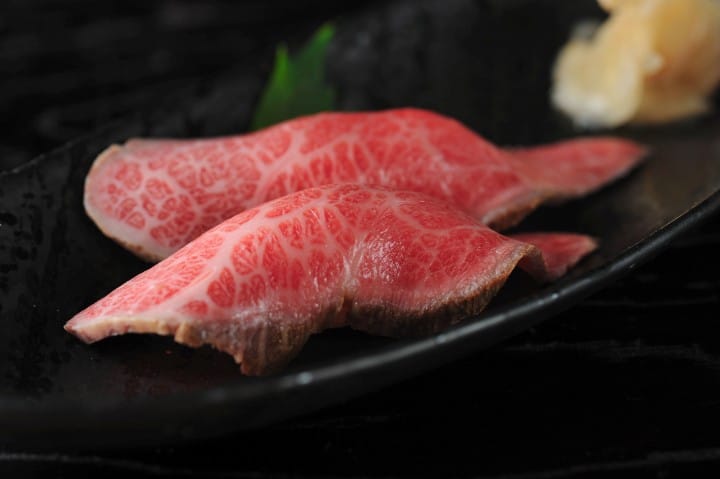 Picture courtesy of Tokinoyado Sumire
Yonezawa beef nigiri sushi typically uses chuck, a rare part of the cow. As soon as you eat it, the meat is melty like fatty tuna, but has a light flavor. If you want to try Yonezawa beef dishes, we recommend making a visit to Tokinoyado Sumire!
Tokinoyado Sumire
Address: Yamagata, Yonezawa, Sekine 12703-4 Google Map
If you want to indulge in Yonezawa beef cuisine and travel to popular Yonezawa sightseeing spots like Uesugi Shrine and Uesugi Hakushakutei, then please refer to YONEZAWABEEF TASTING PLAN&YONEZAWA WALKING.
2. Imoni – The Taste of Autumn in Yamagata
Picture courtesy of Yamagata Prefecture
Imoni is a traditional Yamagata soul food and was first invented in the mid-1600s. is a traditional Yamagata soul food. The Japan No. 1 Imoni Festival is a large-scale held in event in autumn dedicated to the dish.
Picture courtesy of Yamagata Prefecture
Imoni is usually made by boiling taro, green onions, konjac, and beef in a mixture of soy sauce, sake, and sugar. The taro softens after boiling in the sweet soup stock and is extremely delicious. It is a very tasty dish that we guarantee you will eat up quickly!
According to region, the dish will contain different ingredients and seasonings, like boiled pork and miso.
Picture courtesy of Yamagata Prefecture
Japan's No.1 Imoni Festival (Japanese) takes place every September on the bank of Mamigasaki River.
During the early morning on the day of the festival, a huge amount of ingredients, including 1.2 tons of beef, 6 tons of water, 700 liters of soy sauce, and 3 tons of taro, are put into a pot 6.5 meters in diameter early in the morning. This will make enough for 30,000 portions of imoni.
If you want to try imoni yourself, then you can taste the dish at Hotel Metropolitan Yamagata without having to wait until the festival in September. Please refer to TOWN WALKS & YAMAGATA SOBA LUNCH.
Hotel Metropolitan Yamagata
Address: Yamagata, Yamagata, Kasumicho 1-1-1 Google Map
3. Parfaits Topped with Freshly Picked Fruits
Yamagata is considered to be one of Japan's fruit kingdoms. Here you can try a variety of fresh fruit throughout the year. The production seasons of popular fruit are listed below.
| | |
| --- | --- |
| Variety | Season |
| Cherries | Late April to Early July |
| Peaches | Mid-August to Early September |
| Grapes | Early September to Early October |
| Apples | Mid-September to Mid-December |
| La France Pears | Late October to Mid-December |
Picture courtesy of Yamagata Prefecture
In particular, Sato Nishiki, a variety of cherry with a ruby color, is extremely popular with Yamagata residents. The main production areas for this cherry are in Higashine and Tendo in Yamagata Prefecture.
Picture courtesy of Oshokaju Orchards
Sato Nishiki cherries are loved by so many people is due to their sweetness. These cherries also have a moderate acidity, soft flesh containing a lot of fruit juice, and strong flavor. Cherry parfaits made with Sato Nishiki cherries are one of Yamagata's specialty desserts.
Picture courtesy of Oshokaju Orchards
This grape parfait is made using a variety of different grapes and will surprise you with its tasty flavor. The grapes are extremely juicy and pair deliciously with the sweetness of the soft serve ice cream.
We recommend making a visit to Oshokaju Orchards to try these fruit parfaits.
Oshokaju Orchards
Address: Yamagata, Tendo, Oaza Kawarago 1303 Google Map
You can also travel to Yamadera, a perfect destination for hiking, which is 20–30 minutes by taxi from the sightseeing orchards in both Higashine and Tendo.
4. Soft Warabi Mochi - Unlike Anything You've Tried Before!
Picture courtesy of Koshikakean
Warabi mochi is a type of sticky rice cake made from bracken starch. Koshikakean, a popular wagashi (traditional Japanese sweets) company established in 1990, made warabi mochi into a popular Yamagata souvenir.
Picture courtesy of Koshikakean
The warabi mochi at Koshikakean contains a rich fragrance and sweetness from the kinako (roasted soy flour) and has a soft, velvetty, melt-in-your-mouth texture. It is no exaggeration to say that this warabi mochi reinvented the image warabi mochi had up until now.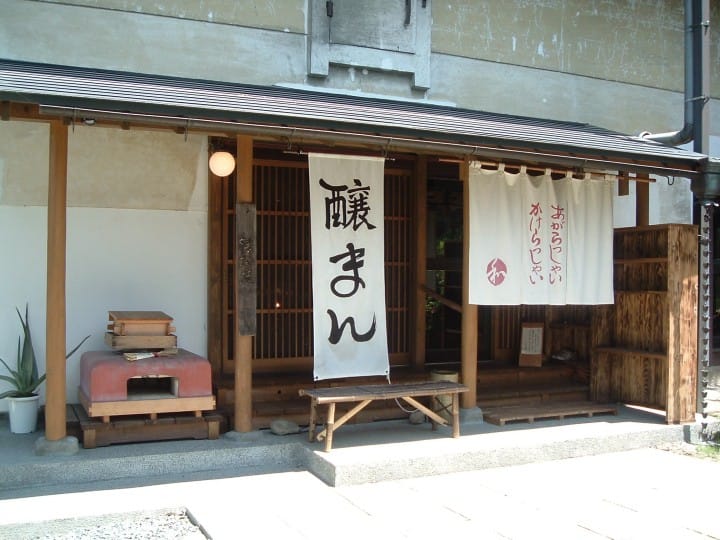 Picture courtesy of Koshikakean
Koshikakean is in a historical warehouse built during the Meiji period (1868-1912). You can experience the atmosphere of old Japan when you visit the shop.
Koshikakean
Address: Yamagata, Tendo, Kitame 1-6-11 Google Map
Sightseeing farms where you can enjoy fruit picking, and Yamadera, a mountain temple with a stunning view, are located near Koshikakean.
Sasa Dango – A Niigata Tradition with Over 5,400 Years of History
Picture courtesy of Niigata Prefecture
Sasa dango is a mugwort-flavored sticky rice cake wrapped in bamboo leaves with a red bean paste filling. It is either steamed or boiled. It has a springy exterior and the red bean paste inside has just the right amount of sweetness. The nice fragrance of the mugwort and bamboo will pleasantly fill your senses as you eat.
Picture courtesy of Niigata Furusato Village
There are several more sweets as well, inspired by the traditional sasa dango. SASAKO, a type of sasa dango filled with a velvety fresh cream inside the red bean paste, is popular with those who have a sweet tooth.
Picture courtesy of Niigata Furusato Village
Other products include the crunchy Sasa Dango Cookie and the Sasa Dango Manju, which pair deliciously with tea. There's also the Sasa Dango Cream Daifuku stuffed with plenty of filling, and the Country Ma'am Sasa Dango Flavor from Fujiya, a sweets company.
All of the sasa dango products introduced above can be bought at the Niigata Furusato Village. The village also carries other products such as Japanese sake, miso, and soy sauce produced in Niigata. You can also taste local cuisine made using seasonal ingredients here.
Niigata Furusato Village
Address: Niigata, Niigata, Nishi, Yamada 2307 Google Map
Niigata also has a number of popular shopping spots such as the retro Furumachi Shopping Street, the trendy BILLBOARD PLACE, and other areas. If you want to see more of Niigata, see WALKING IN NIIGATA STREET&「KIWAMI」LUNCH.
Dine All You Want and Save with the JR EAST PASS!
Picture courtesy of JR-EAST
To save on travel expenses, we recommend either of the two tickets below to try the many delicious local dishes in Yamagata and Niigata. If you want to visit Yamagata, use the JR EAST PASS(Tohoku area). If you want to visit Niigata, then use the JR EAST PASS(Nagano, Niigata area).
By taking advantage of these passes, you can use transportation methods such as the Shinkansen (bullet train), limited express trains, rapid trains, normal trains, and JR buses within the specified area of the pass an unlimited number of times. Refer to the links below to see how to purchase and use these passes.
■ JR EAST PASS(Tohoku area)
■ JR EAST PASS(Nagano, Niigata area)
*These tickets are for international visitors to Japan and cannot be used by Japanese nationals or non-Japanese residents of Japan.
Taste Yamagata and Niigata Gourmet Cuisine with the JR EAST PASS!
If you feel hungry after reading this article and are considering a trip to these prefectures, we suggest obtaining the JR EAST PASS and indulging in the delicious food in Yamagata and Niigata!
Go to Yamagata And Niigata with JR EAST PASS!
https://matcha-jp.com/en/yamagataniigata
We recommend this website to discover travel destinations in Tohoku!
TOHOKU BUFFET: https://www.tohoku-buffet.com/sg/global/
Written by Chen
Sponsored by Yamagata Prefecture and Niigata Prefecture
The information presented in this article is based on the time it was written. Note that there may be changes in the merchandise, services, and prices that have occurred after this article was published. Please contact the facility or facilities in this article directly before visiting.