Visiting Japan in Winter: Weather, Clothing, and Travel Tips
If you are planning to visit Japan in winter 2019 or 2020, read this article for information on weather, average temperatures and what to wear in the cold months. Recommended winter activities, snow festivals, and other travel tips are also introduced here.
All About Winter in Japan
Japan is cold in winter and it is snowing in many places across the country. There is a unique beauty to the scenery, however, and there is a myriad of fun activities and delicious dishes that can only be enjoyed during this season. We have compiled a guide of useful information for people planning to visit Japan during winter.
Go To Travel Booking Websites
1. Japan Wonder Travel (*the only website with English support. Please specify that you applied through MATCHA.)
2. HIS
3. JTB
4. AirTrip
5. Ikyu.com
6. Yahoo! Travel
Winter Temperatures in Japan
Picture from Jigokudani Monkey Park - See Monkeys Bathing In Hot Springs
Japanese winters generally last from December to February.
In Tokyo, December temperatures tend to be around 12ºC (54°F) in the afternoon and drop to about 5ºC (41°F) in the morning and at night.
By January, afternoon temperatures drop to 10ºC (50°F) and morning temperatures tend to hover between 2ºC~3ºC (35°F~37°F). In February, afternoon temperatures are about 10ºC~11ºC (42°F~50°F) while morning and evening temperatures fall to about 3ºC (37°F).
Tokyo winters are sunny with little rain or snow. The air is dry, with the humidity around this time generally staying at a constant 30%.
Picture courtesy of Magical Trip
The cold makes it a great time to sip on hot sake. Those who enjoy alcoholic beverages can join local tours in Tokyo that will warm up your spirits with delicious adult drinks.

What to Wear in Winter? Recommended Clothing
You will need a coat in December. On some days, gloves and scarves might come in handy.
In January and February, you will need a down jacket or a coat. You will definitely need gloves and a muffler too.
On windy days, it is a good idea to have a knit cap and earmuffs. If you plan to be outside for a long time on cloudy days or in the evenings, we recommend that you use disposable kairo (heating pads) to protect your hands and feet from the cold.
The heating pads can be purchased at any convenience store, supermarket, and drugstore. A pack of 10 heating pads costs around 200 yen. In order to use them, you just need to open the pack. The iron sand contained in the pad will begin to heat up in contact with the oxygen in the air. The pad will stay warm from 8 to 12 hours.
Please keep warm by wearing proper clothes and drinking hot drinks. If you do catch a cold, stop by a drugstore such as Matsumoto Kiyoshi and get some medicine. Light medicine to soothe a sore throat or to treat a fever can be bought without a medical prescription. In case of high fever and severe coughing, it's recommended that you go to the hospital.
In order to describe your symptoms to the drugstore staff or a doctor, please use the Japanese phrases compiled in this article.
It will be freezing outside but building interiors will be heated; it would be wise to layer your clothing so that you can take layers on and off as necessary.
The Highlights of Winter in Japan
1. New Year Celebrations
From around the beginning of December, you can feel everyone's anticipation of the New Year celebrations all around the cities and towns of Japan. The shops will be showcasing products for the New Year, such as auspicious osechi cuisine, New Year's decorations, New Year's greeting cards and lucky bags full of goods that can be bought at special discount prices.
2021 is the Year of the Ox. You will be able to find products with illustrations of cute cows, which are considered auspicious this year.
If you spend the New Year in Japan, how about joining the crowds for the traditional New Year midnight shrine or temple visit? In Tokyo, there are plenty of countdown parties and concerts held either in the open or in clubs and live music venues. The New Year's Fox Parade held in Oji, a town in the Kita ward of Tokyo, is increasingly popular, attracting participants from all around the country.
2. Winter Illuminations
Picture from Gorgeous Winter Illuminations At Tokyo Station
Winter illuminations are one of the distinctive features of this season in Japan. The cities and towns are decorated with beautiful lights from around the end of November to February.
In Tokyo, you can find beautiful illuminations around Tokyo Station, in Ginza and Yurakucho, as well as Ebisu and Roppongi. The wide parks located less than one hour away from Tokyo, such as Sagamiko Pleasure Forest and Ashikaga Flower Park, have been drawing the attention of thousands of visitors thanks to the innovative collaboration between light and nature.
In Osaka, the Nakanoshima Park Illumination has an exciting theme every year while Kobe's Illuminarie are famous worldwide for the scale and splendor of the lights. If you visit Japan in the winter, do check out some of the illumination events around the city!
3. Beautiful Winter Scenery
The Shirogane Blue Pond in Hokkaido
Naturally, if we are talking about sights in winter, natural landscapes never fail to capture our hearts. The sight of entire vistas glittering white with freshly piled snow will both refresh and enthrall you. However, such scenes do not just occur everywhere in Japan. In fact, in big cities like Tokyo, Osaka, and Fukuoka, snow is a rare sight.
Hokkaido is the first area to experience snowfall in Japan, with the first snowflakes drifting down beginning at the end of October and early November. In the areas of Aomori, Akita, and Iwate, snow begins to fall from early November to mid-November, while in the areas of Yamagata, Miyagi, and Fukushima, it will start falling from mid-November into late November.
Picture from Hakuba Area Guide: 8 Best Ski Resorts And Sightseeing Spots
In places such as Niigata, Toyama, Ishikawa, Fukui, and Nagano, it begins snowing from late November to early December, so you can enjoy the scenery then.
Even in regions where snow does not tend to pile up, you can find snowy landscapes if you head towards the mountains. For example, snow is very rare in Kyoto itself but places like Kinkakuji Temple, Ginkakuji Temple, and Kifune Shrine are famous for their snowy backdrops in the winter. The combination of temples and gardens is particularly gorgeous, and many tourists come to Japan during wintertime just to enjoy these evocative scenes.
4. Winter Sports and Snow Festivals
Picture from 5 Ski Resorts You Can Enjoy on a Day Trip from Tokyo
Japan is a mountainous country, which means it's an ideal environment for winter sports such as skiing, snowboarding, skating, and snow trekking.
You can find excellent ski resorts near Tokyo or you can enjoy a few days in Hokkaido, the most popular destination for exciting winter activities.
Picture from Six Winter Snow Festivals You Must Check Out In Japan!
Gorgeous snow festivals are being held at various locations in eastern and northern Japan, like the Sapporo Snow and Ice Festival. They all contain extravagant displays of buildings and statues made completely out of snow and ice, which are illuminated at night, creating a wonderful landscape that can be enjoyed only during this season.
Each festival has various events that attract many visitors from all around the country. The tasty hot local dishes available at the yatai food stalls are themselves one of the attractions at these events.

Visiting Sapporo in winter is popular due to the snow festival. To make the most of the season, add a guided tour of local food in Sapporo's Susukino neighborhood, to sample fresh seafood and delicious dishes to help warm up.

5. Enjoy the Winter Scenery from a Hot Spring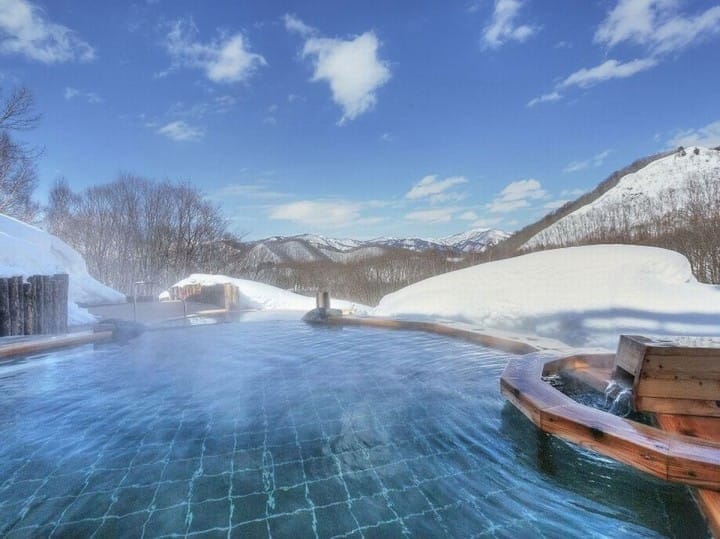 Picture from Minakami Onsen - Great Hot Springs Near Tokyo! Recommended Inns
Winter is also the best time to appreciate hot springs. There's nothing like warming up by taking a hot bath in thermal water. Moreover, many hot spring resorts in the mountains offer open-air baths with wonderful views. Minakami Onsen in Gunma or Nozawa Onsen in Nagano are just two of these place where you can enjoy the amazing experience of taking a bath while gazing at the snowy landscape outside.
Enjoy Your Winter Trip to Japan!
The Japanese winter is cold, but there are so many things that can only be enjoyed during this time: hot spring baths, hot pot dishes, snow-covered scenery, New Year events, and many more. Make sure to dress warmly and head out to experience everything that the season has to offer.

Go To Travel Booking Websites
1. Japan Wonder Travel (*the only website with English support. Please specify that you applied through MATCHA.)
2. HIS
3. JTB
4. AirTrip
5. Ikyu.com
6. Yahoo! Travel

The information presented in this article is based on the time it was written. Note that there may be changes in the merchandise, services, and prices that have occurred after this article was published. Please contact the facility or facilities in this article directly before visiting.