Furano And Biei In Hokkaido – A Summer Escape To A Fairytale World
The Furano-Biei area in Hokkaido is an amazing destination for a summer trip with its wonderful lavender fields, wide blue sky and cobalt blue pond. This article introduces some of the great attractions in Furano and Biei, what to do on a trip, and tips for getting there from Sapporo.
Travel in Furano-Biei, Hokkaido - Stunning, Otherworldly Nature
The Furano-Biei area in Hokkaido Prefecture
Hokkaido is famous for its snow festivals, ski resorts and the vast and calm scenery of the countryside. Now as winter is receding to the backstage and the sunlight of summer is drawing near, let's get ready for a summer escape to the green and blue paradise of Furano and Biei.
But before we start our journey, let me give you some tips for a great trip at an affordable price.
Tips for Your Trip to Furano-Biei and Access
Furano-Biei in Hokkaido
The sooner you book your tickets and accommodations, the cheaper they are! Plan your trip as early as possible so that you don't miss a convenient deal. For a summer trip? Now is the time to start booking!
Another tip is that Hokkaido weather is very changeable. Don't forget to bring an umbrella or raincoat. A light wind jacket is also recommended as mornings and evenings tend to be cool.
How to Get to Furano-Biei
If you come to the Furano-Biei area by airplane, instead of buying a direct ticket to Asahikawa Airport (which is the closest airport to this region), you can consider booking a flight to Sapporo (which normally will cost you only one third of the price to Asahikawa) and purchase the Furano-Biei Free Ticket.
It is called the "Furano-Biei Free Kippu" in Japanese and is sold at Shin-Chitose Airport (go to its JR station and ask for the ticket). This ticket allows you to enjoy the spectacular view of Hokkaido through the windows of the JR trains.
The famous Norokko train of Hokkaido
Furthermore, if you prefer riding in an open car, so that you can feel the smell of lavender and wildflowers and enjoy the panoramic view of the countryside, the Free Ticket also allows you to sit on the famous no-glass-window Furano-Biei Norokko train! (Don't forget to get a stamp of riding this famous train on your ticket. It will be an invaluable souvenir for you.)
With no glass windows, you'll be able to enjoy the cool breeze.
As well as the panoramic view of Hokkaido!
Three Must-See Places in Furano-Biei
1. Farm Tomita and the Lavender Fields
Farm Tomita is famous throughout Japan for its bright, charming flower fields.
Let's say goodbye to Norokko and head to our first destination – Farm Tomita. Just get off at Lavender Batake Station, follow the stream of people, and you'll soon find Farm Tomita, which was listed as a top place to see in Furano by TripAdvisor.
Farm Tomita has many fields and gardens with various kinds of flower in bloom from spring to autumn. However, it's lavender what has made this farm renowned.
Lavender fields at Farm Tomita
The peak season for lavender in 2020 is around early to mid-July Be sure not to miss the chance to see the wonderful lavender fields!
Shopping at Poppy House at Farm Tomita
In addition to the flower fields, Farm Tomita also sells kind of products made with lavender, from dried lavender and lavender perfume to lavender incense bags and even lavender-flavored ice cream! You can even visit their gallery which hosts an amazing dried flower exhibition.
Poppy House - the building shown in the picture above - is where you can find lavender-related items. This store is open only in July.
Dried Flower House
The Dried Flower House is a two-story wooden house where many kinds of colorful dried flowers are on display. It is open all year round.
2. Shirogane Blue Pond
The mystical cobalt-blue waters of Shirogane Blue Pond in Biei
Another remarkable attraction of Hokkaido is the dreamlike Shirogane Blue Pond. From Biei Station, you can take a bus of the local Dohoku Bus lines to reach the pond. A one-way ride takes around 25 minutes.
This particular pond is famous for its strangely beautiful blue color which is a result of the natural minerals that have dissolved in the water.
The rain was falling heavily at the time we reached the pond. We thought ourselves unlucky, but it turned out to be the other way round! Because of the rain, the water had turned to a bright cobalt blue shade.
The bright blue hues of Shirogane Blue Pond after rainfall
And when the rain stopped, we found ourselves looking at a glassy blue mirror!
The rain stirred the materials in the water and spread the pigments all around the surface. Just look at these two shades of cobalt blue. Which one do you like? I love both.
Shirogane Blue Pond
Address: Hokkaido, Kamikawa, Biei, Shirogane Google Map
Website: https://www.biei-hokkaido.jp/en/sightseeing/shirogane-blue-pond/ (Japanese)
3. Cycling around the Hills of Biei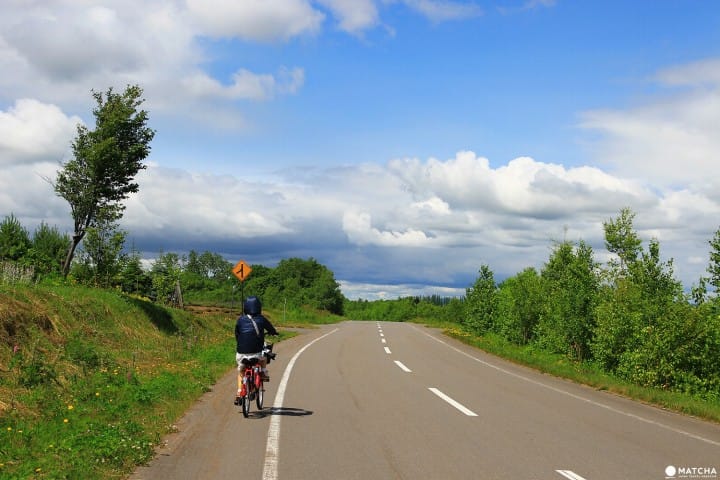 Bicycling around the hills of Biei
With the weather being so changeable in Hokkaido, sunlight is very precious. When the weather is nice, you should go out, grab a bicycle and go cycling around the gently sloping hills of Biei. You can rent a bicycle for around 3,000 to 6,000 yen per day at the bicycle rental shops along the JR Furano line.
Ride an electric-powered bicycle and no slope will hinder you.
Flowered hills of Biei
The scenery is so romantic and breathtakingly beautiful that you'll stop several times on the way.
Shinei Hill in Biei
Shinei Hill is a famous stop along the countryside roads. The sky here is so vast and so close that you'd think you would be able to touch the clouds with just a reach of hand!
A sign of love from Mother Nature?
The smell of the ripe paddy fields is so relaxing. Can you feel it?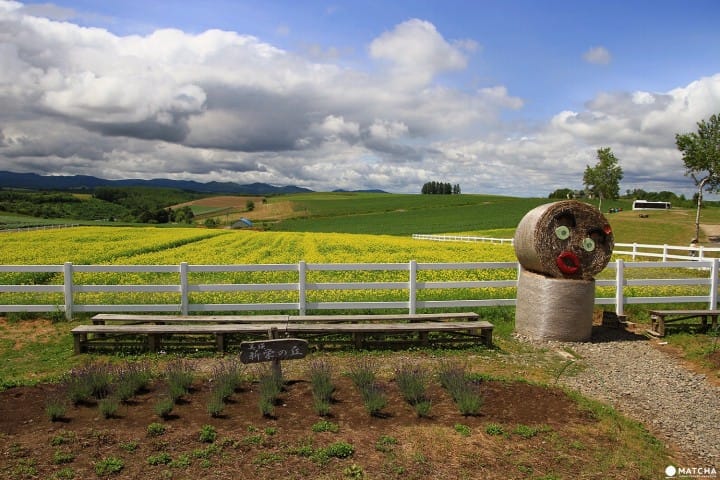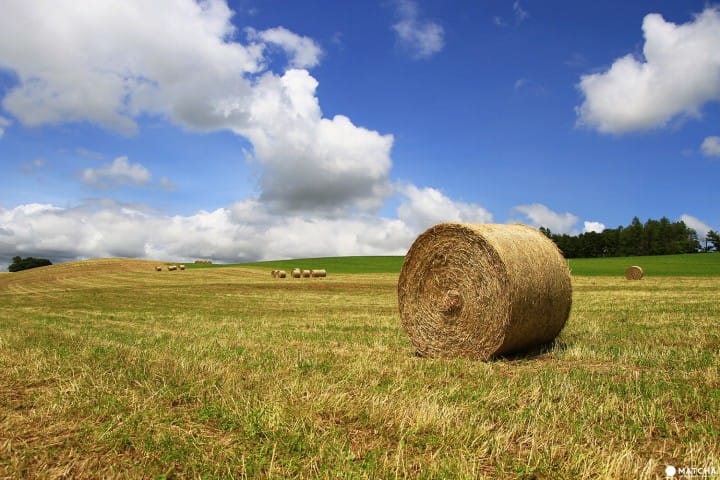 These huge grass rolls look like they are having fun rolling on their own bed of grass. Aren't they cute?
At the end of the journey, how about resting a bit at this adorable café? You will find it very close to the entrance of Farm Tomita. Just walk around 5 minutes up the slope (your right-hand side if you are facing out of the farm) and you will see this small cafe with a beautiful garden on your left.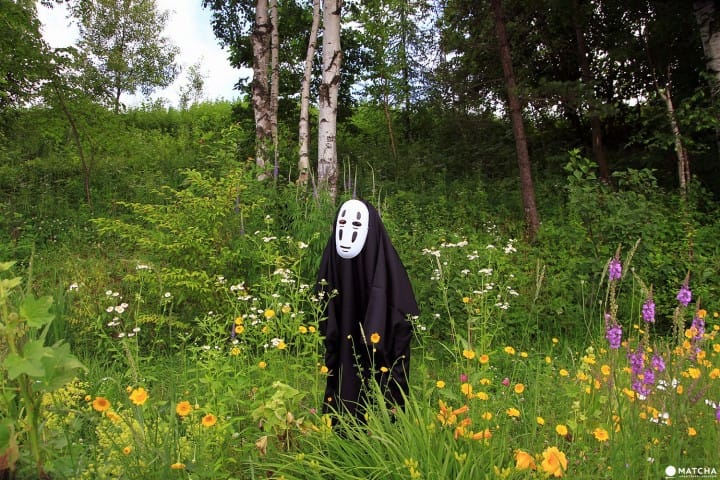 Hmmm. Who could resist these cute flowers?
Be sure to take fun photos, too.
Explore Furano and Biei in Hokkaido
A four to a six-day trip to the Furano and Biei areas would be just perfect for you to relax and take in the beautiful nature of Hokkaido. If you would like to take your time reading books or drawing under the sunlight, you could even take a week or two to relax.
No matter the length of the time you spend here, a trip to Furano-Biei is great! Plan your trip carefully so you won't miss anything.
The information presented in this article is based on the time it was written. Note that there may be changes in the merchandise, services, and prices that have occurred after this article was published. Please contact the facility or facilities in this article directly before visiting.