Enjoy Sapporo! Beautiful Places To Visit And An Excellent Hotel
With the cherry blossoms blooming later in Hokkaido than in other areas of Japan, May and June are the perfect time to visit Sapporo! Read about the great viewing spots in the city and about karaksa hotel Sapporo, an excellent hotel to stay at!
Hokkaido is the northernmost prefecture in Japan, and Sapporo is its center. With a European cityscape and a wide variety of seafood dishes, Sapporo is one of Japan's most popular travel destinations.
The city is famous for the Snow Festival held every year in February, but the best time to visit Sapporo is from May to June. The weather is good, and airline tickets are cheaper compared to other seasons. There are also beautiful sightseeing spots that can be visited inexpensively during this season.
In this article, we will also introduce moderately priced local cuisine and karaksa hotel Sapporo, an ideal place to stay during your sightseeing trip to Sapporo.
Make Your Reservation at karaksa hotel Sapporo Here!
Maruyama Park - View the May Cherry Blossoms for Free
In Hokkaido, the sakura (cherry blossoms) bloom later than the Honshu Islands. So the best time to view the sakura will be from late April to May. Maruyama Park is a noted spot, with 150 sakura trees planted in its vast grounds, and visitors can enjoy the ezo yamazakura (Sargent cherry), which can be seen only in Hokkaido. There is no admission fee to the park.
If you missed the sakura in Tokyo, plan a visit to Sapporo in May!
Sapporo Lilac Festival - A Free Event in Early Summer
Lilac is the symbol tree of Sapporo, and the Sapporo Lilac Festival is held in mid-May, at the time when they bloom.
At Odori Park, one of the festival venues, 400 lilacs greet the visitors. Various events such as live music and "nodate", an open-air tea ceremony, is held during the festival.
For further information, take a look at their official site (Japanese link). While there is no admission fee to the festival, nodate and other events will be charged.
Sapporo Lilac Festival Official Site: http://lilac.sapporo-fes.com/ (Japanese)
Jogai Ichiba - Moderately Priced, Great Tasting Dishes
Although the Japanese are accustomed to delicious seafood, those found in Hokkaido are top quality. The restaurants in the jogai ichiba of the Sapporo Central Wholesale Market (*1) are widely known for serving fresh seafood at a moderate price.
If you have the chance, try the kaisen-don (a bowl of rice topped with fresh seafood) full of tuna and salmon roe, which costs about 2000 yen.
*1 Jogai Ichiba: A wholesale/retail market for the regular customers outside the Sapporo Central Wholesale Market. The Wholesale Market caters to professional chefs and wholesale merchants.
Yurigahara Park: A Place to Enjoy the Tulips for Free
At Yurigahara Park, about 6400 types of beautiful flowers welcome visitors throughout the year. In mid-May, tulips of various colors will be in bloom. There is no admission fee to the park, although some of the facilities charge a 130 yen fee.
Asahiyama Memorial Park - Enjoy the Free Night View
Sapporo has been chosen as one of the best three locations in Japan to enjoy the night view, along with Kobe and Nagasaki. While the view from Mt. Moiwa is well known, Asahiyama Memorial Park also offers a breathtaking night view.
The public buses to the park cost less than the cable car to the top of Mt. Moiwa, and there is no admission fee. At night, the park fountain will be illuminated, creating a fantastic scene right before your eyes.
karaksa hotel Sapporo - A Welcoming Hotel for Visitors from Abroad
If you're planning a trip to Sapporo, we recommend staying at karaksa hotel Sapporo. The hotel has eight strong points, all of which appeal to visitors from abroad.
For reservations at karaksa hotel Sapporo, check this page.
1. Two Stations Away from Sapporo Station
From Sapporo Station karaksa hotel Sapporo is located only two stations away on the subway. So the hotel is an ideal base not only for Sapporo, but also for sightseeing trips to Furano and Asahikawa. Visitors can use the time that would've been spent in transit to enjoy various sightseeing spots.
The hotel is located next to the Tanukikoji Shotengai (shopping arcade), so it is convenient for dining and shopping after visiting the sightseeing spots.
Guests can also walk to Odori Park, a popular spot, and Susukino, the largest amusement area in Sapporo. They can leave their luggage at the hotel, and visit these beautiful places.
2. Multilingual Support
The staff at karaksa hotel Sapporo can speak English and Chinese. They also offer a translation service with an interpreter using a TV phone, so most of their guests' inquiries can be solved on the spot.
3. Luxurious Bathing Facilities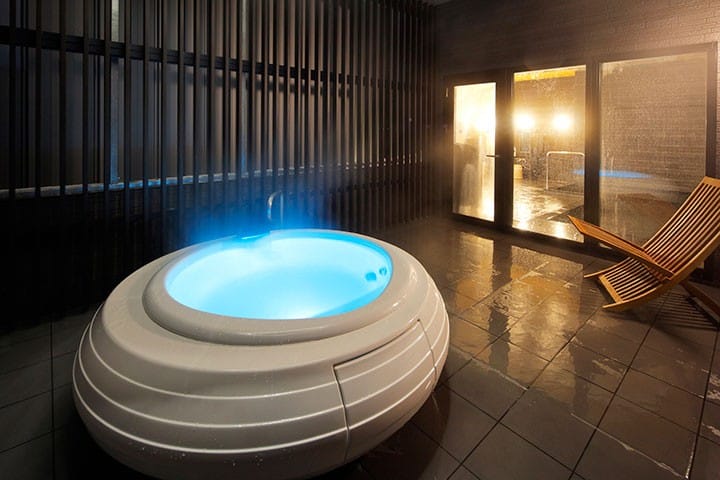 The photograph shows the women's section of the outdoor bath.
A relaxing bath will ease the weariness of a long trip. Besides the shower booth in each guestroom, karaksa hotel Sapporo offers a communal bath and a rotemburo (outdoor bath). Both facilities are gender separated, being open from 16:00 to 1:00, and from 6:00 to 10:00.
The bathing facilities can be used after a night in the city, or before sightseeing.
4. Japanese Family Rooms - Tatami Guestrooms
The hotel has Japanese family rooms for guests who want to try a tatami room. In this type of rooms, families with small children need not worry about kids falling off their beds because the tatami mats make the flooring softer.
5. RoomⓇ - A Multi-Purpose Lounge on the Second Floor
RoomⓇ is a relaxation space for the guests, with a horigotatsu (sunken table heater), massage chairs and vending machines offering drinks and alcoholic beverages some of which are only available in Hokkaido.
This space is open around the clock, so it can be used after taking a bath, before checking in, or even after checking out.
6. The Hotel Restaurant - Using Hokkaido's Regional Products
Northern Buffet Restaurant Hana 華 is located on the first floor of the hotel. It's an ideal place to go when the weather is poor, or when you don't feel like going out. The restaurant offers a wide variety of dishes made mostly with regional products from Hokkaido.
7. Connected Rooms - Accommodating Six Guests
Karaksa hotel Sapporo, just like the other karaksa hotels all over Japan, offers connected rooms for groups. These rooms accommodate up to six guests, so a group can stay close together in this hotel.
8. Universal Outlets in All Guestrooms
All the guestrooms are equipped with universal outlets, so the guests can leave their adapters at home when visiting Sapporo.
A Time-Limited Gift with a Stay at karaksa hotel Sapporo
karaksa hotel Sapporo is full of charms suited to visitors from abroad. The hotel offers a Special Opening Stay Plan, which comes with a free smartphone lens, until June 30th, 2018.

The guests who make reservations on the official site of karaksa hotel Sapporo will receive a free, wide-angle lens which can be clipped on a smartphone. This gadget is ideal to use when photographing the city, and only available from karaksa hotel Sapporo.

Early summer is the best season to be in Hokkaido, after a hard, cold winter, so how about staying at karaksa hotel Sapporo?

For reservations at karaksa hotel Sapporo, check this page.


Photos by Pixta
Sponsored by KARAKSA HOTELS

Written by Mayo Komatsu

The information presented in this article is based on the time it was written. Note that there may be changes in the merchandise, services, and prices that have occurred after this article was published. Please contact the facility or facilities in this article directly before visiting.