Fully Enjoy Ginza! Shopping, Sushi, Sweets, And A Comfortable Hotel
Tokyo's Ginza is a vibrant area with shopping facilities and elegant cafes. We introduce the highlights of Ginza along with karaksa hotel premier Tokyo Ginza, a convenient hotel with comfortable rooms, a free guest lounge, and a wonderful breakfast.
Ginza is one of Tokyo's most popular shopping areas, with many select dining places and fashion shops. Famous brands and Japan's leading restaurants line its streets and it doesn't cease to attract the attention of luxury lovers.
However, what about those who are unsure of where to go on their first visit to Ginza? We introduce Ginza shopping and dining places that you'll want to know beforehand!
This article also introduces a hotel that is very convenient for the international visitors so that they can fully enjoy Ginza all day long!
Click Here for an Exclusive Grand Opening Stay Plan at karaksa hotel premier Tokyo Ginza
Find High-End Brands at GINZA SIX
With Currency Exchange and Baggage Service
Picture courtesy of GINZA SIX
The first place you'll want to visit in Ginza is GINZA SIX.
This is Ginza's largest shopping spot and home to over 200 shops ranging from high-end brands to traditional craft items. Did you know that GINZA SIX also has a complete selection of services for international visitors?
Picture courtesy of GINZA SIX
Currency exchange, baggage services, and tourist information are provided at the Tourist Service Center on the first floor. We recommend setting out to go shopping and sightseeing after leaving your luggage with the center or asking for information on nearby sightseeing spots!
Tokyu Plaza Ginza – Select Dining Places
Once you're satisfied with your shopping, how about tasting the refined food available in Ginza? At Tokyu Plaza Ginza, situated about a seven-minute walk from GINZA SIX, you'll find rows of hidden gems.
Uogashi Jiromatsu – Excellent Sushi
Picture courtesy of Tokyu Plaza Ginza ** The picture shows the Nigiri Premium (3,600 yen with tax)
Uogashi Jiromatsu, located on the eleventh floor of the complex, is a reputed restaurant where you can have high-quality sushi and tempura (deep-fried foods). Lunch starts at 1,800 yen (with tax), which is surprisingly affordable for a Ginza restaurant. Enjoy the view of the Ginza streets from the window while tasting delicious cuisine!
SALON GINZA SABOU – Appreciate Quality Matcha Sweets
Picture courtesy of Tokyu Plaza Ginza
If you love sweets, then head over to SALON GINZA SABOU on B2F. Here you can eat high-quality sweets made with Japanese ingredients, such as powdered green tea and azuki beans, together with delicious green tea.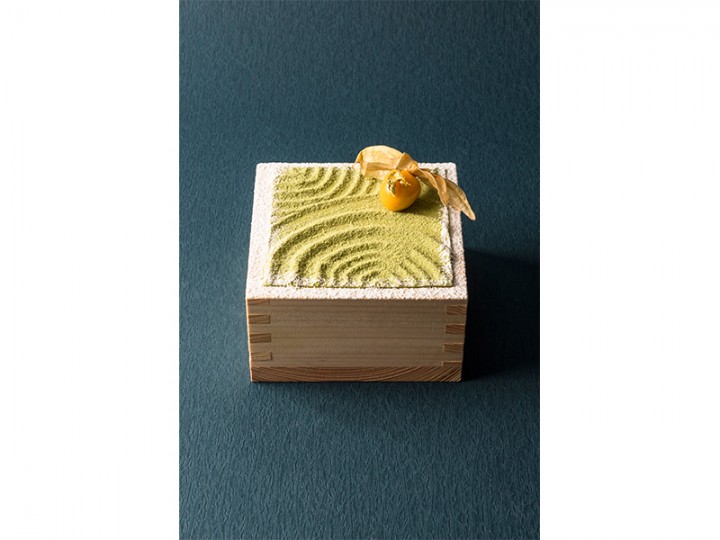 Picture courtesy of Tokyu Plaza Ginza
The Sabou Parfait (1,200 yen before tax), their most popular dish, which was created in the image of Japanese gardens, has a rich flavor that combines matcha green tea together with mascarpone cheese.
Fashion brands featuring the latest trends and duty-free stores are also found in Tokyu Plaza Ginza. We recommend walking around the shops after enjoying sweets and tea.
Souvenirs at the 350-Year-Old Tokyo Kyukyodo Ginza
After filling your stomach, how about setting out in search for souvenirs? Tokyo Kyukyodo Ginza, situated about six minutes away on foot from Tokyu Plaza Ginza, is an established shop of over 350 years that specializes in incenses and Japanese stationery. You'll find the perfect item to commemorate your Japan trip here.
Picture courtesy of Kyukyodo
The shop is lined with postcards made with Japanese paper, small articles, and incense. Their products are all so beautiful that you may end up losing track of time while browsing. Postcards are a reasonable price of 80 yen per card (before tax), so it would be a great idea to collect various designs or to purchase a couple of them to give as presents to friends and family.
Recommended for Your Ginza Stay!
karaksa hotel premier Tokyo Ginza
Ginza is full of things to see, shopping, food, and beautiful views, and you'll want to enjoy the district not on a day trip, but at your own pace while staying in the area. karaksa hotel premier Tokyo Ginza is an accommodation we recommend in Ginza.
karaksa hotels are complete with facilities for international visitors such as staff proficient in foreign languages, free Wi-Fi, and guestrooms with universal plug adapters. The hotel currently has four locations in Kansai and one in Hokkaido, Japan.
karaksa hotel premier Tokyo Ginza, a new location that opened on May 1, 2019, will enhance the quality of your trip with new, luxurious facilities along with the services that the karaksa hotel is already renowned for. We'll introduce five features of karaksa hotel premier Tokyo Ginza that make it the best choice for a stay in Ginza.
Click Here for an Exclusive Grand Opening Stay Plan at karaksa hotel premier Tokyo Ginza!
1. Services for International Visitors
A feature that all karaksa hotels across the country possess is their complete selection of services that answer the needs of international visitors.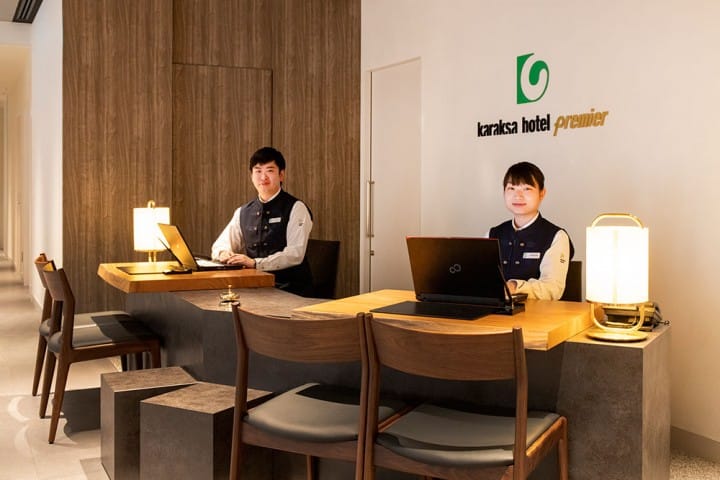 As with the other locations, karaksa hotel premier Tokyo Ginza has staff who can assist you in several languages including English. On top of that, the hotel will also introduce a system that will make professional interpretation and video calls possible, allowing guests to enjoy their stay even without knowing any Japanese.
2. A Great Location with Immediate Access to Ginza!
karaksa hotel premier Tokyo Ginza is in a great location - an eight-minute walk from the Ginza Yonchome intersection, the most crowded area in Ginza. After checking in, you can go shopping in Ginza, then return to the hotel to rest or even head out into the bustling neighborhood at night after dinner.
Tokyo Metro Ginza Station is a ten-minute walk away while JR Shimbashi Station, the nearest station, is a six-minute walk away, offering great access to both stations and making it convenient for sightseeing in Tokyo.
Shimbashi Station offers direct access to both Haneda and Narita Airports. The hotel is in an ideal location for those thinking of flying either domestically or overseas.
3. A Step Up! Luxury Guestrooms
Executive Twin
Guestrooms range from 26 m² to 43 m² in size and feature a luxurious interior with underlying tones of white and wooden colors. This interior will inspire you to recollect the events of the day after returning from the glamorous Ginza streets.
Superior Twin
The beds use a custom-made type of Serta mattresses, which are favored by numerous luxury hotels. Guests can heal their travel fatigue on these comfortable beds.
Most of the guestrooms are even equipped with a rain shower at karaksa hotel premier Tokyo Ginza. Immerse yourself and feel graceful even during bath time.
4. Relax in the Free Guest Lounge!
The free guest lounge is a service unique to karaksa hotel premier Tokyo Ginza. You can enjoy soft drinks and food cups in the afternoon while alcohol and light meals are provided in the evenings in a self-service style!
You can return to the hotel after enjoying dinner in Ginza and relax with a glass of alcohol. The lounge allows you to indulge in a relaxed atmosphere.
5. Take Your Time with In-Room Breakfast
karaksa hotel premier Tokyo Ginza places great importance on their breakfast service. Guests can enjoy dishes with a refined, distinctively Japanese flavor while relaxing in their rooms.
This in-room breakfast style is also another service only available at premier Tokyo Ginza out of all the karaksa hotels. The fact that you can take your time in the mornings to relax in your room is a part of its charm.
Fully Enjoy Ginza with karaksa hotel premier Tokyo Ginza
Stay at karaksa hotel TOKYO STATION for Sightseeing
karaksa hotel premier Tokyo Ginza is a place where you can enjoy a refined stay while visiting the Ginza area. This hotel is perfect not only for when you want to fully enjoy sightseeing in Ginza, one of Tokyo's bustling areas, but also for when you want to enjoy a memorable trip with your beloved ones.
If you're looking for an accommodation in Tokyo, we also recommend karaksa hotel TOKYO STATION which will open on July 8, 2019.
This location is can be accessed in about five minutes by foot from Tokyo Station, the station that trains from various parts of Japan travel through. It is also nearby the bus terminals around the station, making it convenient not only for Tokyo sightseeing but also for travels around Japan. You can also take the shinkansen (bullet train) or express buses from Tokyo Station and make a day trip to popular sightseeing areas such as Kawaguchiko, Kanazawa, and Karuizawa.
Click Here for an Exclusive Grand Opening Stay Plan at karaksa hotel TOKYO STATION!
Souvenir Presents!
Special Value Stay Plans
Reservations for a Grand Opening Stay Plan with Original Folding Fan Gift are currently being accepted through the official website!

In addition to being able to stay at karaksa hotel premier Tokyo Ginza and karaksa hotel TOKYO STATION at a special price, each guest will also receive a folding fan with an original design featuring the arabesque pattern that is the motif of the hotel. This chic fan is sure to become a memorable item of your Japan trip.

Those who reserve the special stay plan at karaksa hotel premier Tokyo Ginza will also receive an extra bonus item. Each room will be presented with an arabesque patterned furoshiki in addition to the folding fan! A furoshiki is a cloth used to wrap items. You can use it to wrap the new items you found in Ginza or to organize the inside of your suitcase by wrapping your garments.

The Grand Opening Stay Plan with Original Folding Fan applies to guests who will stay between May 1 to October 31, 2019, at karaksa hotel premier Tokyo Ginza and guests who will stay between July 8 to December 31, 2019, at karaksa hotel TOKYO STATION.

Choose the hotel that matches your style of traveling to enjoy your trip to Ginza and Tokyo to the fullest!

Click Here for an Exclusive Grand Opening Stay Plan at karaksa hotel premier Tokyo Ginza!

Click Here for an Exclusive Grand Opening Stay Plan at karaksa hotel TOKYO STATION!

Written by Mayo Komatsu
Photos by Pixta
Sponsored by KARAKSA HOTELS

The information presented in this article is based on the time it was written. Note that there may be changes in the merchandise, services, and prices that have occurred after this article was published. Please contact the facility or facilities in this article directly before visiting.